July Wedding At Charbonneau Country Club Wilsonville

Susan and Ben's wedding and reception at Charbonneau Country Club in Wilsonville, Oregon was held on Saturday, July 24, 2021.

It was a beautiful summer day. A little warm, but the wind was blowing and occasionally offered subtle spray from the nearby lake to maybe cool off some. I made sure to place a microphone cover on the lapel I provided for the officiant. The cover looks like a small critter, but it completely blocked any noise from the wind, so it was welcome.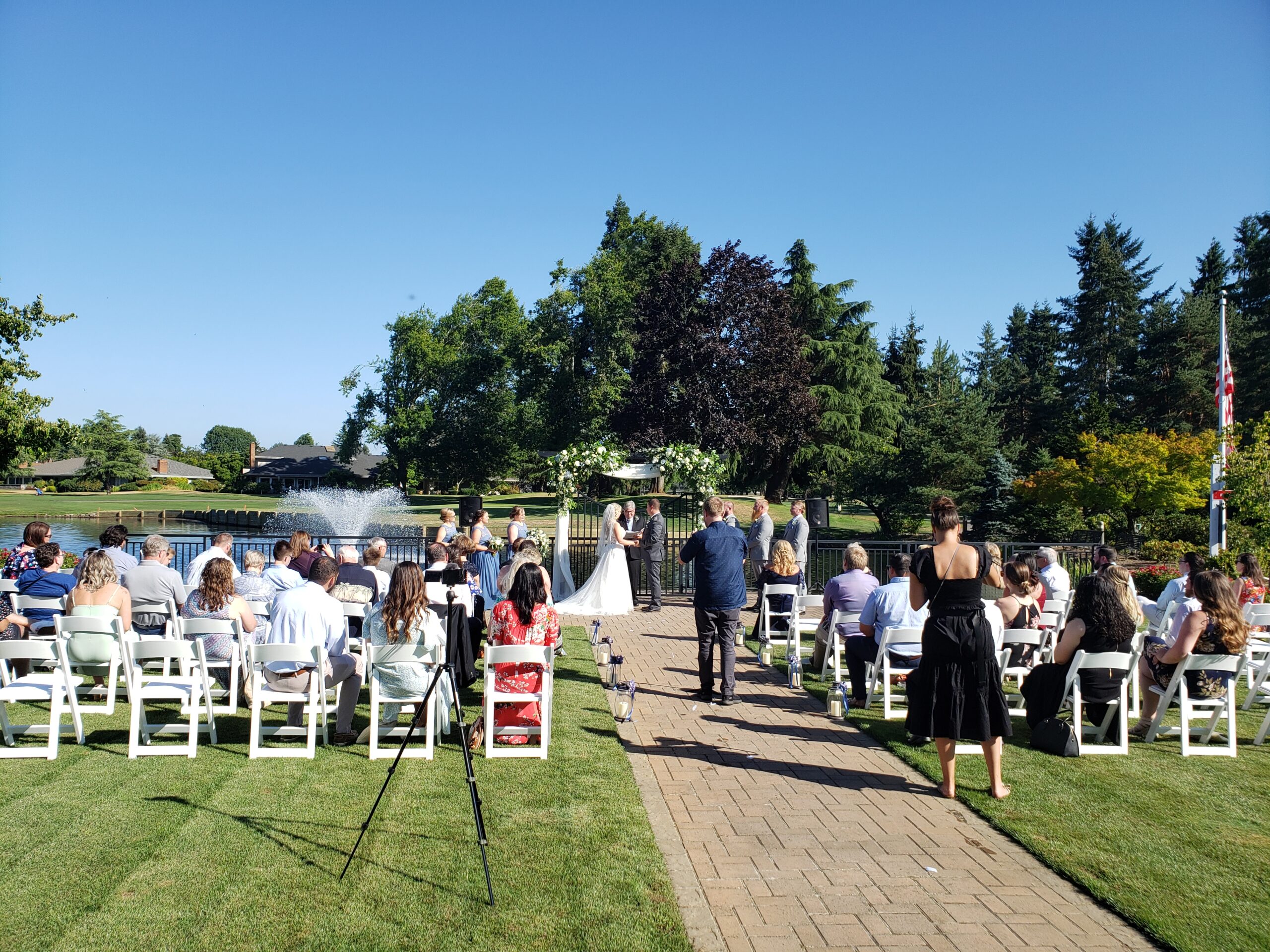 Charbonneau Country Club Wedding Ceremony Highlights:
Wedding Party Entrance: 2CELLOS – Perfect (Ed Sheeran Cover)
Bride Entrance: Brooklyn Duo Piano Cello – All of Me (John Legend Cover)
Bride/Groom Exit: Jackie Wilson – (Your Love Keeps Lifting Me) Higher and Higher
Background music for cocktails and dinner featured a variety of recent and classic hits that included Adele, Al Green, Jack Johnson and Motown favorites.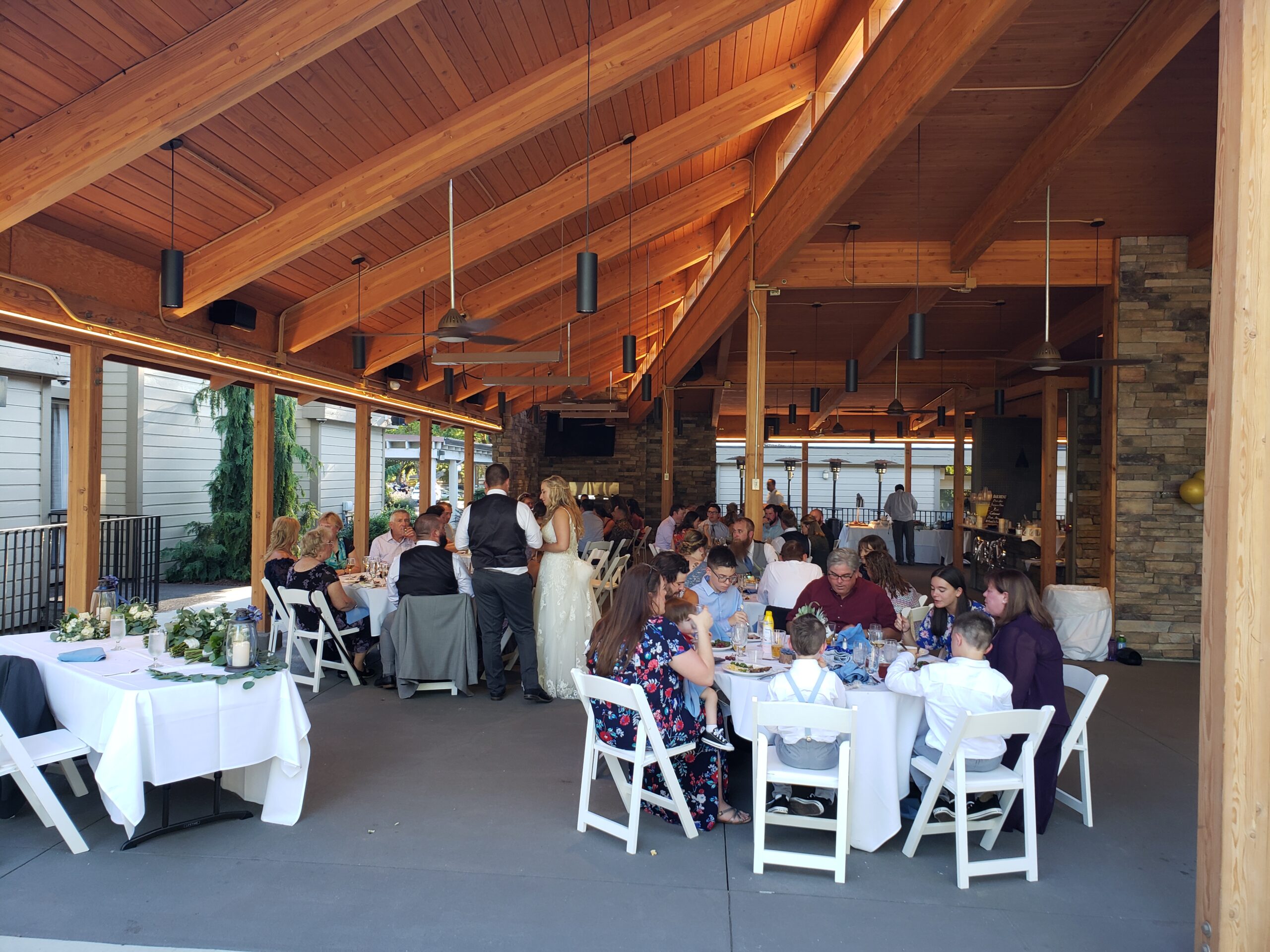 Charbonneau Country Club Wedding Reception Highlights:
Grand Entrance: Janelle Monae – Make Me Feel
Cake Cutting: Four Tops – I Can't Help Myself (Sugar Pie, Honey Bunch)
First Dance: Randy Travis – Deeper Than The Holler
Bride and Father Dance: Tim McGraw – My Little Girl
Groom and Mother Dance: Aimee Zimmerman – I'll Always Be Your Mom
Generations Dance: Natalie Cole – This Will Be (An Everlasting Love)
Bouquet Toss: Spice Girls – Wannabe
Garter Toss: Macklemore – And We Danced
Last Dance: 'N Sync – Bye Bye Bye
The newlyweds requested a generations dance where I asked everyone to raise their hand if they were married and to keep them raised if they had been married one year, 2, 5, 7, 10, etc. The longest married couple was Norma and Leon (over 50 years). Next I invited all married couples to the dance floor for the opener selected by the bride… "This Will Be (Everlasting Love) by Natalie Cole.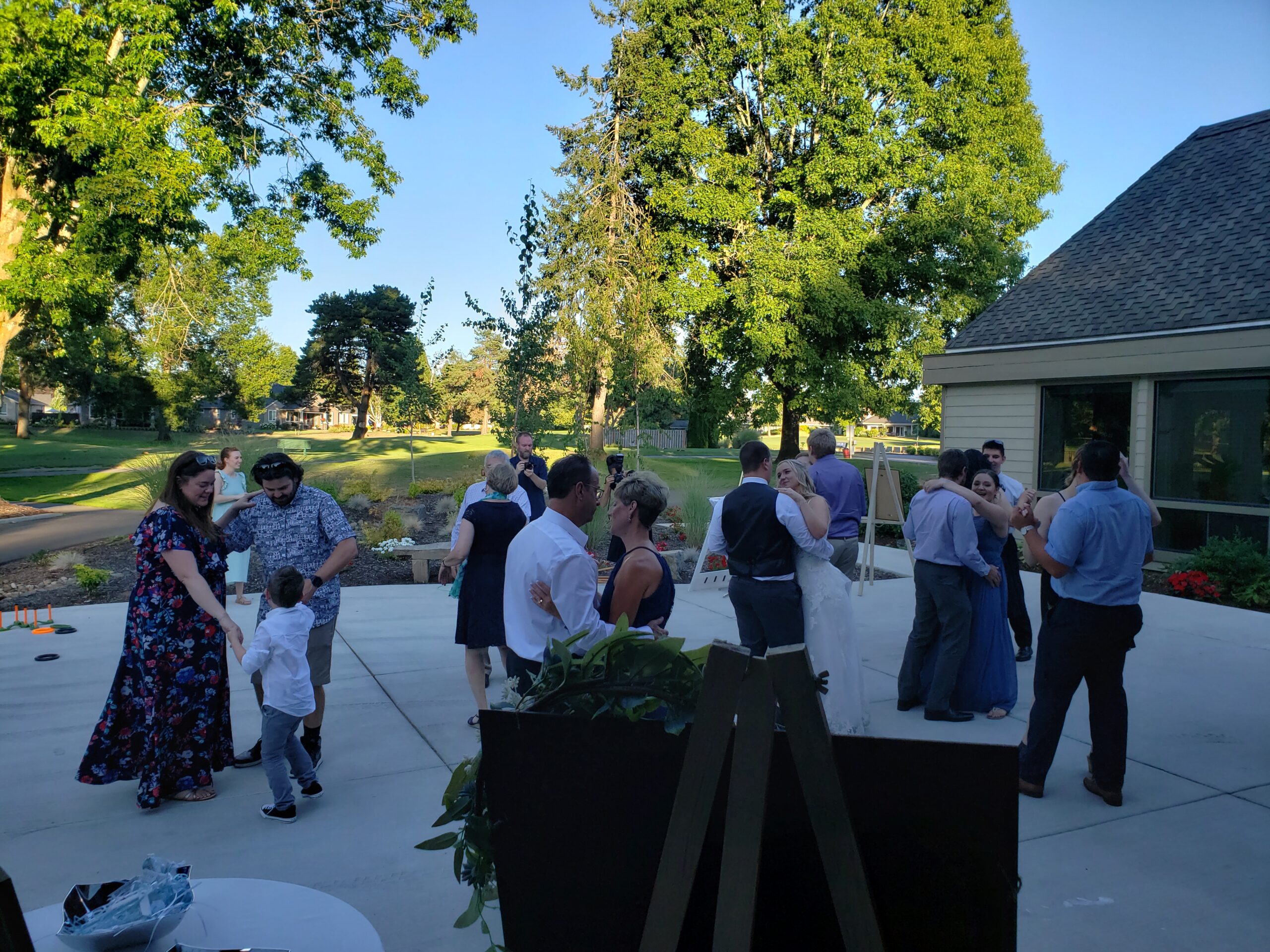 I received requests for hit songs from all eras, including The Contours 'Do You Love Me' and Bruno Mars w/Mark Ronson 'Uptown Funk' plus plenty of hits from the past 15 years, such as 'Dynamite' and 'Cupid Shuffle' along with requests from the bride and groom for 'Footloose,' 'Wobble' and a few Country songs.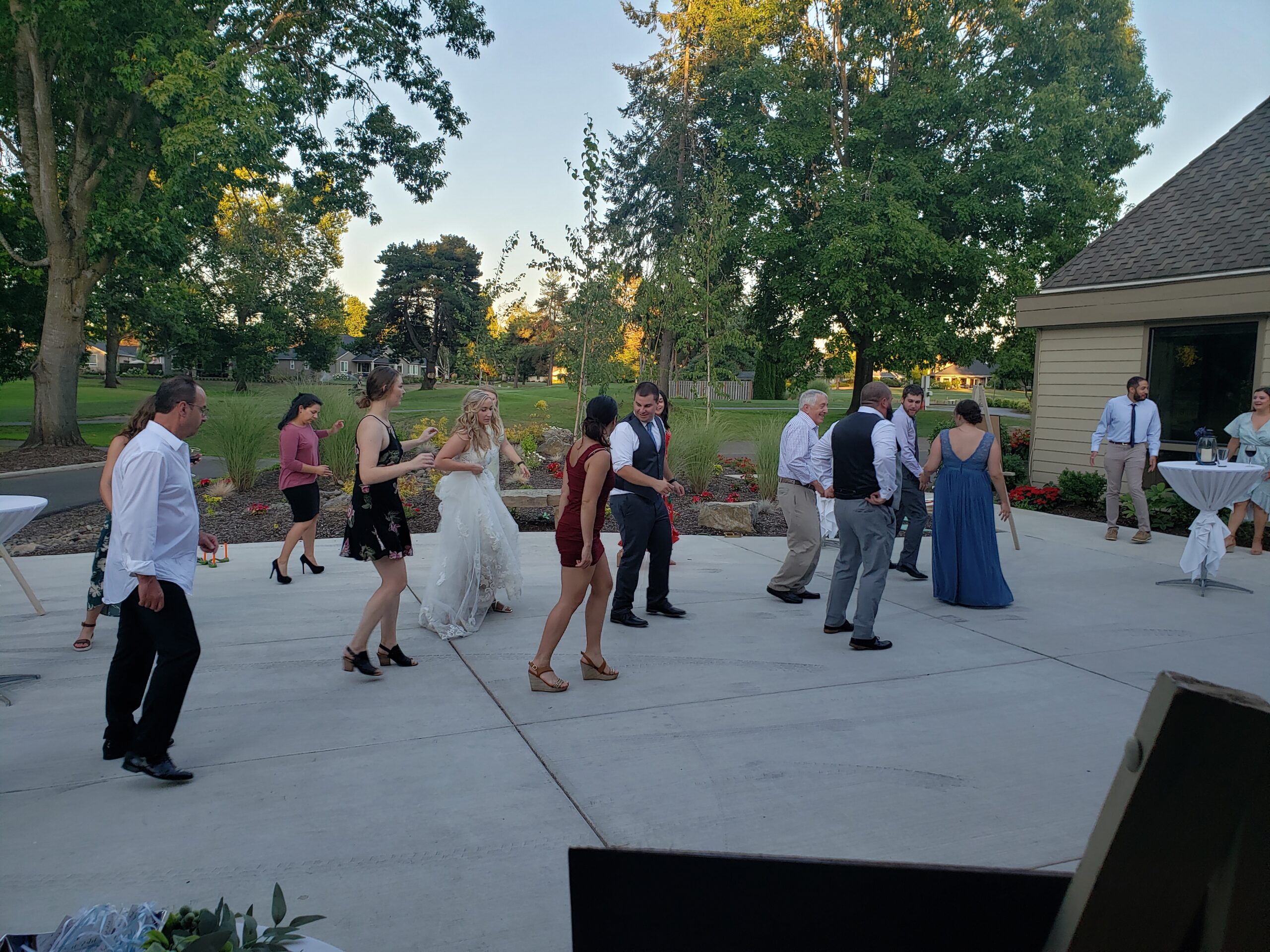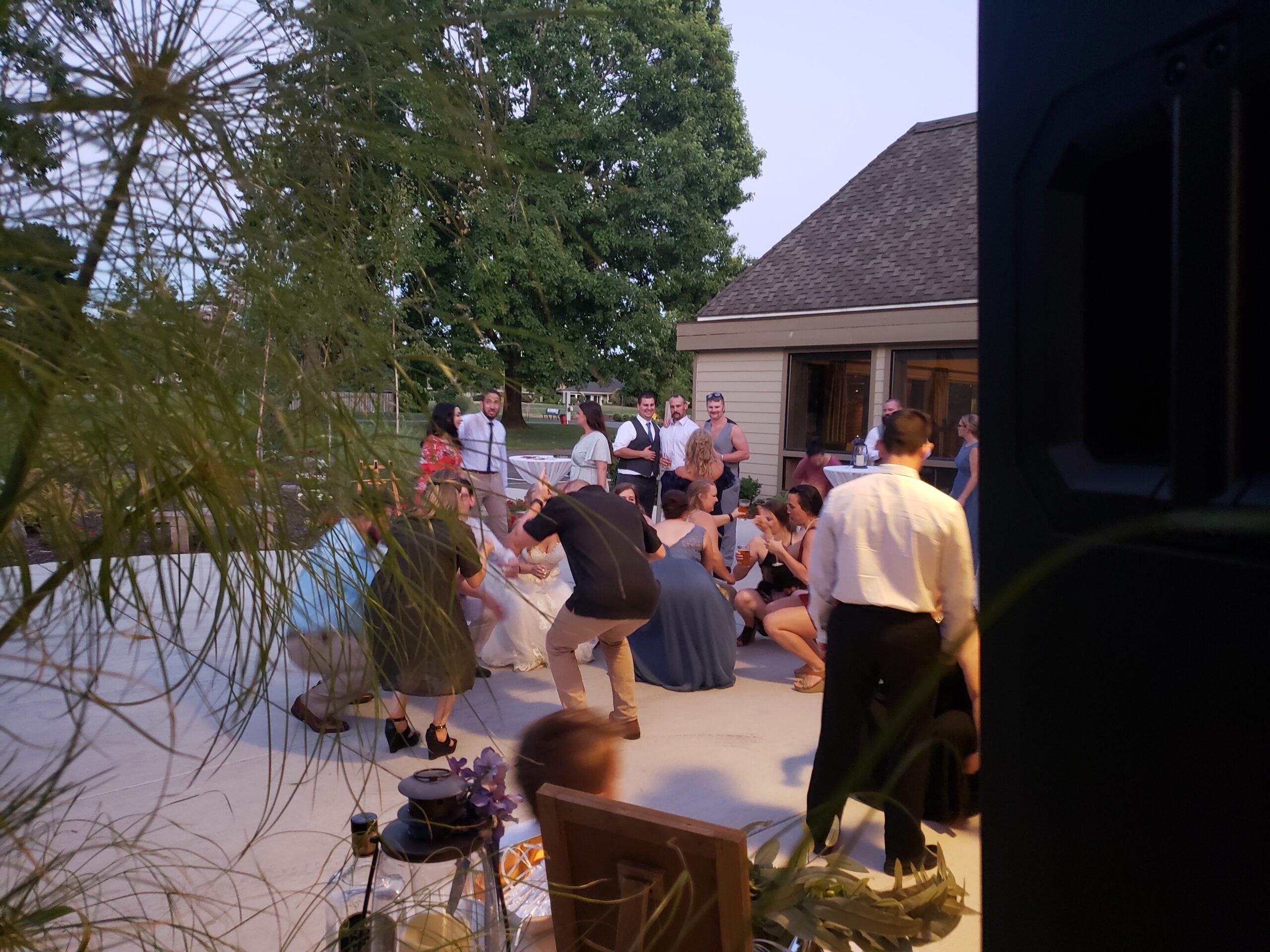 Congratulations Susan and Ben and thank you for choosing PRO DJs.

Post Event Satisfaction Survey:

"Rich was awesome. He stayed in communication with us prior to our event. He listened to all our requests and was the perfect DJ! The event was smooth sailing and organized thanks to him!!" -Ben and Susan Cheek
Event Date: Saturday, July 24, 2021
Event Type: Wedding & Reception
Event Location: Charbonneau Country Club
Event Staff: Rich Ellis
Quality of Customer Service via Telephone: Excellent
Quality of Customer Service via Internet: Excellent
Quality of Customer Service at Event: Excellent
Friendliness of your Entertainer: Excellent
Promptness of your Entertainer: Excellent
Professionalism of your Entertainer: Excellent
Entertainer's Performance: Excellent
Entertainer's Appearance: Excellent
System Appearance: Excellent
Sound Quality: Excellent
Overall Volume Levels: Excellent
Music Selection: Excellent
Incorporation of Your Requests: Excellent
Lighting Effects: N/A
Equipment Appearance: Excellent
Overall Customer Service: Excellent
Planning Assistance: Excellent
Entertainer's Cooperation with Other Vendors: Excellent
Overall Performance Rating: Excellent
Would you recommend this service to others? Yes