Anniversary Celebration

Mary and Dave celebrated their 50th Wedding Anniversary with family and friends at Madeleine Parish Hall in Portland, Oregon on Sunday, August 19, 2018.

Background music was a mix of their favorites from the past such as "(Theme From A) Summer Place" from Percy Faith, "The Wonder of You" by Elvis Presley and selections from the Beatles.

Shortly after their guests arrived and before the buffet opened, Mary and Dave renewed their vows. A little later, as everyone was finishing their meal, a slide show was presented. As you can imagine, this featured many photos from 50 years of marriage. As this was happening, I played some of their favorite songs in the background.

50th Wedding Anniversary Slideshow Music Selections:
Barbara Streisand – People Who Need People
Ella Fitzgerald – Someone To Watch Over Me
Nat King Cole – When I Fall In Love
Elvis Presley – Can't Help Falling In Love
Bette Midler – Wind Beneath My Wings
Billy Joel – Lullabye
Elton John – Circle of Life
Following the slideshow, Mary and Dave danced their first dance to "Some Enchanted Evening" by Perry Como, inviting their guests to join them about half way through the song. Many then stuck around for "Unchained Melody" by the Righteous Brothers and then some more uptempo music from the Beatles and swing dances, "In The Mood" and "Jailhouse Rock." The "Hokey Pokey" was also requested.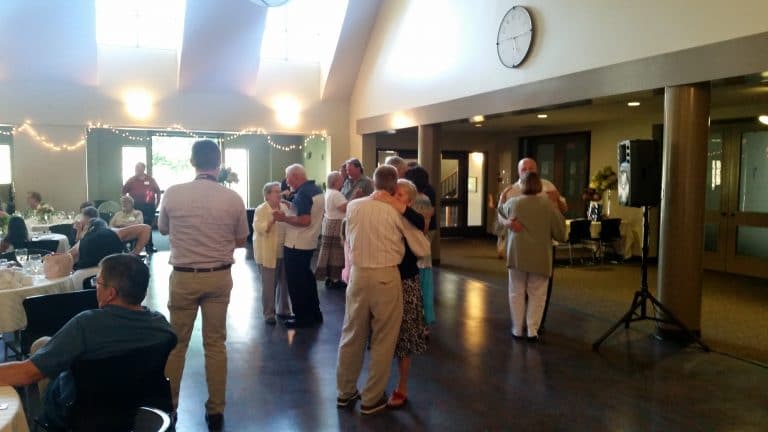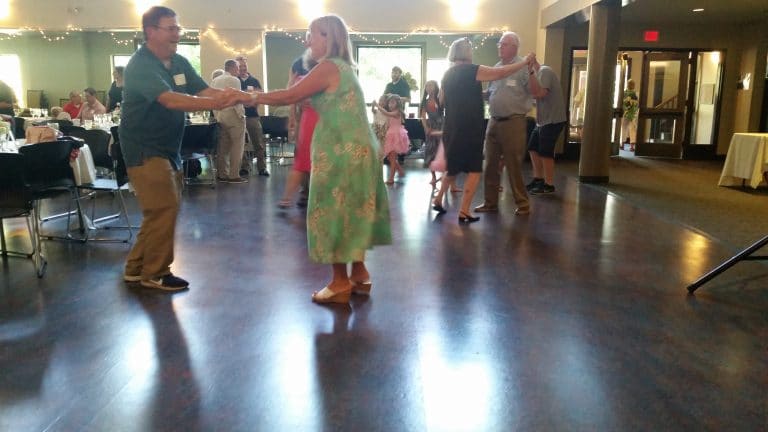 Congratulations Mary and Dave and thank you for choosing PRO DJs.

Post Event Satisfaction Survey:

"Thank you so much for the wonderful job you did with the music. Everyone had a wonderful time. Rich Ellis provided a marvelous service. We had a slide show of our lives together and Rich coordinated song selections that were beautifully suited to the mood of the slides. I was so delighted!" -Mary Krug – Portland, OR
Event Date: Sunday, August 19, 2018
Event Type: 50th Wedding Anniversary Celebration
Event Location: Madeleine Parish Hall, Portland, Oregon
Event Staff: Rich Ellis
Quality of Customer Service via Telephone: Excellent
Quality of Customer Service via Internet: Excellent
Quality of Customer Service at Event: Excellent
Friendliness of your Entertainer: Excellent
Promptness of your Entertainer: Excellent
Professionalism of your Entertainer: Excellent
Entertainer's Performance: Excellent
Entertainer's Appearance: Excellent
System Appearance: Excellent
Sound Quality: Excellent
Overall Volume Levels: Excellent
Music Selection: Excellent
Incorporation of Your Requests: Excellent
Lighting Effects: N/A
Equipment Appearance: Excellent
Overall Customer Service: Excellent
Planning Assistance: Excellent
Entertainer's Cooperation with Other Vendors: Excellent
Overall Performance Rating: Excellent
Would you recommend this service to others? Yes