Rich Ellis

Zoe and her friends had a blast at her celebration party as Bat Mitzvah DJ Rich Ellis shook up the family home in Southwest Portland on Saturday, September 8, 2018.

While the adults enjoyed drinks and conversation in the dining room and back deck, the kids were the stars of this one and pretty much had the dance floor in the living room to themselves from the beginning.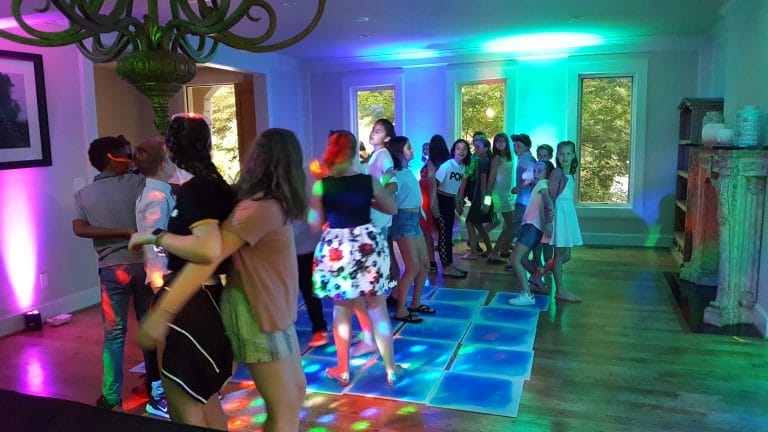 There were also other activities, such as a henna tattoo artist in the basement, but Zoe and her friends would return time and again to dance to their favorite songs, plus play some games, including two insane rounds of "Coke & Pepsi" and the limbo.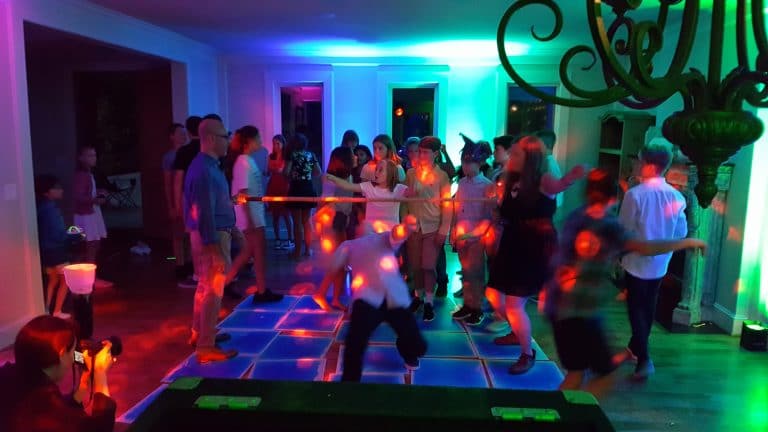 The familiar beats couldn't keep the adults away though and they hung in the foyer, watching the kids and dancing to few tracks. Zoe's mom wasn't sure if the chair raising would work (her dad was healing from a broken foot), but we found several strong people to carry the chair as everyone danced "The Hora."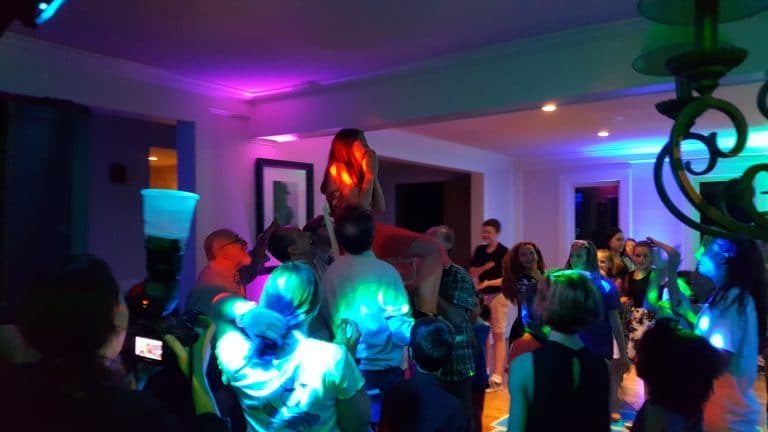 From there, the kids brought the house down for nearly two hours, dancing and getting crazy to current hits "I Like It" from Cardi B and Drake's "In My Feelings," plus recent favorites, "Can't Hold Us," "Cupid Shuffle," "Hand Clap" and more.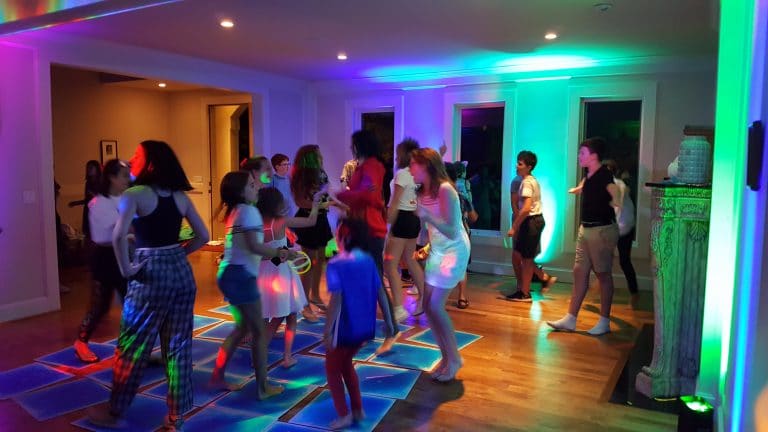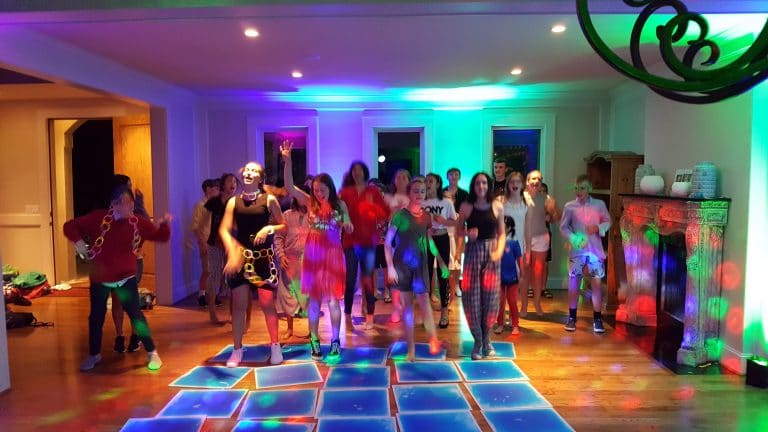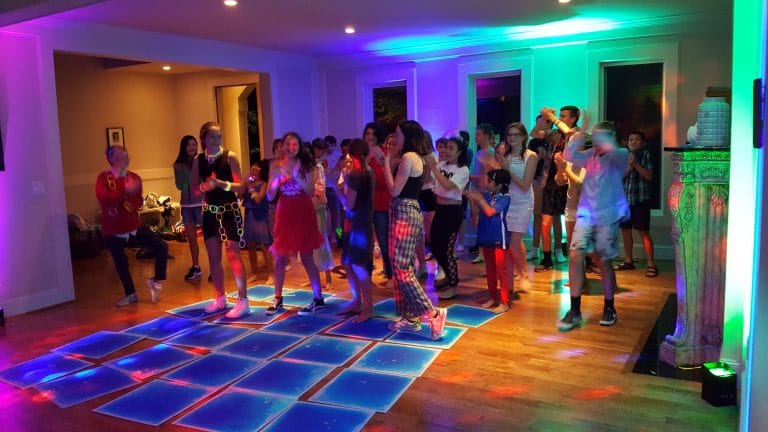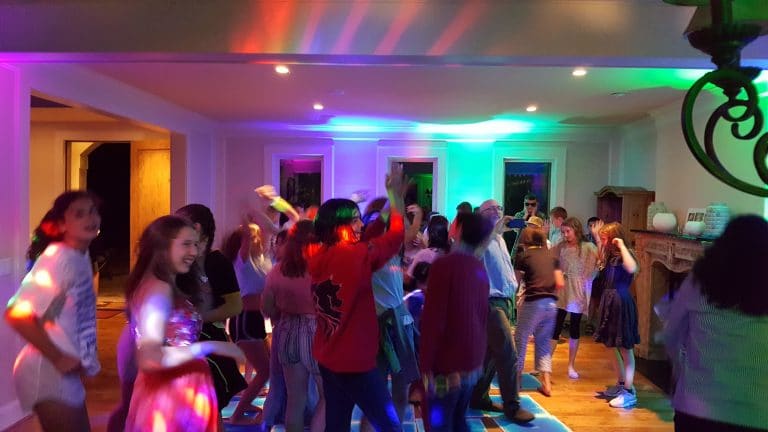 Mazel Tov Zoe and thank you mom Rachel for again choosing PRO DJs. Rich was the DJ at brother Zach's bar mitzvah in 2015.


Hosia and Andy's Union/Pine Portland wedding and reception was held on Friday, September 7, 2018. This venue features a sunken ballroom that serves primarily as the dance floor. However, in this case, it was also used for the ceremony. With my table located near the main pathway, between the bar and overlooking the ballroom, the setup for a DJ is a little awkward, but everything worked out fine.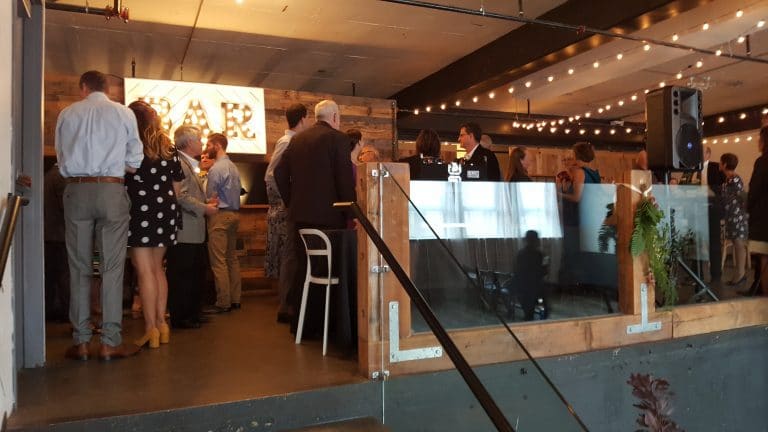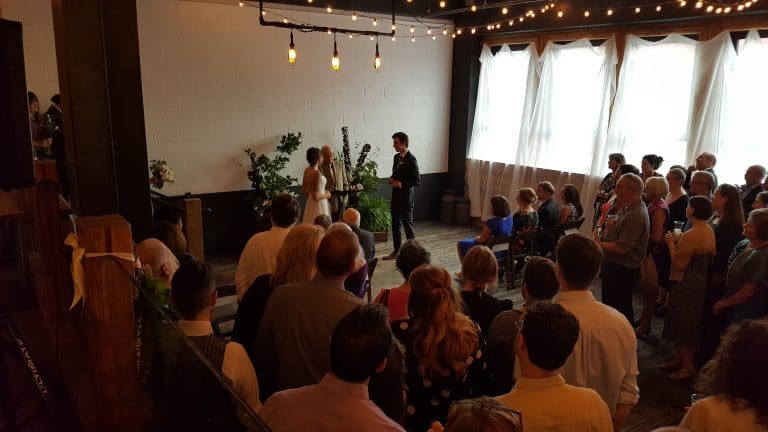 Union/Pine Portland Wedding Ceremony Highlights:
Wedding Party and Bride Entrance: Stringspace – In My Life
Bride & Groom Exit: The Cookies – I Never Dreamed
Just under 100 guests were in attendance and following the wedding, most gathered near the bar for cocktails before moving to an adjacent room for dinner, where I set-up a wireless speaker for dinner music and the toast. Background music requested by the newlyweds was a mix of 20's, 30's, 40's (big band, crooners, etc.), such as Frank Sinatra, Nat King Cole and their personal favorite, Billie Holliday.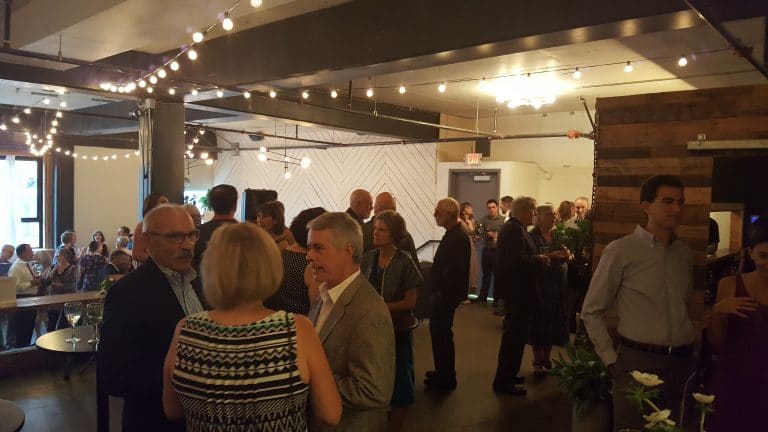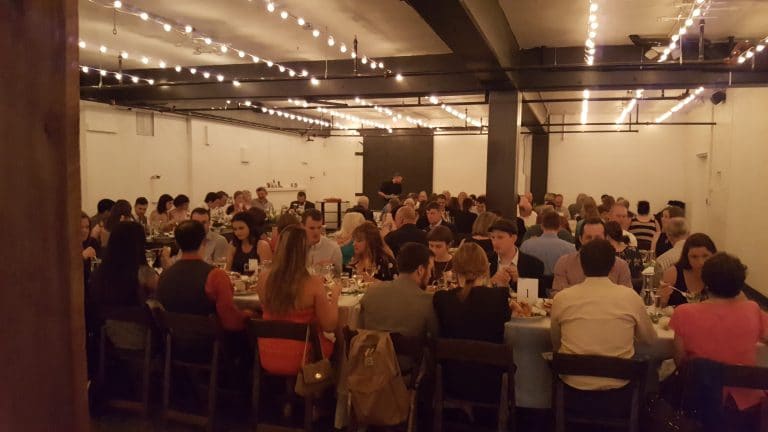 Union/Pine Portland Wedding Reception Highlights:
First Dance: The Ronettes – When I Saw You
Bride and Father Dance: The Beatles – Something
Last Dance: Crystal Fighters – At Home
Shortly after starting the music for the father/daughter dance, Hosia asked me to invite everyone out to join them. This was followed by "The Hora" and a chair raising for the just married couple.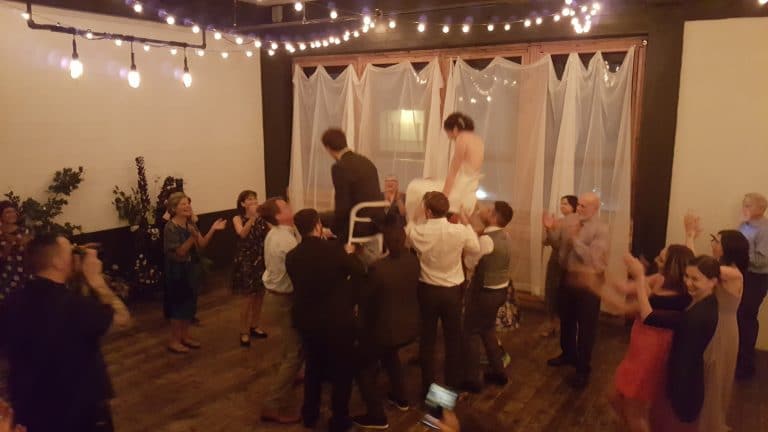 From there, guests had a great time dancing to music from The Beatles, Temptations, Earth, Wind & Fire, and Hosia's favorite pop girl groups from the 50's and 60's. The newlyweds also requested some 90's hip hop, Spice Girls, Backstreet Boys and recent hits from Justin Timberlake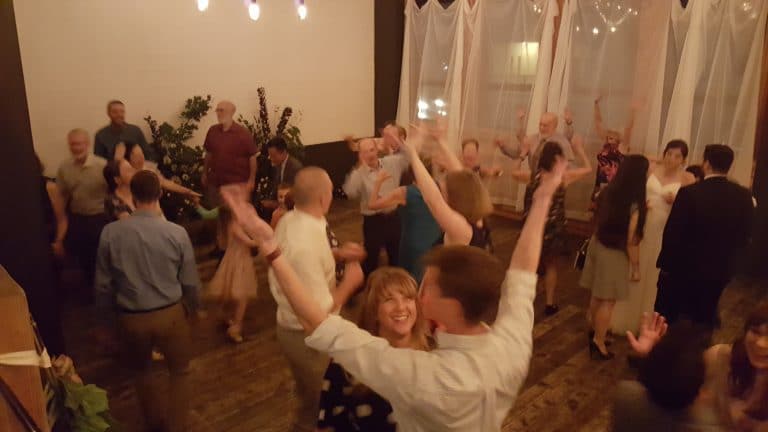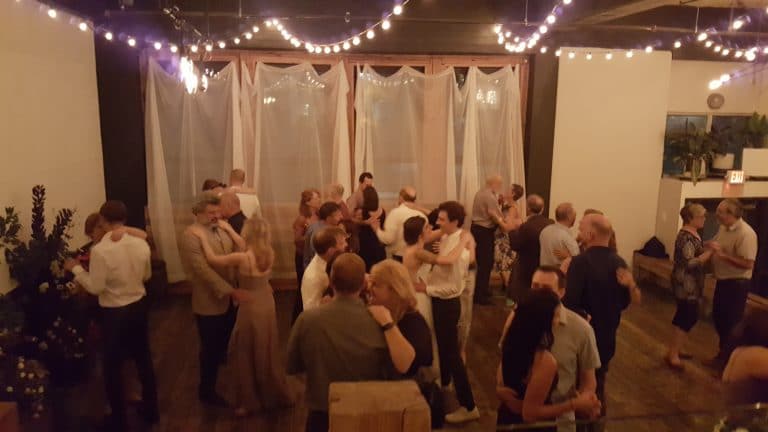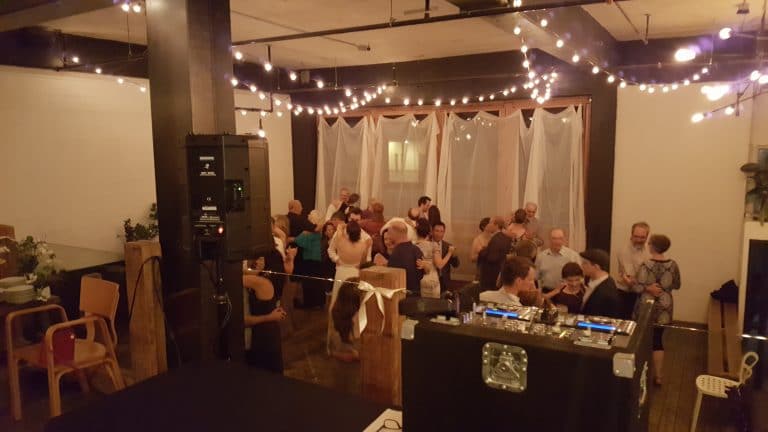 Best wishes Hosia and Andy and thank you mother of the bride, Vicki for choosing PRO DJs.


It has been one hot summer in the Pacific Northwest with a record 30 days at 90 degrees or warmer and smoke from nearby wildfires making outdoor events not as pleasant as we normally expect this time of year, but for the last week of August into September, the smoke has cleared and temperatures moderated.

The best weather of the year so far landed just in time for Aimee and Zach's wedding and reception held at Camas Meadows Golf Club on Sunday, September 2, 2018.

It was picture perfect and a comfortable 78 degrees for the 50+ guests attending when the ceremony began at 5pm in the gazebo on the golf course. With my main sound system set-up for the reception, I used a second mixer and cordless lapel microphone to provide music and sound for the wedding.




Summer Wedding Camas Meadows Golf Club Ceremony Highlights:
Parents Seating and Wedding Party Entrance: Josh Groban – You Raise Me Up
Bridal Party and Bride Entrance: Train – Marry Me
Bride & Groom Exit: Ellie Goulding – Your Song
The reception followed immediately in the tent above near the parking lot. As guests walked up the hill, I greeted them with a set of oldies as requested by the newlyweds, including music from the Beatles, Four Tops, Beach Boys and more. Immediate family, the wedding party and bride and groom stayed in the gazebo area for photos.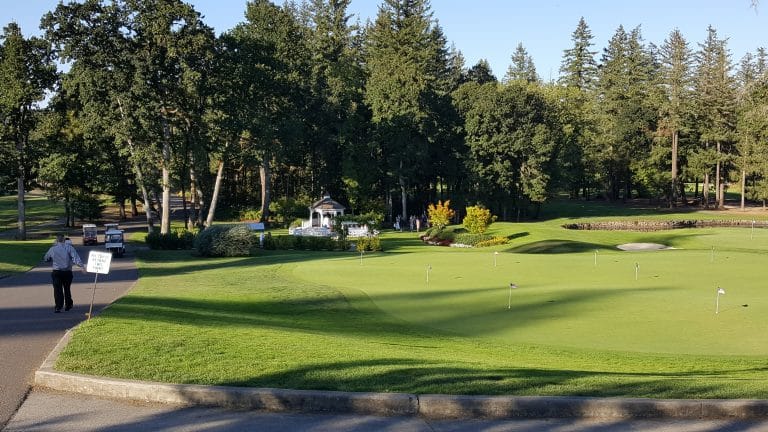 Around 6:40, I cued up their entrance music and announced Aimee and Zach's arrival. The dinner buffet was opened right away and for background music, I played a set of classic jazz selections as requested by the groom. Champagne was served for the toast about an hour later.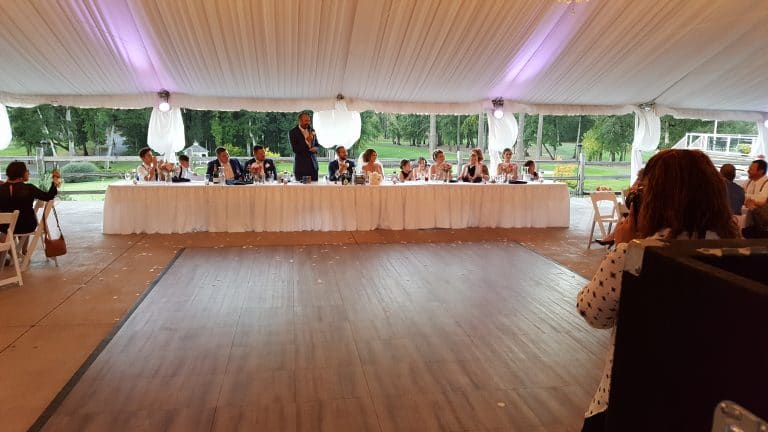 Summer Wedding Camas Meadows Golf Club Reception Highlights:
Grand Entrance: Bebe Rexha f/Florida Georgia Line – Meant To Be
Cake Cutting: Isley Brothers – Shout
First Dance: Boyce Avenue – All Of Me
Bride/Father Dance: Tim McGraw – My Little Girl
Groom/Mother Dance: Israel Kamakawiwo'ole – Somewhere Over The Rainbow
Money Dance: Ludacris f/Pharrell – Money Maker
Bride/Son Dance: Lee Brice- Boy
Bouquet Toss: Cyndi Lauper – Girls Just Wanna Have Fun
Garter Toss: Deniece Williams – Let's Hear It for the Boy
Last Dance: Blake Shelton – Who Are You When I'm Not Looking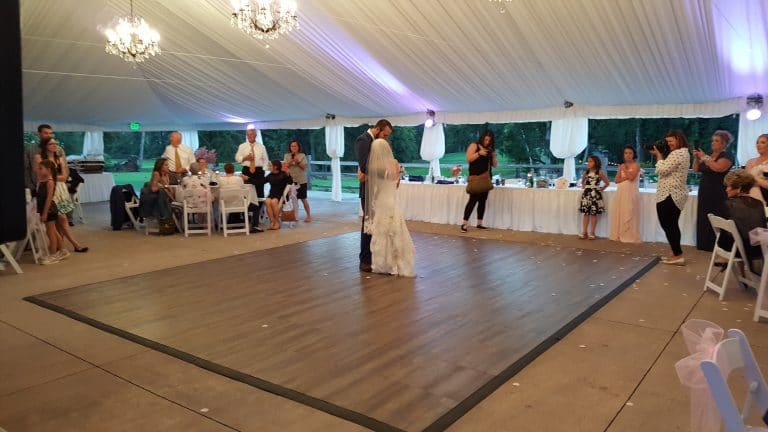 The money dance got this group going and served as the official opening of the dance floor. From there, the classic oldies were especially popular early on, including "Twist & Shout" and "In The Mood." There were still a few guests that needed a warm-up, so I managed to squeeze in a slow dance before things got too crazy.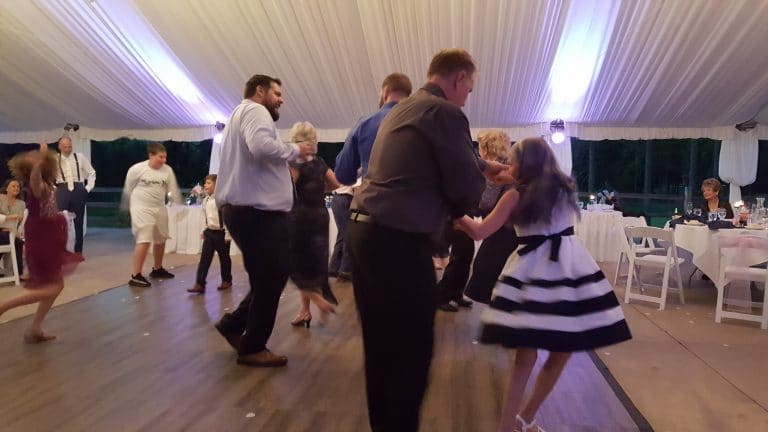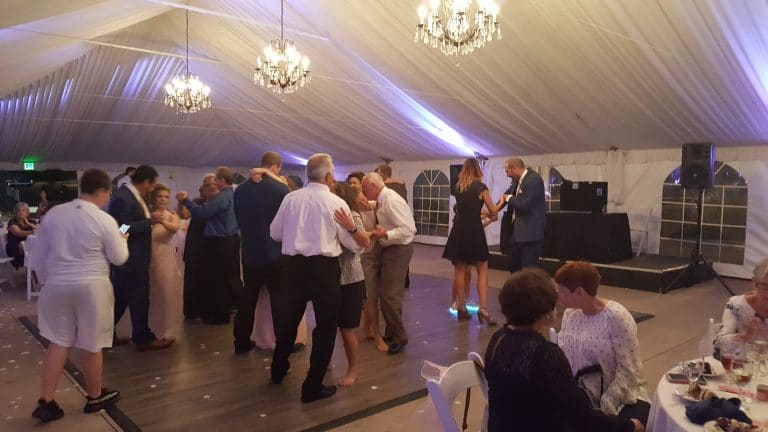 I had not played "YMCA" in a while, but it was requested by the bride and well-received by friends and family.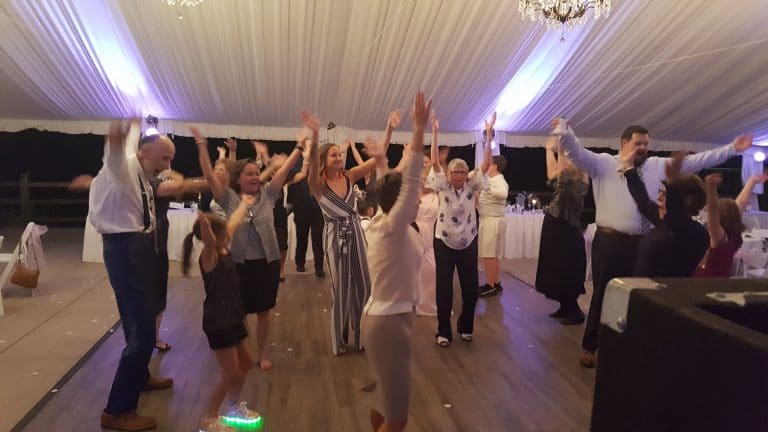 There was one more showcase dance for Aimee and her young son Aiden, which she asked to have all the other mothers and sons in attendance participate.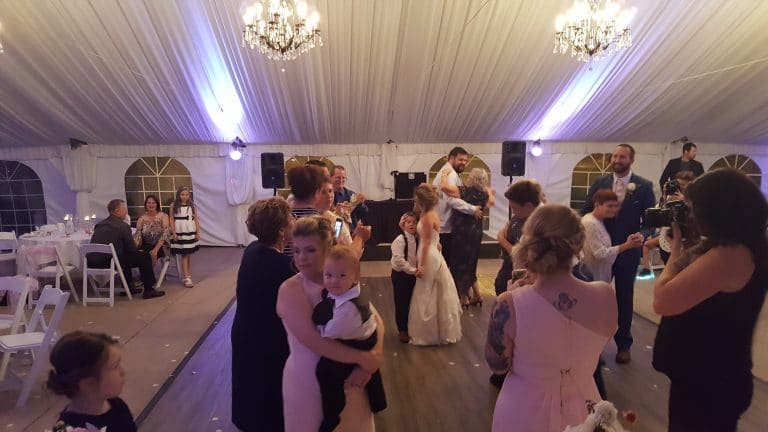 For the final hour, we had a great run on the dance floor with most everyone having a fun time dancing to "Can't Stop The Feeling," "Uptown Funk," the "Cupid Shuffle," "Footloose" and more. The bride's grandmother also requested "The Hokey Pokey" which I played right before the final slow dance.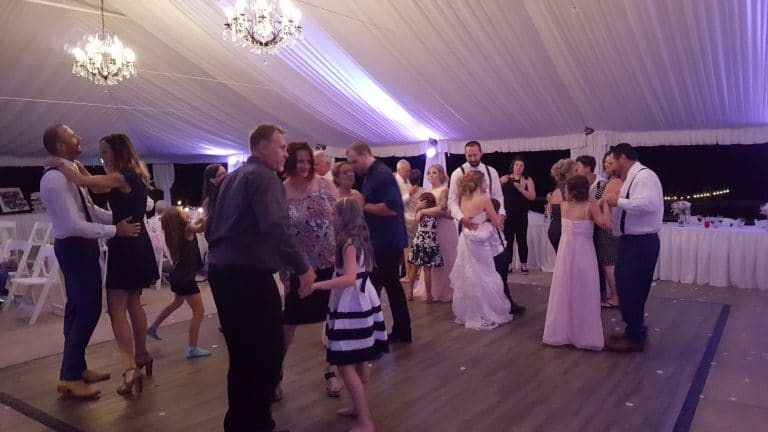 Congratulations Aimee and Zach and thank you for choosing PRO DJs.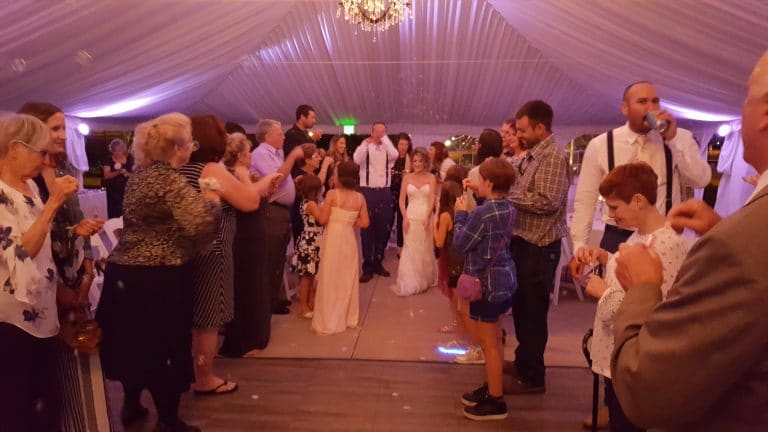 Jordan was fired up and looking sharp in his watermelon covered shirt for his Portland Bar Mitzvah party held on Saturday, August 25, 2018 at Hotel Eastlund in SE Portland, Oregon.

His friends seemed to match his energy and it wasn't long before most were participating in the games I had planned including Coke & Pepsi and the Limbo, as well as Basketball vs. Lacrosse (Jordan's two favorite sports).

The kids sat at one long table and following the games, were served dinner around 6:30pm while the adults enjoyed cocktails and conversation until they were seated for dinner about 15 minutes later. Background music for dinner featured artists: OneRepublic, Marvin Gaye and a request for Rod Stewart's "You're In My Heart" from Jordan's parents.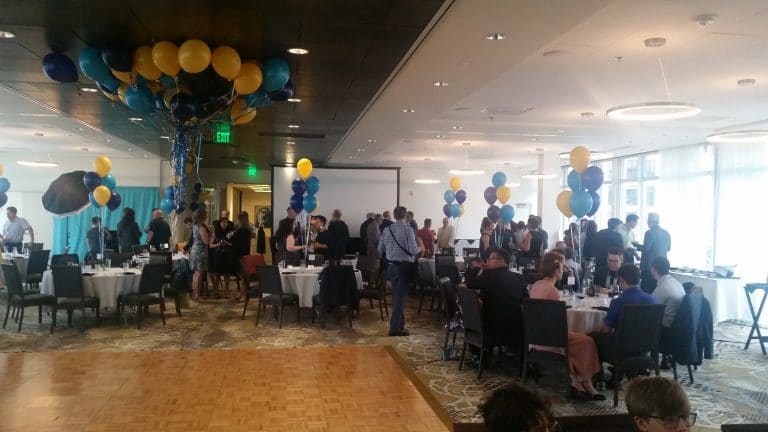 As dinner was winding down, our guest of honor's dad, Bob welcomed guests visiting from all over the U.S. before starting a slideshow that ended with Jordan on video singing Justin Beiber's "Baby" at a Hillsboro Hops baseball game recently. Bob wanted to re-create this live, so as soon as the video ended, I started the song and handed off microphones to Jordan and his friends.

Next up was an appearance by Portland Trailblazers mascot "Blaze" who danced with the kids to a recording of Blazers' star Damian Lillard's hit song "Run It Up." I then invited all of the adults out for "The Hora" and chair raising.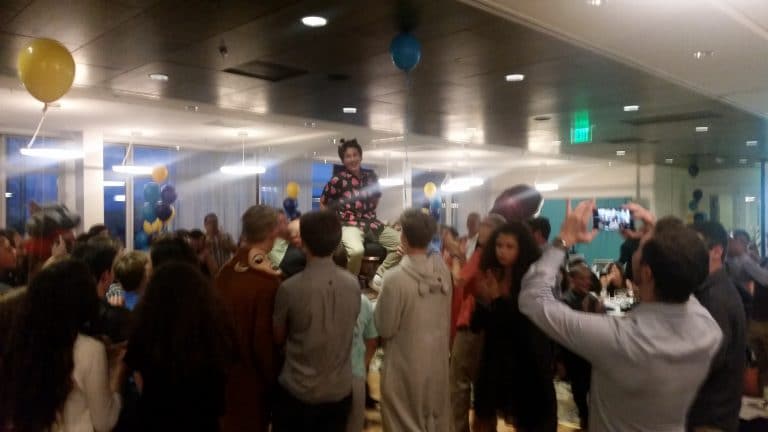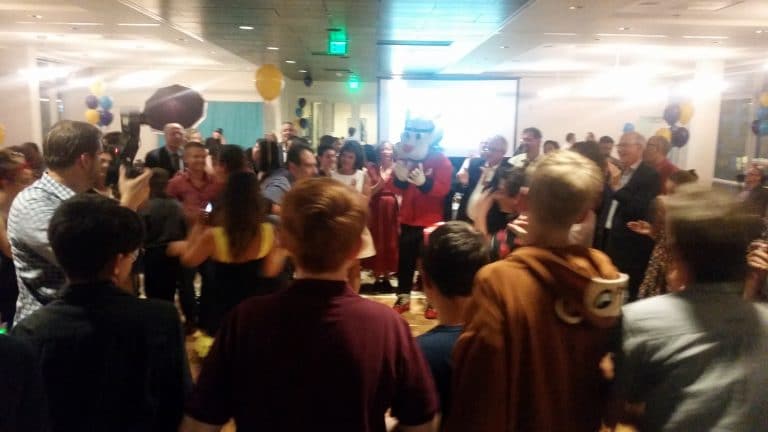 Guests had a great time dancing to everything from "Stayin' Alive" and Jordan's family requests for "Dancing Queen" and "PYT" to "Uptown Funk", "September" and more.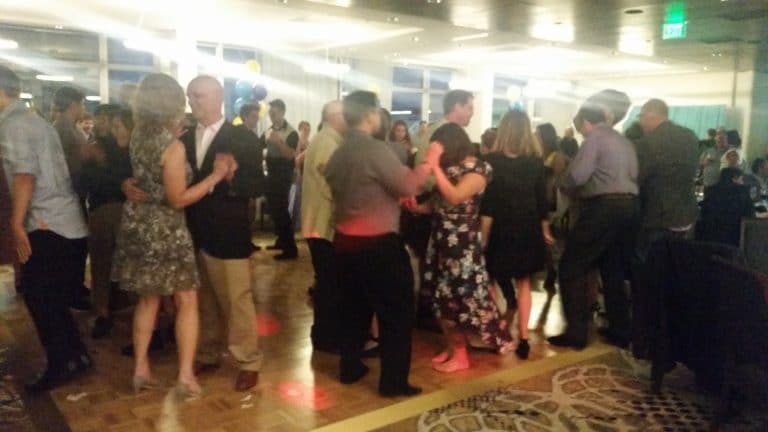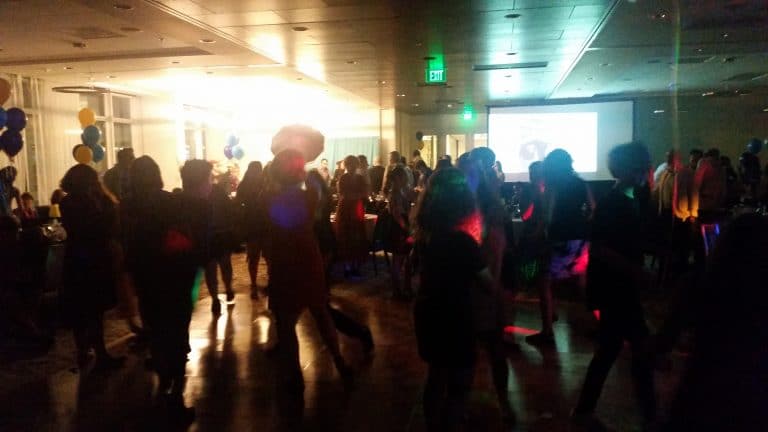 Mazel Tov Jordan and thank you mom Anna and dad Bob for choosing PRO DJs.

Post Event Satisfaction Survey:

"Rich did a great job at my son's Bar Mitzvah. He kept the energy at the right level throughout the evening. He kept the kids entertained during cocktail hour with games, which allowed the adults to mingle without a lot of distraction. Then, when it was time to focus on dancing, he played a great mix of music that had young and old alike dancing. We requested a couple slow dances and those were added in at just the right time. Great, memorable evening." -Anna Winthrop
Event Date: Saturday, August 25, 2018
Event Type: Bar Mitzvah
Event Location: Hotel Eastlund, Portland
Event Staff: Rich Ellis
Quality of Customer Service via Telephone: Excellent
Quality of Customer Service via Internet: Excellent
Quality of Customer Service at Event: Excellent
Friendliness of your Entertainer: Excellent
Promptness of your Entertainer: Excellent
Professionalism of your Entertainer: Excellent
Entertainer's Performance: Excellent
Entertainer's Appearance: Excellent
System Appearance: Excellent
Sound Quality: Excellent
Overall Volume Levels: Excellent
Music Selection: Excellent
Incorporation of Your Requests: Excellent
Lighting Effects: Excellent
Equipment Appearance: Excellent
Overall Customer Service: Excellent
Planning Assistance: Excellent
Entertainer's Cooperation with Other Vendors: Excellent
Overall Performance Rating: Excellent
Would you recommend this service to others? Yes

Andrea and Marshall's karaoke wedding was held Friday, August 24, 2018 at McMenamins Kennedy School in Portland, Oregon.

The reception was in the Gym with the ceremony outside in the adjacent courtyard. I setup my sound system in the corner so I could provide music and sound for both, including a microphone on a stand for two readings and a lapel microphone for the officiant.

Karaoke Wedding Ceremony Highlights:
Wedding Party and Bride/Groom Entrance: The Pretenders – Message of Love
Bride & Groom Exit: Gin Wigmore – I Do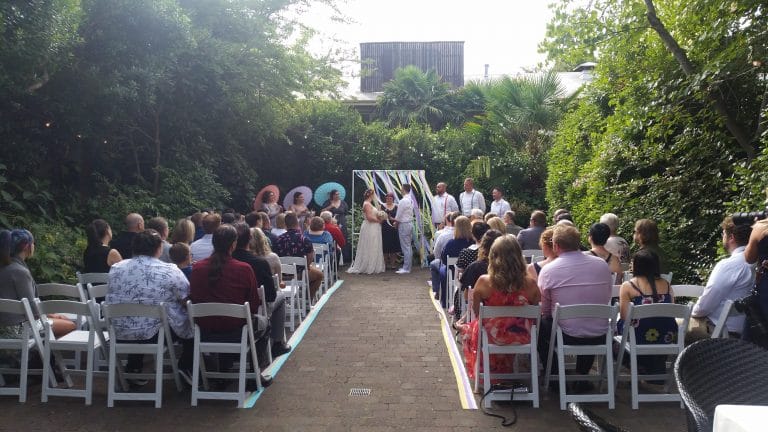 Following the ceremony, everyone made their way inside for drinks and refreshments as the newlyweds posed for additional photos. Background music was a mix of Rock and R&B selections as requested by the bride and groom, including artists such as Stevie Wonder, Beach Boys, Childish Gambino, Alabama Shakes and more.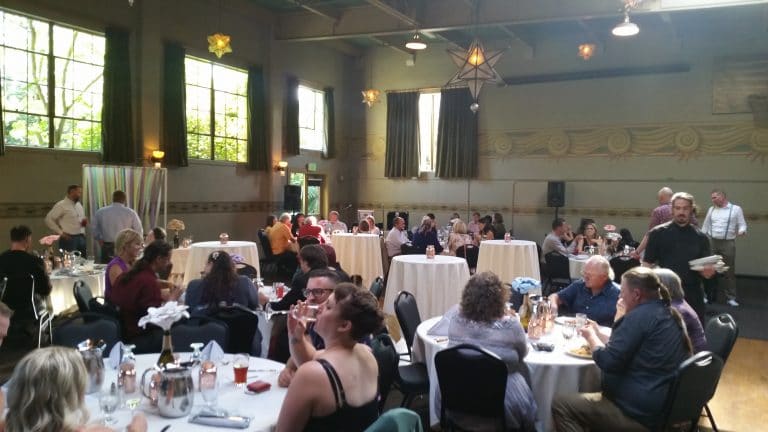 Karaoke Wedding Reception Highlights:
Grand Entrance: Abba – I Do, I Do, I Do, I Do, I Do
First Dance: Alabama Shakes – I Found You
Cake Cutting: Folk Uke – In Case We Die
Last Dance: Beatles – When I'm 64

After the cake cutting, Andrea opened the karaoke by singing "I'll Stand By You" (Pretenders). She was then joined by her father to perform "Proud Mary" (CCR). As expected, and maybe because it was still early (7pm), we didn't have many ready to keep the karaoke going, but that would certainly change later on. I opened the dance floor with a slow song and then played a variety of hits, including "Hey Ya", "Ain't Too Proud To Beg", "Jailhouse Rock" and more.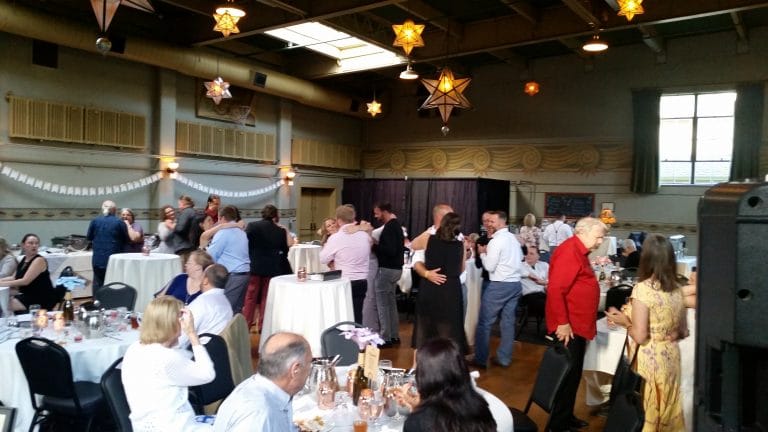 The karaoke picked up about an hour later as guests signed up to sing everything from "Keeping The Faith" and "Careless Whisper" to "Super Bass" and "I Want It That Way". Then came a heavy set of 90's hip hop for the dance floor pulled from the newlywed's request list… "California Love", "Hypnotize", "No Diggity", "Humpty Dance" and more. We finished the night with more karaoke performances, including Andrea singing the finale, "Dream A Little Dream of Me" (Mama Cass).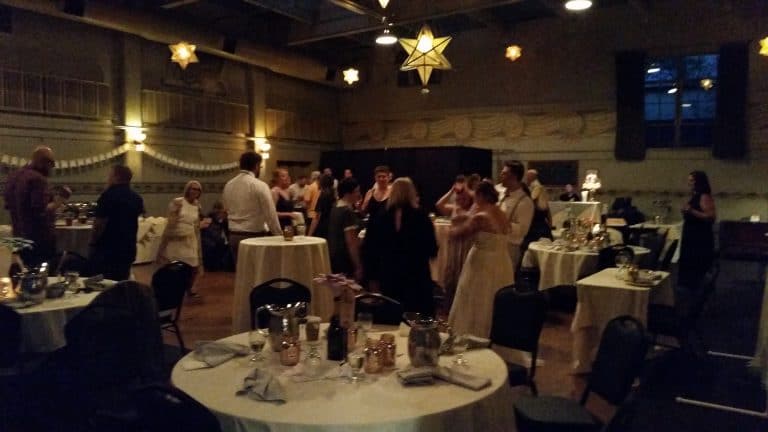 Congratulations Andrea and Marshall and thank you for choosing PRO DJs.