General

PRO DJs had the opportunity to return for Oregon Zoo BrewLights on Friday, November 18th and Saturday, November 19th, 2022. With the pandemic, the last BrewLights was in 2019, so it was good to be back again.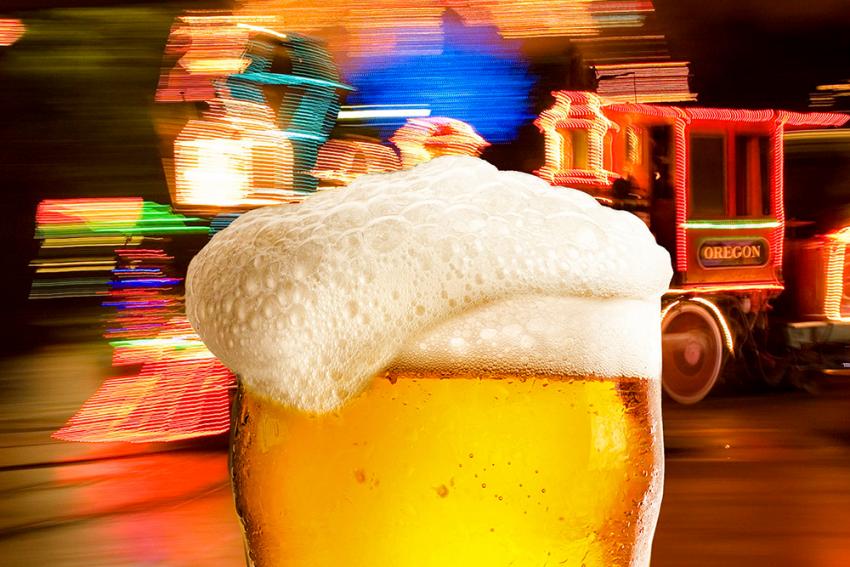 DJ Steve Marker was setup near Elephant Plaza at the far end of the zoo and had 'em dancing until 9pm, while DJ Rich Ellis worked the entry way and exit that saw a number of people dancing in the entry plaza the final hour.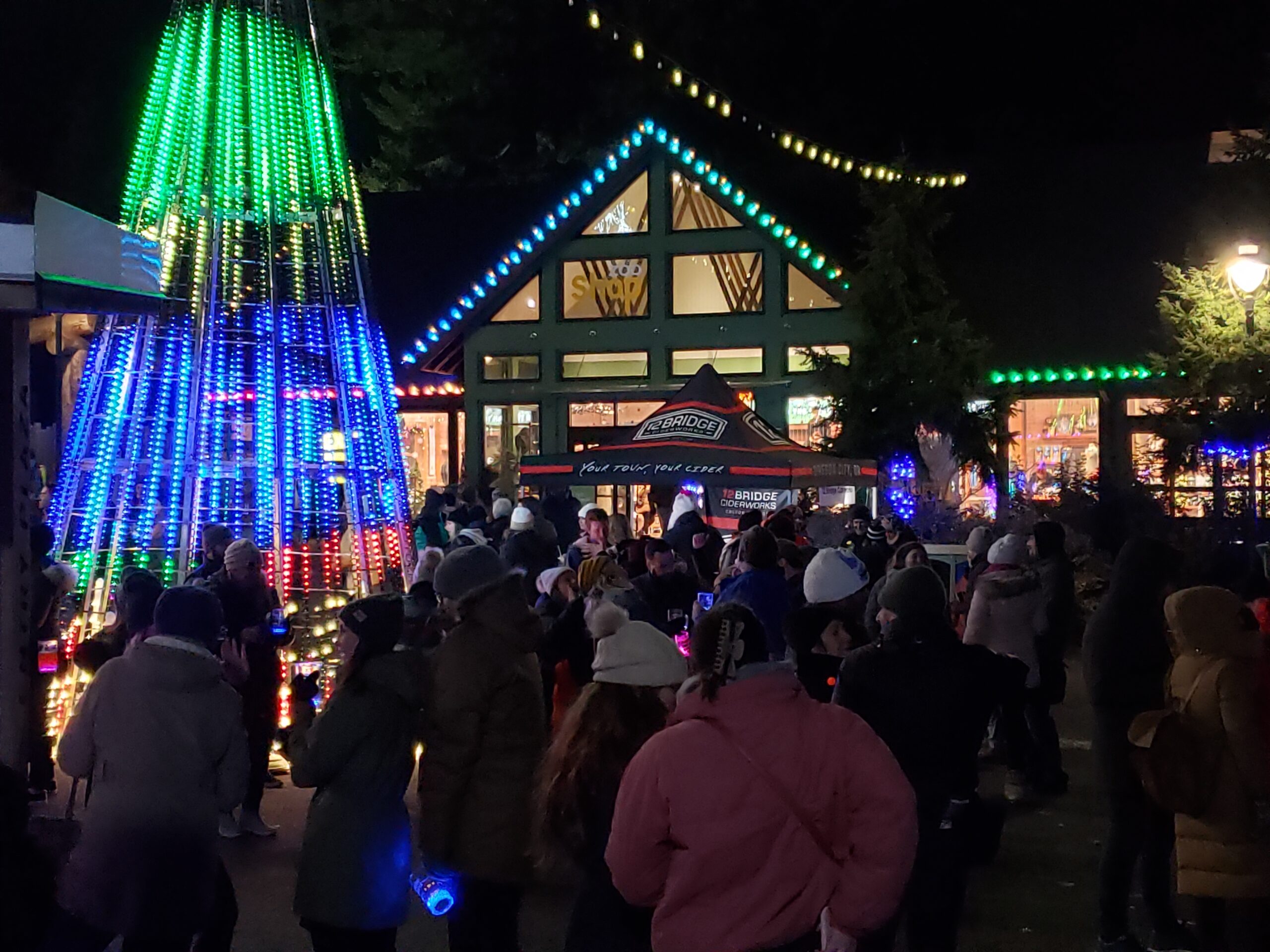 It was really cold both nights, but no rain all weekend and a great crowd.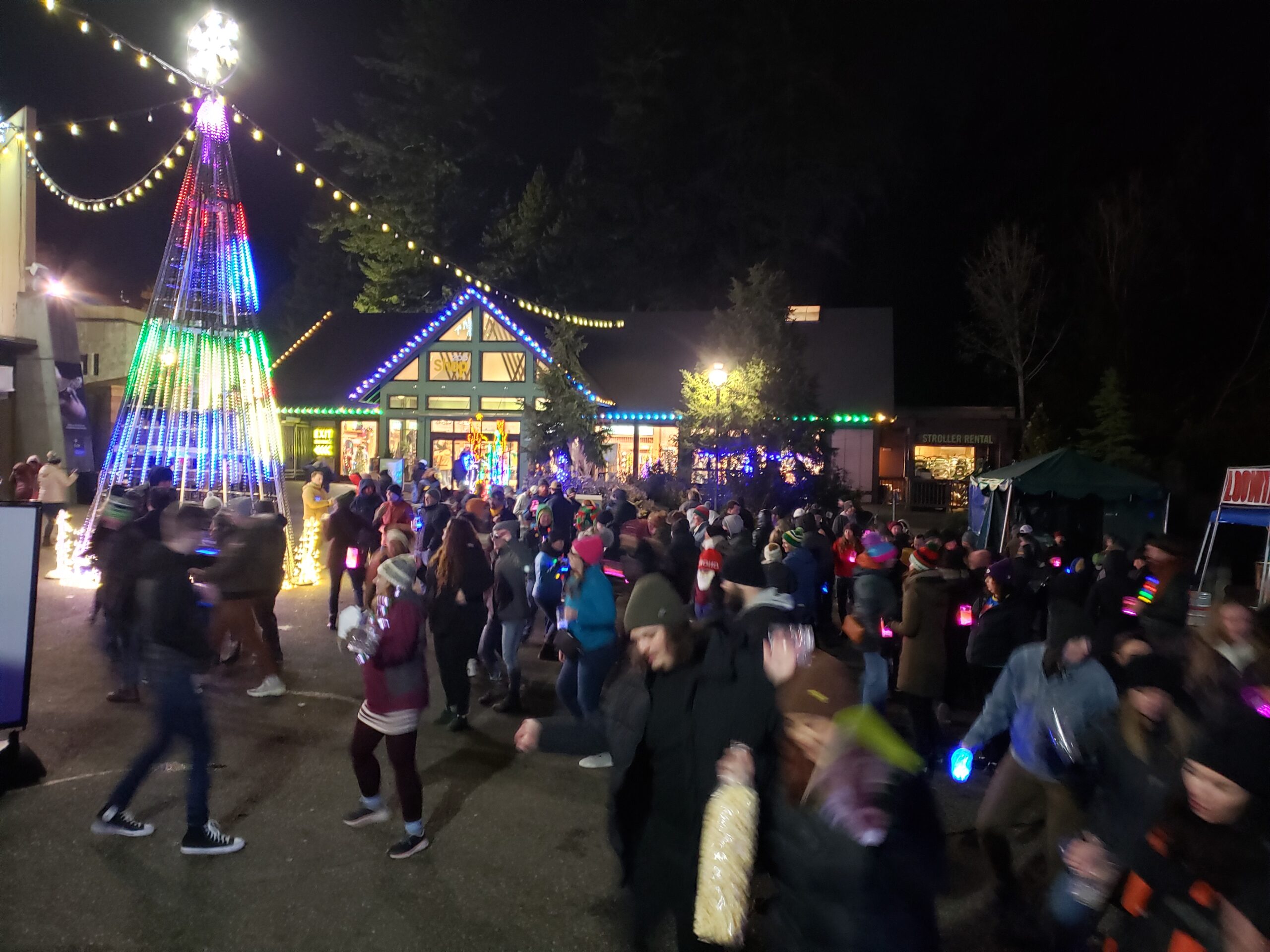 PRO DJs had the opportunity to DJ the Dr Martens AirWair corporate karaoke party held at Revolution Hall (Showbar area) in Portland, Oregon on Saturday, February 26, 2022.

Guests began arriving for the Mardi Gras themed event at 5pm. After dinner and a raffle, additional prizes were available for the limbo and then dancing. I played a variety of hit songs from Michael Jackson to the "Cupid Shuffle". This group really also enjoyed 90's and 2000's hip hop selections.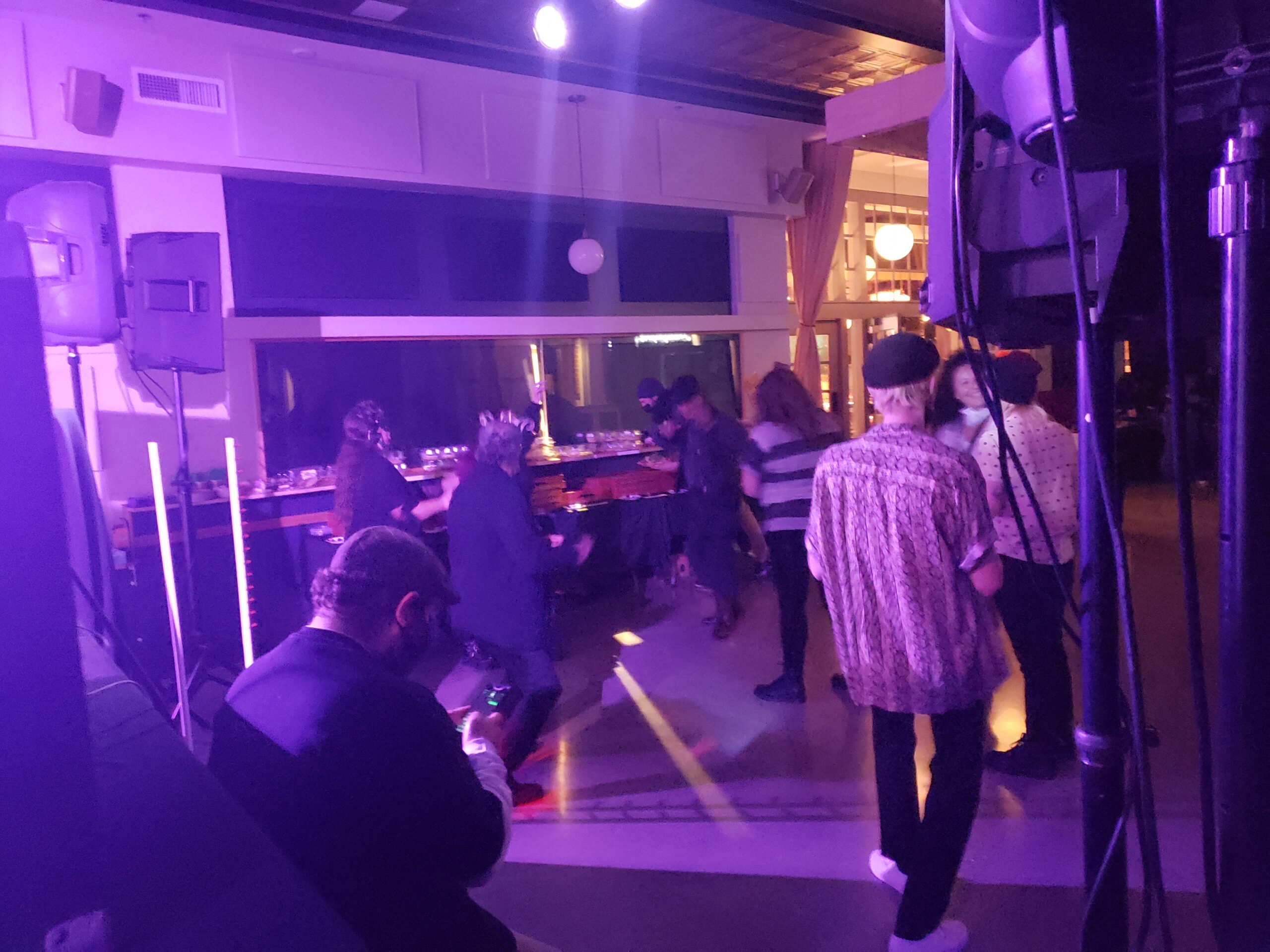 After about 30 minutes of dancing, we had our first karaoke performer with Kristin singing Adele's "Rolling In The Deep". From there, the gates opened and there were 10 more karaoke performances mixed in with the dance music.

Post Event Satisfaction Survey:

"Rich was absolutely professional and definitely kept the energy up at our party. We very much enjoyed working with him." -Kristin Gunter (Dr Martens) – Portland, OR
Event Date: Saturday, February 26, 2022
Event Type: Company Party (Karaoke)
Event Location: Revolution Hall – Showbar area
Event Staff: Rich Ellis
Quality of Customer Service via Telephone: Excellent
Quality of Customer Service via Internet: Excellent
Quality of Customer Service at Event: Excellent
Friendliness of your Entertainer: Excellent
Promptness of your Entertainer: Excellent
Professionalism of your Entertainer: Excellent
Entertainer's Performance: Excellent
Entertainer's Appearance: Excellent
System Appearance: Excellent
Sound Quality: Excellent
Overall Volume Levels: Excellent
Music Selection: Excellent
Incorporation of Your Requests: Excellent
Lighting Effects: Excellent
Equipment Appearance: Excellent
Overall Customer Service: Excellent
Planning Assistance: Excellent
Entertainer's Cooperation with Other Vendors: Excellent
Overall Performance Rating: Excellent
Would you recommend this service to others? Yes
Jenn and Erik's Oregon karaoke wedding was held Saturday, April 3, 2021 at Timberline Lodge on Mt. Hood, Oregon with the ceremony in the Raven's Nest and reception in Ullman Hall.

Since the pandemic shut most everything down in March 2020, this was my first DJ performance since last October. I thought some rust might set in, but 30 years in this business it was like riding a bike for me and I really appreciated the opportunity to do this again.

It was a beautiful day outside and the large picturesque window provided a great view of the mountain when the ceremony began at 6pm.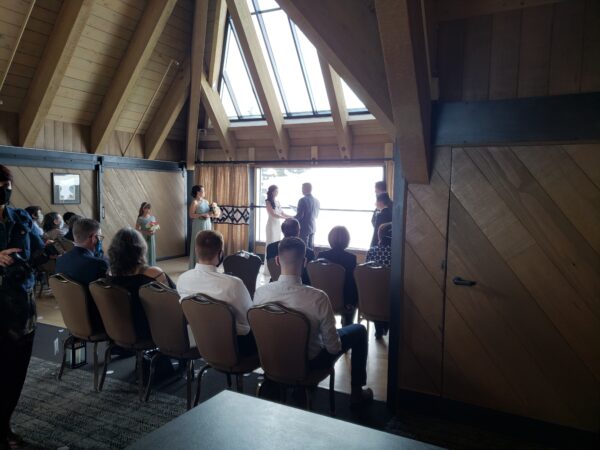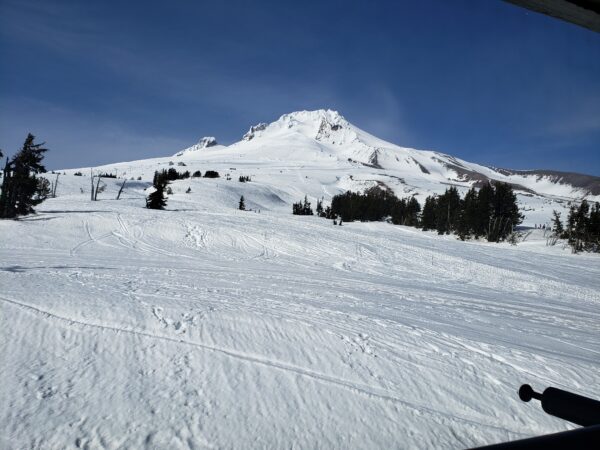 Oregon Karaoke Wedding Ceremony Highlights:
Wedding Party Entrance: Chase Rice – Eyes On You
Groom Entrance: Billy Squier – The Stroke (Flower Dude)
Bride Entrance: John Williams – The Imperial March, Darth Vader's Theme
Bride & Groom Exit: Big & Rich – Lost In This Moment
After the ceremony, guests took the stairs down to Ullman Hall for the reception. There were about 60 guests in attendance and the staff did a great job locating the tables six feet apart, but with karaoke on the itinerary, it was intially a bit of a challenge placing my speakers and projector screen for the lyrics, but we made it work and it turned out to be the ideal setup for the space.
 
Background music for cocktails and dinner was a mix of instrumental or orchestra versions of hit songs all chosen by the bride. Featured artists included Simply Three, Ramin Djawadi and selections from the Westworld soundtracks.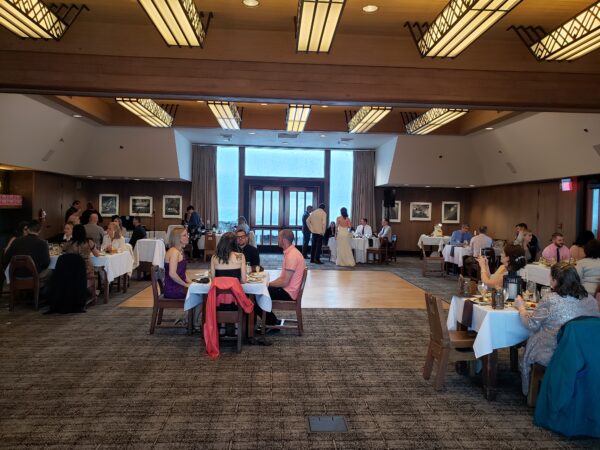 Oregon Karaoke Wedding Reception Highlights:
Grand Entrance: Black Eyed Peas – Let's Get It Started
Cake Cutting: Jack Johnson – Better Together
First Dance: Custom Mashup
Bouquet Presentation: Kelis – Milkshake
Last Dance: Luke Combs – Better Together
Before their wedding, Jenn and Erik noted "we would like to be announced for our first dance like were going into a boxing ring. You had suggested doing the "Let's get ready to rumble!" intro which we love. After that we'll have you introduce us and we will provide you with what to say, and then we are going to go into the choreographed mash up."
 
In my sound studio, I pre-produced their introductions and mixed the mashup which featured the following songs (Groove Is In The Heart, Wobble, Finesse, Rump Shaker, OMG, Hot In Heere, Single Ladies, Low, Uptown Funk). The newlyweds put on a great show for their guests.
The karaoke was a big hit with nearly 30 performances and there was some dancing as well.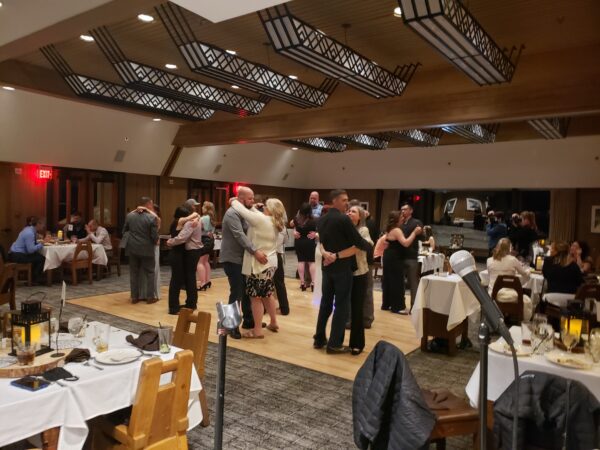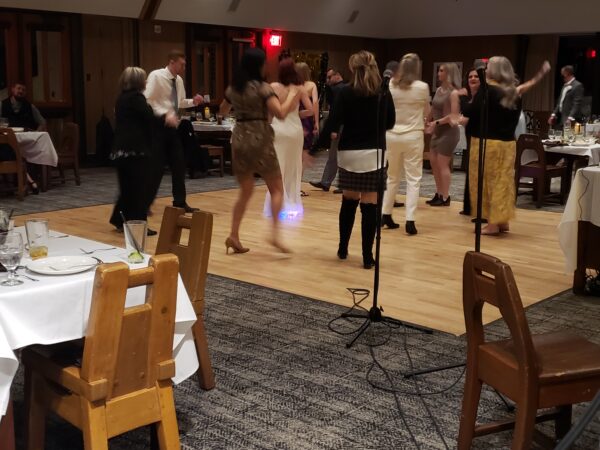 Congratulations Jenn and Erik and thank you for choosing PRO DJs.
Jodi and Tom's Rainier Oregon wedding was held on Saturday, October 10, 2020 at the home of the bride's family. There were two tents setup on the property… one for the ceremony at the bottom of the driveway and other off the front of the house for the reception.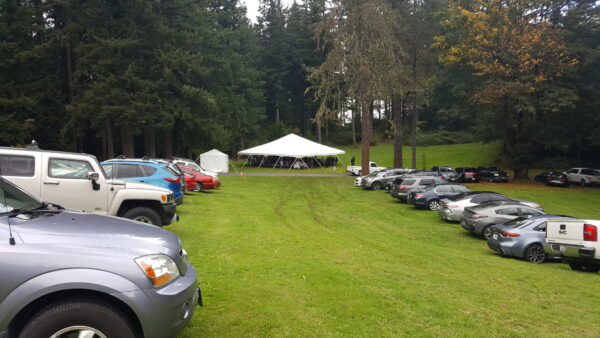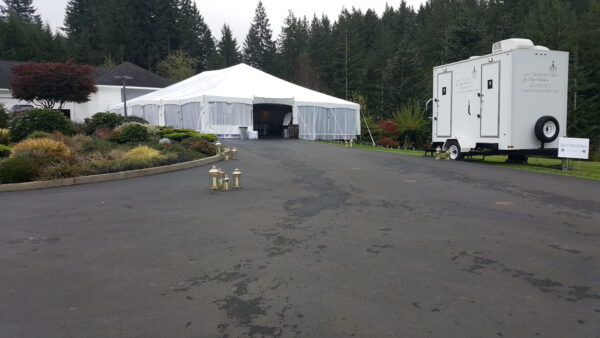 I provided music for the reception only. To ensure enough space for seating, the tent was extended past the driveway where the grass angles down. I was able to make this work, although I could not find a solution for one leaning speaker 🙂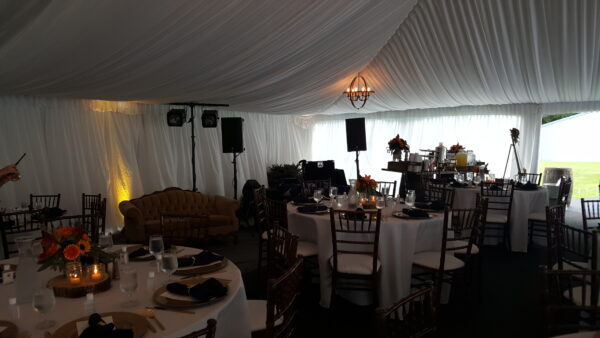 As guests arrived for the reception, I played a mix of Jazz/Bossa nova as requested by the bride and groom.
Rainier Oregon Reception Highlights:
First Dance: Gregory Alan Isakov & The Colorado Symphony – The Stable Song
Bride and Father Dance: Tim McGraw – My Little Girl
Groom and Mother Dance: NeedToBreathe – Stones Under Rushing Water
It was a great night of dancing as guests enjoyed moving to a variety of hit songs, including the groom's requests for the "Electric Slide" and AC/DC's "TNT." The evening ended around 8pm with a sparkler sendoff for the newlyweds.
Best wishes Jodi and Tom and thank you to the sister of the bride, Riley for choosing PRO DJs.

Noelle and Eric's Yellow Gold Farm wedding took place in Albany, Oregon on Saturday, August 22, 2020 on a delightful summer day.

The temperature was a perfect 83 degrees, but the giant trees shade almost the entire property of this venue so even a hot day would be comfortable here.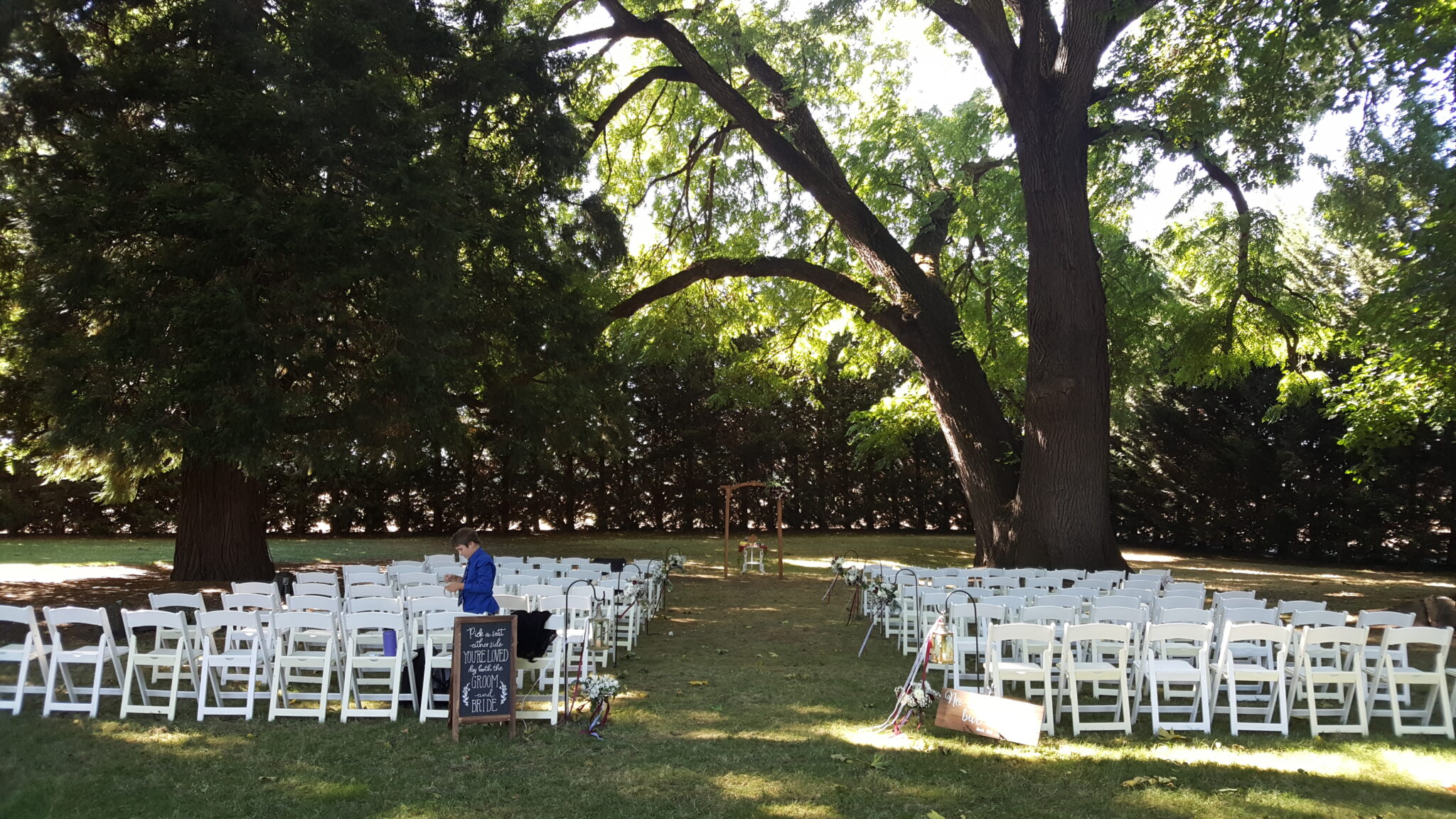 Yellow Gold Farm Wedding Ceremony Highlights:
Grandparents and Mothers Entrance: Brooklyn Duo – Shallow
Wedding Party Entrance: Brooklyn Duo – The Scientist
Bride Entrance: Ludovico Einaudi – Nuvole Bianche
Worship Song: Housefires – Build My Life
Communion & Sand Pouring: Cageless Birds – We Rise
Bride/Groom Exit: Maren Morris & Hozier – The Bones
Following the ceremony, I moved my sound system to the dance floor area. While guest enjoyed drinks and refreshments, I played a mix of background music from a variety of artists including: Train, OneRepublic, Lauryn Hill, Colbie Caillat, and Coldplay.

Yellow Gold Farm Wedding Reception Highlights:
Grand Entrance: Jonas Brothers – I Believe
Cake Cutting: Johnnyswim – Take The World
First Dance: Eric and Noelle Taylor – Every Part of Me
Bride/Father Dance: Steffany Gretzinger – We Dance
Groom/Son Dance: Beach Boys – God Only Knows
Anniversary Dance: Rod Stewart – Have I Told You Lately
Noelle and Eric are musicians and for their first dance, recorded a new song titled "Every Part of Me." This was a surprise for their guests and well-received.

The anniversary dance began with 15 married couples and the longest married ended being the bride's grandparents (55 years).

When the dance floor opened to everyone, guests were not shy and filled it for the remainder of the evening, dancing to everything from "Dancing Queen" and "Dynamite," to "You Can Call Me Al" and the "Cupid Shuffle."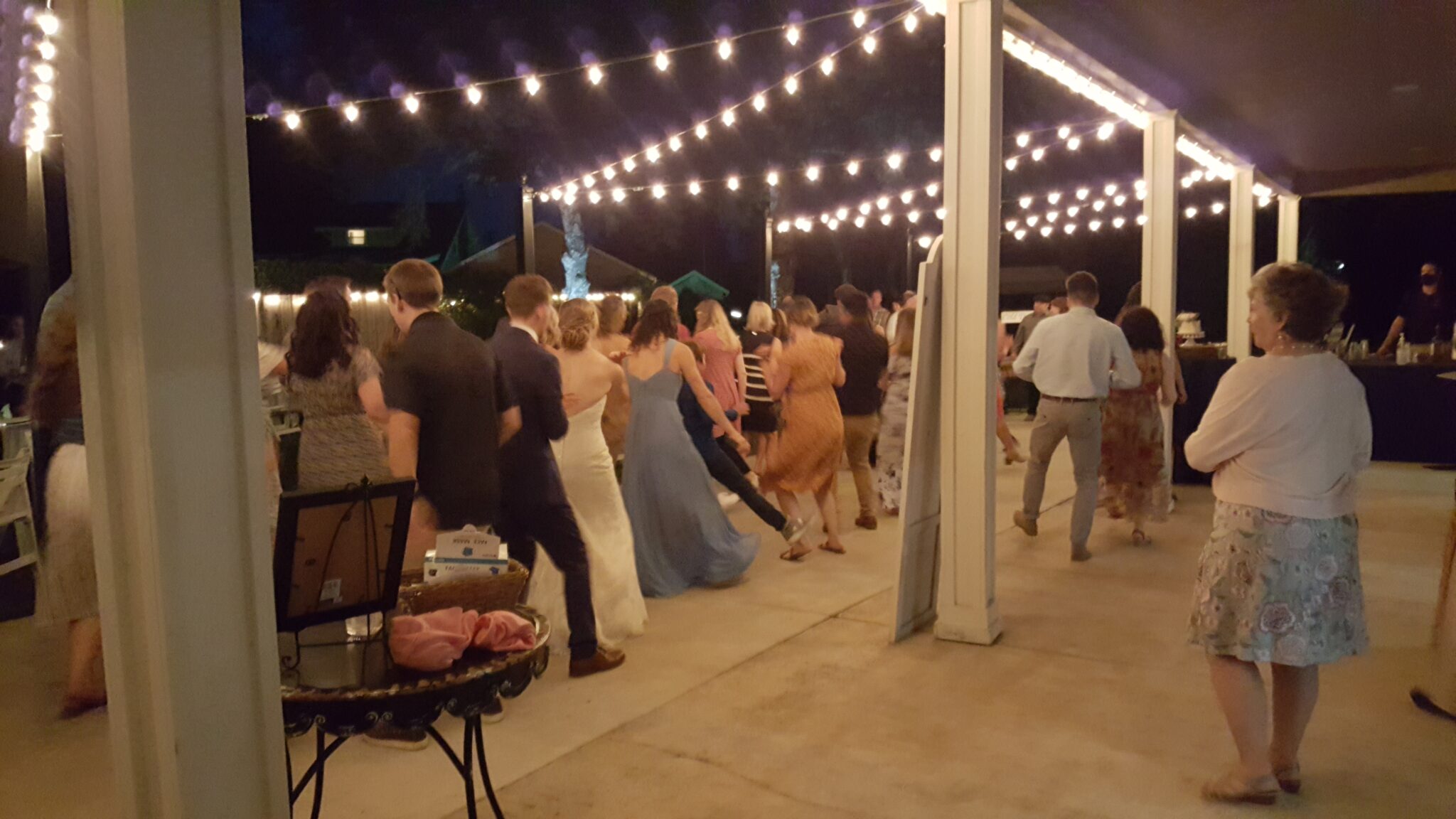 Congratulations Noelle and Eric and thank you for choosing PRO DJs.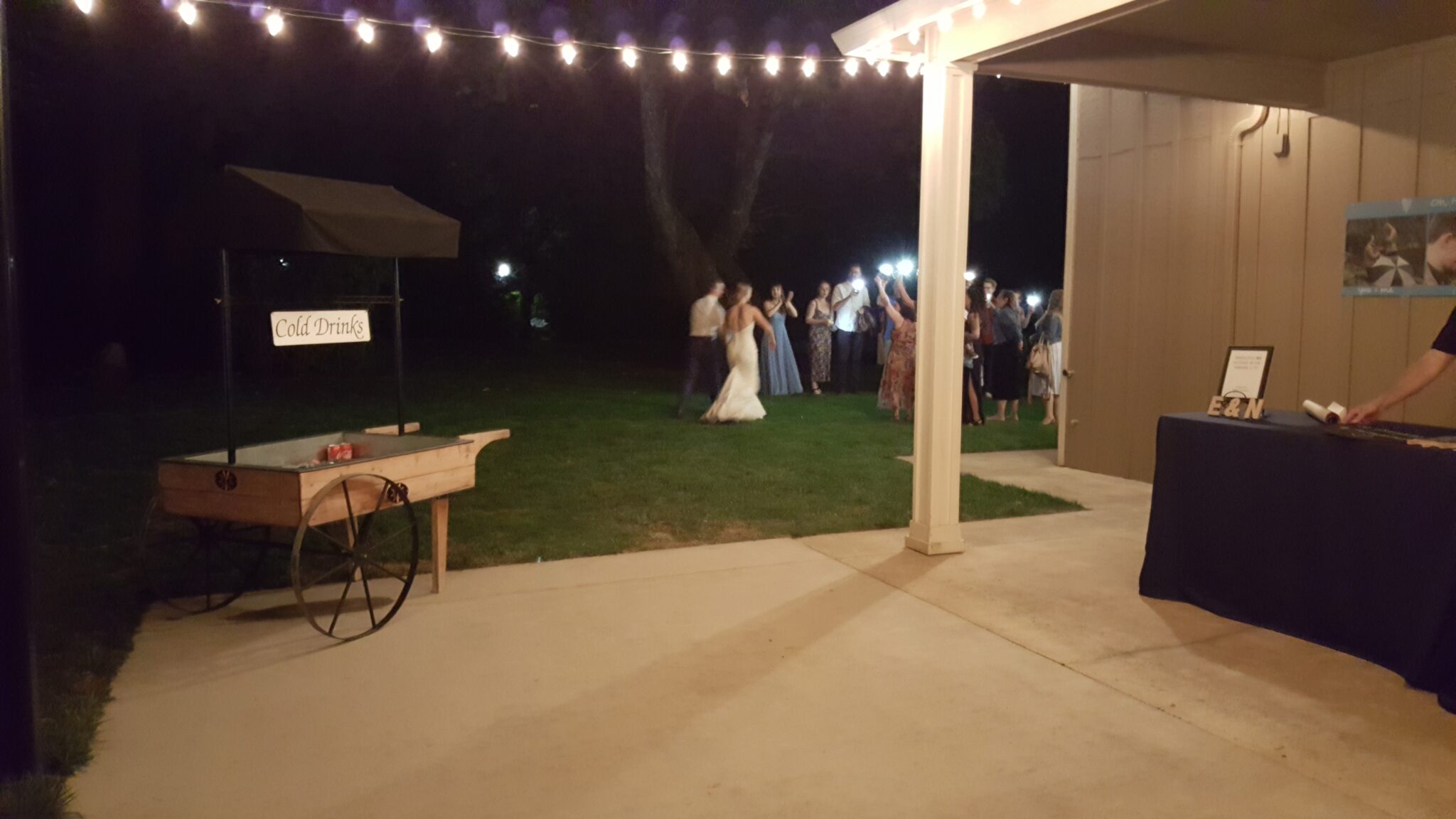 Post Event Satisfaction Survey:

"Rich was wonderful!! He was very easy to communicate with, extremely friendly, and helpful with suggestions to make sure our event was the best it could be. Couldn't have asked for anyone better!"  -Noelle Basham
Event Date: Saturday, August 22, 2020
Event Type: Wedding
Event Location: Yellow Gold Farm
Event Staff: Rich Ellis
Quality of Customer Service via Telephone: Excellent
Quality of Customer Service via Internet: Excellent
Quality of Customer Service at Event: Excellent
Friendliness of your Entertainer: Excellent
Promptness of your Entertainer: Excellent
Professionalism of your Entertainer: Excellent
Entertainer's Performance: Excellent
Entertainer's Appearance: Excellent
System Appearance: Excellent
Sound Quality: Excellent
Overall Volume Levels: Excellent
Music Selection: Excellent
Incorporation of Your Requests: Excellent
Lighting Effects: Good
Equipment Appearance: Excellent
Overall Customer Service: Excellent
Planning Assistance: Excellent
Entertainer's Cooperation with Other Vendors: Excellent
Overall Performance Rating: Excellent
Would you recommend this service to others? Yes