General

Reflecting on 2018, PRO DJs has put together video slideshows of the many weddings and events we have performed over the past year.

WEDDINGS:

CLIENT FEEDBACK:

Rich was amazing from start to finish. He helped plan, answered our questions whenever we had them and coordinated with other vendors the day of the wedding. The music was great and exactly what we asked for. I will be recommending Pro DJs to everyone I know who needs a great DJ. Very professional and organized. Made our wedding day that much better! -Michelle Love (Michelle & Heather's Wedding) – Salem, OR (4-14-18)

Rich made everything so much easier! Being new to this idea of putting on a BIG wedding, it was marvelous to have a professional DJ who knew just what to do and kept everything on track. Thank you so much! Our daughter and son-in-laws special day could not have gone more smoothly! -Ronda Wallace (Laura Wallace & Nick Reyes Wedding) – Hood River, OR (6-2-18)

Thank you so much for the wonderful job you did with the music. Everyone had a wonderful time and we will be happy to refer others to you. Rich Ellis provided a marvelous service. We had a slide show of our lives together and Rich coordinated song selections that were beautifully suited to the mood of the slides. I was so delighted! -Mary & Dave Krug (50th Wedding Anniversary) – Portland, OR (8-19-18)

Thank you (Rich) for helping to make our wedding the special day that it was. -Aimee Boyd & Zachary Zandt Wedding – Washougal, WA (9-2-18)



BAR MITZVAHS & BAT MITZVAHS:

CLIENT FEEDBACK:

Thanks, Rich for making Yael's Bat Mitzvah a real blast. -Daniel Raider (Yael's Bat Mitzvah) – Portland, OR (3-3-18)

We would use Rich again! -Heidi Wolfson (Rebekah's Bat Mitzvah) – Beaverton, OR (3-24-18)

Steve was awesome. Really great. We were very happy with his professionalism and charm. -Julia Pickar (Max's Bar Mitzvah) – Portland, OR (5-5-18)

Steve made the party amazing! -Sharon Friedman (Mara's Bat Mitzvah) – Portland, OR (6-9-18)

We had another wonderful event with Rich! The music was great. Kids and adults all had a great evening. -Jaime Kean (Lucy's Bat Mitzvah) – Portland, OR (6-16-18)

Rich was a super resource and made our event! HUGE THANKS! -Leticia Kleinberg (Maia's Bat Mitzvah) – Portland, OR (6-30-18)

We've been to many Pro DJ events and many with Rich. We couldn't wait to have him at our event. He's so easy to work with and such a gentle soul. He know kids, knows how to read a room and knows how to make a party rock!!! Thank you for a most fabulous evening!! -Jennifer and Ken Zeidman (Ruthie's Bat Mitzvah) – Portland, OR (7-14-18)

Rich did a great job at my son's Bar Mitzvah. He kept the energy at the right level throughout the evening. He kept the kids entertained during cocktail hour with games, which allowed the adults to mingle without a lot of distraction. Then, when it was time to focus on dancing, he played a great mix of music that had young and old alike dancing. We requested a couple slow dances and those were added in at just the right time. Great, memorable evening. -Anna Winthrop (Jordan's Bar Mitzvah) – Portland, OR (8-25-18)

I just wish I had another kid so I could look forward to having Steve be our DJ again! Will have to work on that!!! -Debbie Plawner (Miriam's Bat Mitzvah) – Portland, OR (10-13-18)

He (Steve) was and is always a spectacular partner in the event. There is a reason so many people choose you all. He is amazing. All the kids know him. He can read a room well and know just what to do! -Marisa Brown (Eleanor's Bat Mitzvah) – Lake Oswego, OR (10-20-18)



CORPORATE & KARAOKE:

CLIENT FEEDBACK:

Rich did great. We will definitely book him for future events. -Ashton, Graffeo Chiropractic Clinic – Portland, OR (1-6-18)

Rich was the Best! It was a pleasure working with you and thank you for making our company picnic a success! I know we will be working with you again in the future. -Kathy Korb, DSV Road Transport Company Picnic – Portland, OR (8-12-18)

Everything was wonderful, there is nothing I can think of that could have been done better. Rich was a great DJ/KJ, and I would highly recommend Pro DJs for any event. -Shelly Garteiz, BillerudKorsnäs Company Karaoke Party – Portland, OR (12-4-18)

We would like to go ahead and reserve for (December 2019) at Embassy Suites again. -Contract Furnishings Mart Company Holiday Party – Tigard, OR (12-8-18)

Rich did an Excellent job! Everyone had a great time! -Carly Gray, The Home Depot Holiday Party – Portland, OR (12-9-18)

Rocked the event!!!!! Dj was perfect!!!!! I'm going to hire again! -Tracy Burback–Munoz, Private Karaoke Christmas Party – Battle Ground, WA (12-15-18)



Click Here for more photos, feedback and event recaps.


The temperature was pushing 100 degrees on Saturday, June 24, 2017 at Gina and Blake's Camp Angelos Wedding in Corbett, Oregon.

The ceremony began a little after 3:30pm and a nice breeze made the heat a little more tolerable for the 150+ guests.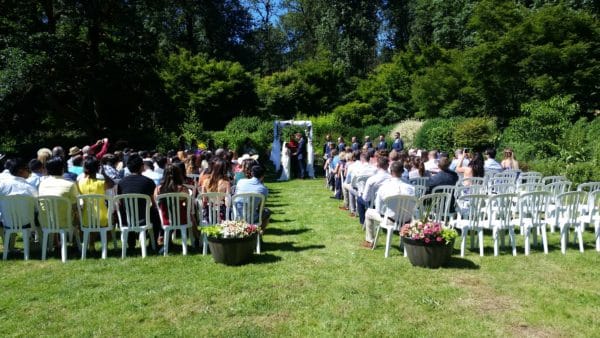 Camp Angelos Wedding Ceremony Highlights:
Wedding Party Entrance: Piano Guys – A Thousand Years
Bride Entrance: Brian Cain – Canon in D
Bride/Groom Exit: Etta James – At Last
The reception followed inside the air conditioned lodge, but some chose to hangout outside. I brought a second sound system for the ceremony and continued playing music outside for a little while. The hot weather eventually drove everyone inside.

Background music for the cocktail hour was a mix of summer party and family reunion music as requested by the newlyweds. During dinner, they wanted Rat Pack hits from Frank Sinatra, Nat King Cole, Dean Martin and others.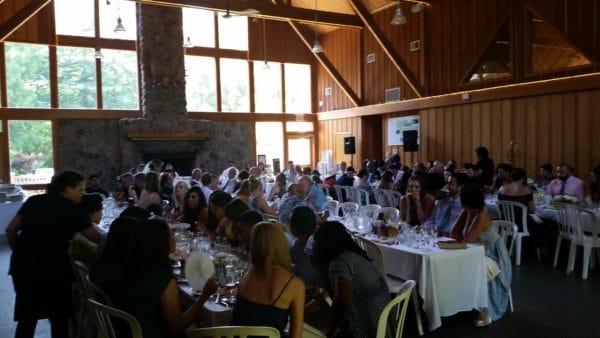 Camp Angelos Wedding Reception Highlights:
Grand Entrance: Ray LaMontagne – You Are The Best Thing
Cake Cutting: Four Tops – I Can't Help Myself
First Dance: James Arthur – Say You Won't Let Go
Bride/Father Dance: Joe Cocker – You Are So Beautiful
Groom and Mother Dance: Ben E. King – Stand By Me
Bride/Grandfather Dance: Nat King Cole – Unforgettable
Bouquet Toss: Meghan Trainor – Dear Future Husband
Garter Toss: Ginuwine – Pony
Last Dance: Chainsmokers & Coldplay – Something Just Like This
As the reception moved into the evening, many guests began to move outside to the inviting shady front deck and impromtu photo booth setup on the back deck. This provided some competition for the dance floor, but the many who wanted to dance couldn't stay away for long and the dance floor was mostly packed for long stretches.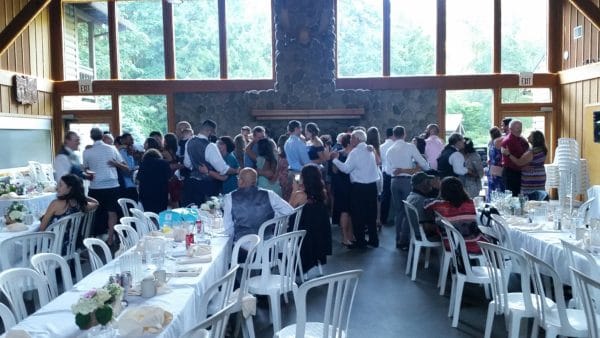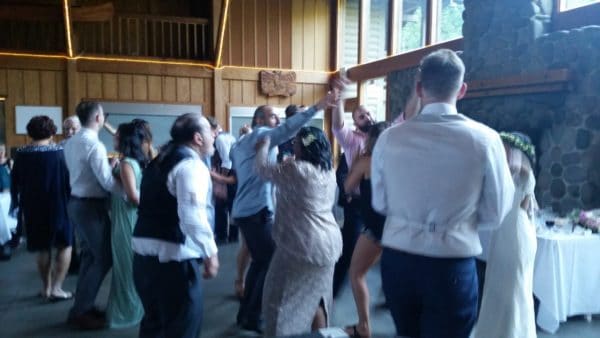 'Twist and Shout', 'Uptown Funk' and 'Cupid Shuffle' were crowd favorites, along with the 2017 song of the summer, 'Despacito'.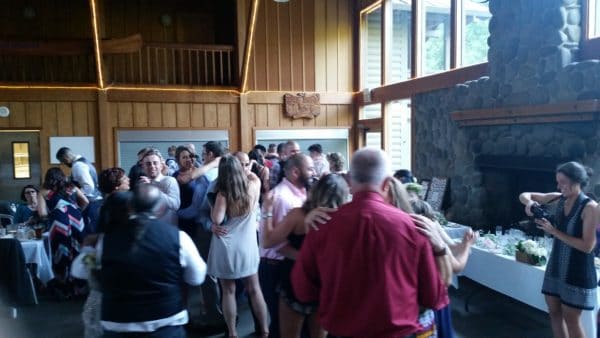 Congratulations Gina and Blake and thank you to Blake's brother Josh and his wife Destiny for recommending me for this event. I performed at their wedding in August 2014.


Eleanor's memorable Bat Mitzvah party took place at McMenamins Kennedy School in Northeast Portland, Oregon on Saturday, September 10, 2016.

When looking for a DJ for her daughter's big night, her mom noted the following: "Must engage all the kids so they all feel included; must have "Jewish" feel with The Hora. I'm not interested in a DJ who just blasts music – the DJ must engage directly with the kids and get camp friends interacting with school friends, etc." I appreciate that I was chosen for this event and it was a pleasure performing for Eleanor and her friends and family.

For arriving guests I played a variety of background music that included requests for 'Best Day of My Life' from American Authors, Train's 'Hey, Soul Sister', 'Graduation (Friends Forever)' from Vitamin C and the appropriately titled, 'I Love Eleanor' by Wes Cunningham.

After the kids had a chance to eat, they had a great time playing games, including a scavenger hunt, Coke & Pepsi and the limbo. Eleanor's mom Amy was insistent The Hora be danced correctly, so she took a few minutes to demonstrate for everyone before I started the music.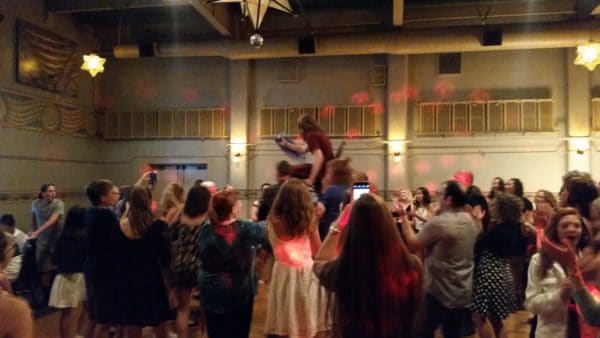 There was a lot of energy and the dance floor was hoppin' all evening to hot hits such as 'Uptown Funk', 'Billie Jean', 'Shut Up and Dance' and more.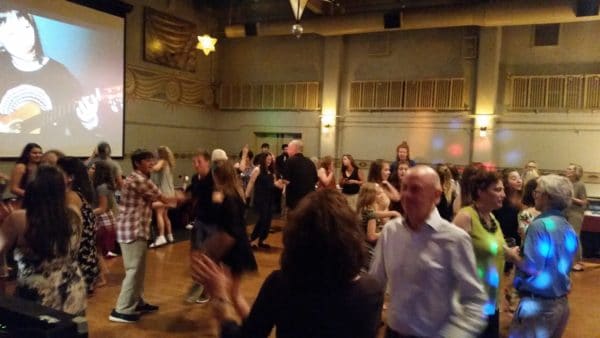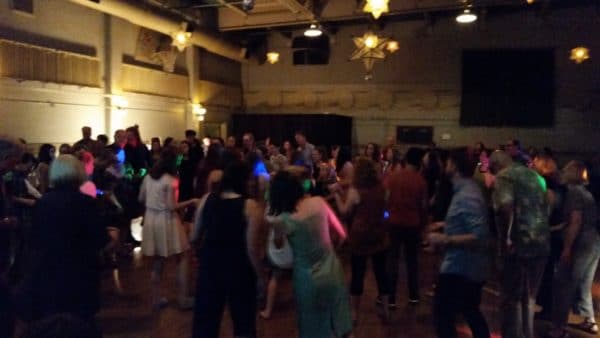 Mazel Tov Eleanor and thank you mom Amy for choosing PRO DJs.

Post Event Satisfaction Survey:

"Rich Ellis was amazing both before the event with all the planning and during the event. He did a fabulous job getting the kids playing games and dancing. They were on the dance floor the entire evening and everyone (kids and adults) had a wonderful time. Rich really made the party a huge success!!!" -Amy Blumenberg (Eleanor's Bat Mitzvah)
Event Date: Saturday, September 10, 2016
Event Type: Bat Mitzvah
Event Location: Kennedy School, Portland, OR
Event Staff: Rich Ellis
Quality of Customer Service via Telephone: Excellent
Quality of Customer Service via Internet: Excellent
Quality of Customer Service at Event: Excellent
Friendliness of your Entertainer: Excellent
Promptness of your Entertainer: Excellent
Professionalism of your Entertainer: Excellent
Entertainer's Performance: Excellent
Entertainer's Appearance: Excellent
System Appearance: Excellent
Sound Quality: Excellent
Overall Volume Levels: Excellent
Music Selection: Excellent
Incorporation of Your Requests: Excellent
Lighting Effects: N/A
Equipment Appearance: Excellent
Overall Customer Service: Excellent
Planning Assistance: Excellent
Entertainer's Cooperation with Other Vendors: Excellent
Overall Performance Rating: Excellent
Would you recommend this service to others? Yes

Portland Bar Mitzvah DJ Rich Ellis performed at Daniel's Bar Mitzvah party on Saturday, March 26, 2016, at the Multnomah Arts Center in SW Portland, Oregon.

About 150 guests came together to celebrate the occasion. As they arrived, I played a variety of upbeat background music before entertaining the kids with the gold coin game, name that tune and a rowdy scavenger hunt.

Daniel is a big soccer fan and his favorite teams are the Portland Timbers, FC Barcelona and Brazil. This made for a great game of pass the soccer ball with all three teams represented.

After dinner, a short video and toast, the energy level jumped dramatically with everyone coming out for 'The Hora' and chair raising.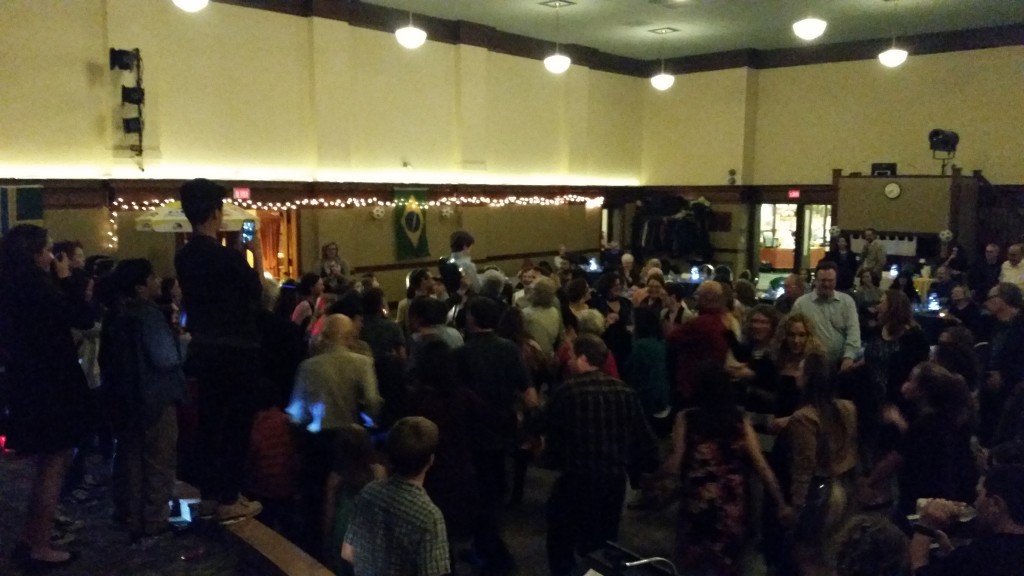 A variety of fun hit music followed, including 'Happy,' 'Uptown Funk,' 'Watch Me (Whip Nae Nae)' and a few Brazilian songs, as requested by the family.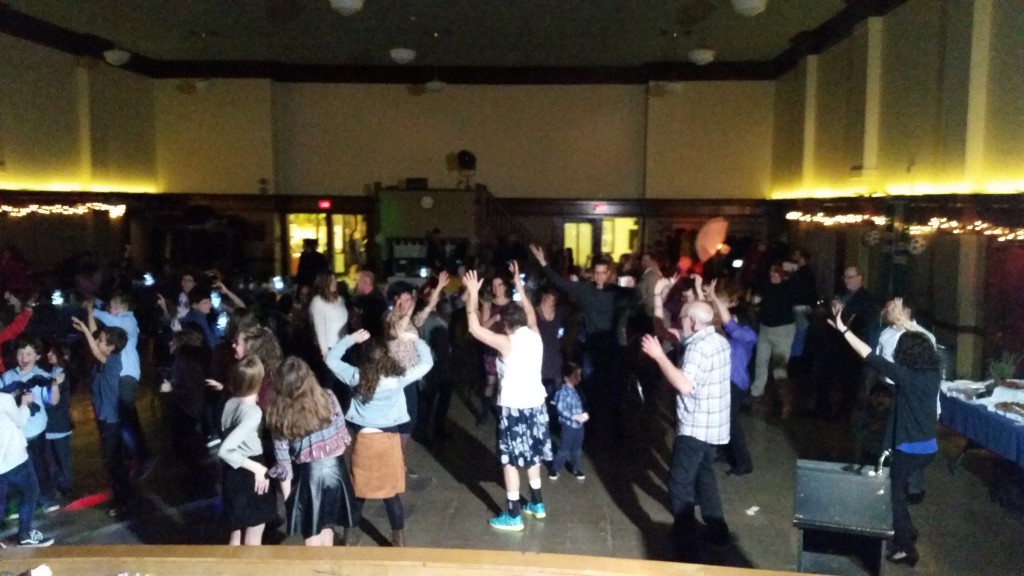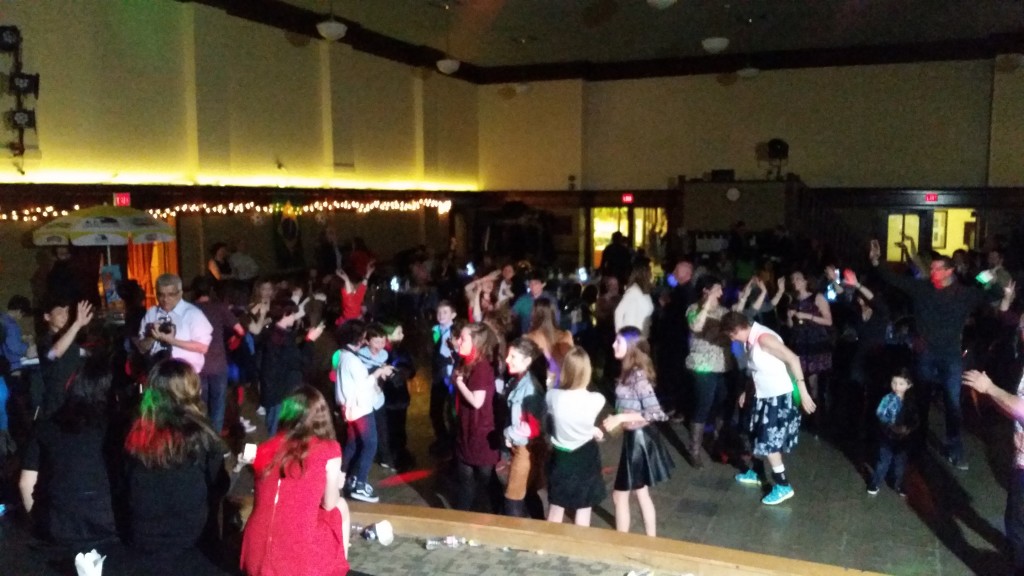 They could have danced all night, but with a little time left before we had to call it a night, Daniel wanted to play the game 'Coke and Pepsi.' The kids had a lot of fun participating, with a few acting as callers and judging.

Your friends and family were a lot of fun Daniel… Mazel Tov!

Post Event Satisfaction Survey:

"Rich was excellent. He kept the kids engaged and entertained the adults as well. We really appreciate his enthusiasm and professionalism." -Cam Williams (Daniel's Bar Mitzvah)
Event Date: Saturday, March 26, 2016
Event Type: Bar Mitzvah
Event Location: Multnomah Arts Center
Event Staff: Rich Ellis
Quality of Customer Service via Telephone: Excellent
Quality of Customer Service via Internet: Excellent
Quality of Customer Service at Event: Excellent
Friendliness of your Entertainer: Excellent
Promptness of your Entertainer: Excellent
Professionalism of your Entertainer: Excellent
Entertainer's Performance: Excellent
Entertainer's Appearance: Excellent
System Appearance: Excellent
Sound Quality: Excellent
Overall Volume Levels: Excellent
Music Selection: Excellent
Incorporation of Your Requests: Excellent
Lighting Effects: N/A
Equipment Appearance: Excellent
Overall Customer Service: Excellent
Planning Assistance: Excellent
Entertainer's Cooperation with Other Vendors: Excellent
Overall Performance Rating: Excellent
Would you recommend this service to others? Yes