Homecoming Dance

Thank you Vancouver School of Arts & Academics in Vancouver, Washington for choosing PRO DJs for your Fall Ball dance on Saturday, October 26, 2019.

We love art schools and your "dinosaurs" theme for this dance. See you at the next one in December.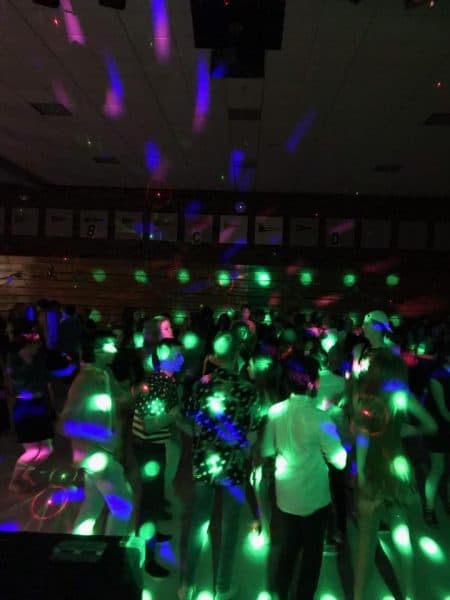 Thank you Columbia High School in White Salmon, Washington for choosing PRO DJs for your Homecoming dance on Saturday, October 19, 2019.

We brought some new lights and you brought the energy… The Bruins students packed the dance floor all night, especially during the second to last song, Journey's "Don't Stop Believing."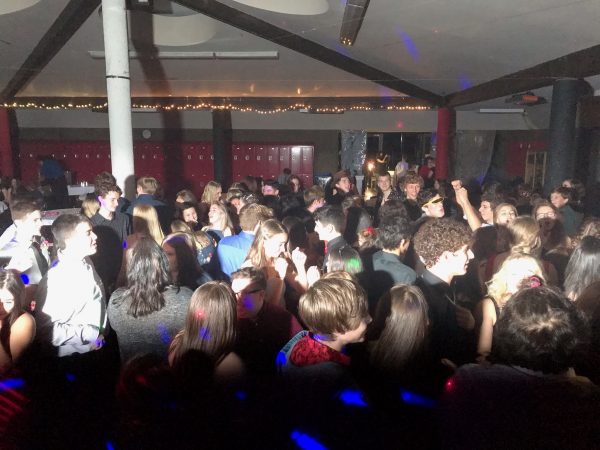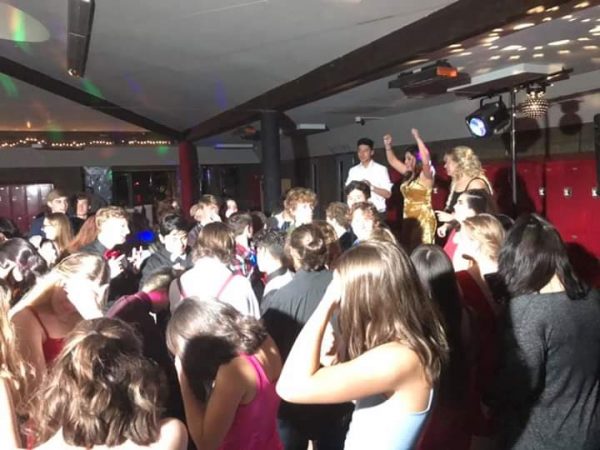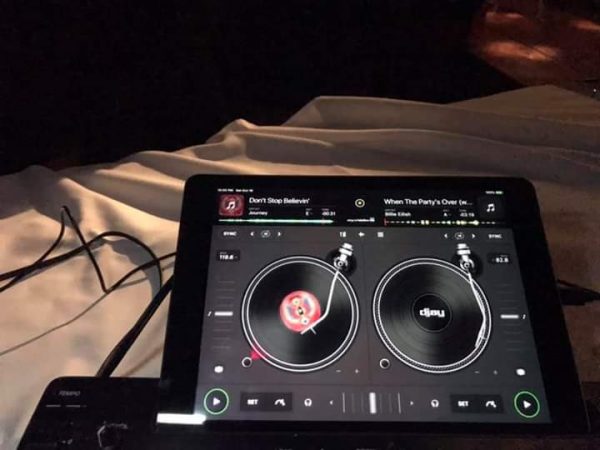 Post Event Satisfaction Survey:

Submitted By: Peter Knowles, School Dance Advisor

"Students really enjoyed the DJ/music experience. It was a bigger crowd than we'd expected, but they kept dancing the whole time, and most stayed till the very end. Thanks for the great night!"
Event Date: Saturday, October 19, 2019
Event Type: School Dance
Event Location: White Salmon, WA
Event Staff: Rod Krause
Quality of Customer Service via Telephone: N/A
Quality of Customer Service via Internet: Excellent
Quality of Customer Service at Event: Excellent
Friendliness of your Entertainer: Excellent
Promptness of your Entertainer: Excellent
Professionalism of your Entertainer: Excellent
Entertainer's Performance: Excellent
Entertainer's Appearance: Excellent
System Appearance: Excellent
Sound Quality: Excellent
Overall Volume Levels: Excellent
Music Selection: Excellent
Incorporation of Your Requests: Excellent
Lighting Effects: N/A
Equipment Appearance: Excellent
Overall Customer Service: Excellent
Planning Assistance: Excellent
Entertainer's Cooperation with Other Vendors: Excellent
Overall Performance Rating: Excellent
Would you recommend this service to others? Yes

PRO DJs had the opportunity to perform at a Vancouver WA High School Homecoming Dance on Saturday, October 25, 2014.

The theme was a Modern Masquerade and the dance was held in the Commons at HeLa High School. Many students were wearing masks when they walked in, but eventually discarded them as the packed dance floor heated up the room.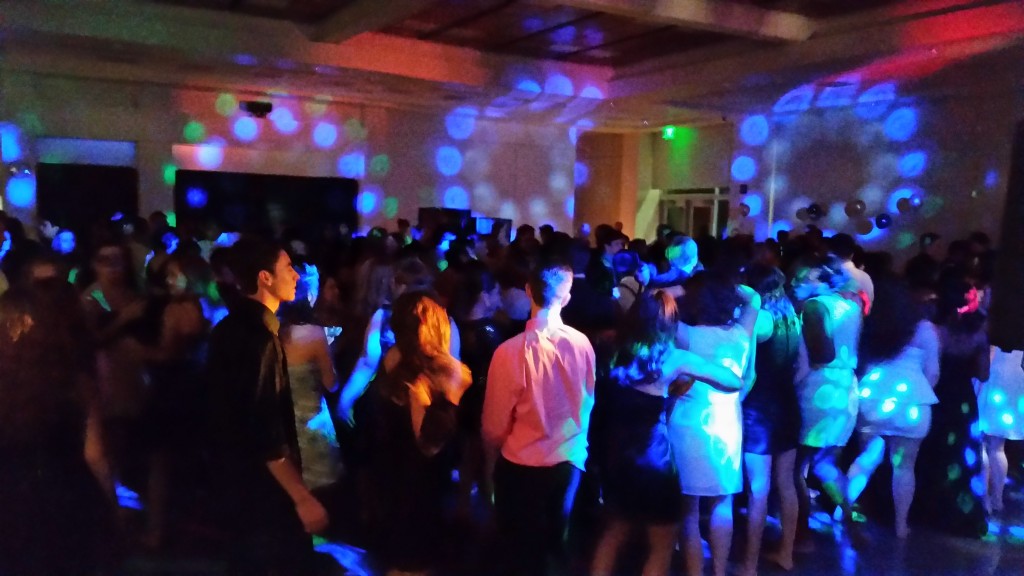 The latest hot hits ruled the playlist on this night as everyone had a good time dancing to tracks from Iggy Azaela, Ariana Grande, Jeremih's 'Don't Tell 'Em' and more. Some classic hits still resonate though and nearly all 350 guests participated in the 'Cha Cha Slide' and 'Cupid Shuffle.'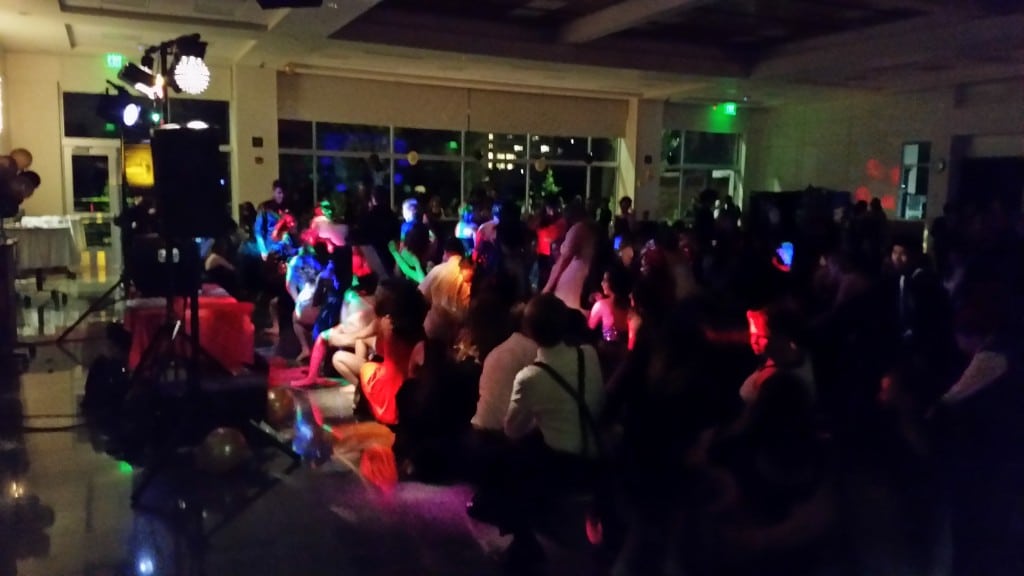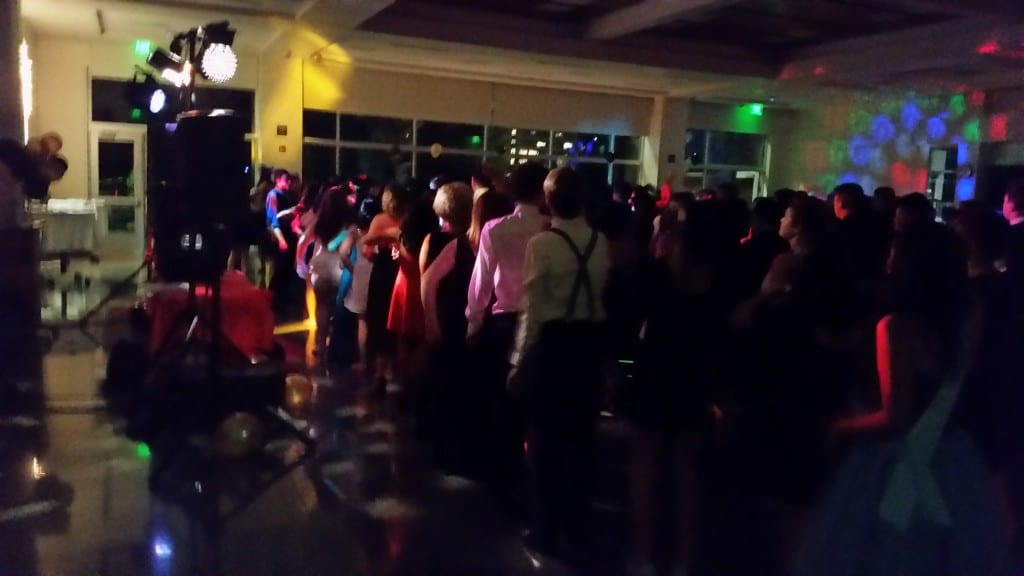 The HeLa students couldn't get enough of their favorites, such as 'Bang Bang' from Jessie J, Ariana Grande and Nicki Minaj, 'Fireball' from Pitbull featuring John Ryan, this week's number one song, Taylor Swift's 'Shake It Off,' and more. This was an outrageous party and the dance floor never let up.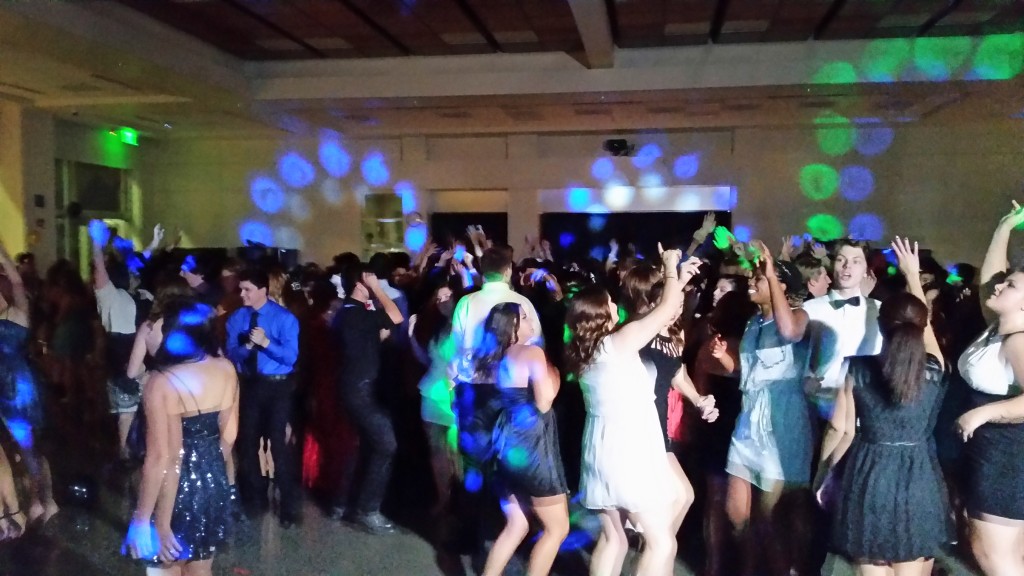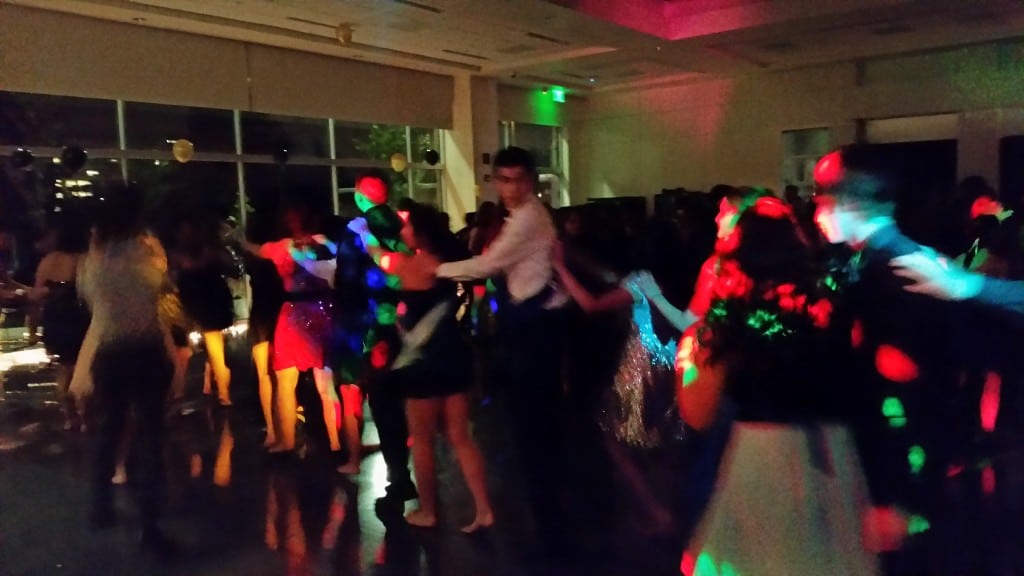 PRO DJs has had the opportunity to perform at nearly every dance held at Union High School in Camas, Washington since they opened in 2007.

Last year they planned to hold their homecoming dance outside in the school courtyard, but Mother Nature had other plans. They tried again this year on Saturday, September 27, 2014 and this time it was a beautiful evening for about 500 students.

This wasn't the typical formal dance. In fact, it wasn't formal at all, as the school had two bouncy play areas set-up. With this event starting at 7pm, we still had almost an hour of daylight left, so this provided some fun entertainment until dusk.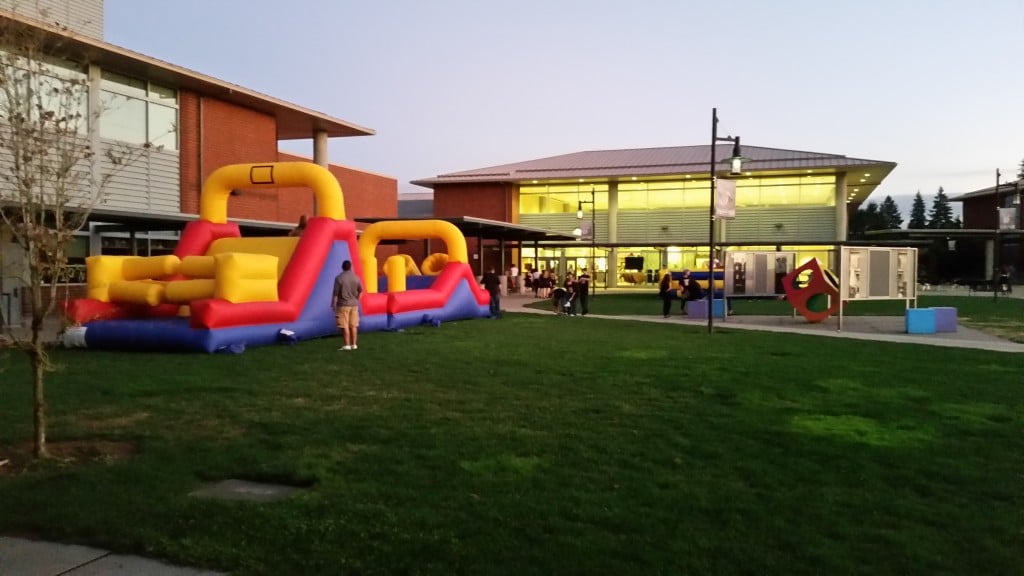 It didn't take long for most of the students to crowd the dance floor area as it was tough to resist the hot sounds of Iggy Izaela, Calvin Harris, Ariana Grande and more.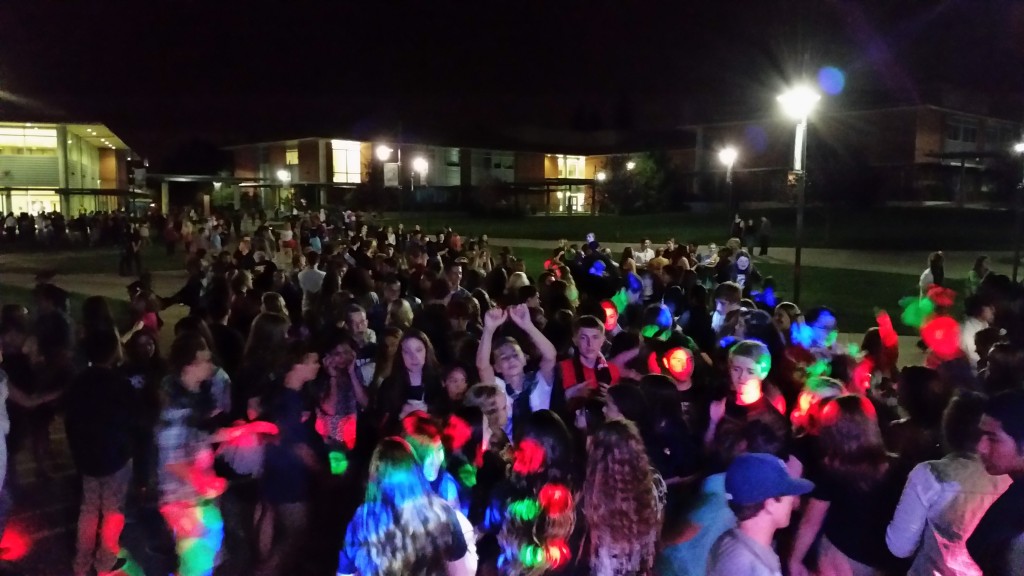 The students were loving the current hit music, such as Taylor Swift's 'Shake It Off,' 'Delirious' from Steve Aoki, Chris Lake & Tujamo featuring Kid Ink, this week's number one song 'Rather Be' from Clean Bandit and more. This was a big time party and being outside felt great on a warm late-September night.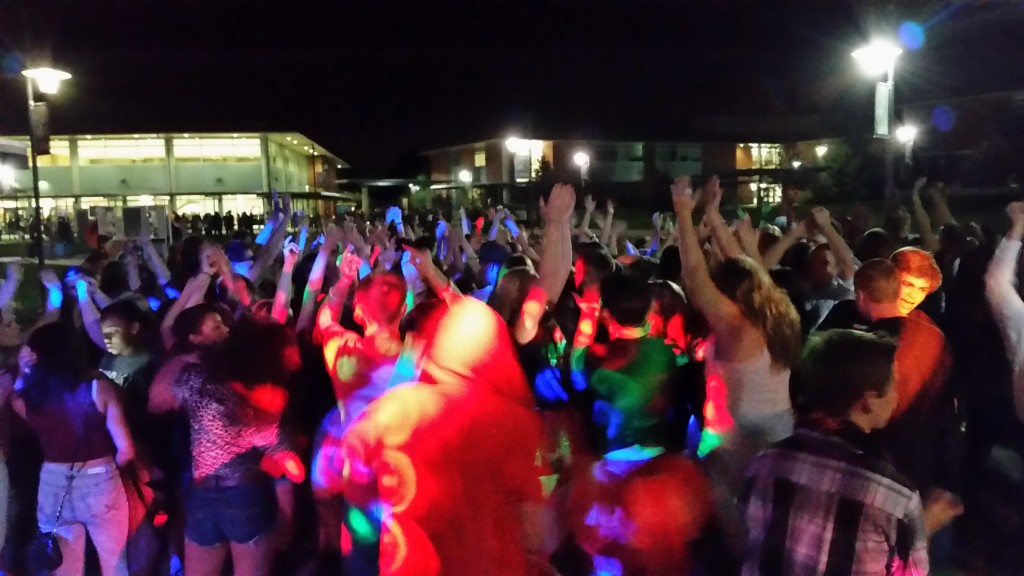 A wide variety of events packed the PRO DJs schedule on Saturday, September 21, 2013. Our Portland Vancouver DJs performed everything from a corporate open house to an apartment complex tenant party, a Bar Mitzvah, school dance and even a last-minute wedding.

The day began with Rich at the Western Star Truck Plant Open House on Swan Island in North Portland. From 10am-4pm, he played a variety of music and made announcments, including raffle prize winners. The last day of Summer looked more like early November as the rain fell heavily for most of this event, but guests made the most of it and enjoyed the dunk tank and classic car show.

Immediately afterwards, Rich hustled over to the Village at Lovejoy Fountain apartments in downtown Portland for an end of Summer celebration held for all 800 residents, who were treated to a barbecue and a chance to win prizes, including $500 off their rent. This event was also held outside in the courtyard, but there was no rain for this one and everyone had a good time visiting and a doing little dancing. There wasn't an official dance floor, but small groups broke out here and there to get down 🙂

Other events taking place this day included Steve performing at Jonah's Bar Mitzvah at Irving Street Kitchen in Northwest Portland, Rhett at the Union High School Homecoming Dance in Vancouver, Washington and Li at Brittany and Kyle's wedding at the Fort Vancouver Artillery Barracks also in Vancouver.

It was a full slate of events, but everything went smoothly. Portland Vancouver DJs from PRO DJs have experience performing at any type of event. You can count on us for consistent, reliable, high-quality service.

Hire a professional… your celebration will be so much better!

Post Event Satisfaction Survey:

"Rich was awesome and I can't thank him enough for all of his hard work in making our event successful. Everyone was really pleased and he really kept the event rolling – thank you Rich!"  -Sabrina Miller, Village at Lovejoy Fountain
Event Date: Saturday, September 21, 2013
Event Type: Private Party
Event Location: Village at Lovejoy Fountain
Event Staff: Rich Ellis
Quality of Customer Service via Telephone: Excellent
Quality of Customer Service via Internet: Excellent
Quality of Customer Service at Event: Excellent
Friendliness of your Entertainer: Excellent
Promptness of your Entertainer: Excellent
Professionalism of your Entertainer: Excellent
Entertainer's Performance: Excellent
Entertainer's Appearance: Excellent
System Appearance: Excellent
Sound Quality: Excellent
Overall Volume Levels: Excellent
Music Selection: Excellent
Incorporation of Your Requests: Excellent
Lighting Effects: N/A
Equipment Appearance: Excellent
Overall Customer Service: Excellent
Planning Assistance: Excellent
Entertainer's Cooperation with Other Vendors: Excellent
Overall Performance Rating: Excellent
Would you recommend this service to others? Yes

Post Event Satisfaction Survey:

"This felt like an end of an era. Our last event for our family and the last celebration for Jonah's class. We wouldn't plan a party without Steve or Pro DJs. Thanks for everything!!"  -Dana Sacks (Jonah Sacks Bar Mitzvah) – Portland, OR
Event Date: Saturday, September 21, 2013
Event Type: Bar Mitzvah
Event Location: Irving Street Kitchen
Event Staff: Steve Marker
Quality of Customer Service via Telephone: Excellent
Quality of Customer Service via Internet: Excellent
Quality of Customer Service at Event: Excellent
Friendliness of your Entertainer: Excellent
Promptness of your Entertainer: Excellent
Professionalism of your Entertainer: Excellent
Entertainer's Performance: Excellent
Entertainer's Appearance: Excellent
System Appearance: Excellent
Sound Quality: Excellent
Overall Volume Levels: Excellent
Music Selection: Excellent
Incorporation of Your Requests: Excellent
Lighting Effects: N/A
Equipment Appearance: Excellent
Overall Customer Service: Excellent
Planning Assistance: Excellent
Entertainer's Cooperation with Other Vendors: Excellent
Overall Performance Rating: Excellent
Would you recommend this service to others? Yes

Post Event Satisfaction Survey:

"Lee was fantastic we can't thank him enough! We could not have imagined a better DJ for our wedding, he was punctual and friendly and made the whole experience better. He even attended our rehearsal just to make sure everyone was on the same page with what my husband and I envisioned. I will absolutely recommend Pro DJ's for any event!"  -Brittany Lore' & Kyle Nordgran Wedding – Washougal, Washington
Event Date: Saturday, September 21, 2013
Event Type: Wedding
Event Location: Fort Vancouver Artillery Barracks
Event Staff: Li Sheng
Quality of Customer Service via Telephone: Excellent
Quality of Customer Service via Internet: Excellent
Quality of Customer Service at Event: Excellent
Friendliness of your Entertainer: Excellent
Promptness of your Entertainer: Excellent
Professionalism of your Entertainer: Excellent
Entertainer's Performance: Excellent
Entertainer's Appearance: Excellent
System Appearance: Excellent
Sound Quality: Excellent
Overall Volume Levels: Excellent
Music Selection: Excellent
Incorporation of Your Requests: Excellent
Lighting Effects: N/A
Equipment Appearance: Excellent
Overall Customer Service: Excellent
Planning Assistance: Excellent
Entertainer's Cooperation with Other Vendors: Excellent
Overall Performance Rating: Excellent
Would you recommend this service to others? Yes