Ashley and Mike's Troutdale House wedding took place on Saturday, November 13, 2021 in Troutdale, Oregon.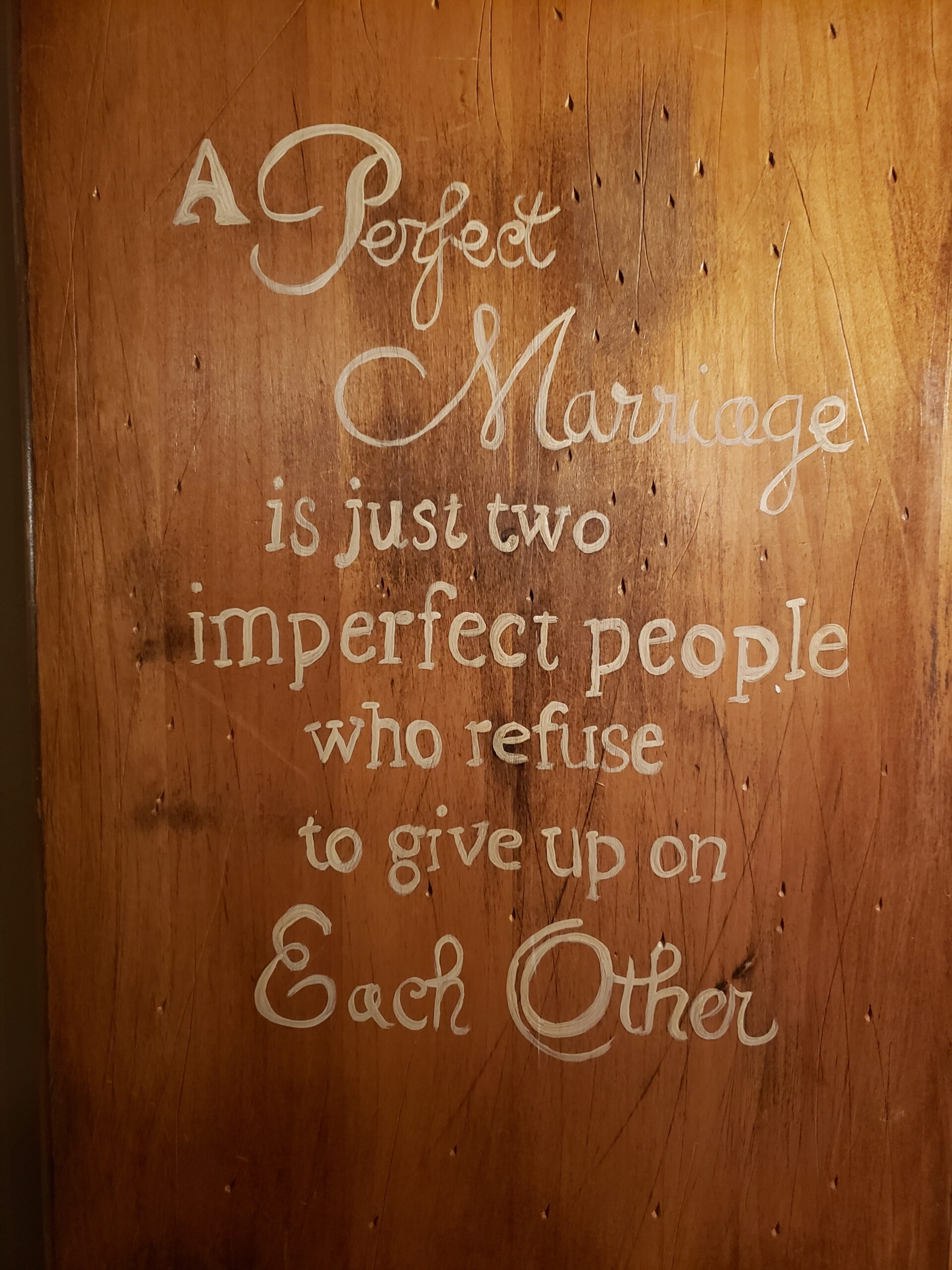 The ceremony was held in the downstairs wine cellar with the couple's good friend Tim officiating his first ever wedding, that included a unity whiskey pour.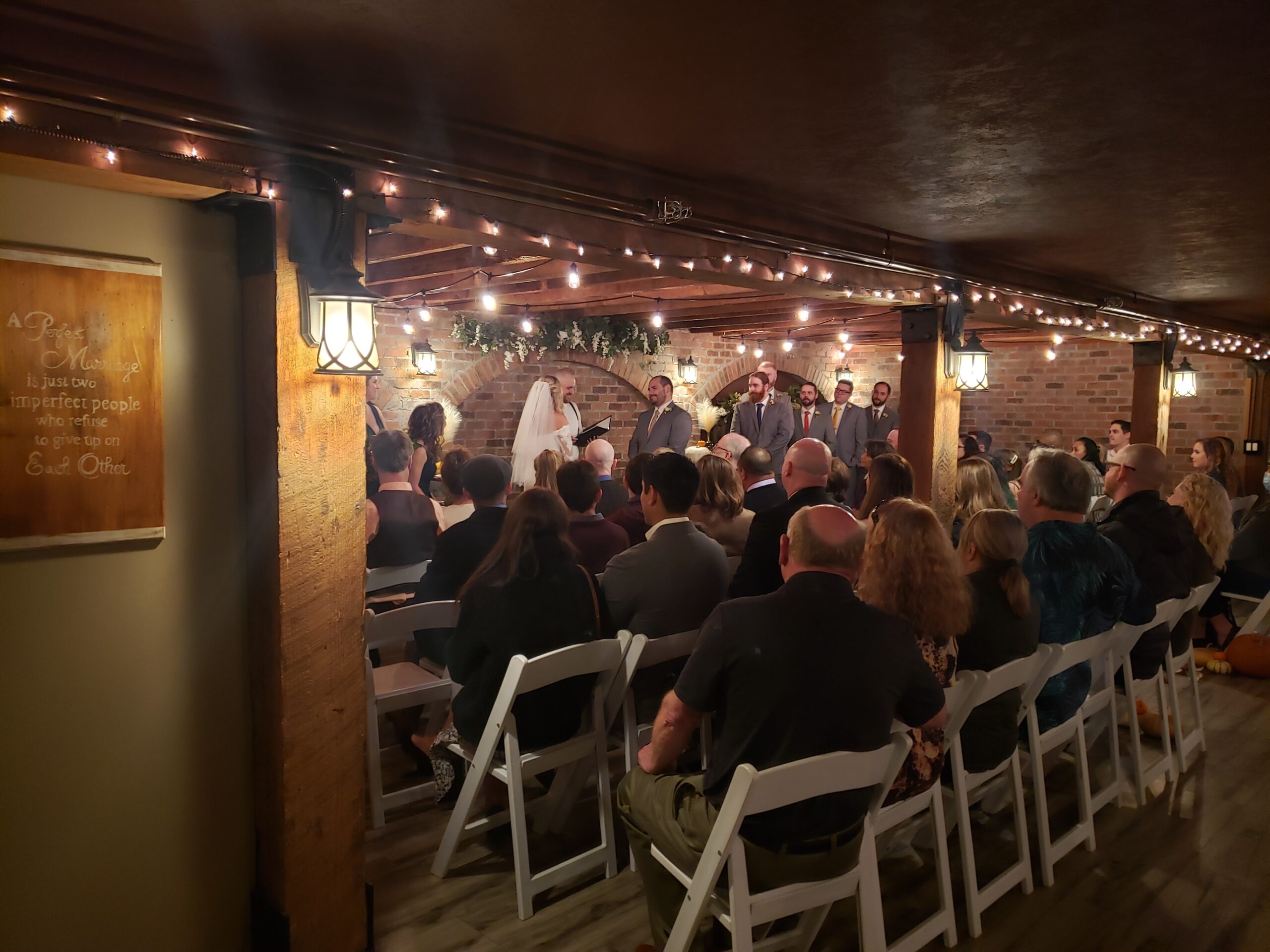 Troutdale House Wedding Ceremony Highlights:
Bridal Party and Bride Entrance: Foreigner – Waiting For A Girl Like You
Unity Whiskey Pour: Sammy Kershaw – Love Of My Life
Bride/Groom Exit: Stevie Wonder – Signed Sealed Delivered…
The reception followed upstairs in the Enchanted Ballroom. For background music, the bride selected upbeat 70's disco songs during the cocktail hour and 80's power ballads during dinner.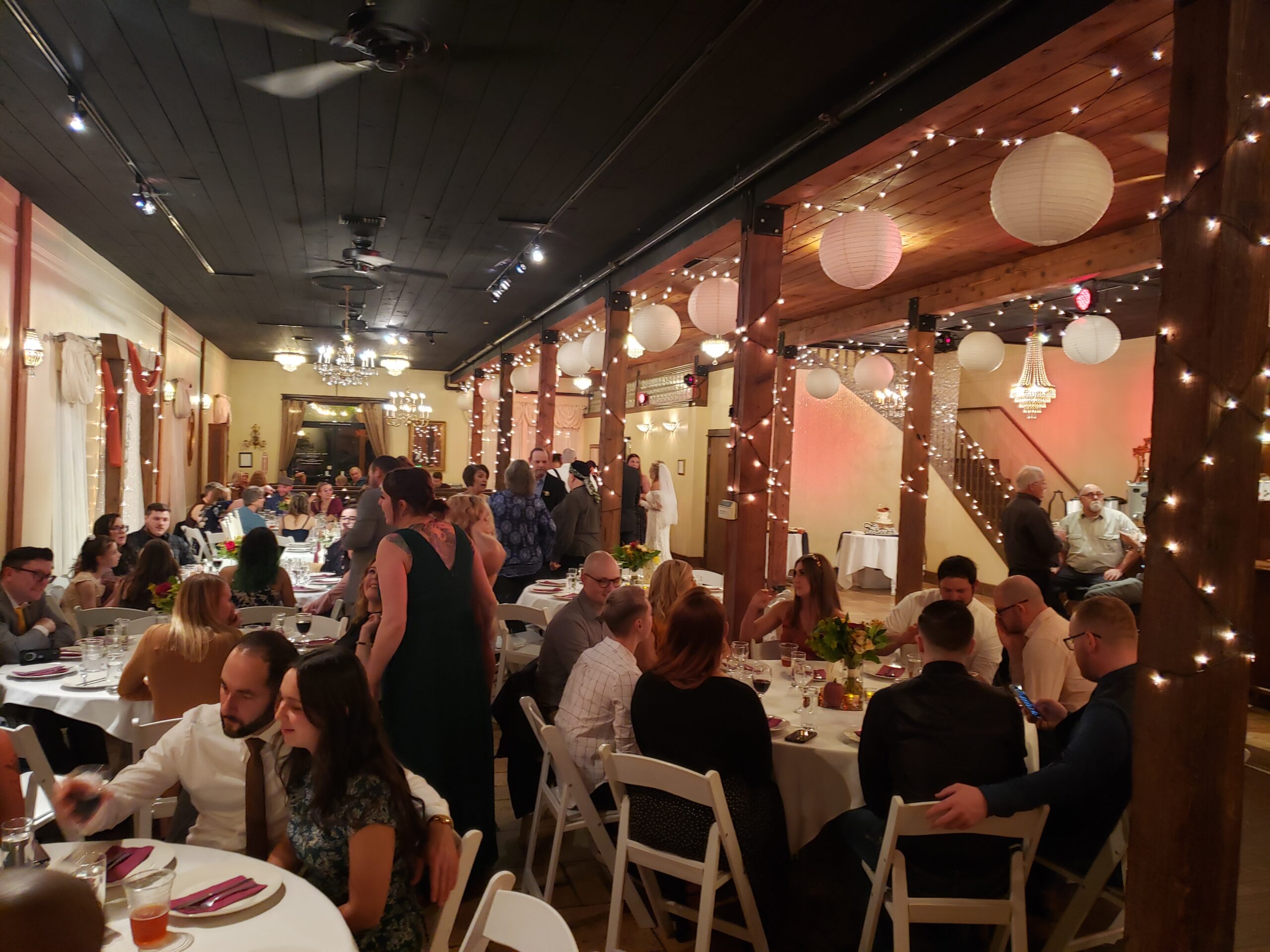 Troutdale House Wedding Reception Highlights:
Grand Entrance: Nelly – E.I.
Cake Cutting: Echo & The Bunnymen – Lips Like Sugar
First Dance: Mutemath – You are Mine
Bride and Father Dance: Alison Krauss – When You Say Nothing At All
Groom and Mother Dance: Rascal Flatts – My Wish
Anniversary Dance: Bill Medley & Jennifer Warnes – I've Had the Time Of My Life
Boquet Toss: Don Henley – All She Wants To Do Is Dance
Bridal Party Dance: Shania Twain – Man! I Feel Like A Woman!
Last Dance: Rusted Root – Send Me On My Way
The dance floor at this venue is a long, narrow aisleway in front of the bar. The area filled with all the married couples for the anniversary dance that revealed Jim and Leslie were married the longest at 50 years. From there, the energy picked up as I played The Beatles "Twist & Shout", "Cupid Shuffle", "Hey Ya" and more.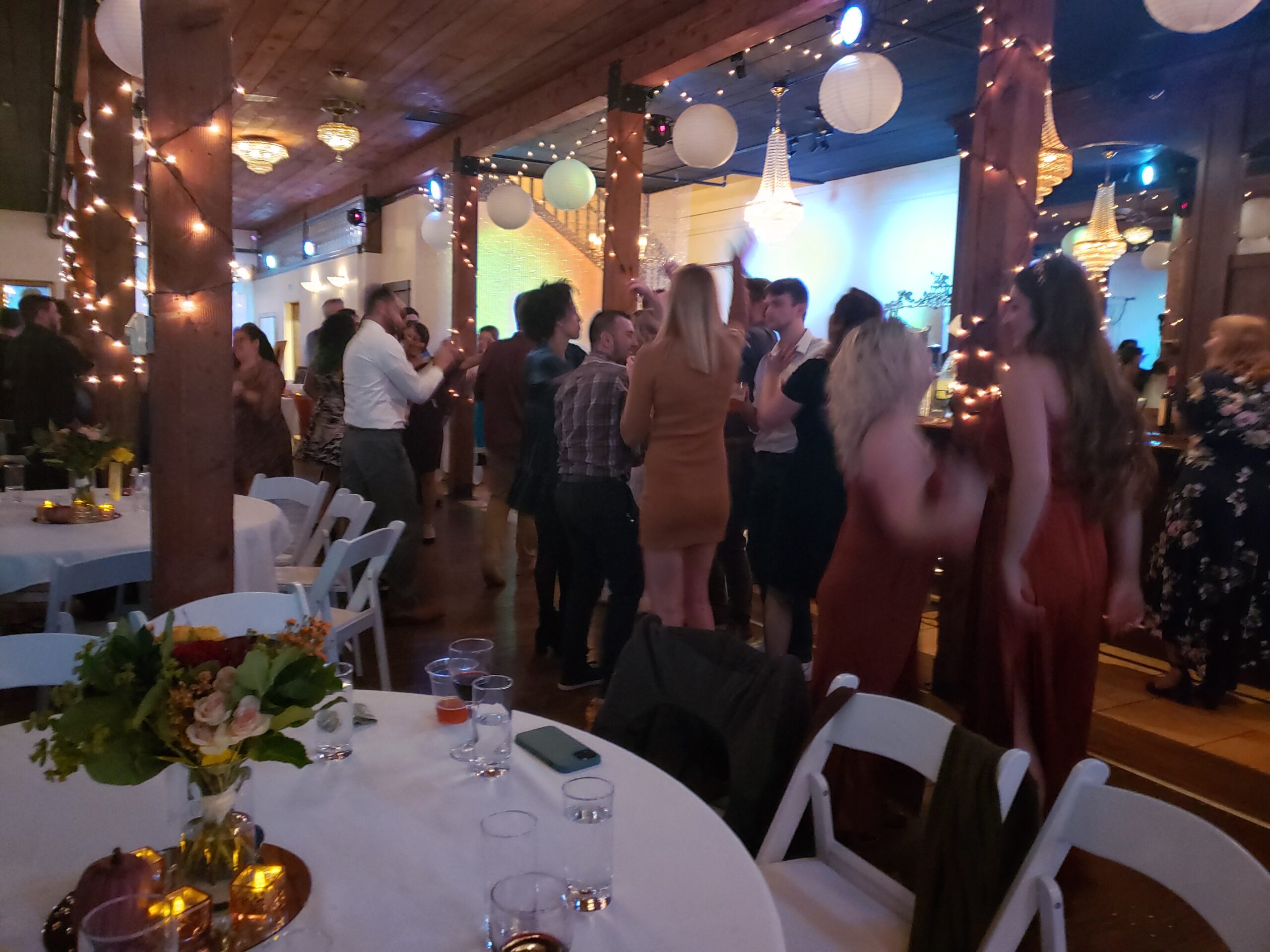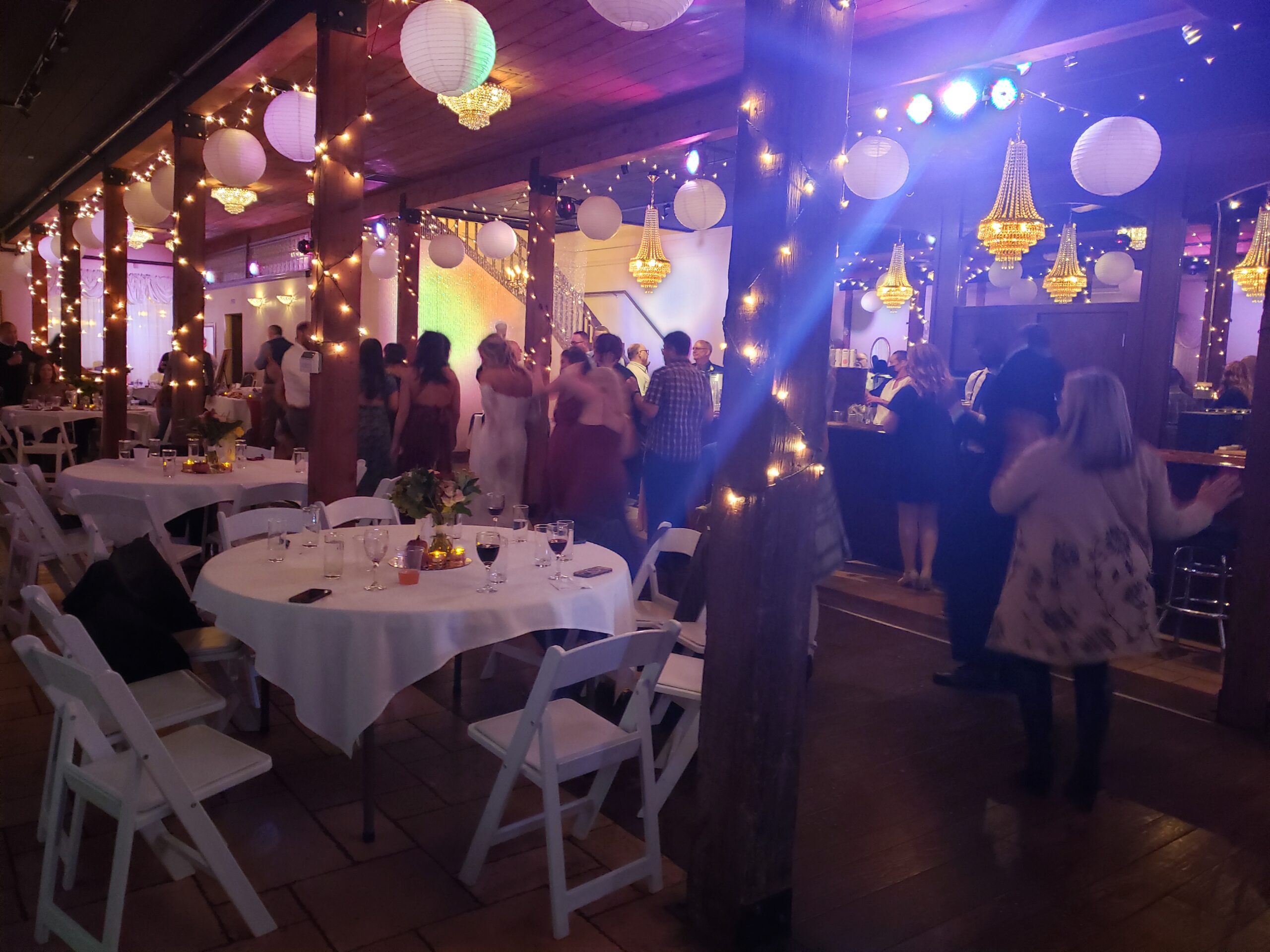 Congratulations Ashley and Mike! Thank you for choosing PRO DJs.


Marley's Portland Bar Mitzvah was held inside the Imbrea Meadow Tent at McMenamins Cornelius Pass Roadhouse in Hillsboro, Oregon on Saturday, October 23, 2021.

This event was originally scheduled for May 23, 2020 and it was a Bar Mitzvah for Marley's brother Avi. However, with the pandemic postponing or cancelling nearly every event at that time, it was rescheduled for October 2020, then rescheduled again for May 2021 before finally settling on this night and with the passage of time, it would now be Marley's celebration 🙂

For this Bar Mitzvah I also provided sound for the service that began at 4:20. Afterwards, most guests walked to the nearby Historic House for appetizers and a photo booth while the tent was turned by McMenamins staff for dinner. The kids returned about 20 minutes later for some games including Marley's choice of musical chairs and a limbo.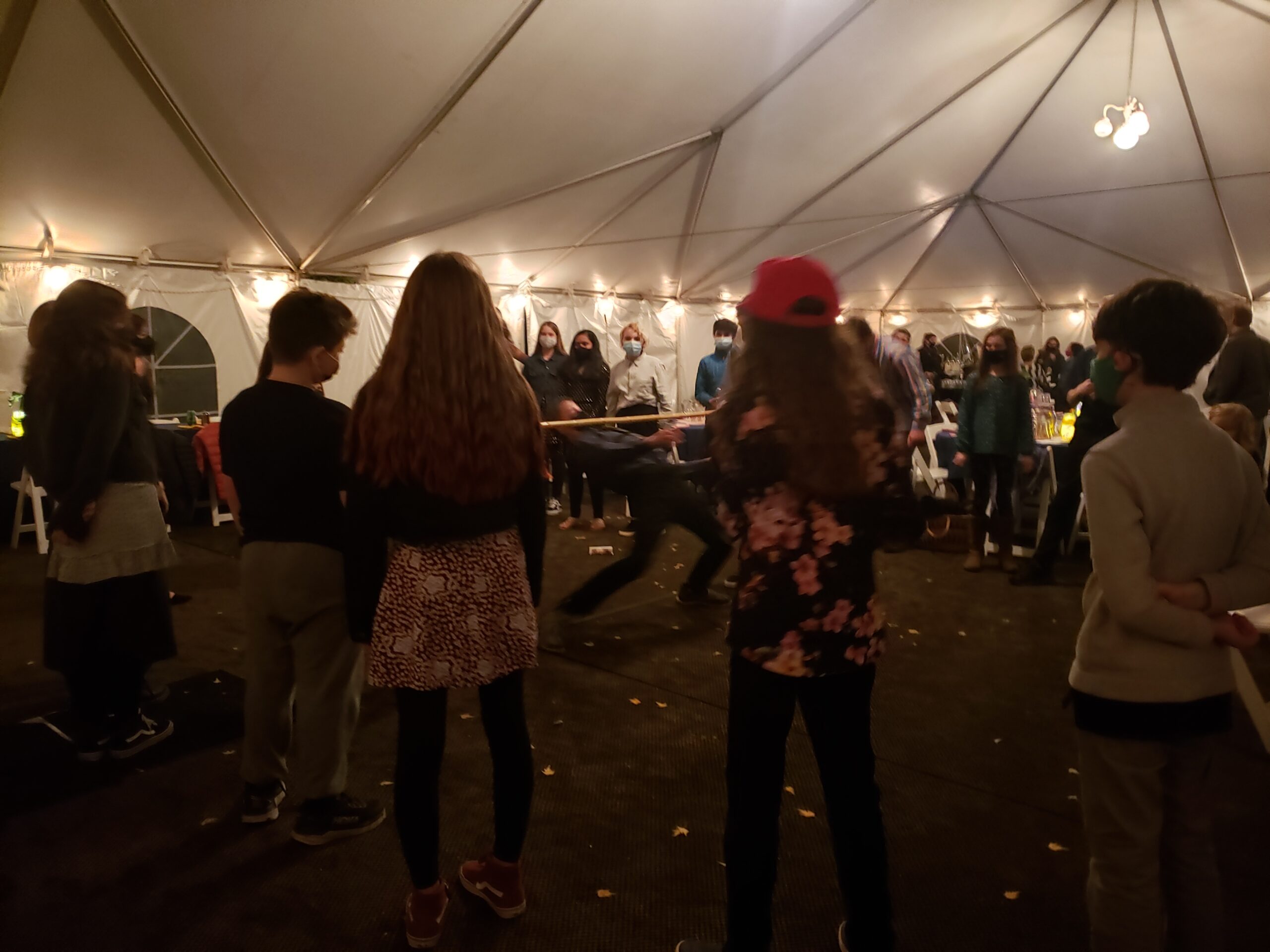 A short time later, the adults returned for a toast and slideshow. I then invited everyone out to dance to "The Hora" and celebrate Marley with the chair raising. Since his brother didn't get the opportunity last year, it was good to see him also lifted up high in the chair.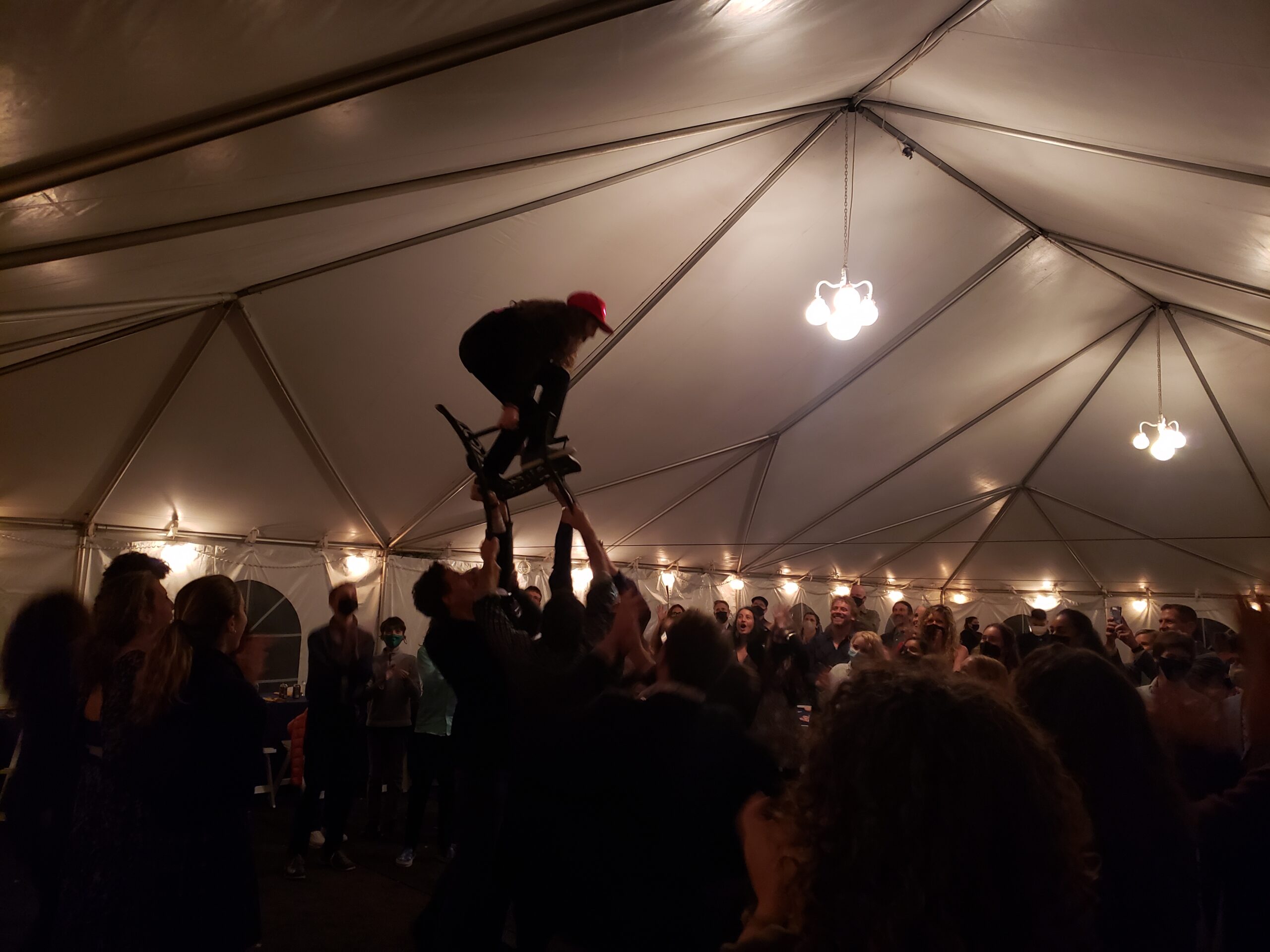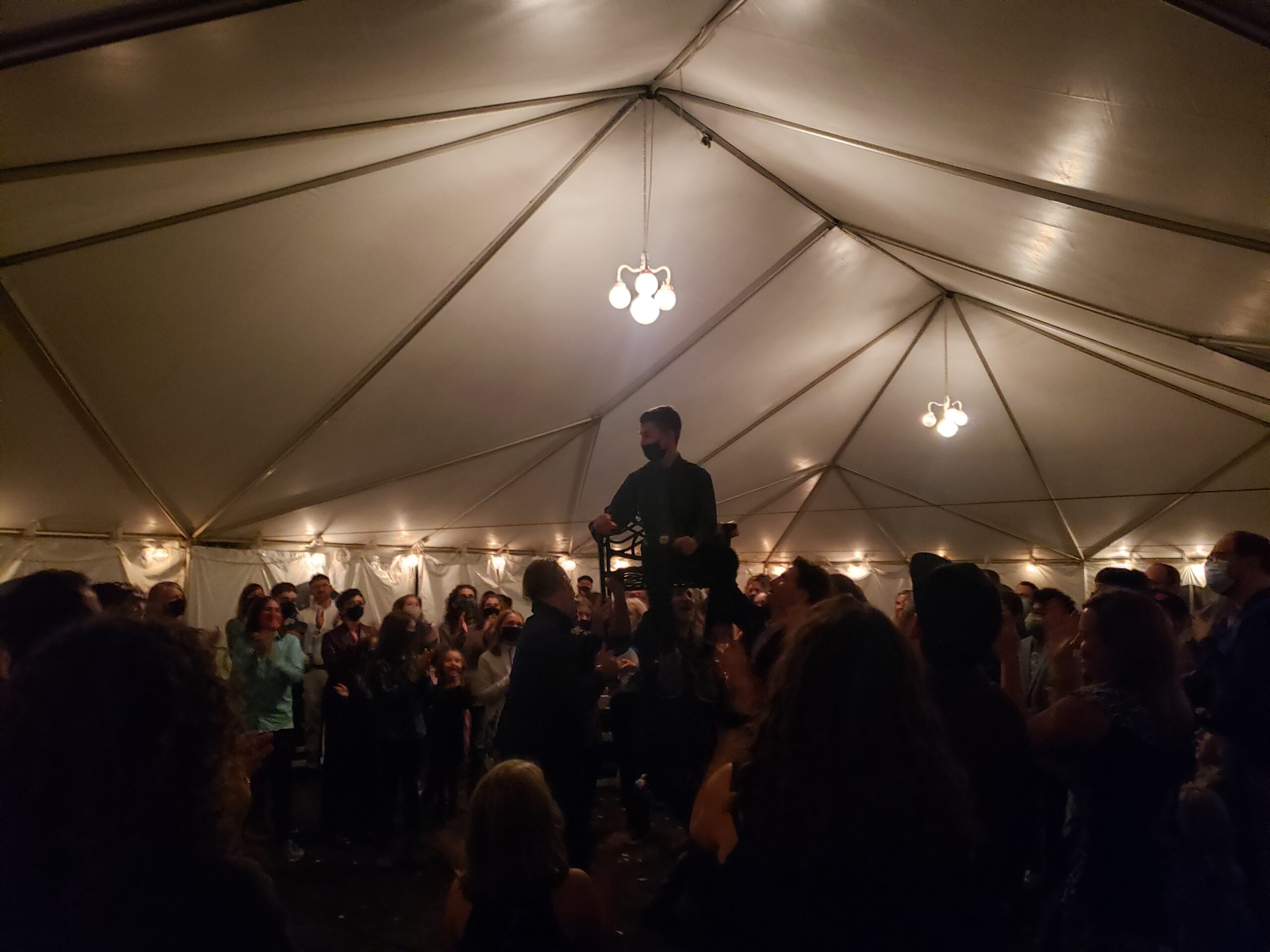 At this point, it was after 8pm and the buffet was just opening for dinner, but guests had a hard time leaving the dance floor, enjoying everything from "Staying Alive" to "Can't Stop The Feeling" plus the family's requests for "Uptown Funk," "Hey Ya," "I Gotta Feeling" and more.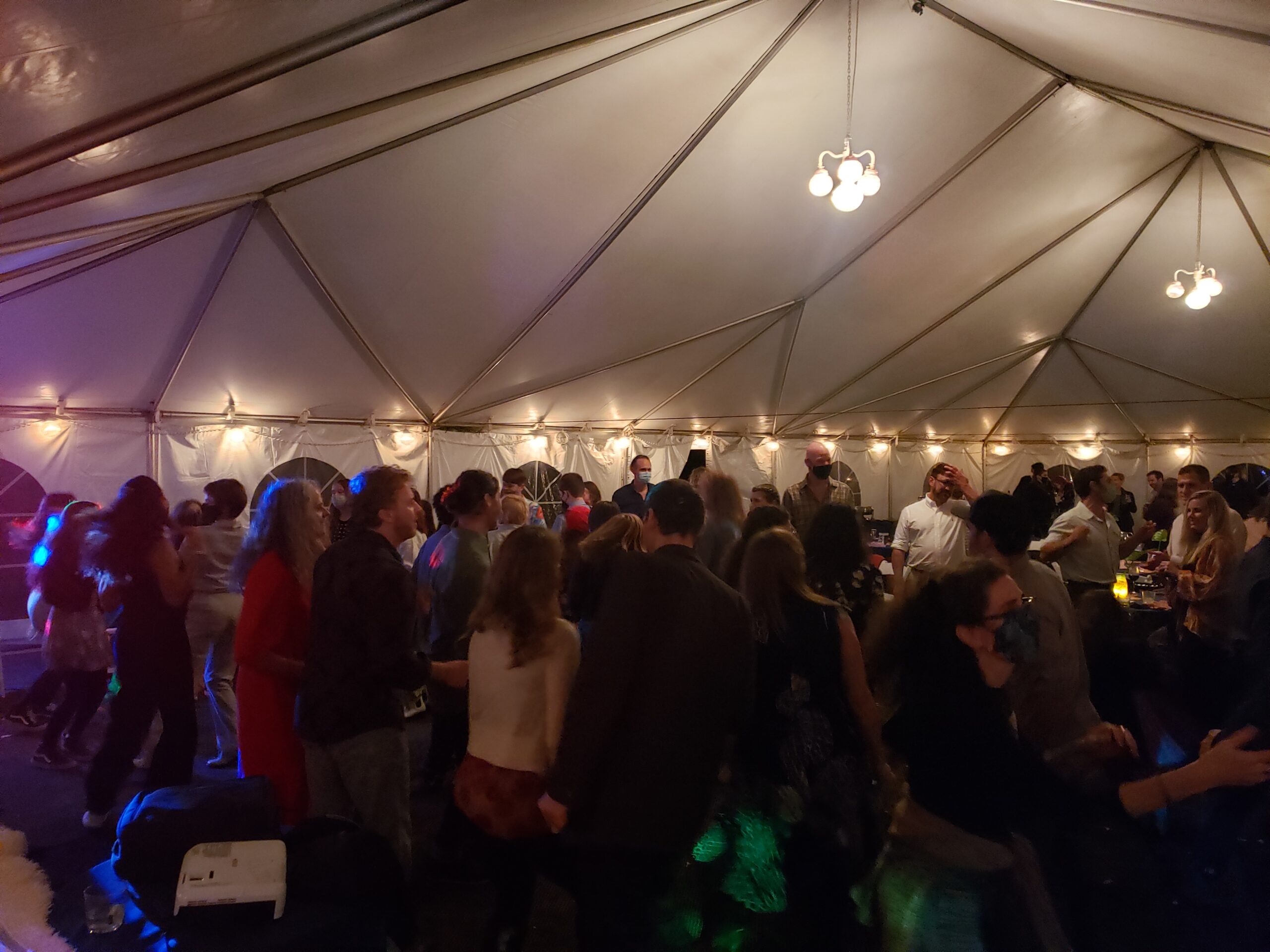 ]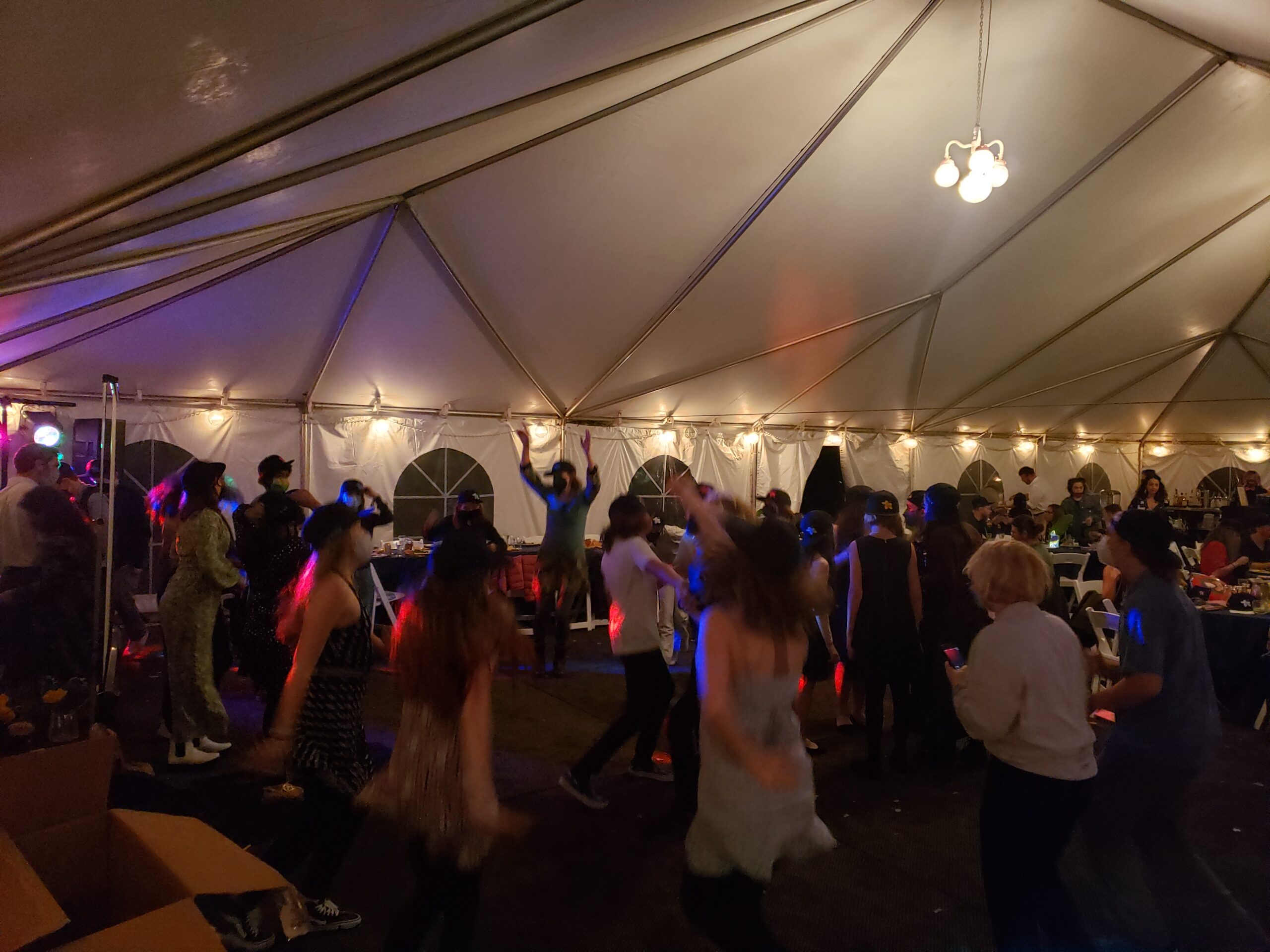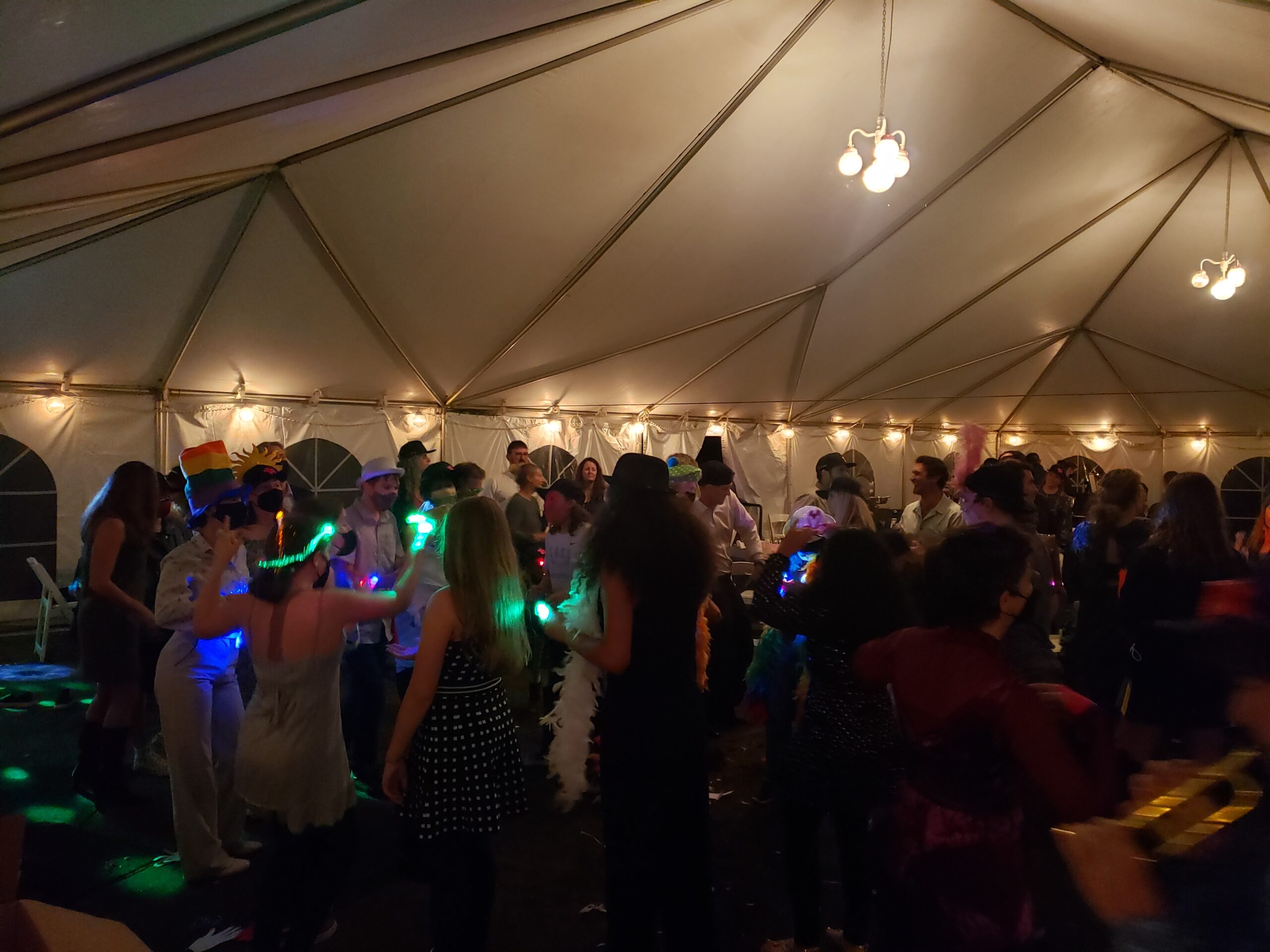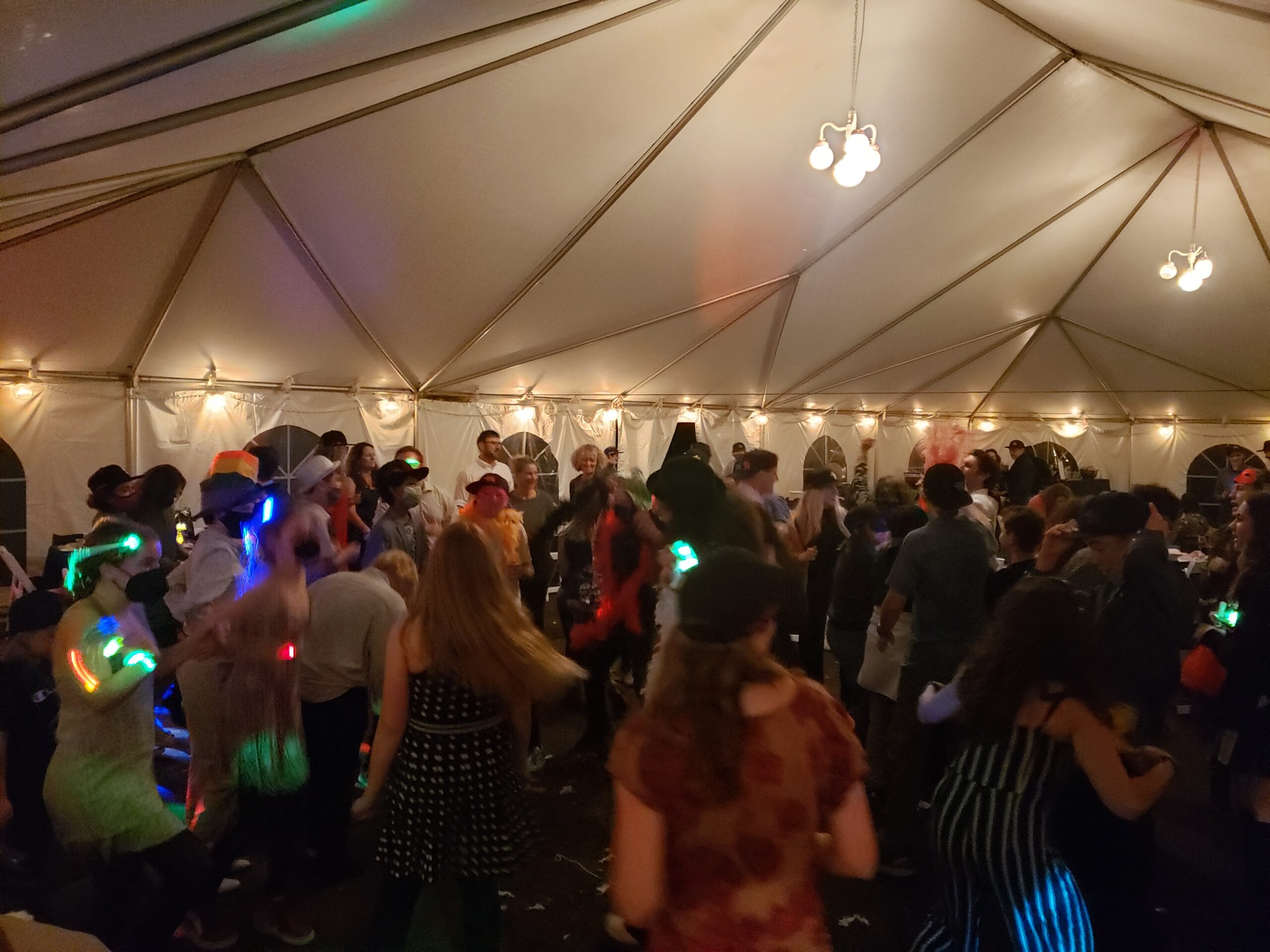 Mazel Tov Marley and thank you mom Erika for choosing PRO DJs.

Post Event Satisfaction Survey:

"Rich was excellent to work with and understood the flow of the party. Everyone loved having him!" -Erika Siegel (Marley's Bar Mitzvah)
Event Date: Saturday, October 23, 2021
Event Type: Bar Mitzvah
Event Location: McMenamins Cornelius Pass Roadhouse
Event Staff: Rich Ellis
Quality of Customer Service via Telephone: Excellent
Quality of Customer Service via Internet: Excellent
Quality of Customer Service at Event: Excellent
Friendliness of your Entertainer: Excellent
Promptness of your Entertainer: Excellent
Professionalism of your Entertainer: Excellent
Entertainer's Performance: Excellent
Entertainer's Appearance: Excellent
System Appearance: Excellent
Sound Quality: Excellent
Overall Volume Levels: Excellent
Music Selection: Excellent
Incorporation of Your Requests: Excellent
Lighting Effects: Excellent
Equipment Appearance: Excellent
Overall Customer Service: Excellent
Planning Assistance: Excellent
Entertainer's Cooperation with Other Vendors: Excellent
Overall Performance Rating: Excellent
Would you recommend this service to others? Yes

Courtney and Charlie's Adrianna Hill Grand Ballroom wedding took place in downtown Portland, Oregon on Saturday, October 16, 2021. The ceremony began at 3:30pm.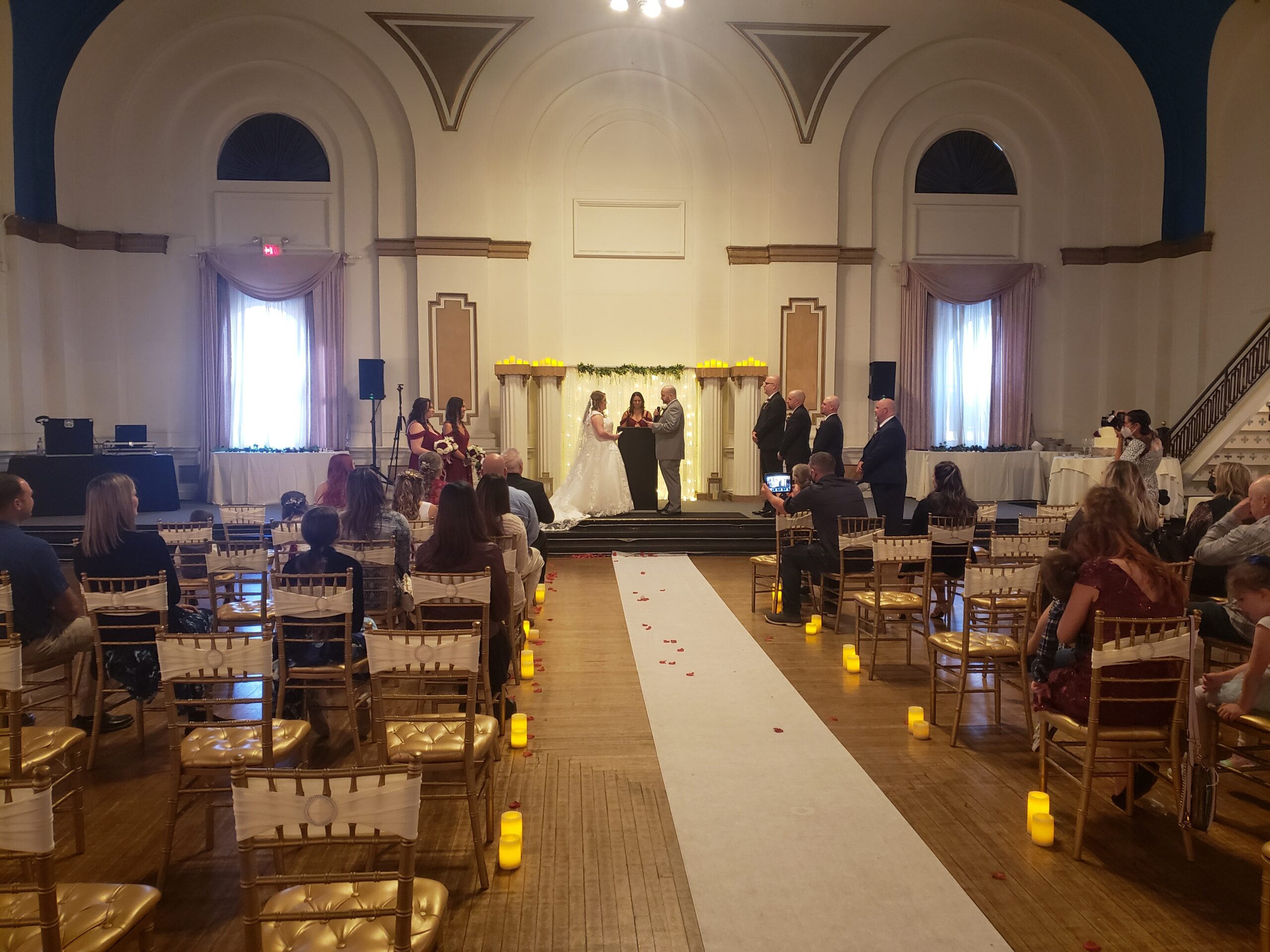 Adrianna Hill Grand Ballroom Wedding Ceremony Highlights:
Wedding Party & Bride Entrance: Instrumental – Warmness on the Soul
Bride/Groom Exit: Instrumental – Across the Stars
To allow the room to be turned for dinner and the reception, guests made their way upstairs to the balcony after the ceremony for refreshments.

Background music for cocktails and dinner was a playlist prepared by the newlyweds of mostly instrumental versions of popular favorites made famous by Green Day, Thomas Rhett, Lady Gaga and Disney movie selections.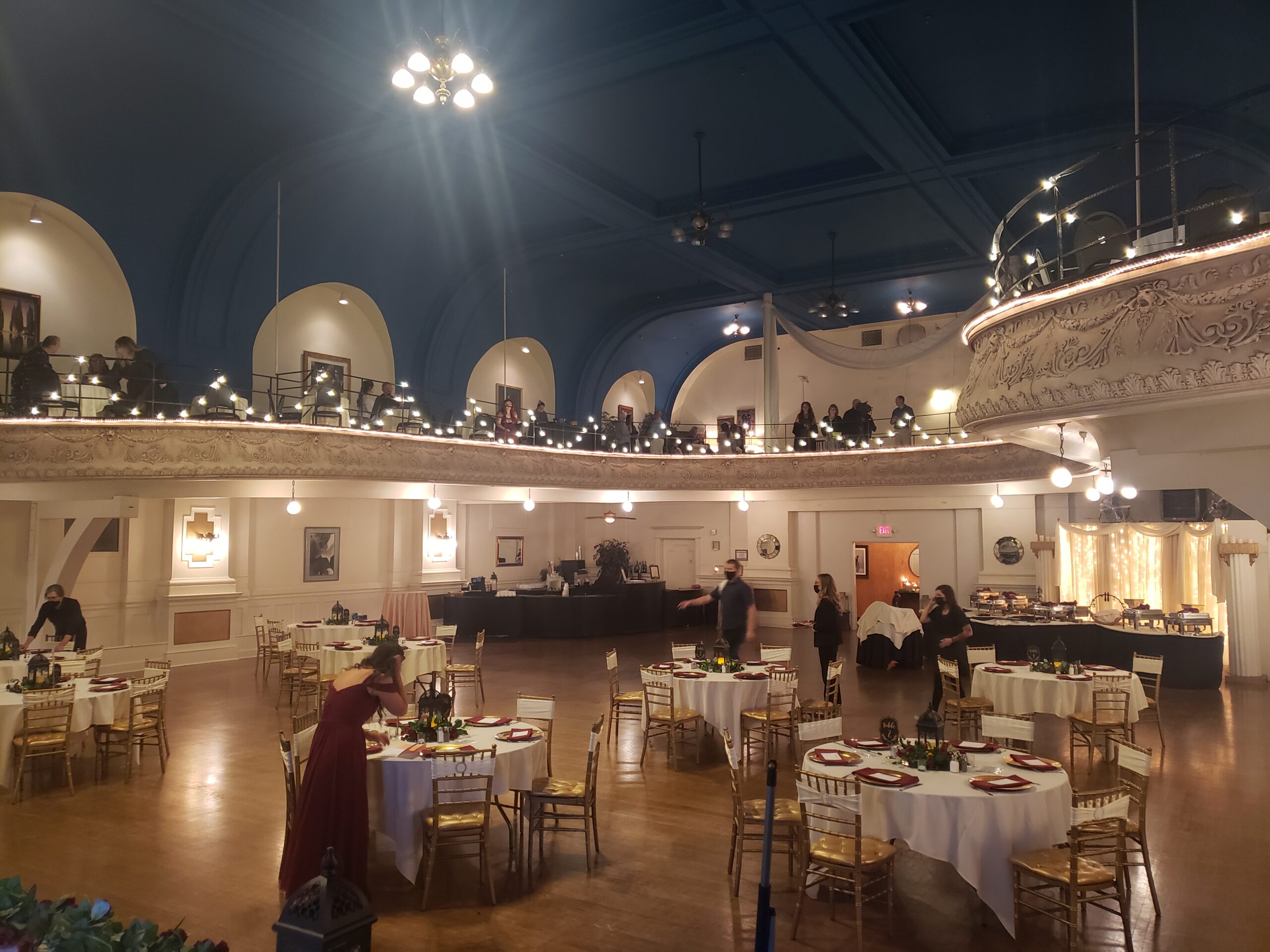 Adrianna Hill Grand Ballroom Wedding Reception Highlights:
Grand Entrance: New Found Glory – A Thousand Years
Cake Cutting: Stephen Lynch – Grow Old With You
First Dance: Brad Paisley – Then
Father/Daughter Dance: Beauty & The Beast – Tale as Old as Time
Mother/Son Dance: Somewhere In Time Theme
Last Dance: Firehouse – Love Of A Lifetime
After their first dance and dances with their parents, Courtney and Charlie wanted a group photo taken of everyone. I then opened the dance floor with 'At Last' from Etta James and many couples slow danced to this classic.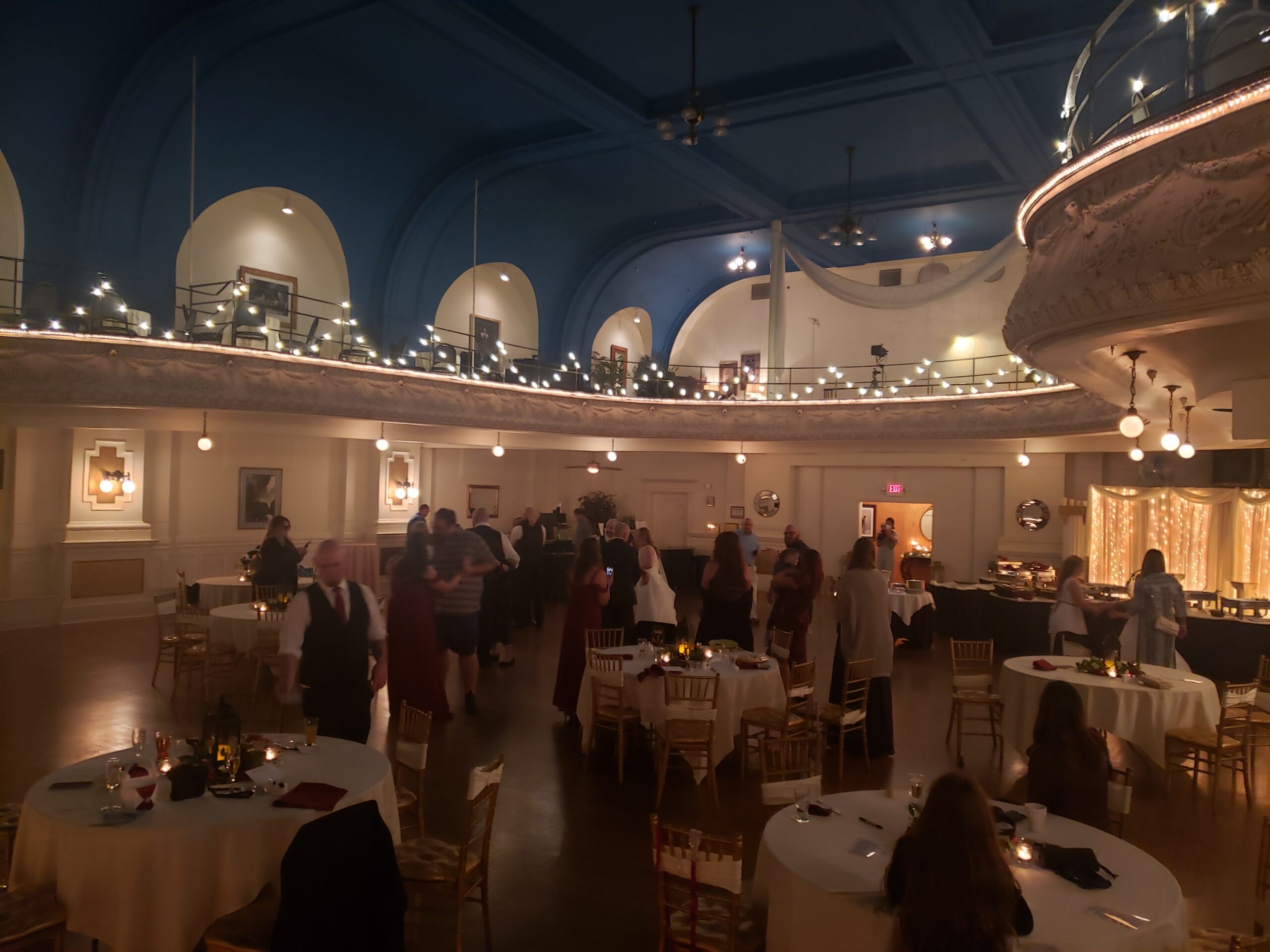 There were just under 40 guests in attendance, but most had a great time dancing to everything from classic rock and country favorites, to disco and recent hits.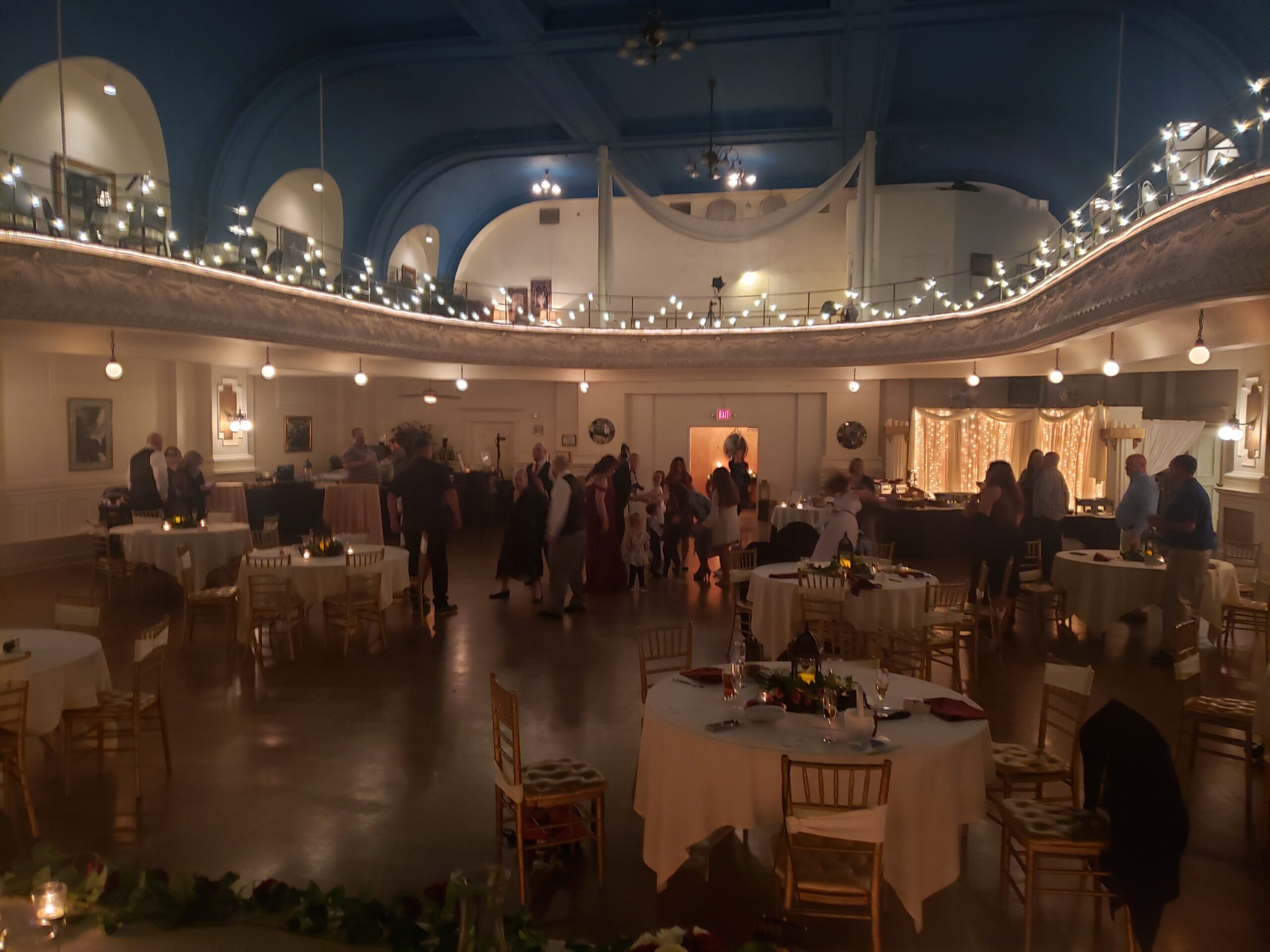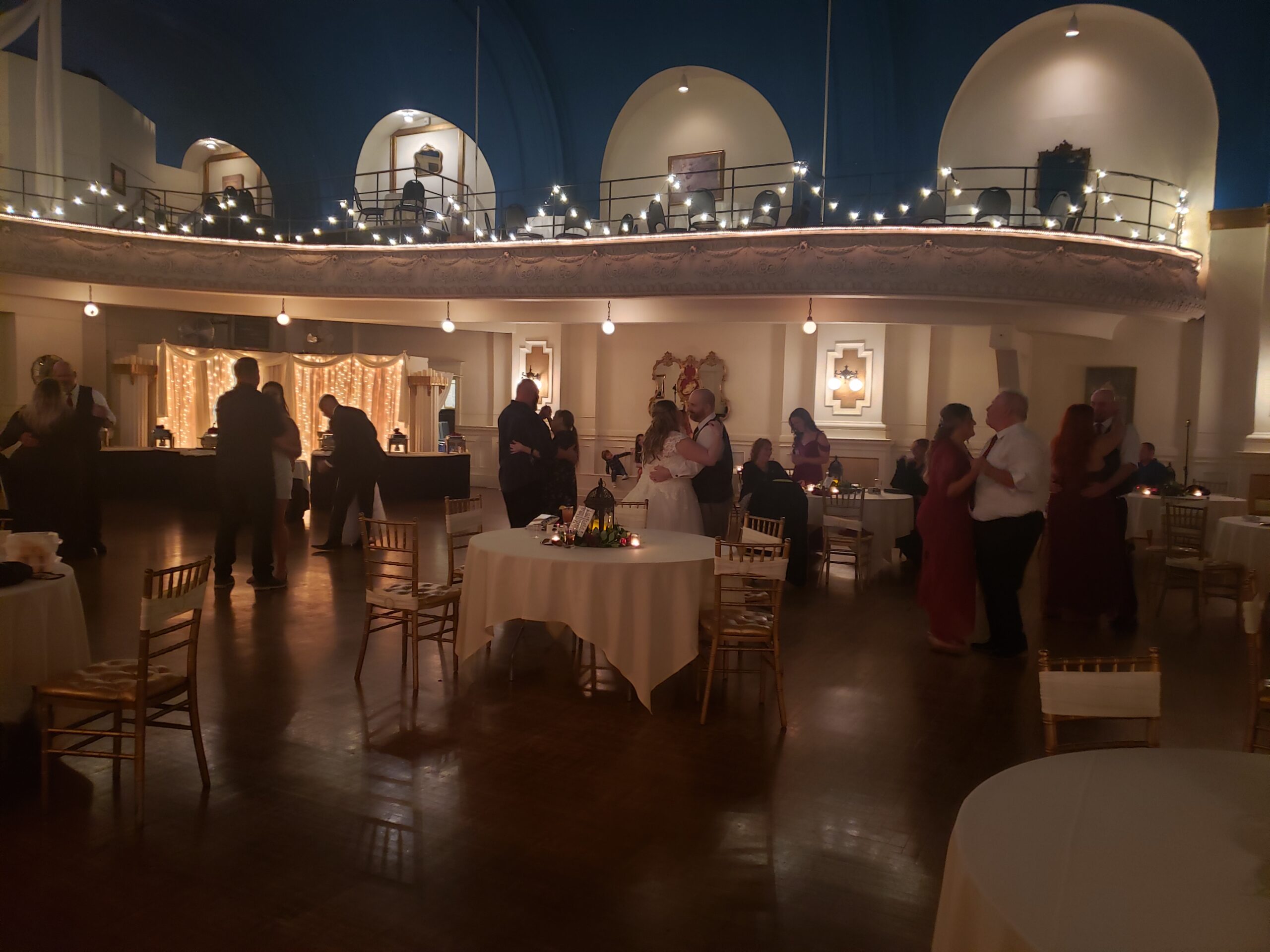 Congratulations Courtney and Charlie and thank you for choosing PRO DJs.


It was a return trip for me to Canby Oregon for a St Josef Winery wedding on Sunday, October 10, 2021. Like the previous wedding a month earlier, Taylor and Clayton had originally scheduled for October 10th last year, but with the pandemic they chose to not only postpone, but to elope, so this was a chance to celebrate with family and friends on what turned out to be their one year anniversary.

Outside it was cold and there were enough scattered showers in the area to force the reception planned for the Fountain patio inside to the intimate Wine Stube room.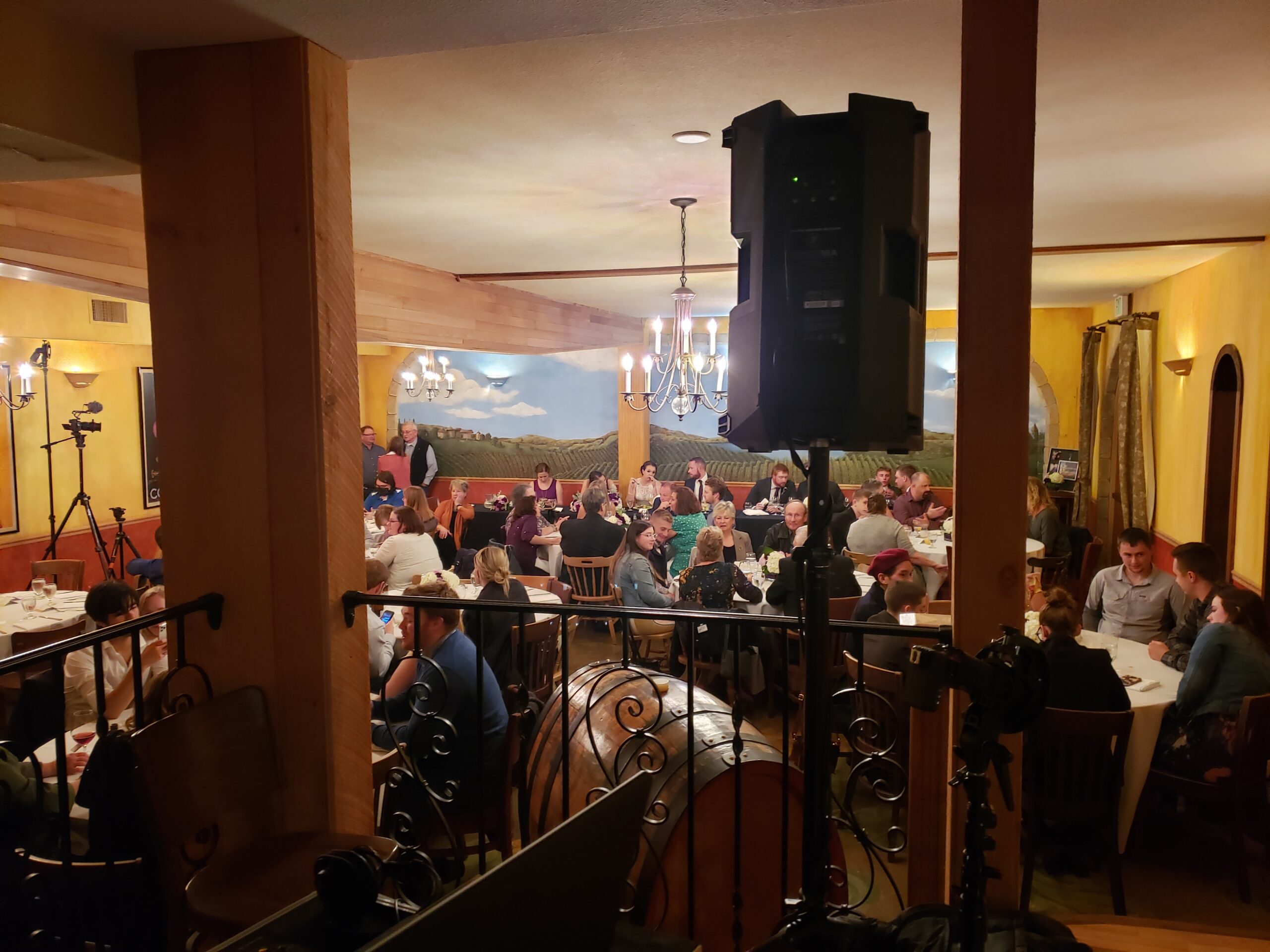 St Josef Winery Wedding Reception Highlights:
Grand Entrance: Chris Brown – Forever
Cake Cutting: Keith Urban – Sweet Thing
First Dance: Thomas Rhett – Blessed
Bride and Father Dance: Tim McGraw – My Little Girl
Bouquet Toss: Shania Twain – Man! I Feel Like A Woman
Last Dance: Mark Morrison – Return of the Mack
The larger adjacent Winery Tasty Room served as the dance floor. It was a smaller group of guests, but many enjoyed the first slow dance to "At Last" from Etta James and then stuck around for the fast songs that followed or were dancing where they were standing. Many were dancing at the wine tasting counter 🙂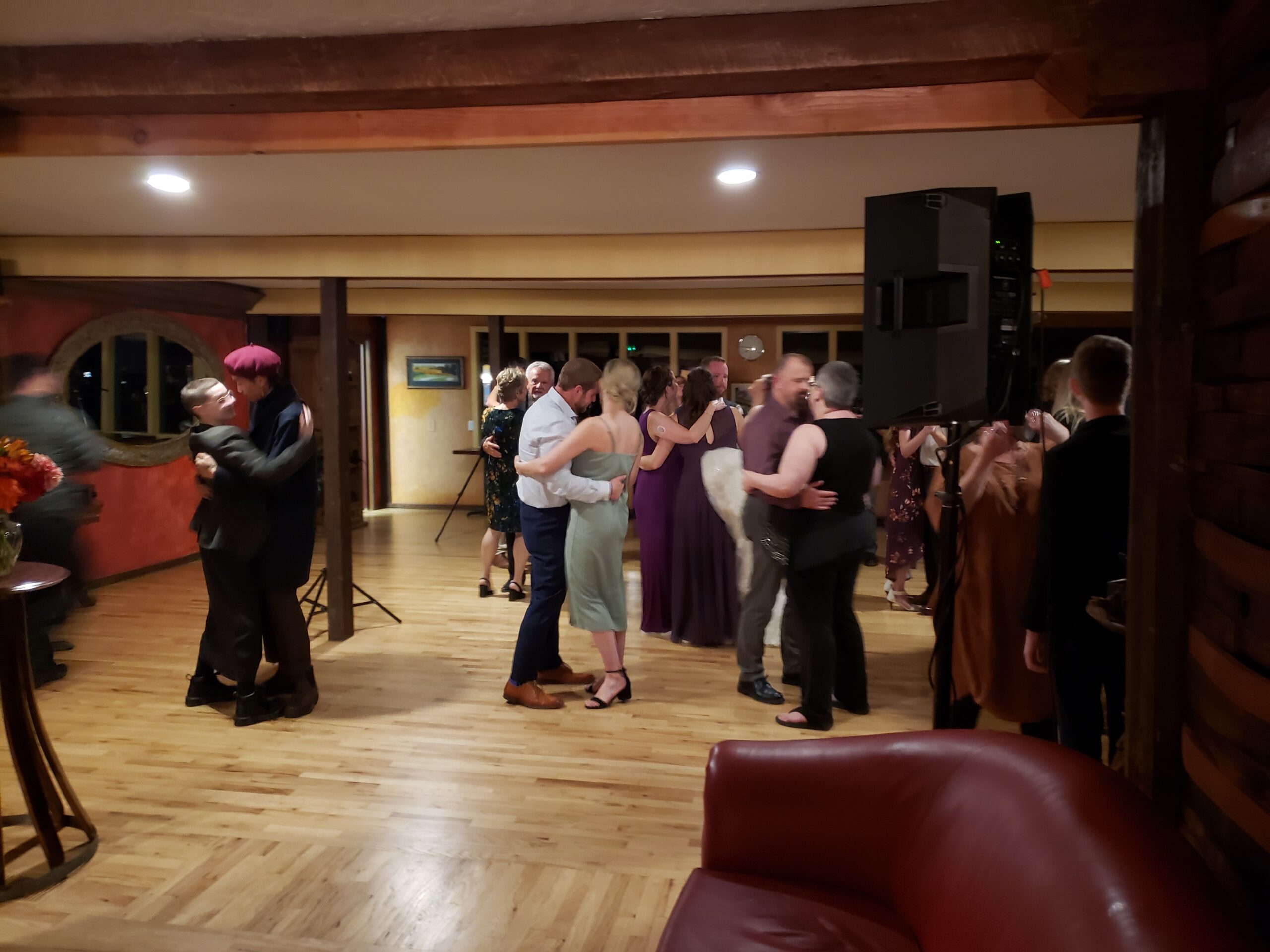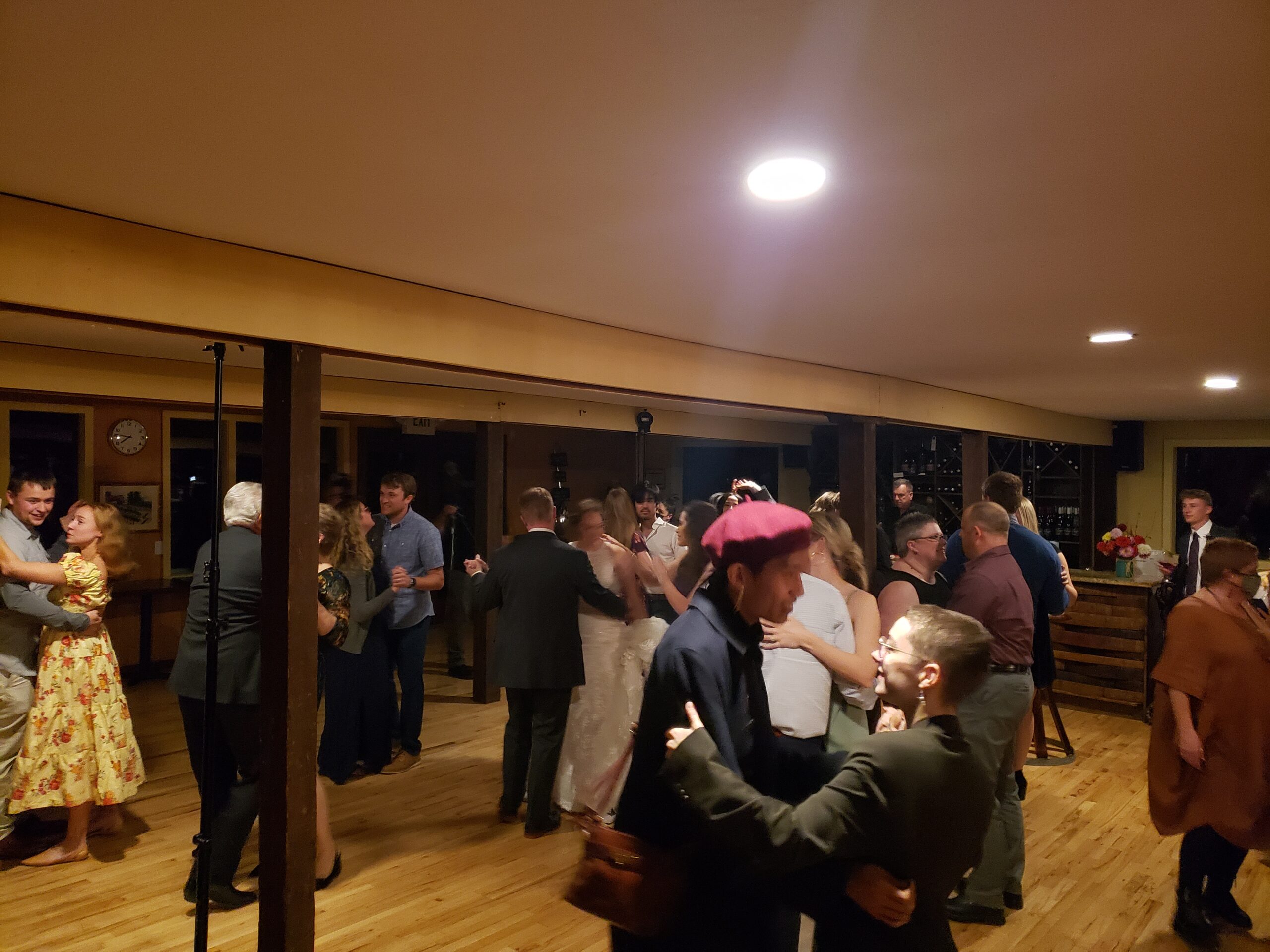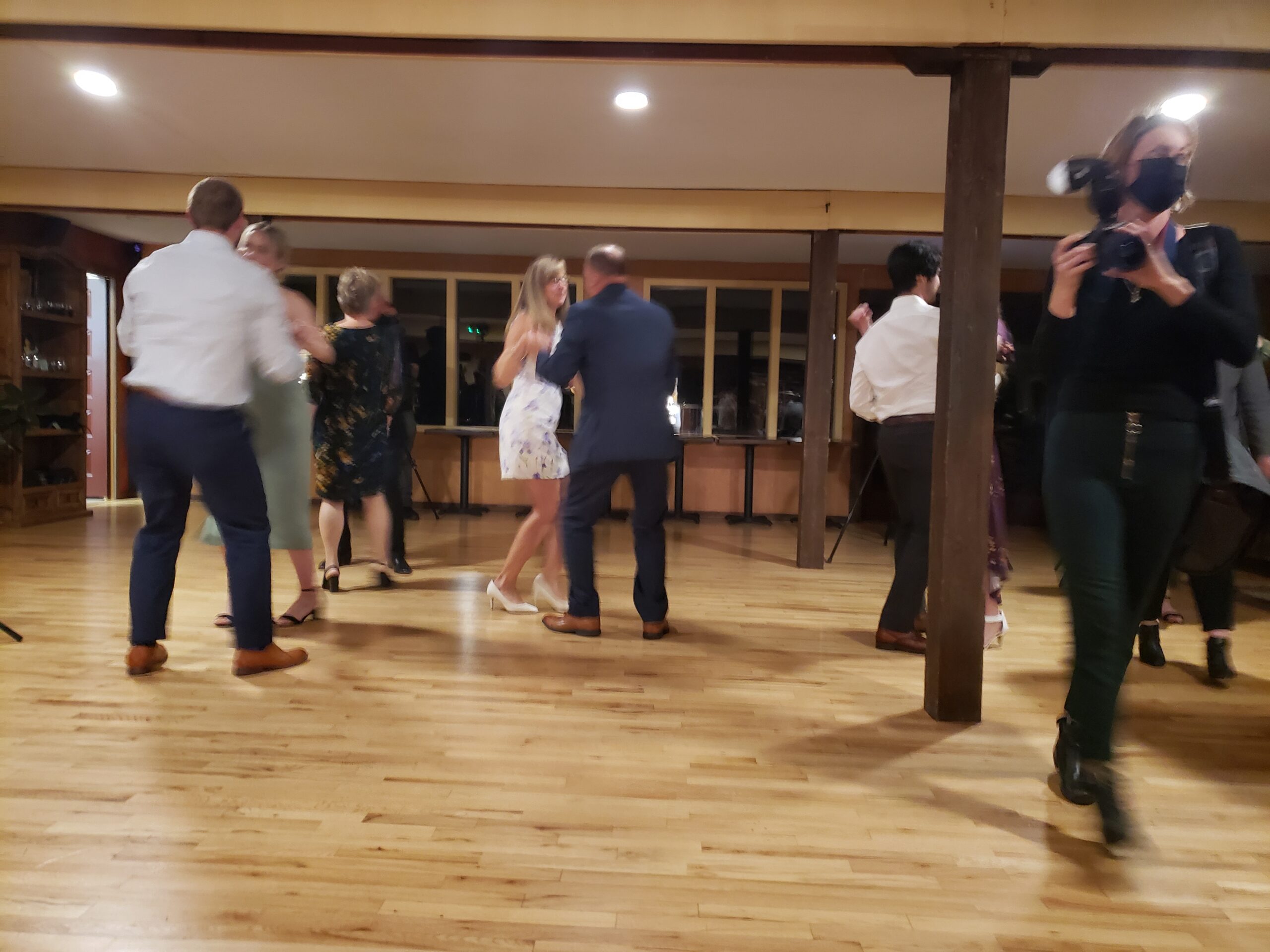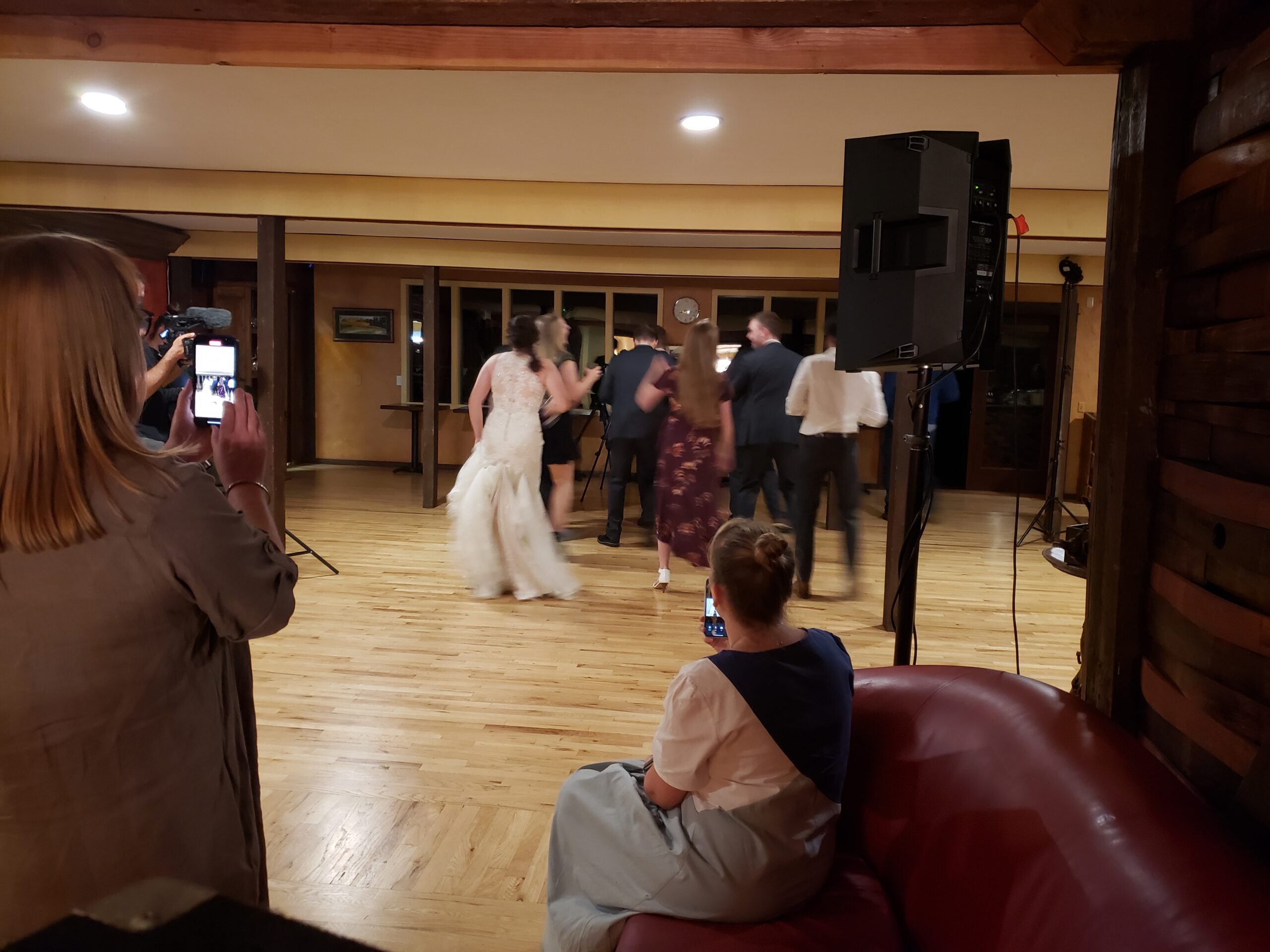 The bride let me know twice near the end of the reception how much fun she had.

Congratulations Taylor and Clayton and thank you for choosing PRO DJs.


The summer wedding season for 2021 ended last weekend, but as the calendar flipped to October, the weather held on for a nice day for Amanda and Sean's Mt. Hood Organic Farms wedding in Parkdale, Oregon on Sunday, October 3rd.

The wedding ceremony took place on the lawn just outside the Cottage & Carriage House. Music for the ceremony and cocktail hour that followed was provided by a live violinist. I arrived to setup for the 6pm reception around 5pm and was greeted by this amazing view of Mt. Hood.




The reception was held in the Apple House and before guests came inside to find their seats, they were all asked to gather outside for one large group photo.

I then introduced the bridal party and newlyweds right before dinner was served. Background music was a variety of selections chosen by the bride including tracks from Adele, Joss Stone, Stevie Wonder and more.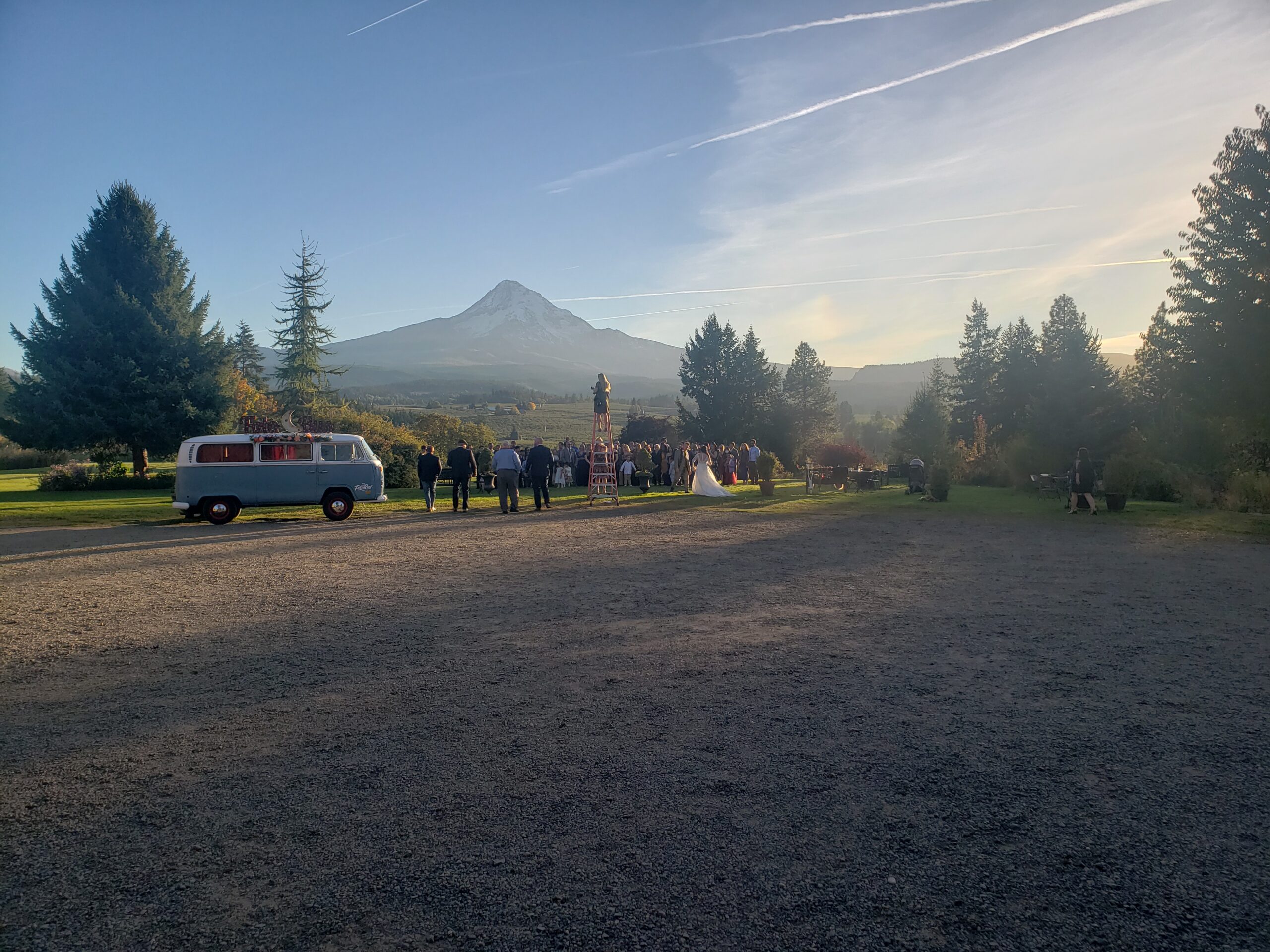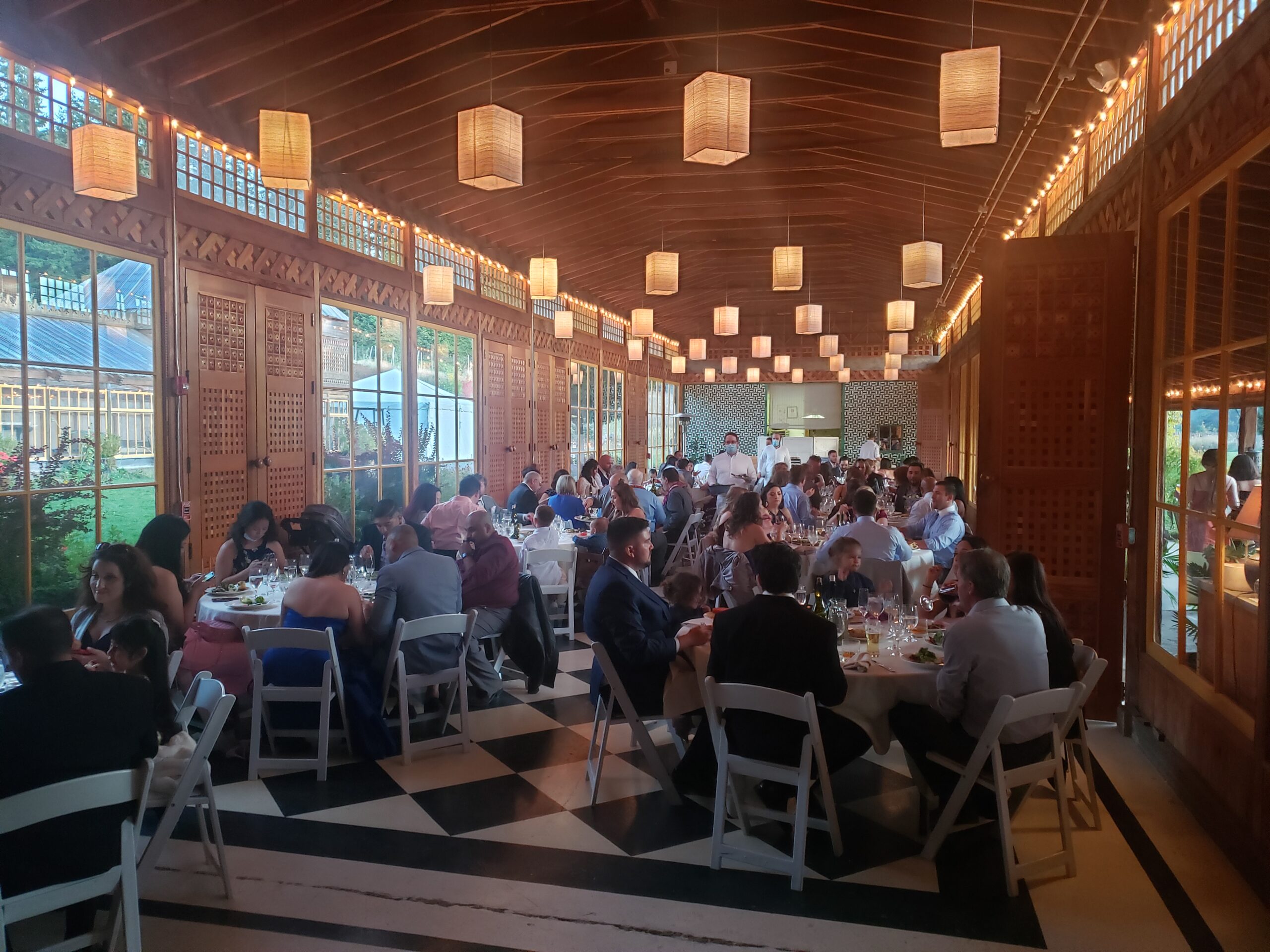 Mt. Hood Organic Farms Wedding Reception Highlights:
Grand Entrance: Rolling Stones – She's A Rainbow
Cake Cutting: No Doubt – Underneath It All
First Dance: The Hollies – The Air That I Breathe
Groom and Mother Dance: Elton John – Your Song
Bouquet Toss: Kelis – Milkshake
Garter Toss: Ginuwine – Pony
Last Dance: ELO – Mr. Blue Sky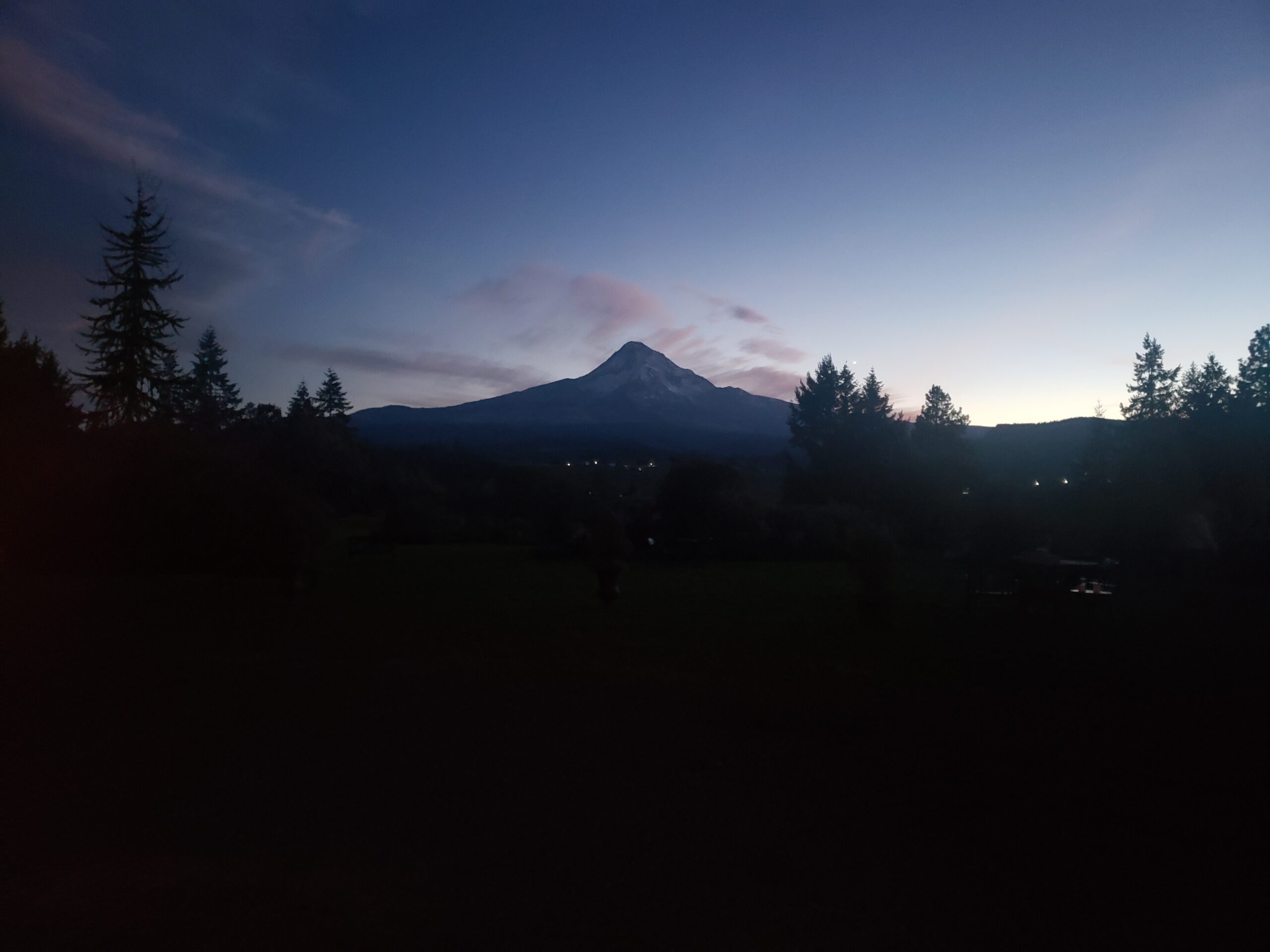 This group brought loads of energy to the dance floor from the first song as they got right to it and didn't let up until the last song.

From the classic hits, such as 'You're The One That I Want' and 'La Bamba' to recent favorites, 'Happy' and 'Fireball,' plus a heavy dose of 90's hip hop, it was a raging good time.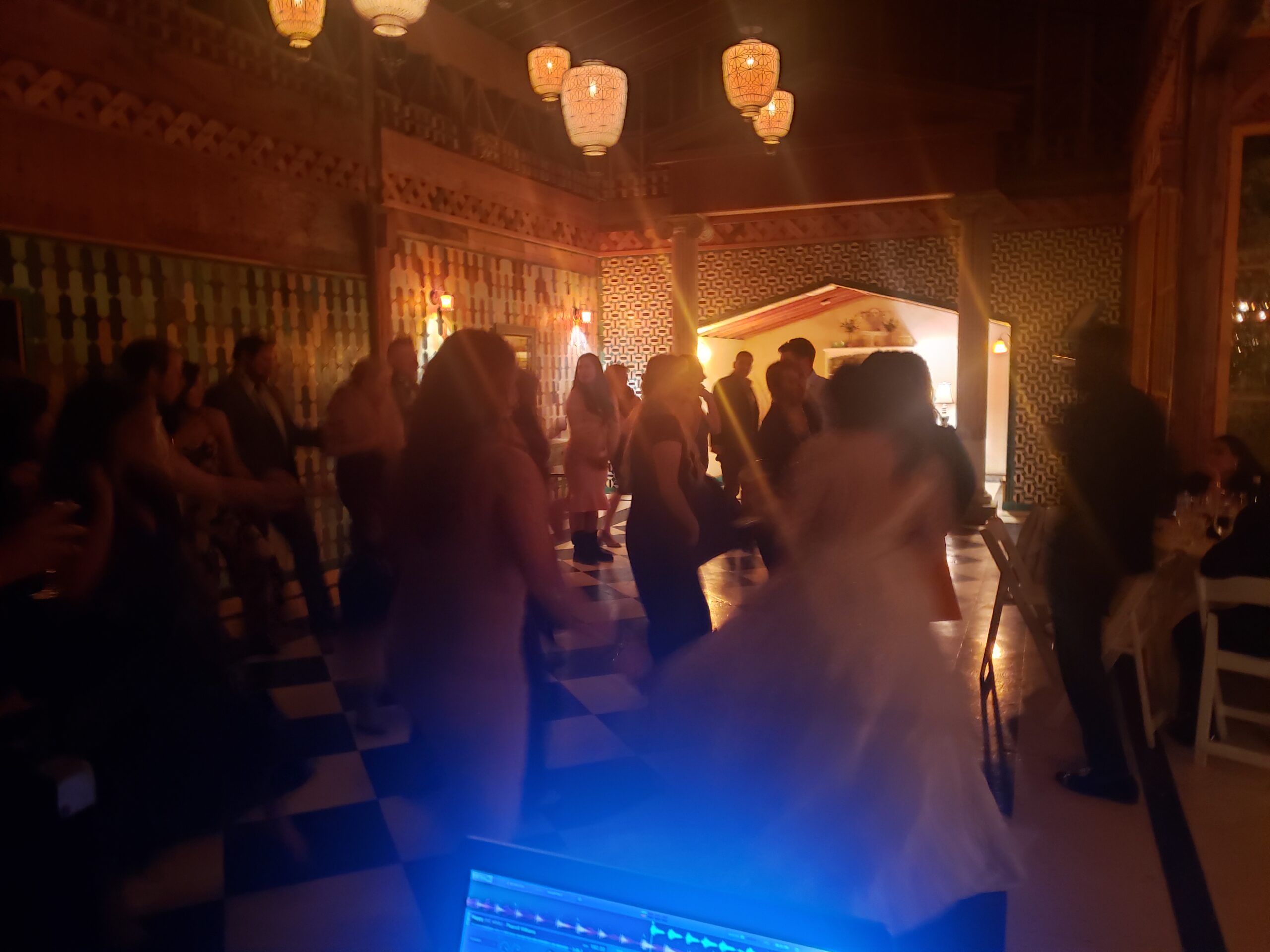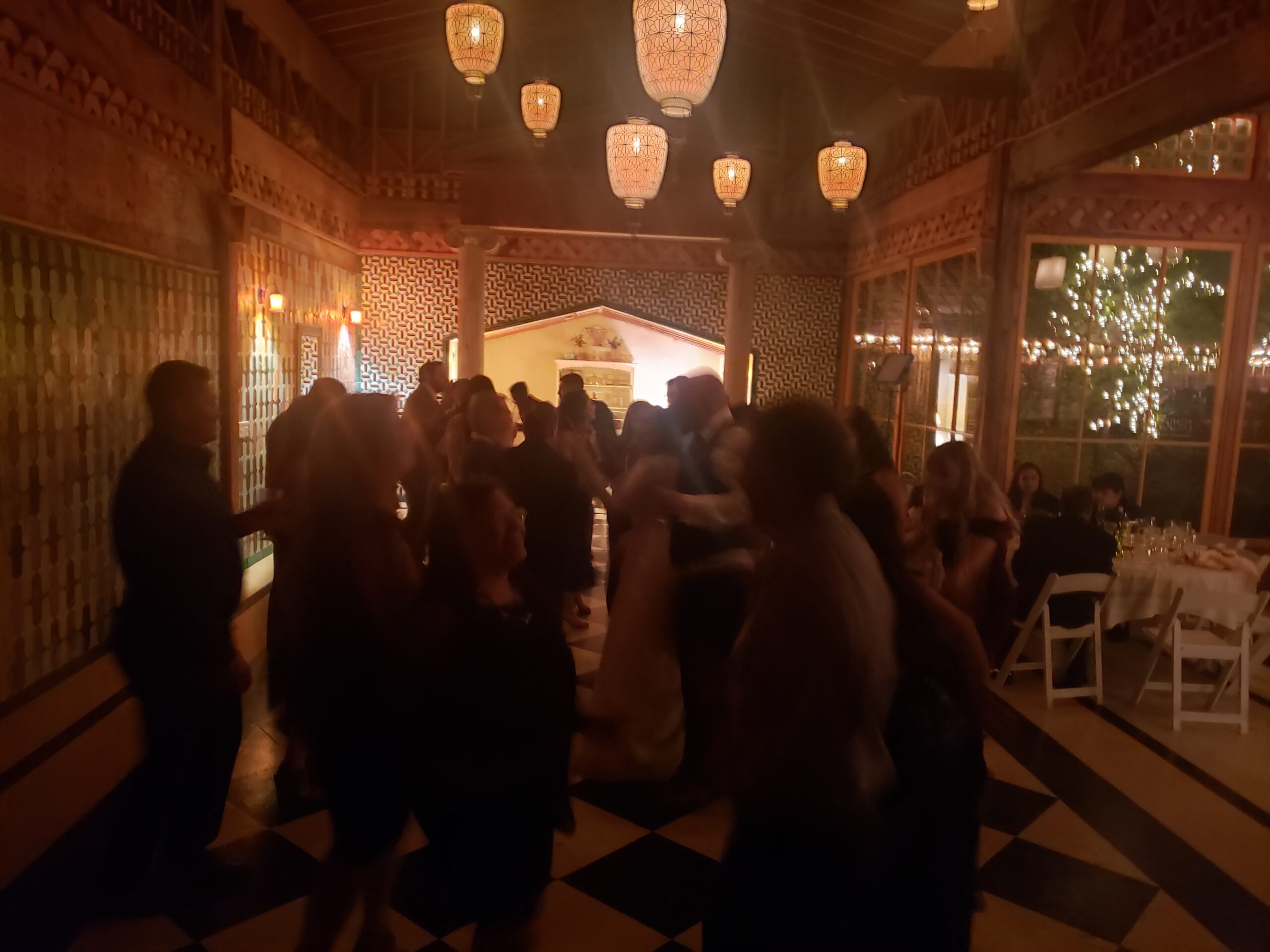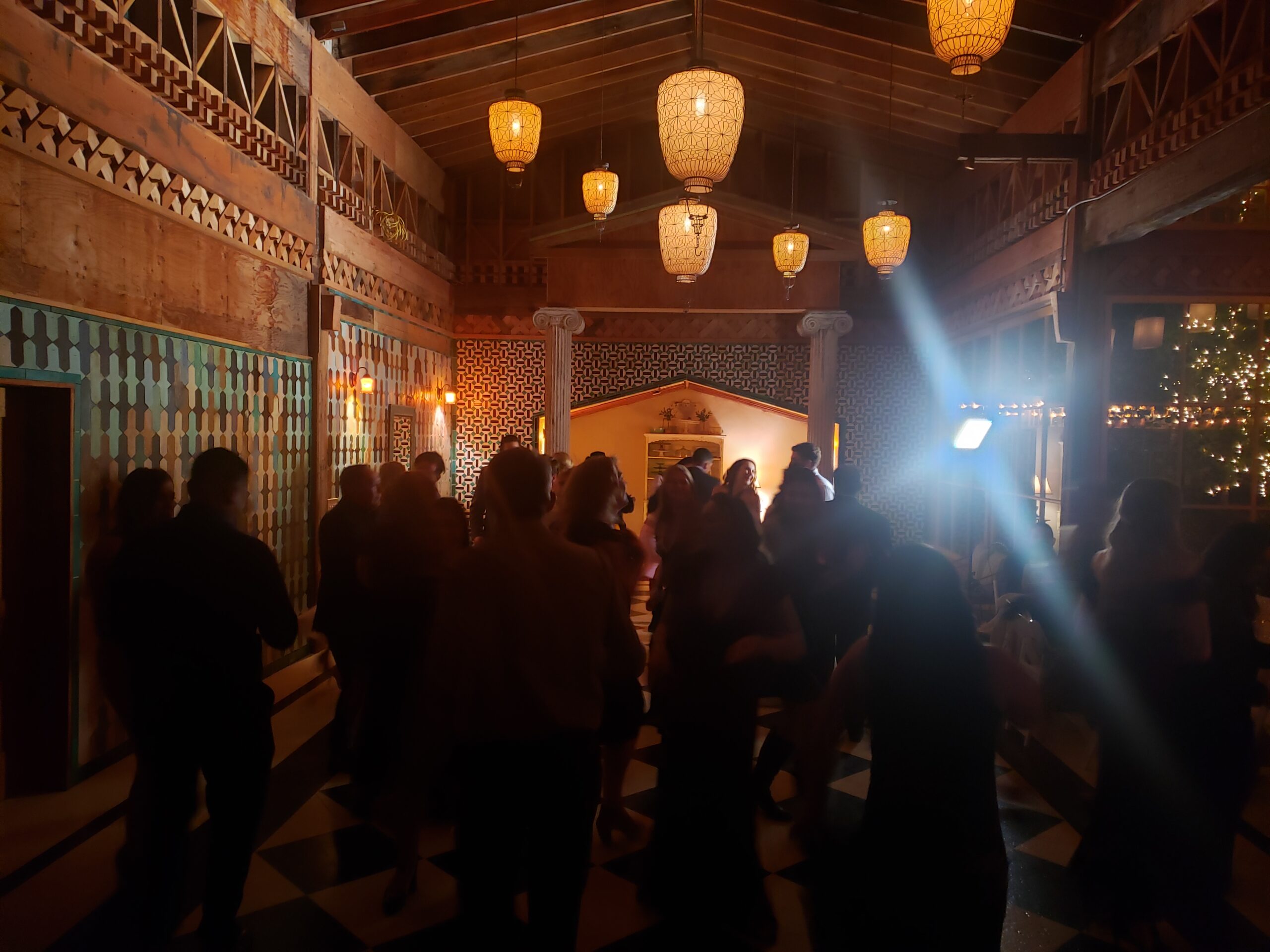 Congratulations Amanda and Sean and thank you for choosing PRO DJs.