Events

Alyssa and Nick's The Aerie at Eagle Landing Wedding was held on Saturday, May 18, 2019 in Happy Valley, Oregon.

It was a cloudy day with rain in the forecast, but dry when I setup my second sound system for the ceremony outside. Of course, as soon as I was done, it began pouring down rain. Fortunately the corner cover was just enough to not impact my sound equipment.

As I took the following photo of the ceremony, thunder and lightning were raging behind me, but we made it to the conclusion in time.

The Aerie at Eagle Landing Wedding Ceremony Highlights:
Processional Entrance: Daniel Jang – Thinking Out Loud (Violin Cover)
Bride Entrance: Daniel Jang – Can't Help Falling in Love (Violin Cover)
Bride/Groom Exit: Bruno Mars – Marry You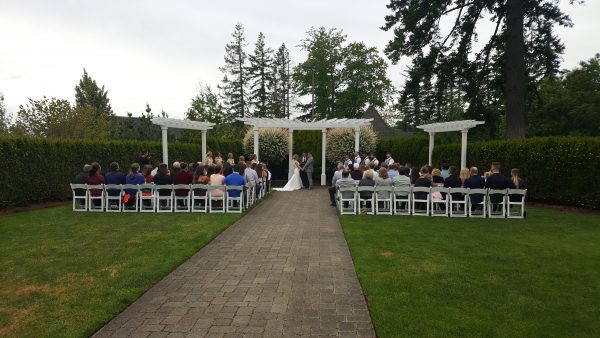 Everyone moved inside for the reception or hung out by the bar under the adjacent tent. I continued providing background music in both areas of the venue.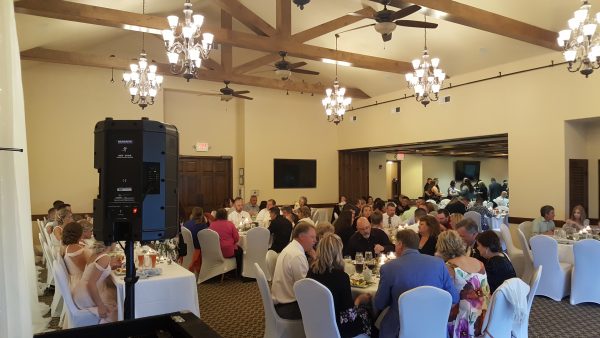 The Aerie at Eagle Landing Wedding Reception Highlights:
Grand Entrance: Gashi – My Year
Cake Cutting: Flo Rida & 99 Percent – Cake
First Dance: Dan + Shay – From the Ground Up
Bride and Father Dance: Gary Allan – Tough Little Boys
Groom and Mother Dance: Fleetwood Mac – Landslide
Money Dance: Lil Nas X – Old Town Road, Ludacris – Money Maker
Bouquet Toss: Beyonce – Single Ladies (Put A Ring On It)
Garter Toss: Ginuwine – Pony
Last Dance: N Sync – Bye Bye Bye
When the dance floor opened around 8pm, there was still plenty of daylight and room lights were turned up, but that didn't stop this group from getting right to it… filling the dance floor for the next two hours.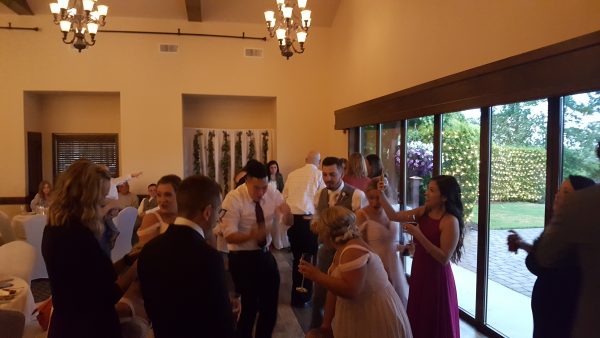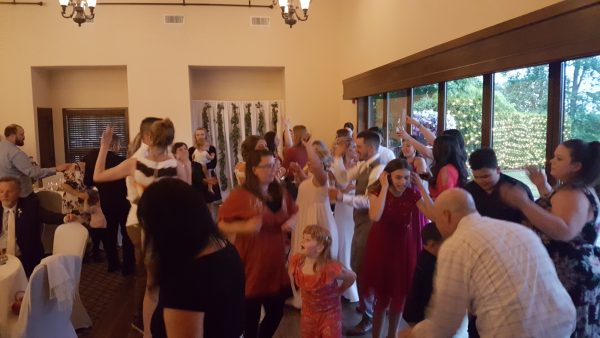 It was a dry evening and after awhile, the big glass doors were opened and guests danced inside and out… enjoying a few classics from the Bee Gees, Beatles and Earth, Wind & Fire, along with a heavy dose of recent hits from Justin Timberlake, Bruno Mars, Rihanna and more.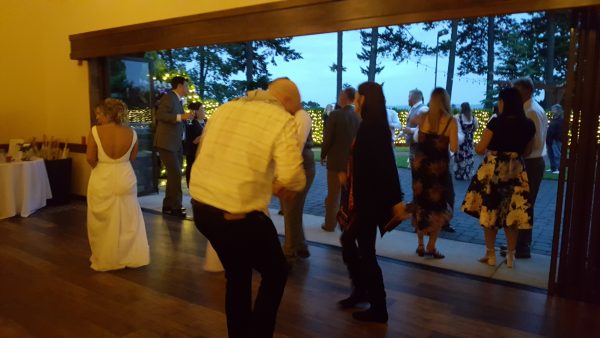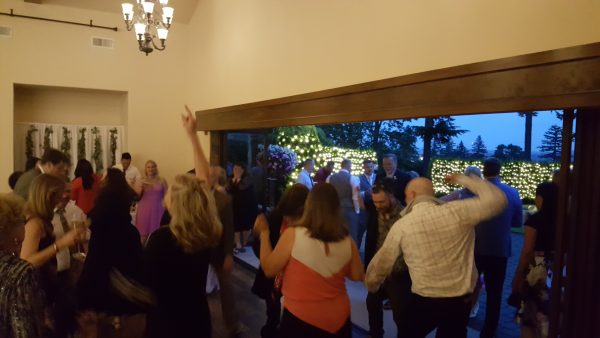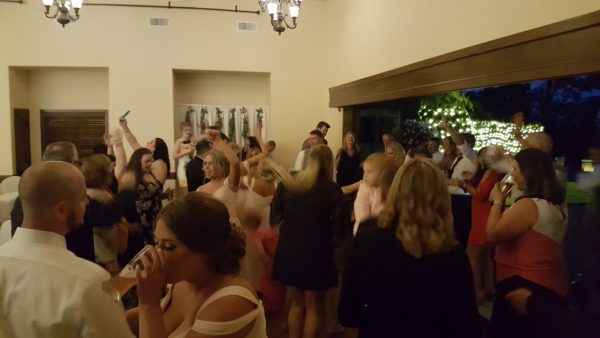 Congratulations Alyssa and Nick and thank you for choosing PRO DJs.


DJ Rich Ellis had the opportunity to not only be the DJ, but also provide sound for the service at Liana and Sylvie's B'not Mitzvah Celebration on Sunday, May 5, 2019 at Mittleman Jewish Community Center in Portland, Oregon.

Multiple microphones were needed for the two hour service, including a clip-on lapel microphone for the officiant and two boom microphones for the Torah readings.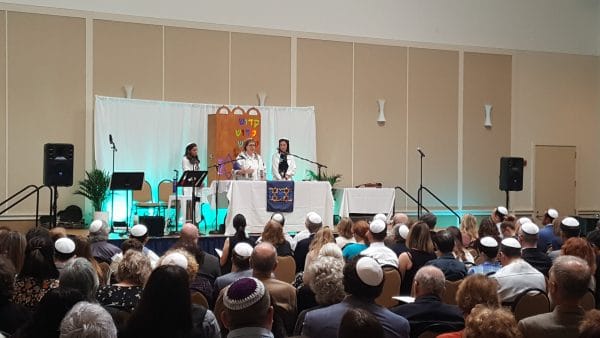 Following the service, all guests were directed to the lobby for refreshments while the main ballroom was turned over for the reception. This allowed me time to beef up my sound system with a sub-woofer and set-up lighting for the dance floor.

After everyone returned, they formed two lines to welcome the girls to their party. I introduced them and per their request, played ABBA's "Dancing Queen" for their entrance music.

After dancing a few songs, lunch was ready so I transitioned to some background music that included selections from Stevie Wonder, OneRepublic, Adele and more.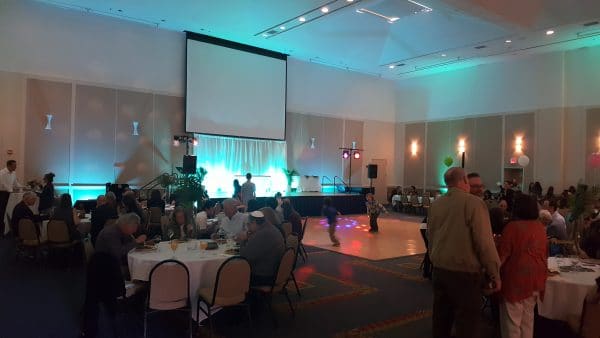 With the kids done eating quickly and time at a premium, I gathered the kids for some games that featured a fun version of "Who Knows Liana and Sylvie Best?" followed by a scavenger hunt.

After a toast and slideshow, I invited everyone out to dance to 'The Hora' and celebrate the twins on their b'not mitzvah with the traditional chair raising.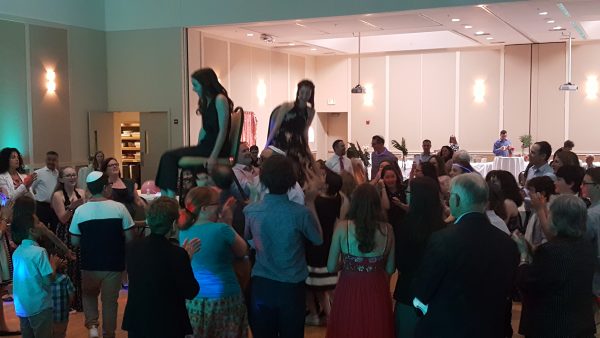 The floor was packed for nearly every song from then on and Sunday afternoon felt like a Saturday night.

Mazel Tov Liana and Sylvie and thank you Lisa and Noah for choosing PRO DJs.

Post Event Satisfaction Survey:

"Rich was excellent from start to finish…a great communicator and willing to take on some extra sound duties for our service, which was a huge help. He helped us troubleshoot our microphone/sound needs to ensure we had great coverage throughout the service. Because the service ran a lot longer than we had hoped, the party got cut short so we didn't get to do as much dancing as we would've liked. We were in good hands with Rich and are so glad we went with PRO DJS!" –Lisa Katon (Liana & Sylvie's B'not Mitzvah) – Portland, OR
Event Date: Sunday, May 5, 2019
Event Type: B'not Mitzvah
Event Location: Mittleman Jewish Community Center
Event Staff: Rich Ellis
Quality of Customer Service via Telephone: Excellent
Quality of Customer Service via Internet: Excellent
Quality of Customer Service at Event: Excellent
Friendliness of your Entertainer: Excellent
Promptness of your Entertainer: Excellent
Professionalism of your Entertainer: Excellent
Entertainer's Performance: Excellent
Entertainer's Appearance: Excellent
System Appearance: Excellent
Sound Quality: Excellent
Overall Volume Levels: Excellent
Music Selection: Excellent
Incorporation of Your Requests: Excellent
Lighting Effects: Excellent
Equipment Appearance: Excellent
Overall Customer Service: Excellent
Planning Assistance: Excellent
Entertainer's Cooperation with Other Vendors: Excellent
Overall Performance Rating: Excellent
Would you recommend this service to others? Yes

High School Prom DJs Rod Krause and Rich Ellis performed at proms for Heritage High School (Vancouver, WA) and Stayton High School (Stayton, OR) on Saturday, April 27, 2019.

Rod had a great time helping make Prom memories for Heritage students at the Melody Event Center in Portland, Oregon.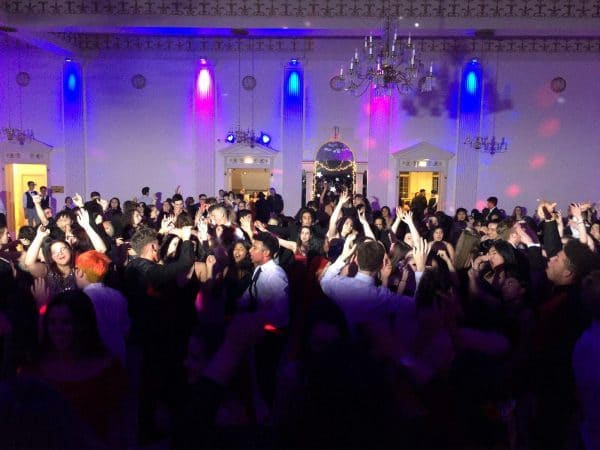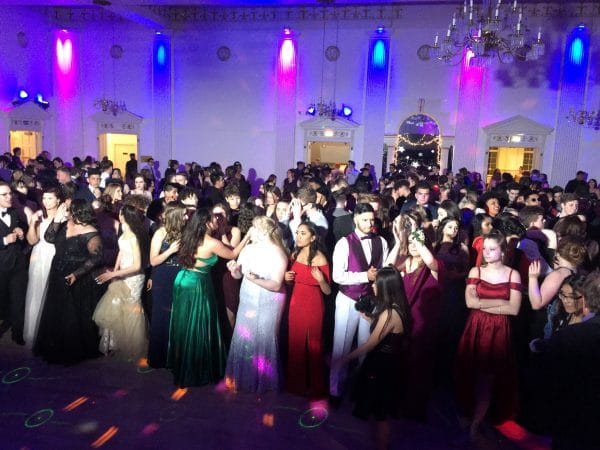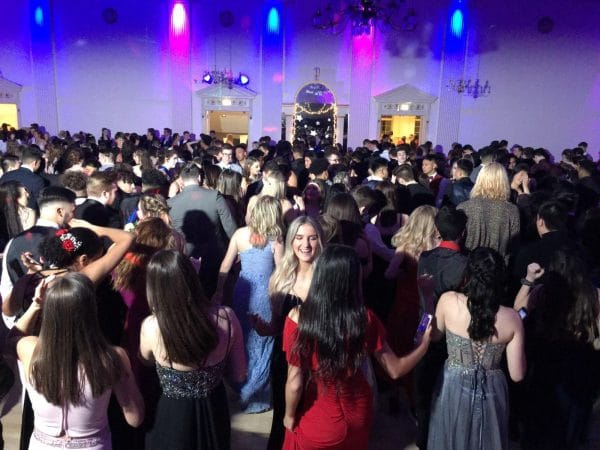 Rich was the DJ for Stayton High, who were also having a great time at their Prom held at the Reed Opera House in Salem, Oregon.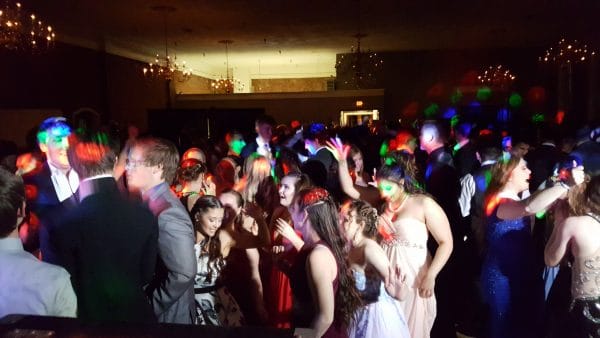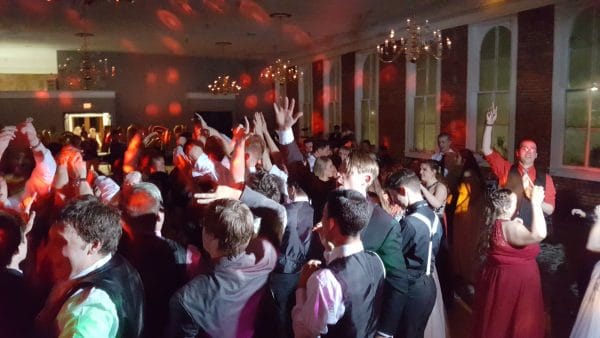 Student Feedback: "Thank you for coming! Everybody loved it! We've had a few years of some not so great DJ's, so having you guys this year was amazing! We will definitely keep in contact with you in the future." –Carlin C., Stayton High School Prom (4-27-19)


Rich Ellis was also the DJ for the Hudson's Bay High School Prom at Montgomery Park in Portland, Oregon on Saturday, May 4, 2019. There were lots of highs and one big "Low" when this photo was taken 🙂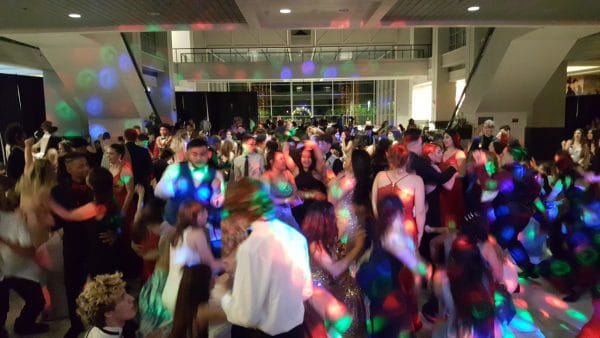 Rod Krause had a great time DJing the Vancouver School of Arts and Academics Prom on Saturday, May 11, 2019 at the Water Resources Education Center in Vancouver, WA.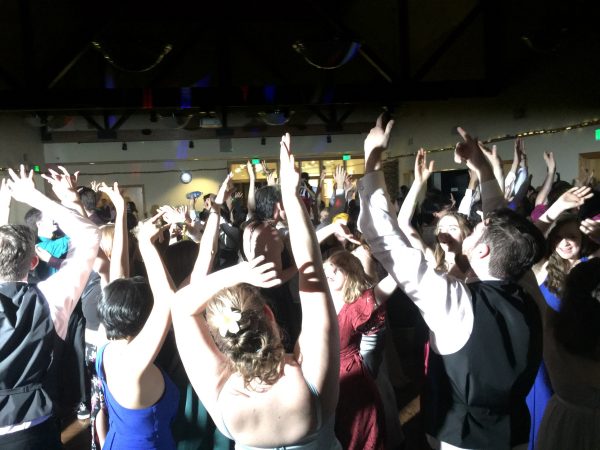 World of Speed in Wilsonville, Oregon is a huge venue and Canby High School filled it up for their prom on Saturday, May 18, 2019.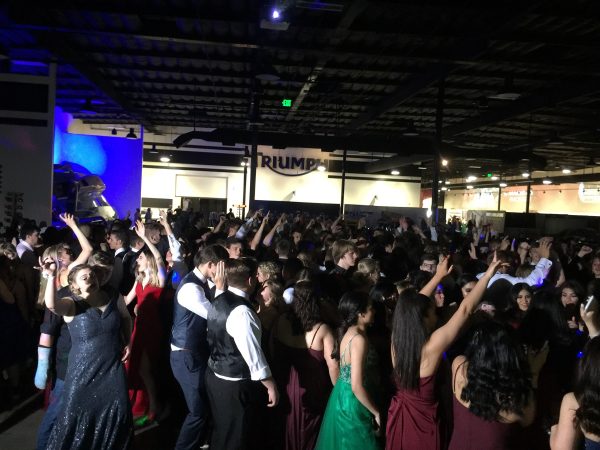 Thanks for choosing PRO DJs!


Portland Bar Mitzvah DJ Rich Ellis performed at Price's Bar Mitzvah party on Saturday, March 30, 2018 at the Tiffany Center in Portland, Oregon. This event was held in the 4th floor Emerald Ballroom which holds about 300 people. 120 were originally expected, but with Oregon schools on Spring Break this week, the total was a little less.

I played a variety of background music selections as guests mingled and the kids enjoyed the photo booth with props and a game of Jenga that went at least 8 feet high.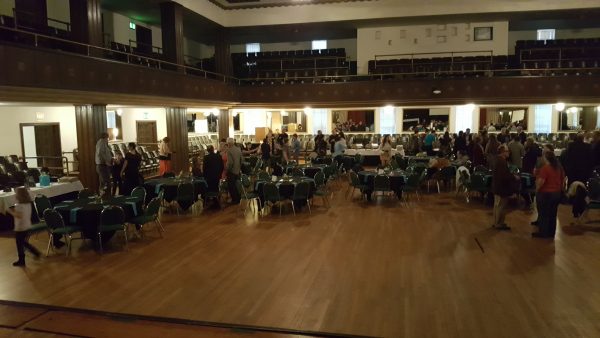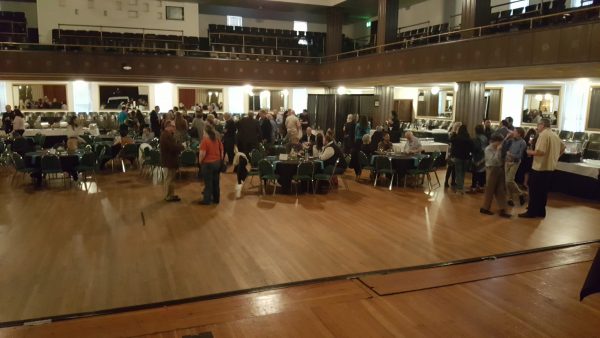 After a slideshow and some games, most everyone came together on the dance floor for "The Hora" and chair raising.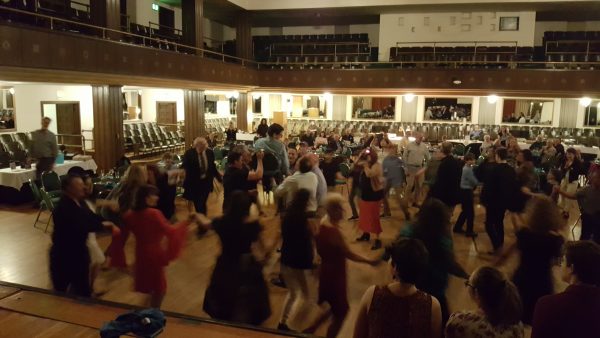 Most guests appeared to have a great time dancing to hit songs old and new, including "Uptown Funk," "September," "Stayin' Alive," "I Gotta Feeling" and more.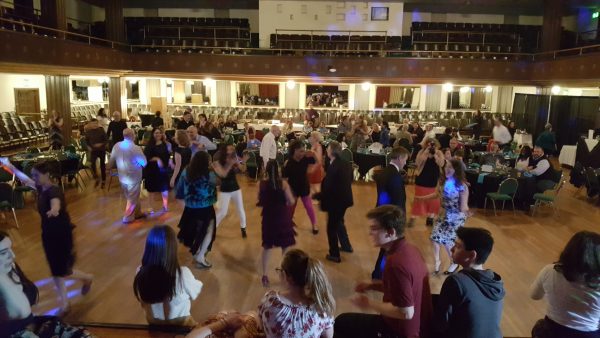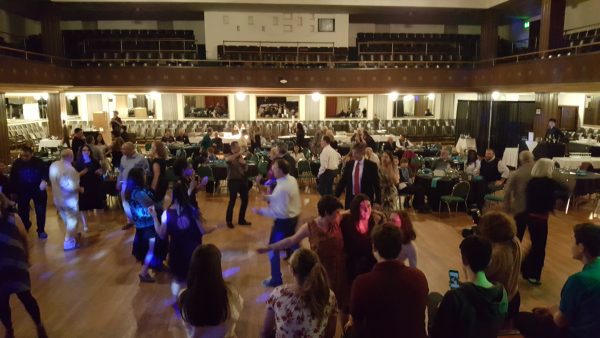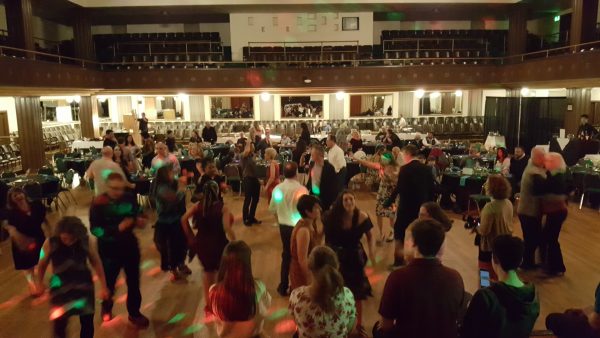 Mazel Tov Price and thank you parents Tracy and Scott for choosing PRO DJs.