Oregon Karaoke Wedding Timberline Lodge
Jenn and Erik's Oregon karaoke wedding was held Saturday, April 3, 2021 at Timberline Lodge on Mt. Hood, Oregon with the ceremony in the Raven's Nest and reception in Ullman Hall.

Since the pandemic shut most everything down in March 2020, this was my first DJ performance since last October. I thought some rust might set in, but 30 years in this business it was like riding a bike for me and I really appreciated the opportunity to do this again.

It was a beautiful day outside and the large picturesque window provided a great view of the mountain when the ceremony began at 6pm.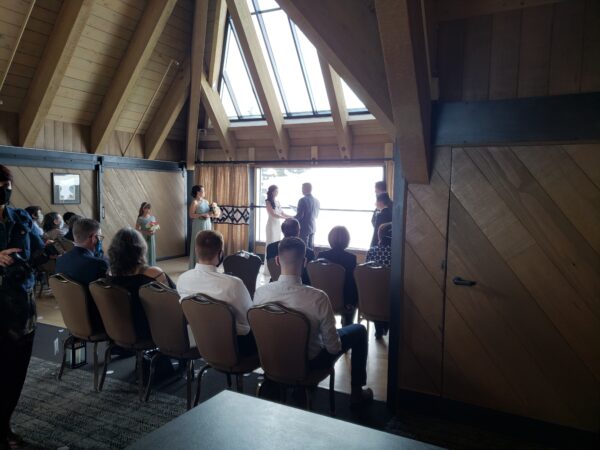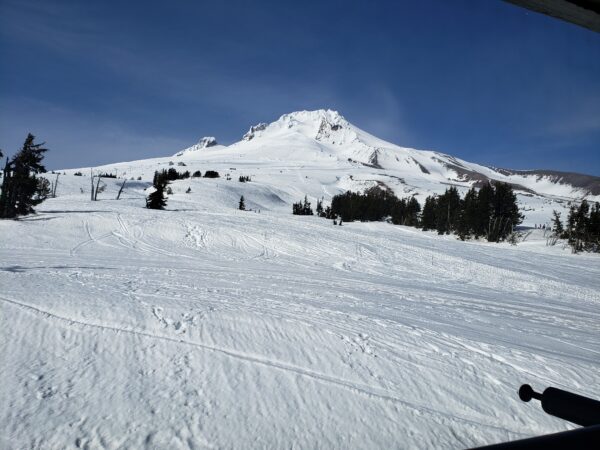 Oregon Karaoke Wedding Ceremony Highlights:
Wedding Party Entrance: Chase Rice – Eyes On You
Groom Entrance: Billy Squier – The Stroke (Flower Dude)
Bride Entrance: John Williams – The Imperial March, Darth Vader's Theme
Bride & Groom Exit: Big & Rich – Lost In This Moment
After the ceremony, guests took the stairs down to Ullman Hall for the reception. There were about 60 guests in attendance and the staff did a great job locating the tables six feet apart, but with karaoke on the itinerary, it was intially a bit of a challenge placing my speakers and projector screen for the lyrics, but we made it work and it turned out to be the ideal setup for the space.
 
Background music for cocktails and dinner was a mix of instrumental or orchestra versions of hit songs all chosen by the bride. Featured artists included Simply Three, Ramin Djawadi and selections from the Westworld soundtracks.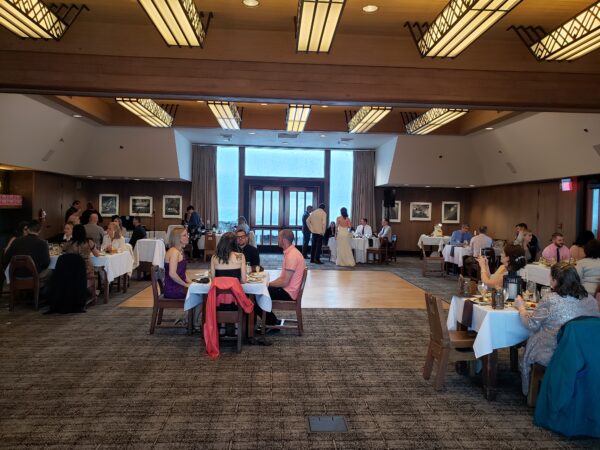 Oregon Karaoke Wedding Reception Highlights:
Grand Entrance: Black Eyed Peas – Let's Get It Started
Cake Cutting: Jack Johnson – Better Together
First Dance: Custom Mashup
Bouquet Presentation: Kelis – Milkshake
Last Dance: Luke Combs – Better Together
Before their wedding, Jenn and Erik noted "we would like to be announced for our first dance like were going into a boxing ring. You had suggested doing the "Let's get ready to rumble!" intro which we love. After that we'll have you introduce us and we will provide you with what to say, and then we are going to go into the choreographed mash up."
 
In my sound studio, I pre-produced their introductions and mixed the mashup which featured the following songs (Groove Is In The Heart, Wobble, Finesse, Rump Shaker, OMG, Hot In Heere, Single Ladies, Low, Uptown Funk). The newlyweds put on a great show for their guests.
The karaoke was a big hit with nearly 30 performances and there was some dancing as well.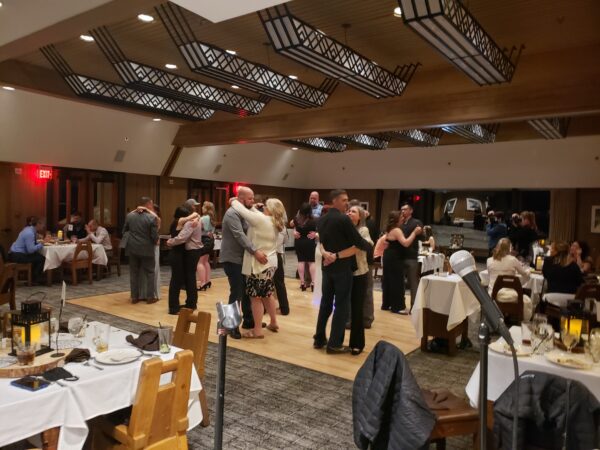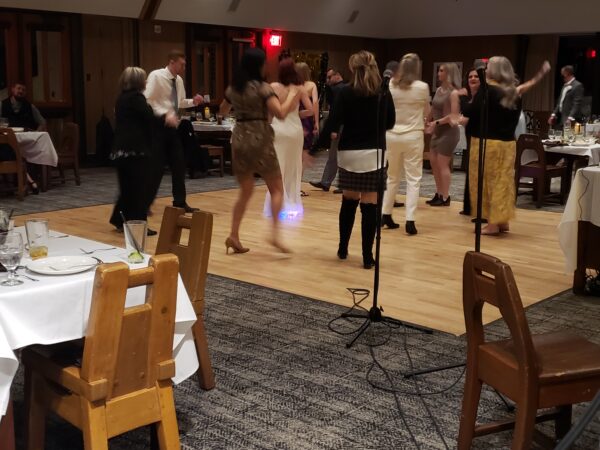 Congratulations Jenn and Erik and thank you for choosing PRO DJs.