Three Family Bar Mitzvahs – One Portland DJ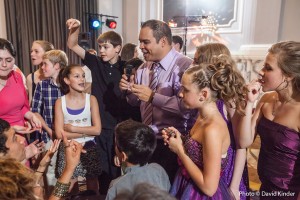 It started with Joshua in 2008, followed by Jacob in 2010 and finally Jesse in 2013.

They are all brothers and they all had the same DJ perform at their bar mitzvahs'… PRO DJs Steve Marker.

Jesse's big event was held at the Stockpot Restaurant in Beaverton, Oregon on February 9, 2013 and Steve kept everyone moving with a fun mix of music and games.

Post Event Satisfaction Survey:

"This is our third Bar Mitzvah with Steve Marker and he always does a great job. I wouldn't consider using anyone else."
-Sherri Cook
Event Date: Saturday, February 9, 2013
Event Type: Bar Mitzvah
Event Location: Stockpot Broiler Restaurant – Beaverton, OR
Event Staff: Steve Marker
Quality of Customer Service via Telephone: Excellent
Quality of Customer Service via Internet: N/A
Quality of Customer Service at Event: Excellent
Friendliness of your Entertainer: Excellent
Promptness of your Entertainer: Excellent
Professionalism of your Entertainer: Excellent
Entertainer's Performance: Excellent
Entertainer's Appearance: Excellent
System Appearance: Excellent
Sound Quality: Excellent
Overall Volume Levels: Excellent
Music Selection: Excellent
Incorporation of Your Requests: Excellent
Lighting Effects: Excellent
Equipment Appearance: Excellent
Overall Customer Service: Excellent
Planning Assistance: Excellent
Entertainer's Cooperation with Other Vendors: Excellent
Overall Performance Rating: Excellent
Would you recommend this service to others? Yes
Related Posts