Summer Wedding Camas Meadows Golf Club

It has been one hot summer in the Pacific Northwest with a record 30 days at 90 degrees or warmer and smoke from nearby wildfires making outdoor events not as pleasant as we normally expect this time of year, but for the last week of August into September, the smoke has cleared and temperatures moderated.

The best weather of the year so far landed just in time for Aimee and Zach's wedding and reception held at Camas Meadows Golf Club on Sunday, September 2, 2018.

It was picture perfect and a comfortable 78 degrees for the 50+ guests attending when the ceremony began at 5pm in the gazebo on the golf course. With my main sound system set-up for the reception, I used a second mixer and cordless lapel microphone to provide music and sound for the wedding.




Summer Wedding Camas Meadows Golf Club Ceremony Highlights:
Parents Seating and Wedding Party Entrance: Josh Groban – You Raise Me Up
Bridal Party and Bride Entrance: Train – Marry Me
Bride & Groom Exit: Ellie Goulding – Your Song
The reception followed immediately in the tent above near the parking lot. As guests walked up the hill, I greeted them with a set of oldies as requested by the newlyweds, including music from the Beatles, Four Tops, Beach Boys and more. Immediate family, the wedding party and bride and groom stayed in the gazebo area for photos.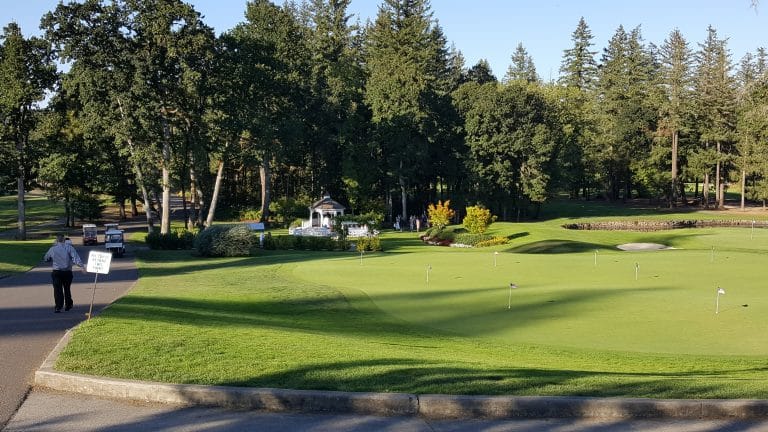 Around 6:40, I cued up their entrance music and announced Aimee and Zach's arrival. The dinner buffet was opened right away and for background music, I played a set of classic jazz selections as requested by the groom. Champagne was served for the toast about an hour later.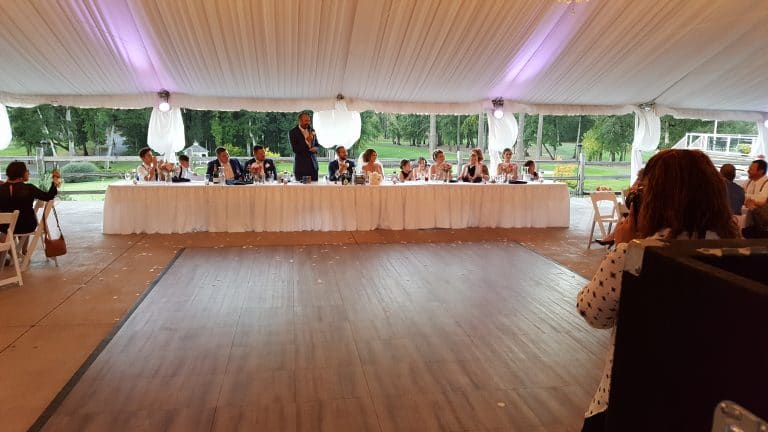 Summer Wedding Camas Meadows Golf Club Reception Highlights:
Grand Entrance: Bebe Rexha f/Florida Georgia Line – Meant To Be
Cake Cutting: Isley Brothers – Shout
First Dance: Boyce Avenue – All Of Me
Bride/Father Dance: Tim McGraw – My Little Girl
Groom/Mother Dance: Israel Kamakawiwo'ole – Somewhere Over The Rainbow
Money Dance: Ludacris f/Pharrell – Money Maker
Bride/Son Dance: Lee Brice- Boy
Bouquet Toss: Cyndi Lauper – Girls Just Wanna Have Fun
Garter Toss: Deniece Williams – Let's Hear It for the Boy
Last Dance: Blake Shelton – Who Are You When I'm Not Looking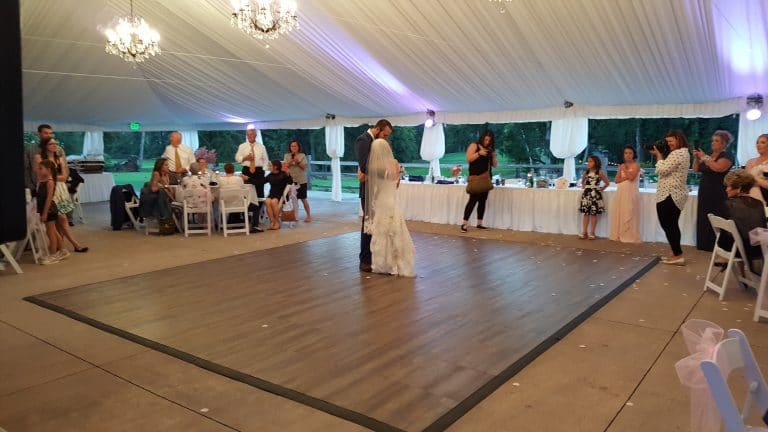 The money dance got this group going and served as the official opening of the dance floor. From there, the classic oldies were especially popular early on, including "Twist & Shout" and "In The Mood." There were still a few guests that needed a warm-up, so I managed to squeeze in a slow dance before things got too crazy.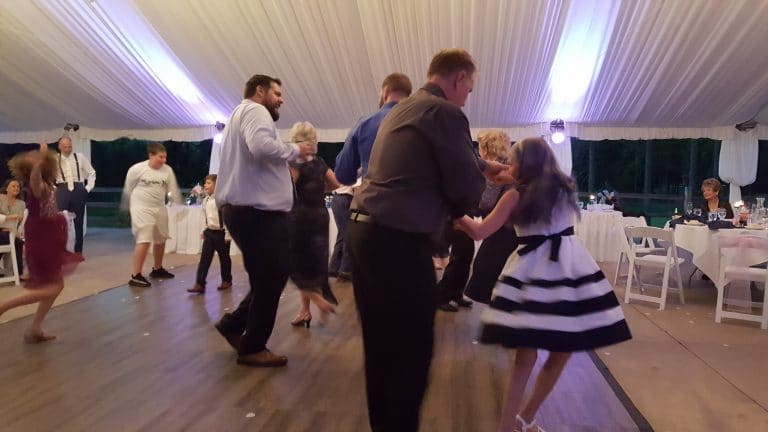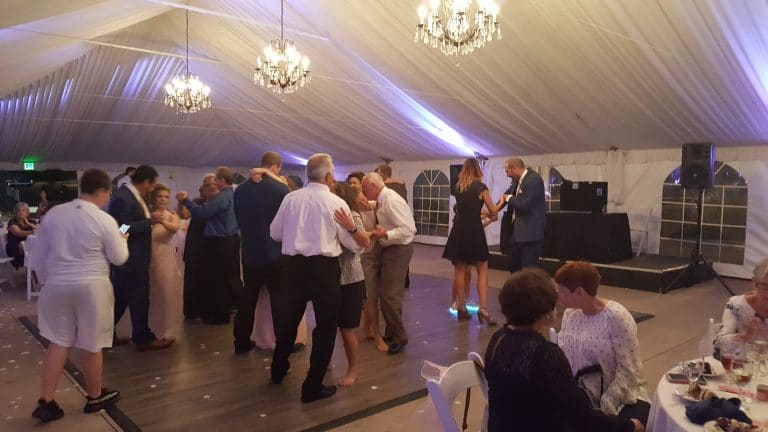 I had not played "YMCA" in a while, but it was requested by the bride and well-received by friends and family.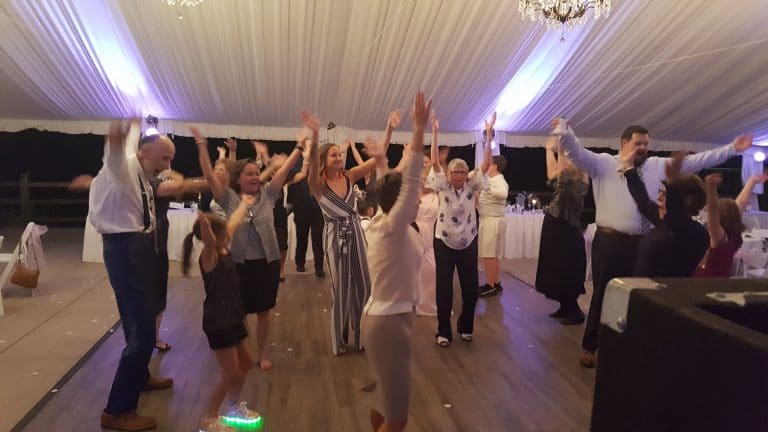 There was one more showcase dance for Aimee and her young son Aiden, which she asked to have all the other mothers and sons in attendance participate.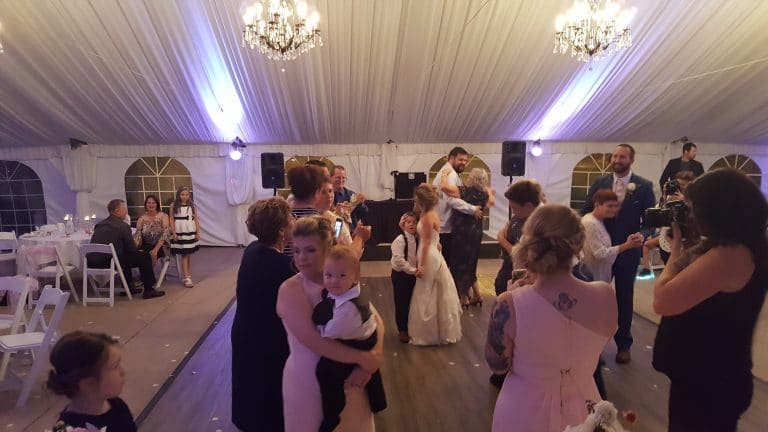 For the final hour, we had a great run on the dance floor with most everyone having a fun time dancing to "Can't Stop The Feeling," "Uptown Funk," the "Cupid Shuffle," "Footloose" and more. The bride's grandmother also requested "The Hokey Pokey" which I played right before the final slow dance.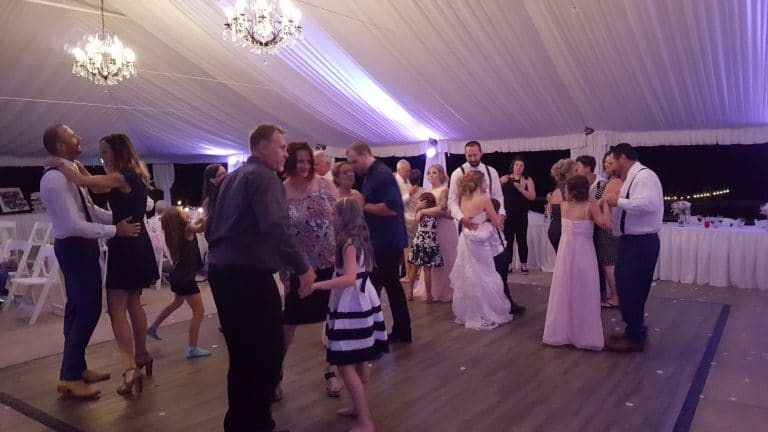 Congratulations Aimee and Zach and thank you for choosing PRO DJs.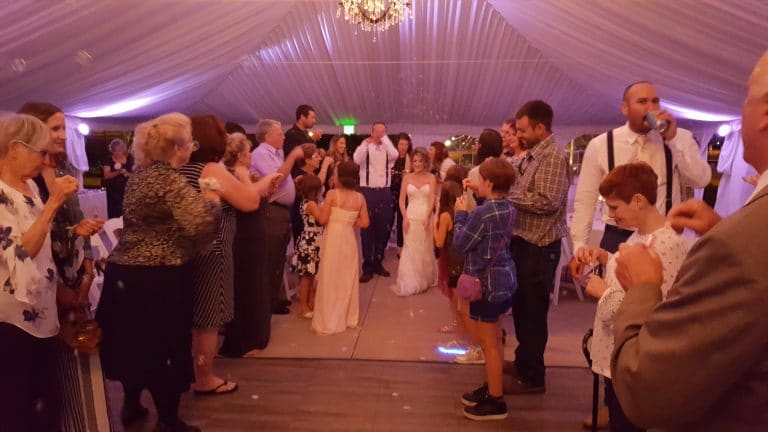 Post Event Satisfaction Survey:

"Thank you for helping to make our wedding the special day that it was."
-Aimee B (Aimee Boyd & Zachary Zandt Wedding) – Washougal, WA
Event Date: Saturday, September 2, 2018
Event Type: Wedding & Reception
Event Location: Camas Meadows Golf Club, Camas, Washington
Event Staff: Rich Ellis
Quality of Customer Service via Telephone: Excellent
Quality of Customer Service via Internet: Excellent
Quality of Customer Service at Event: Excellent
Friendliness of your Entertainer: Excellent
Promptness of your Entertainer: Excellent
Professionalism of your Entertainer: Excellent
Entertainer's Performance: Excellent
Entertainer's Appearance: Excellent
System Appearance: Excellent
Sound Quality: Excellent
Overall Volume Levels: Excellent
Music Selection: Excellent
Incorporation of Your Requests: Excellent
Lighting Effects: Excellent
Equipment Appearance: Excellent
Overall Customer Service: Excellent
Planning Assistance: Excellent
Entertainer's Cooperation with Other Vendors: Excellent
Overall Performance Rating: Excellent
Would you recommend this service to others? Yes
Related Posts