Pre-Eclipse August Mt. Hood Wedding

Leslie and Rick were married on Saturday, August 19, 2017 at Mt. Hood Bed & Breakfast in Parkdale, Oregon. After a hot July, it was nice to get a break as the temperature was a perfect 80 degrees for this Mt. Hood wedding scheduled to begin at 5pm.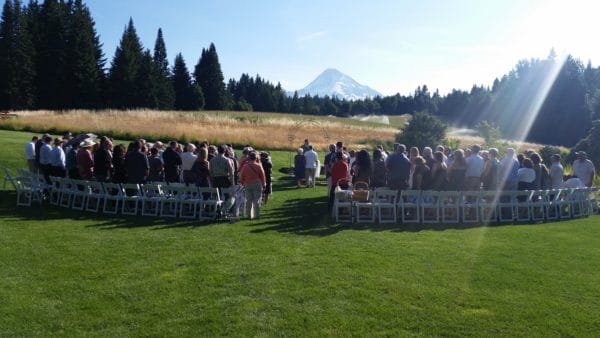 Mt. Hood Wedding Ceremony Highlights:
Bride & Family Entrance: Newsong and Natalie Grant – When God Made You
Communion: Westlife – You Raise Me Up & Jeremy Riddle – Sweetly Broken
Bride/Groom Exit: Pharrell Williams – Happy
The reception began immediately in the same area as where the ceremony took place with most guests gathering near the shed to get a cool drink. For background music, I played a variety of songs that included artists James Taylor, Coblie Callait, Blake Shelton and others.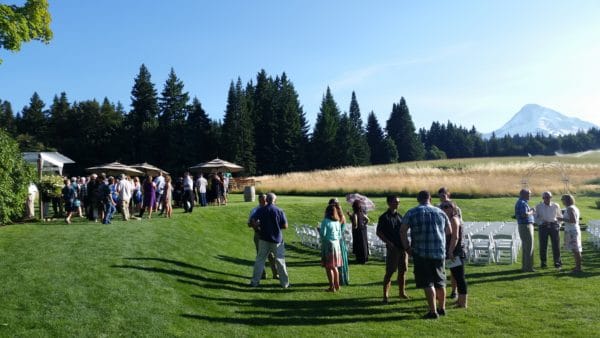 Mt. Hood Wedding Reception Highlights:
Cake Cutting: James Taylor – How Sweet It Is (To Be Loved By You)
First Dance: Kenny Chesney – You Had Me at Hello
Family Dance (Grandchildren): Beatles – Twist & Shout

Most of the newlyweds 12 grandchildren joined them for the family dance and then most everyone else in attendance jumped in as well. The floor filled quickly and stayed that way for a good 90 minutes. Guests danced to everything from the Bee Gees and Bob Seger to Bruno Mars and Beyonce.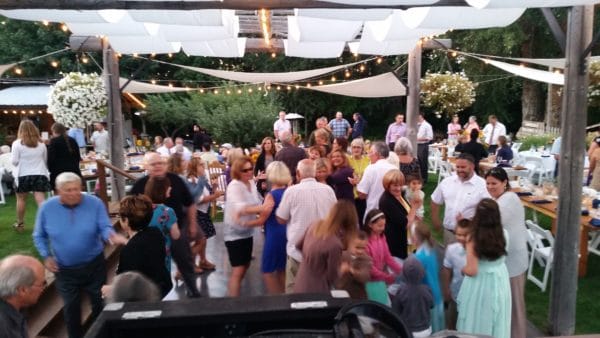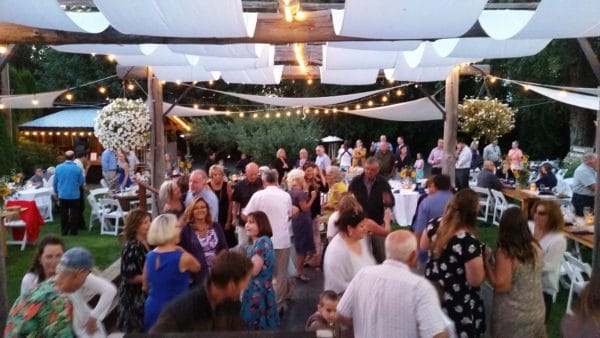 Congratualtions Leslie and Rick and thank you to Leslie's daughter Rebecca for choosing PRO DJs.

Post Event Satisfaction Survey:

"Rich was extremely easy to work with from the initial contact to the end of the event! He is friendly, well organized, helpful, knowledgeable, and very professional. The music selection kept the dance floor packed all evening. I would highly recommend Pro DJs and Rich Ellis!"
-Rebecca Jorgensen (Leslie Phillips & Rick Benjamin Wedding) – Hood River, OR
Event Date: Saturday, August 19, 2017
Event Type: Wedding & Reception
Event Location: Mt Hood Bed and Breakfast
Event Staff: Rich Ellis
Quality of Customer Service via Telephone: Excellent
Quality of Customer Service via Internet: Excellent
Quality of Customer Service at Event: Excellent
Friendliness of your Entertainer: Excellent
Promptness of your Entertainer: Excellent
Professionalism of your Entertainer: Excellent
Entertainer's Performance: Excellent
Entertainer's Appearance: Excellent
System Appearance: Excellent
Sound Quality: Excellent
Overall Volume Levels: Excellent
Music Selection: Excellent
Incorporation of Your Requests: Excellent
Lighting Effects: N/A
Equipment Appearance: Excellent
Overall Customer Service: Excellent
Planning Assistance: Excellent
Entertainer's Cooperation with Other Vendors: Excellent
Overall Performance Rating: Excellent
Would you recommend this service to others? Yes
Related Posts