Late July Mt. Hood B & B Wedding

For Kelly and Eric's wedding and reception on Sunday, July 27, 2014, it was hot and muggy, but there is never a bad day for a Mt. Hood B & B wedding.

I was just here a few weeks ago for Lisha and Albert's wedding and I have had the opportunity to perform here many times in the past since the mid-90's. This is one of my favorite venues and even on a cloudy Summer day, Mt. Hood was in full view.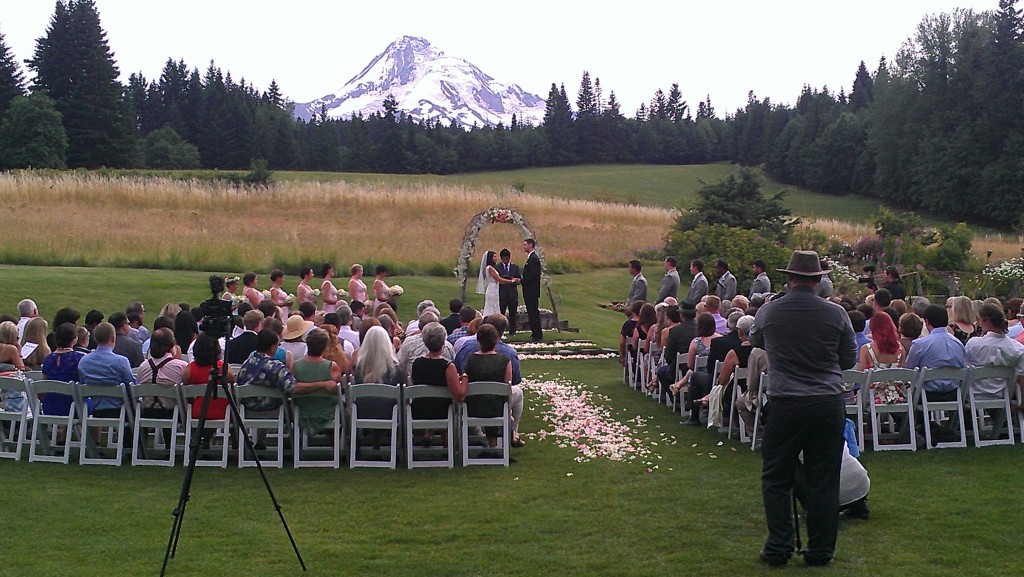 As is customary here, Kelly and Eric's ceremony was held on the front lawn. I provided a lapel microphone for the officiant and a second cordless microphone on a stand for two readings by one of the groomsmen and a bridesmaid. The music was performed live by a family member on their keyboard patched through my sound system.

For the reception, my main sound system was set-up earlier in the dining area. The newlyweds had no preference for background music during dinner, so I played a variety of soft rock favorites that included Jason Mraz, Van Morrison and Norah Jones.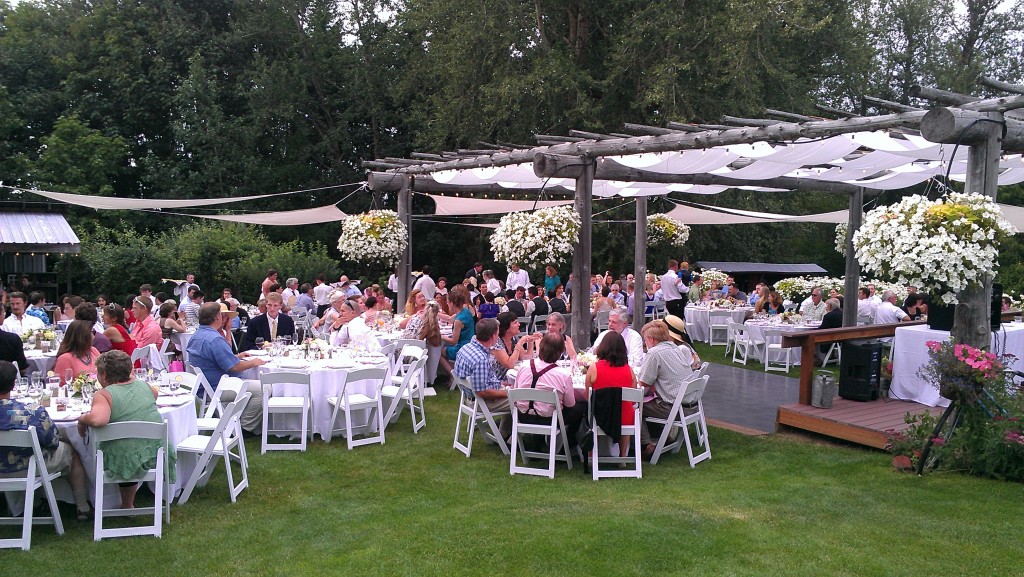 Mt. Hood B & B Wedding Reception Highlights:
Grand Entrance: Beyonce – Crazy In Love
Cake Cutting: James Taylor – How Sweet It Is
First Dance: Safetysuit – Never Stop (Wedding Version)
Father and Daughter Dance: Frank Sinatra – The Way You Look Tonight
Groom and Mother Dance: Mikki Viereck – Song For My Son
Bouquet Toss: Beyonce – Single Ladies
Garter Toss: Queen – Another One Bites The Dust
Last Dance Song: Train – Marry Me
Singer and guitarist Moe Dixon was in attendance… he's a friend of Kelly's dad John. Moe had just performed for over 2,000 people the night before opening for Country artist John Michael Montgomery at the Hood River County Fair, so it was a treat to have him and John perform a few selections following the cake cutting.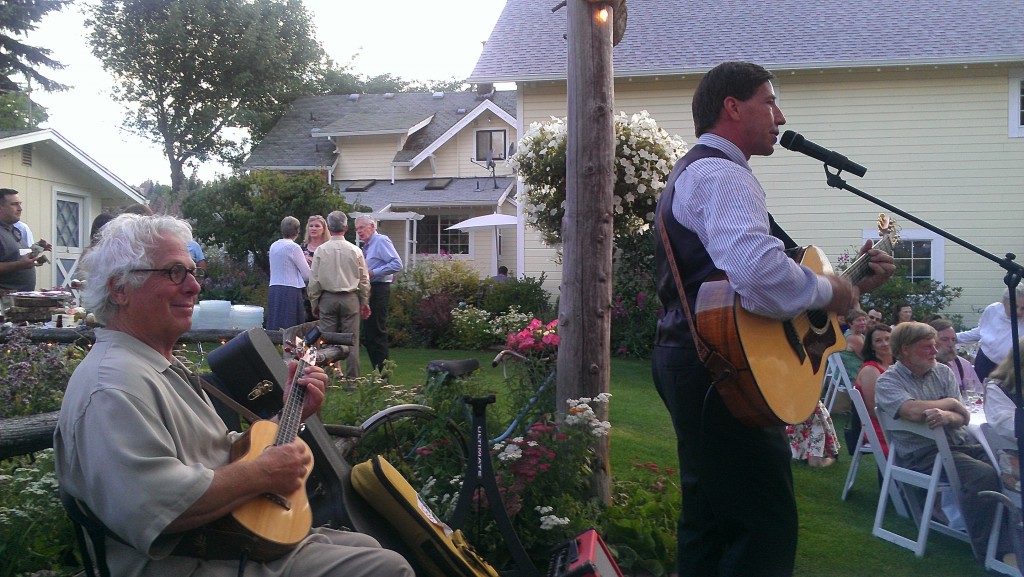 Moe and John made my job a little easier by firing up the crowd with Moe's song 'Whole Lotta Saturday Night.' We were officially under way and I kept the momentum going with The Beatles 'Twist and Shout.'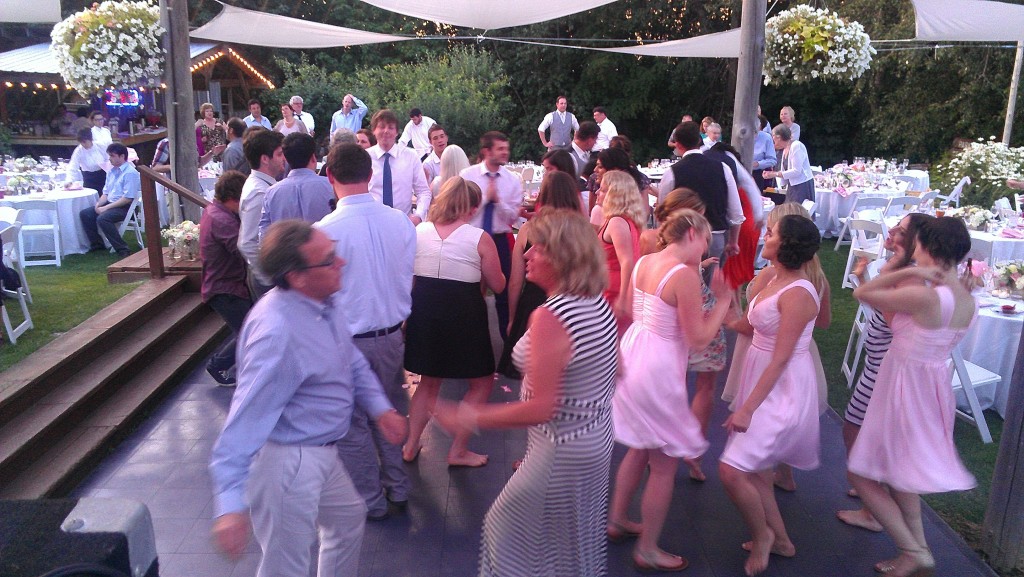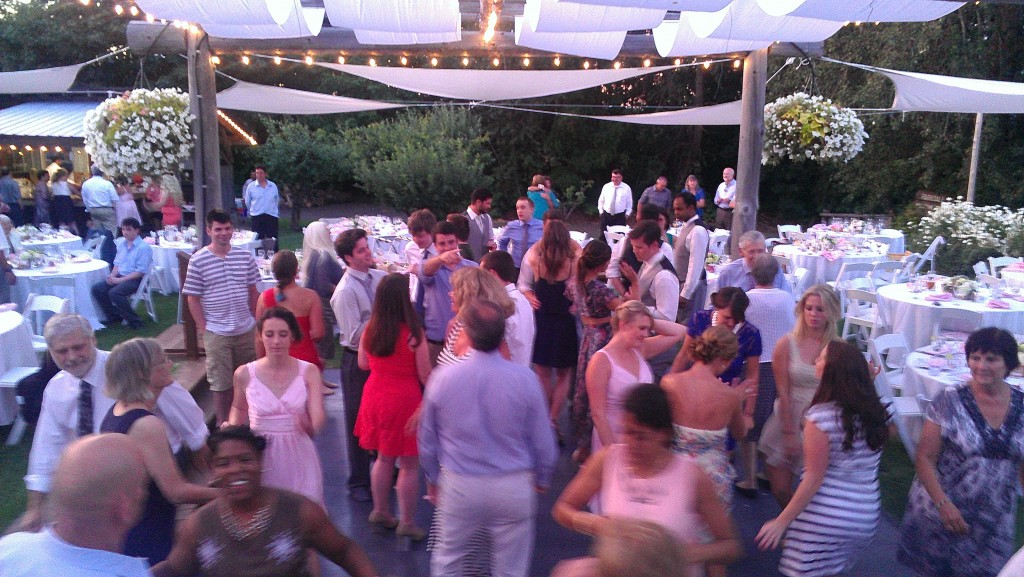 Guests enjoyed the classic hits… everything from 'Love Shack' to The Four Seasons 'Dec. 1963 (Oh, What A Night) and when Kelly and Eric returned from taking additional photos before the sun set, I transitioned to a set of current music that really shook the outdoor dance floor.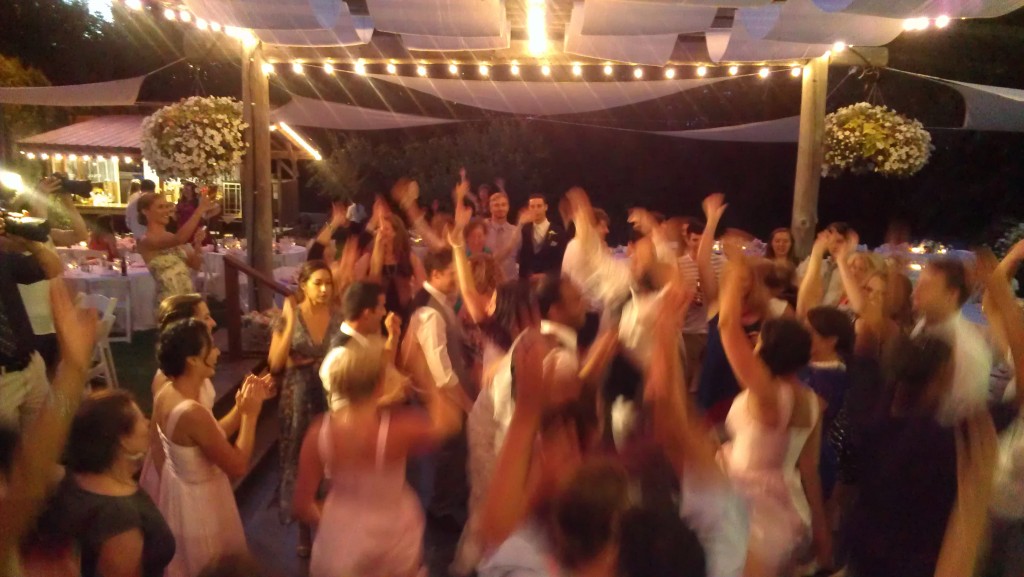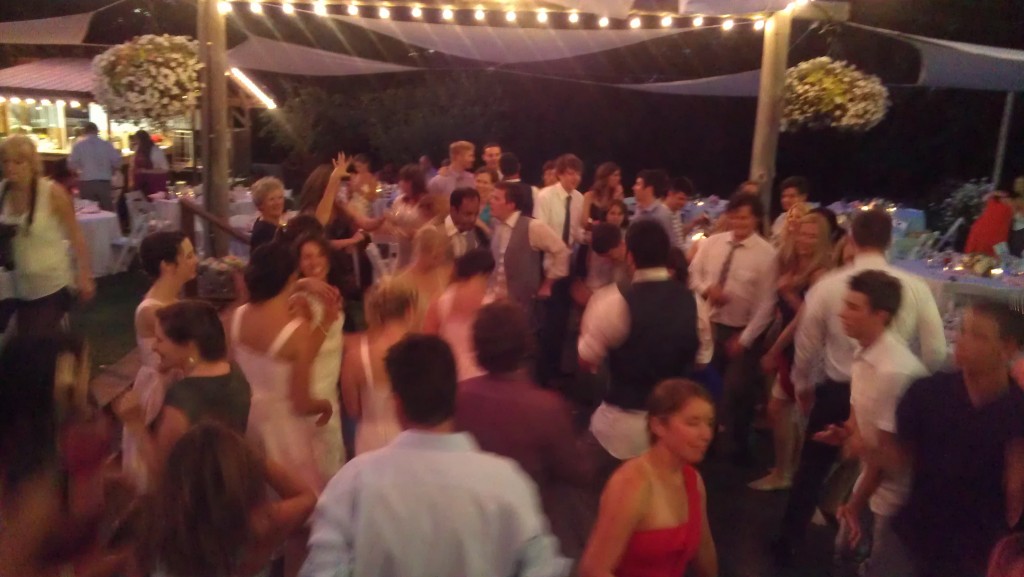 Kelly, Eric and their friends and family got down to 'Happy,' 'Party Rock Anthem,' 'Gangham Style' and more. Things got so crazy, both the bride and groom were crowd surfing at one point 🙂 This celebration showed no sign of slowing down and the dance floor was still overflowing with about 10 minutes left.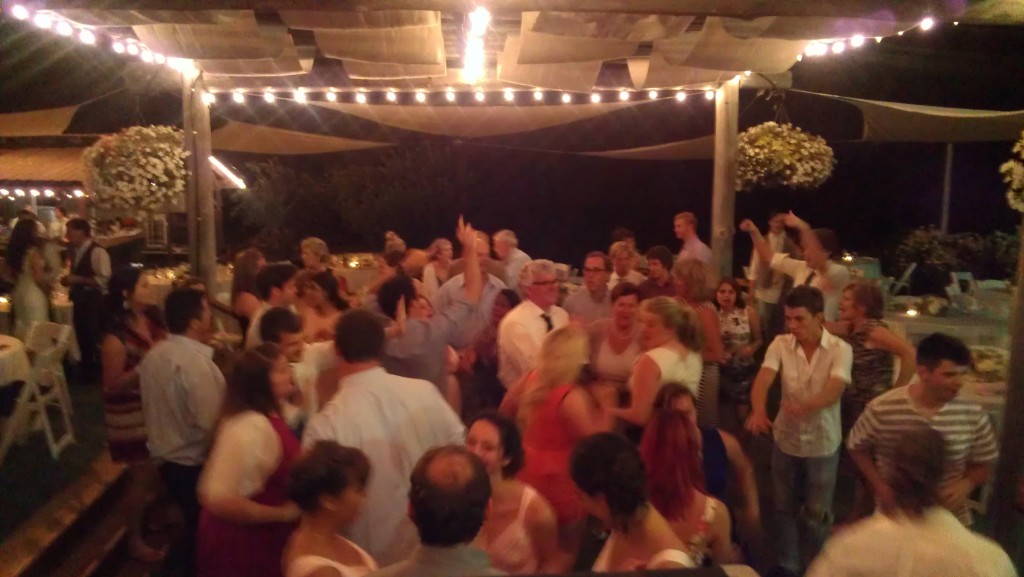 Best wishes to Kelly and Eric and thank you for choosing PRO DJs.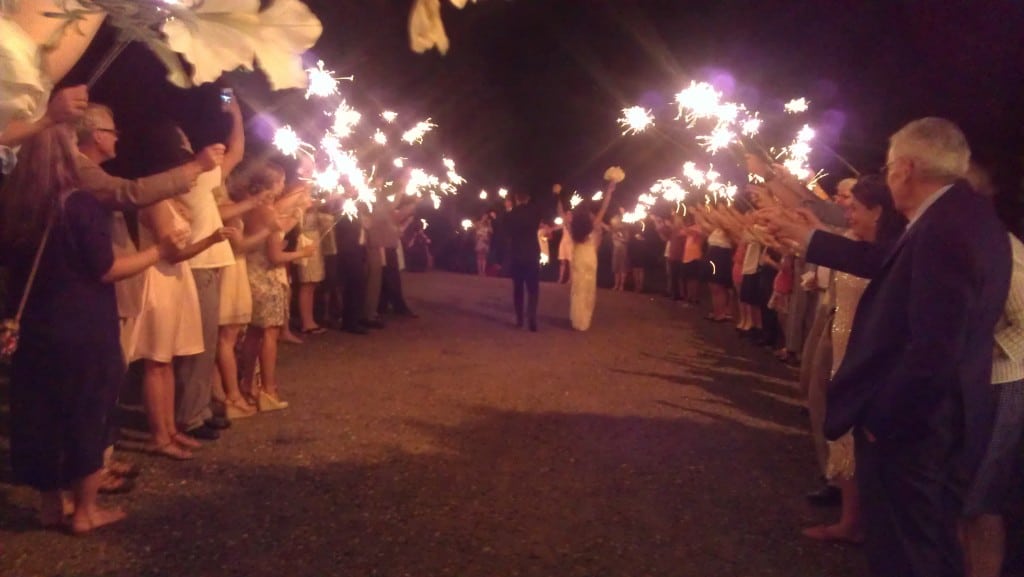 Post Event Satisfaction Survey:

"Rich was extremely helpful, patient and understanding. My wife and I felt bad that we dropped the ball getting our planner done for Rich, but he contacted us and kindly made sure we gave him what he needed to do a great job at our wedding." -Eric Alfonso
Event Date: Sunday, July 27, 2014
Event Type: Wedding & Reception
Event Location: Mt Hood Bed and Breakfast
Event Staff: Rich Ellis
Quality of Customer Service via Telephone: Excellent
Quality of Customer Service via Internet: Excellent
Quality of Customer Service at Event: Excellent
Friendliness of your Entertainer: Excellent
Promptness of your Entertainer: Excellent
Professionalism of your Entertainer: Excellent
Entertainer's Performance: Excellent
Entertainer's Appearance: Excellent
System Appearance: Excellent
Sound Quality: Excellent
Overall Volume Levels: Excellent
Music Selection: Excellent
Incorporation of Your Requests: Excellent
Lighting Effects: Excellent
Equipment Appearance: Excellent
Overall Customer Service: Excellent
Planning Assistance: Excellent
Entertainer's Cooperation with Other Vendors: Excellent
Overall Performance Rating: Excellent
Would you recommend this service to others? Yes
Related Posts