Karaoke Wedding McMenamins Edgefield

Jenn and Zach's karaoke wedding was held Saturday, November 17, 2018 at McMenamins Edgefield in Troutdale, Oregon. Both ceremony and reception were in Blackberry Hall.

When I arrived for setup, the normal spot for the DJ near the dance floor had two skirted tables that appeared to be dinner seating for guests. Fortunately, one was my table, but the other was for the photographer. With a full karaoke setup, I was concerned about having enough space for everything, but the venue staff was able to move the photographer table, and even though placement of the speakers was still a challenge, I think I made it work.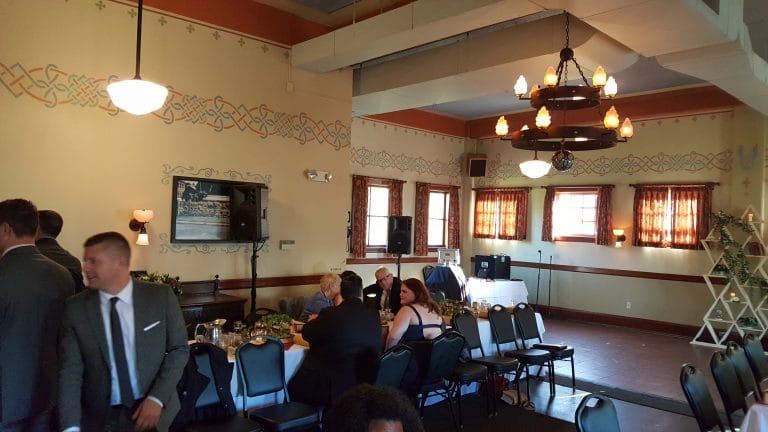 Jenn and Zach noted this would be a brunch wedding so they would have guests begin arriving at 11:30am with the ceremony scheduled to begin at 12:30pm. Background music during this time was a mix of requests the newlyweds solicited from everyone ahead of time, and as expected, featured a wide variety of artists from Frank Sinatra and Beyonce to Brad Paisley and Night Ranger. The father of the groom was the officiant.

Karaoke Wedding Ceremony Highlights:
Wedding Party Entrance: Ramin Djawadi – Fake Plastic Trees (Westworld)
Bride Entrance: Canon In D
Bride & Groom Exit: Radiohead – Fake Plastic Trees


After the ceremony, there was no room turnover so guests could remain at their tables or walk around. Zach and Jenn posed for additional photos outside before returning for their grand entrance, first dance, and dances with their parents before the buffet was opened for brunch.

Karaoke Wedding Reception Highlights:
Grand Entrance: Sugar Ray – Fly
First Dance: Chris Stapleton – Tennessee Whiskey
Bride and Father Dance: The Hound + The Fox – Baby Mine
Groom and Mother Dance: Lee Ann Womack – I Hope You Dance
Cake Cutting: Billy Joel – The Longest Time
Jenn and Zach are very artistic and that was evident in the wedding favors they had made for every guest and vendor… a wooden book with each name engaved and filled with items such as a personal dinner name plate, colored pencils with a custom Jenn and Zach coloring book and a red stocking cap that everyone wore for the group photo taken near the end of brunch.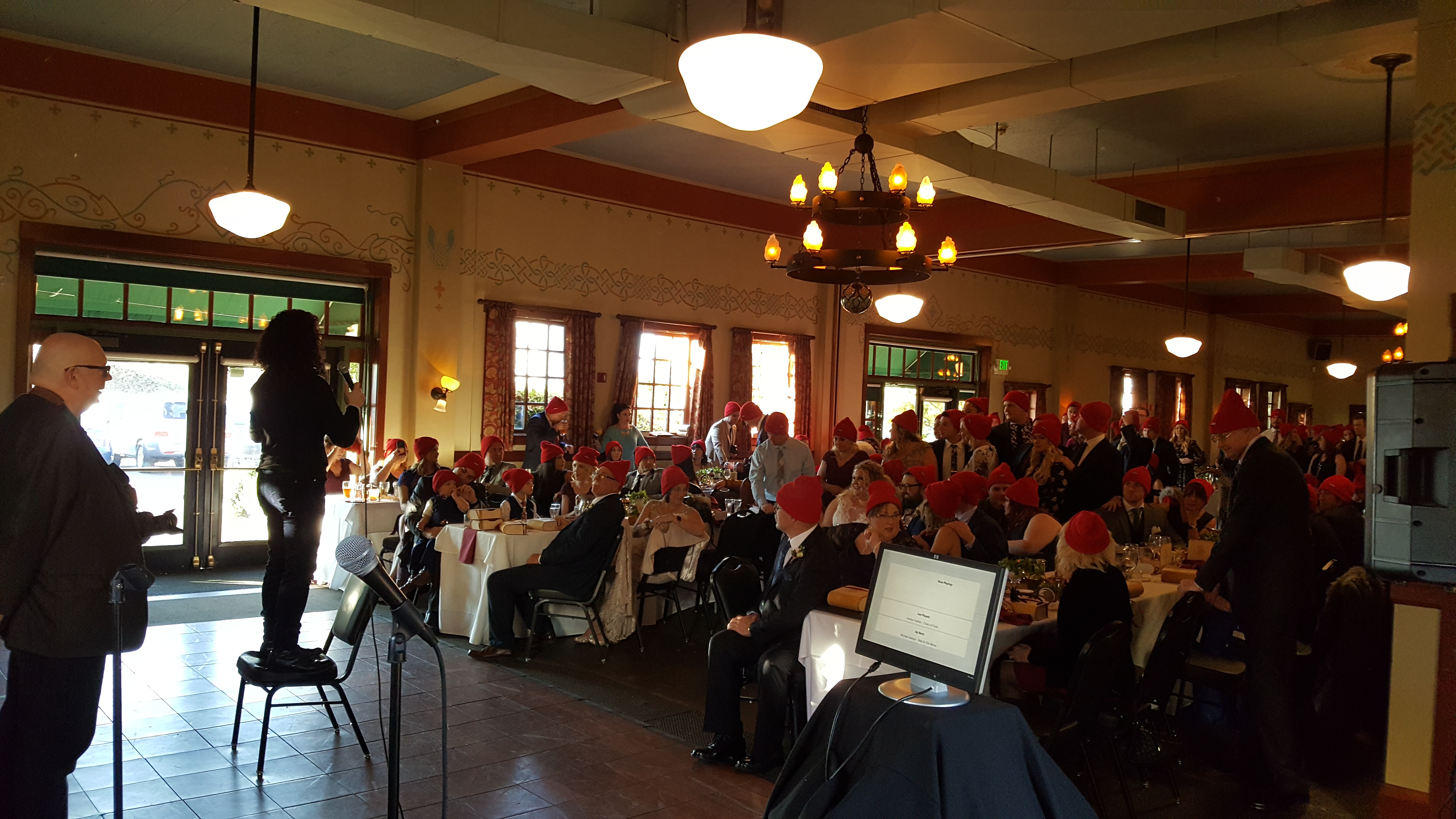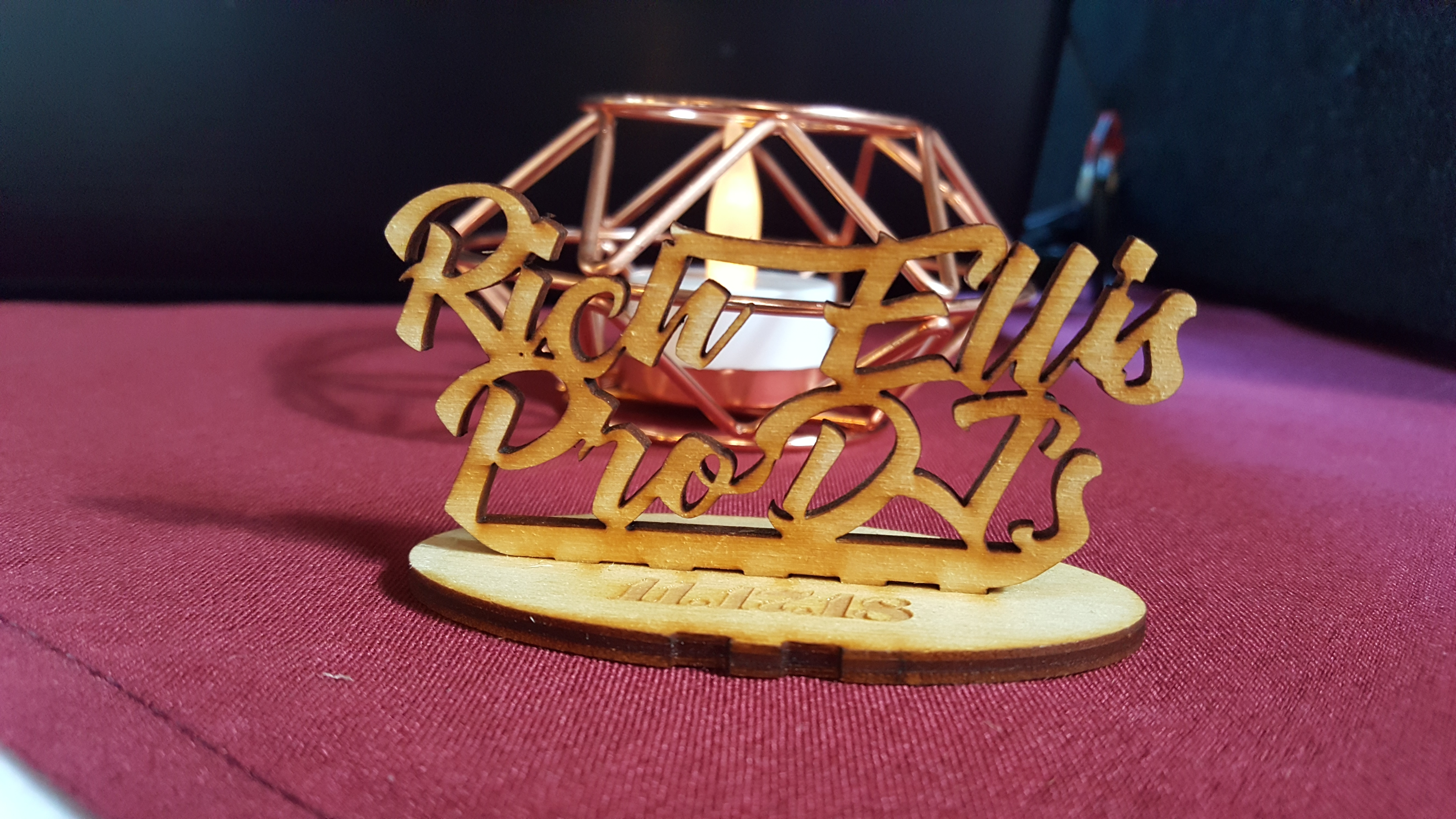 The karaoke was a big hit, so much so, there was not really any time for dancing. Guests signed up to sing everything from "Man In The Mirror" and "Fat Bottomed Girls" to "Wannabe" and "Uptown Funk". We finished the afternoon with the newlyweds and wedding party leading everyone in Journey's "Don't Stop Believin'."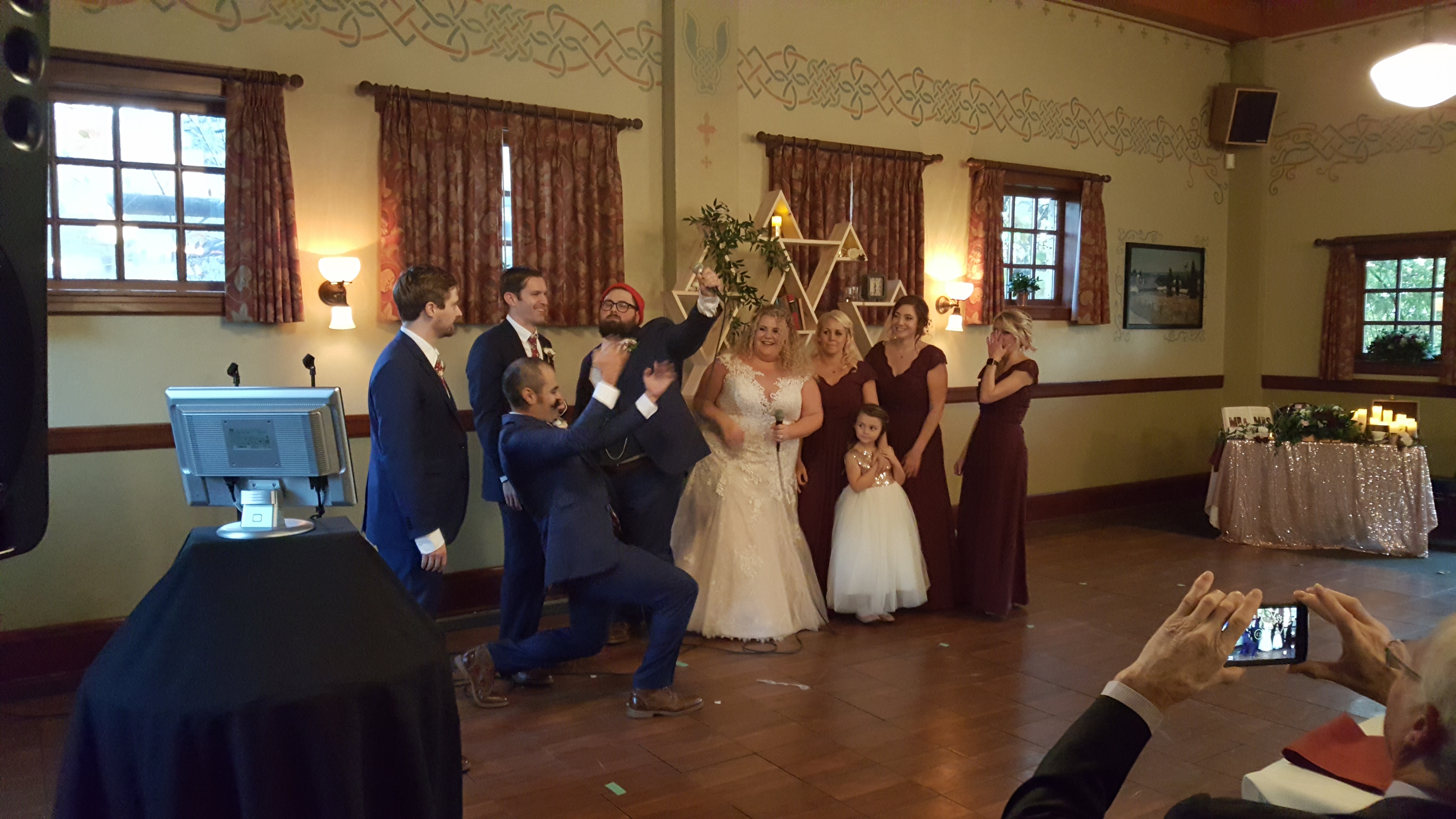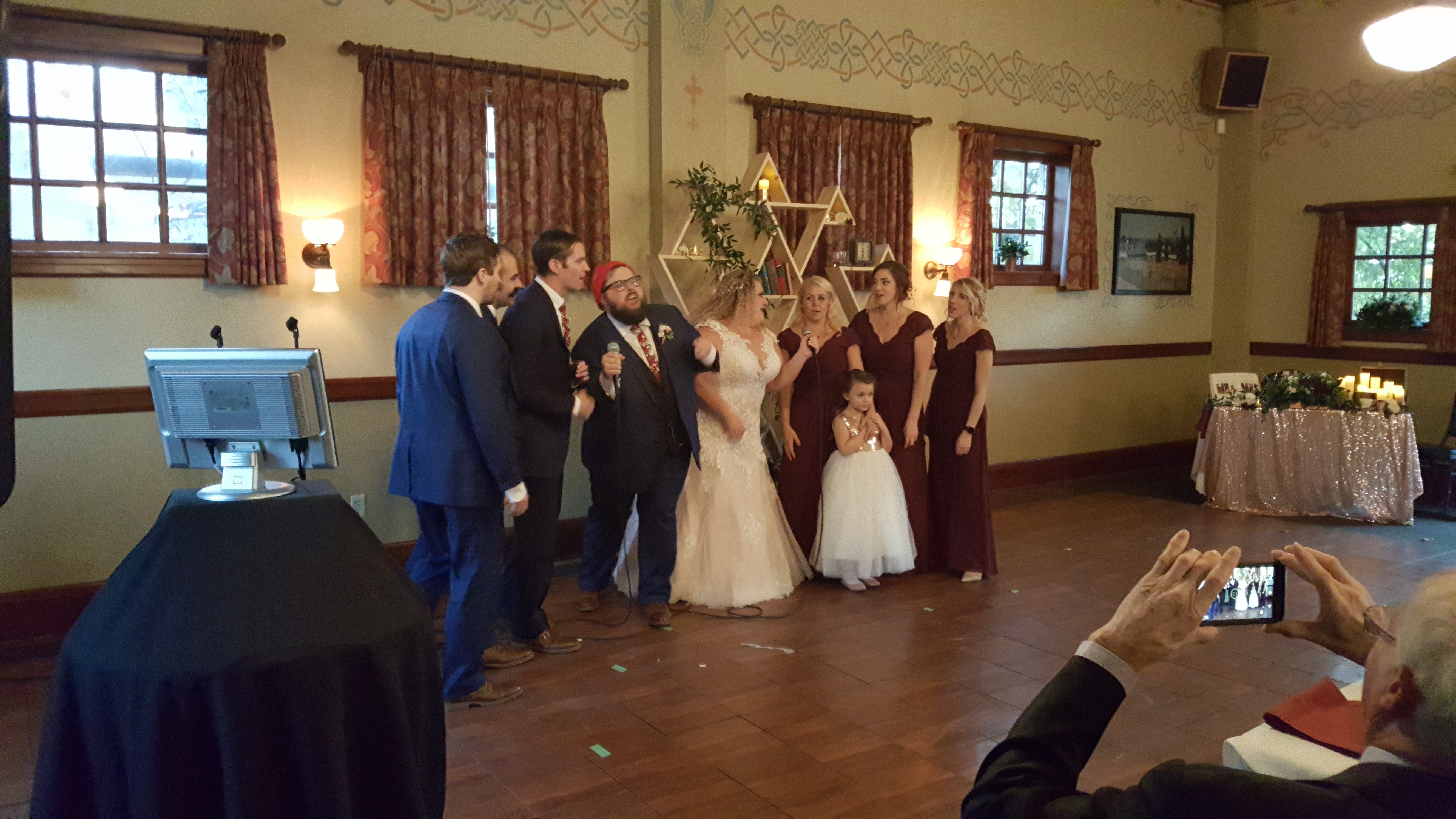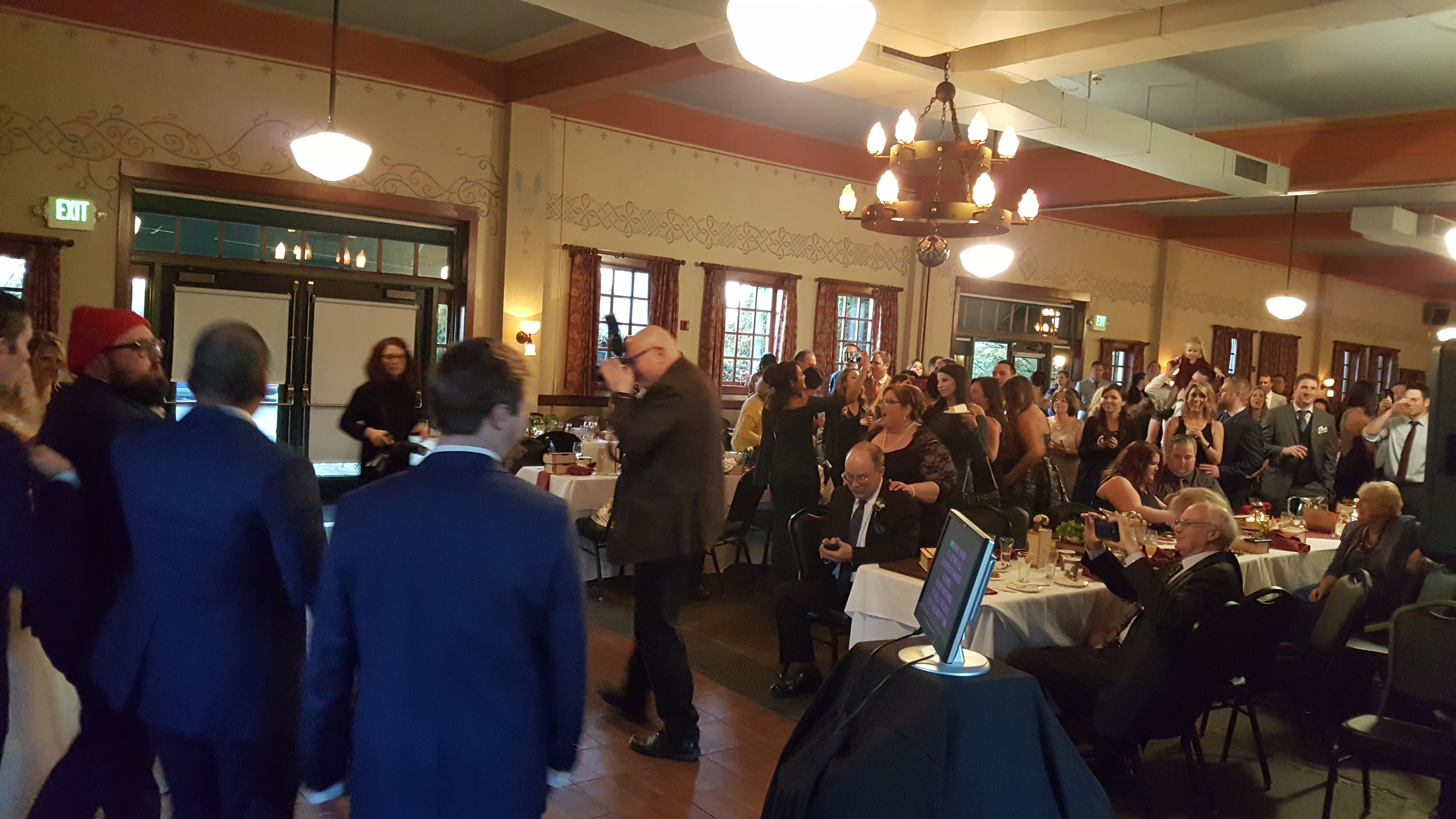 Congratulations Jenn and Zach and thank you for choosing PRO DJs.

Related Posts