Auction Raises Big $$ For Portland School Program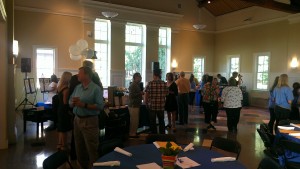 The Spanish Immersion program at West Sylvan Middle School received a big funding boost on Saturday, May 12, 2012 inside the Bauccio Commons on the campus of the University of Portland.
Over 250 people participated in the silent and oral auction where they could bid on such items as travel packages, gift baskets that included plenty of wine and student artwork.
The silent auction began at 5:30pm and as guests arrived, I played a mix of uptempo music featuring all Latin guitars. This particular sound provided a lot of energy without being too busy so people could engage in conversation comfortably and a warm, sunny day outside, lent a 'South of the Border' feel.
Following the oral auction, guests were welcome to stay for dancing. It didn't hurt that I was set-up right next to the bar 🙂 However, the bright lights in the large commons had to remain on, so it appeared to be a bit of a challenge.
After a few 'think about it' songs, the numbers picked up and we had a good 90 minute run with a packed dance floor getting their groove on to the latest hit music (Maroon 5, Flo Rida, Rihanna) with a few oldies sprinkled in (Rick James, Sugarhill Gang).  It was a fun way to wrap a successful evening.
Thank you Auction Chair, Dickey for choosing PRO DJs.
Post Event Satisfaction Survey:
"You were fantastic Rich..Sorry I was checking out when you left and did not get a chance to thank you!!"
-Dickey McMath
Event Date: Saturday, May 12, 2012
Event Type: Auction/Party
Event Location: University of Portland (Bauccio Commons)/Portland, Oregon
Event Staff: Rich Ellis
Quality of Customer Service via Telephone: Excellent
Quality of Customer Service via Internet: Excellent
Quality of Customer Service at Event: Excellent
Friendliness of your Entertainer: Excellent
Promptness of your Entertainer: Excellent
Professionalism of your Entertainer: Excellent
Entertainer's Performance: Excellent
Entertainer's Appearance: Excellent
System Appearance: N/A
Sound Quality: Excellent
Overall Volume Levels: Excellent
Music Selection: Excellent
Incorporation of Your Requests: Excellent
Lighting Effects: N/A
Equipment Appearance: Excellent
Overall Customer Service: Excellent
Planning Assistance: Excellent
Entertainer's Cooperation with Other Vendors: Excellent
Overall Performance Rating: Excellent
Would you recommend this service to others? Yes
Related Posts