Abiqua Country Estate Wedding Silverton

Crystal and Nick's Abiqua Country Estate wedding took place in Silverton, Oregon on Saturday, June 29, 2019.

Nestled in the foothills of the Willamette Valley, this rustic 100 acre venue offers several settings for the ceremony, including a gazaebo on a lake or a woodsy lush lawn with towering firs, of which this couple chose the latter on what turned out to be a comfortable Northwest summer day.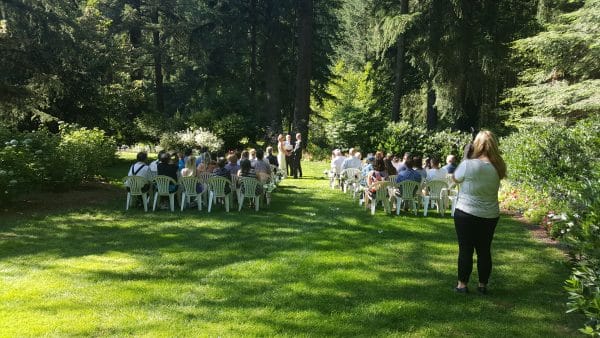 Abiqua Country Estate Wedding Ceremony Highlights:
Wedding Party Entrance: Beach Boys – God Only Knows (Instrumental Version)
Bride Entrance: Journey – Don't Stop Believin' (String Quartet Version)
Bride/Groom Exit: Beatles – All You Need Is Love (String Quartet Version)
After moving my sound system from the other side of the property where the ceremony was held to the main reception area, I resumed the background music as guests spent the next couple hours relaxing and enjoying conversation with family and friends while the newlyweds had professional photos taken. Background music featured a variety of selections, including Motown and Country as requested by the bride.




Abiqua Country Estate Wedding Reception Highlights:
Grand Entrance: Dell Vikings – Come Go With Me
First Dance: Al Green – Let's Stay Together
Last Dance: Queen – Don't Stop Me Now
There was still a lot of daylight when the dance floor opened to everyone just after 7pm. With around 50 guests in attendance, the stairs to the dance floor made it look like a stage, but most were not shy about getting up there for the first slow dance, then sticking around for the fun fast songs that followed, such as The Beatles "Twist & Shout" and Van Morrison's "Brown Eyed Girl," plus Crystal and Nick's requests for other older classics like "Little Bitty Pretty One" from Thurston Harris, Johnny Cash's "Ring of Fire," Michael Jackson and more.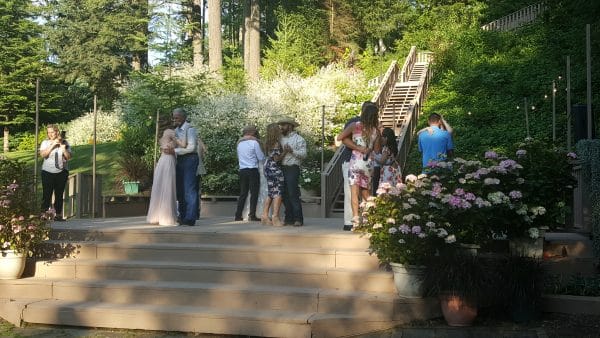 A little later, some recent favorites lit up the evening, including "Old Town Road," and "Ride Wit Me" along with some old school 90's from Coolio "Gangsta's Paradise" and "Summertime" from DJ Jazzy Jeff & The Fresh Prince.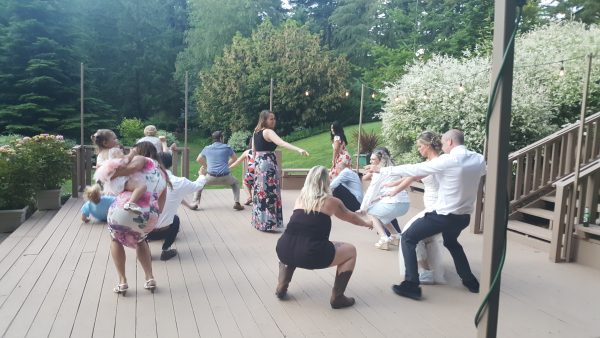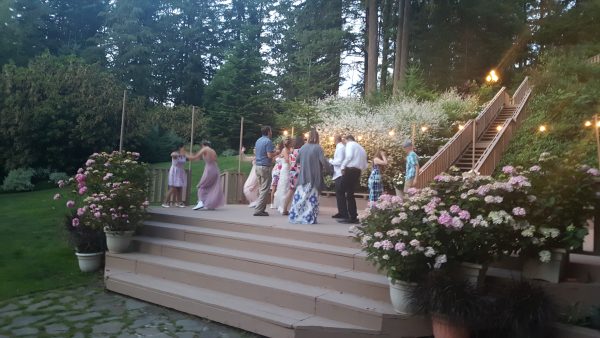 Congratulations Crystal and Nick and thank you for choosing PRO DJs.

Post Event Satisfaction Survey:

"Rich did a great job providing sound for the ceremony and the music for the reception. We picked about 25 songs to give him an idea of the vibe we wanted to create for the dinner portion and then the party portion and he did great."  -Nick & Crystal Jacoby
Event Date: Saturday, June 29, 2019
Event Type: Wedding & Reception
Event Location: Abiqua Estates
Event Staff: Rich Ellis
Quality of Customer Service via Telephone: Excellent
Quality of Customer Service via Internet: Excellent
Quality of Customer Service at Event: Excellent
Friendliness of your Entertainer: Excellent
Promptness of your Entertainer: Excellent
Professionalism of your Entertainer: Excellent
Entertainer's Performance: Excellent
Entertainer's Appearance: Excellent
System Appearance: Excellent
Sound Quality: Excellent
Overall Volume Levels: Excellent
Music Selection: Excellent
Incorporation of Your Requests: Excellent
Lighting Effects: N/A
Equipment Appearance: Excellent
Overall Customer Service: Excellent
Planning Assistance: Excellent
Entertainer's Cooperation with Other Vendors: Excellent
Overall Performance Rating: Excellent
Would you recommend this service to others? Yes
Related Posts