Hot August Night At Mt. Hood Wedding

Cassie and Wes were married on Saturday, August 1, 2015 at Mt. Hood B & B in Parkdale, Oregon. It was another hot Mt. Hood wedding as the temperature soared to 103 degrees about the time the ceremony began, but an occasional breeze kept it reasonable.

I have performed at this venue many times since the mid-90's and this was my second trip this summer… the last for Millie and Tony's wedding on June 26th, where the high temperature was also 103.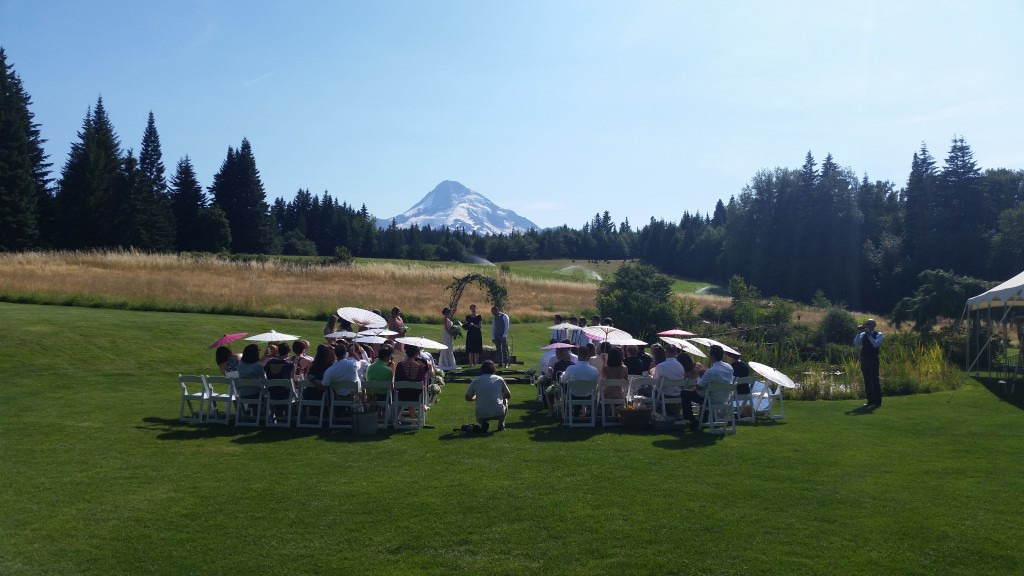 Mt. Hood Wedding Ceremony Highlights:
Wedding Party Entrance: Ingrid Michaelson – Sort Of (instrumental)
Bride Entrance: Ingrid Michaelson – Can't Help Falling In Love
Bride/Groom Exit: Ray LaMontagne – You Are the Best Thing
The reception began immediately after the ceremony and almost all of the 60 guests in attendance gathered on the lawn near the shed bar with mister… ordering drinks has never been so cool 🙂 For background music, the newlyweds requested an alternative set that included songs from Passion Pit, Kacey Musgraves and Fitz & the Tantrums.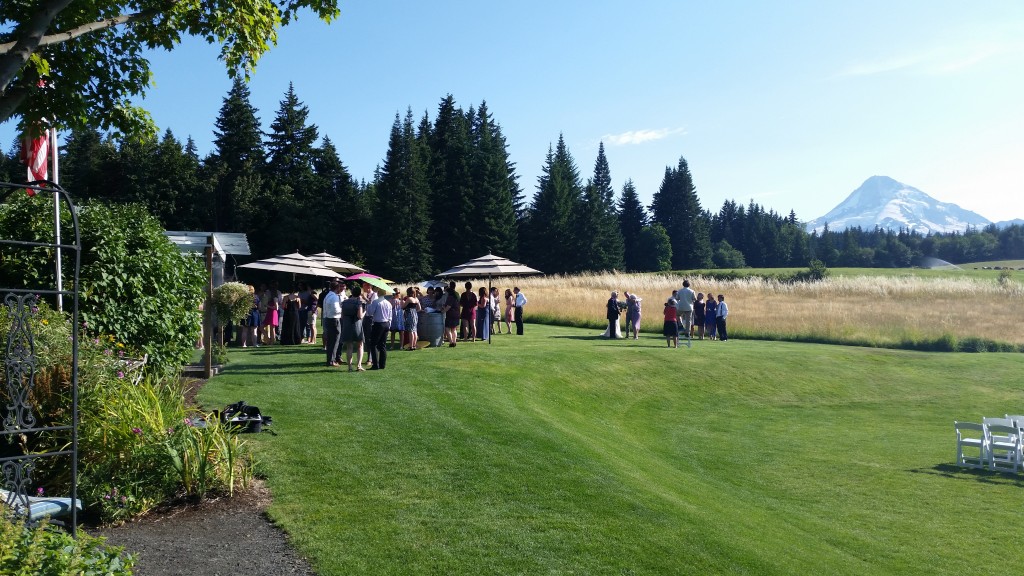 Mt. Hood Wedding Reception Highlights:
Grand Entrance: Bleachers – Rollercoaster
Cake Cutting: Beatles – When I'm 64
First Dance: Hootie & The Blowfish – Hold My Hand
Bride and Father Dance: Bonnie Raitt – Baby Mine
Groom and Mother Dance: Van Morrison – These Are The Days
Parents' Dance: Paul McCartney & Wings – Maybe I'm Amazed
Last Dance: Lumineers – Ho Hey
The feel of a warm summer evening seemed to get everyone in the mood for dancing and the floor filled quickly for the opening slow dance and the fun fast songs that followed.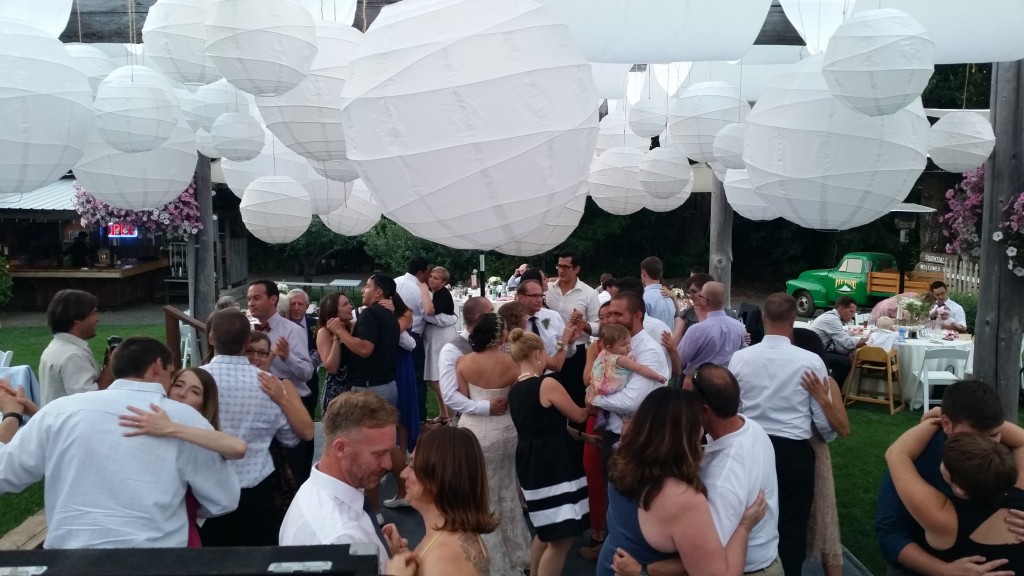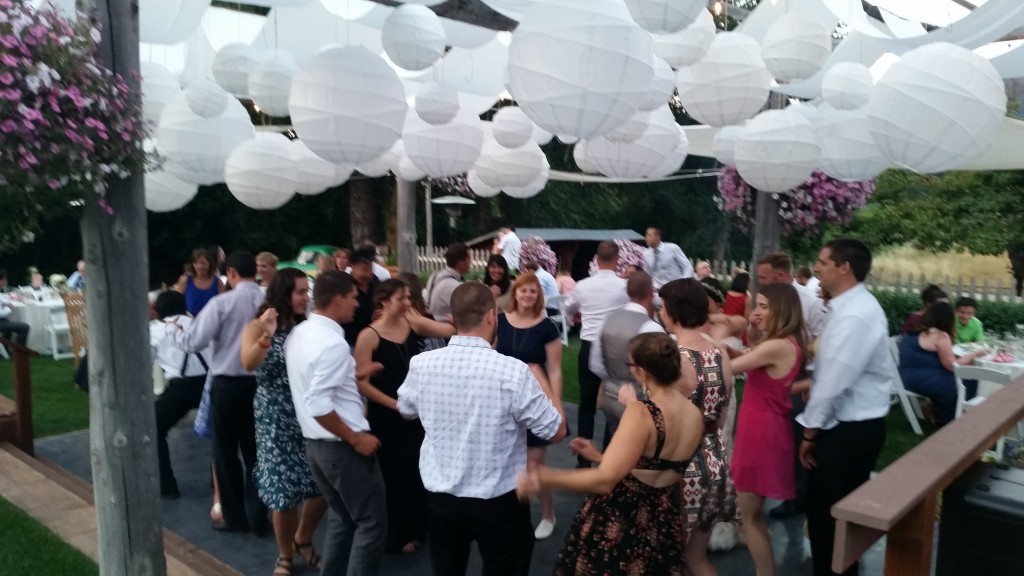 As day turned to night, it cooled off a little outside, but the dance floor stayed hot as the mostly younger group enjoyed hits from the last decade, including 'Happy,' 'Hey Ya,' 'Uptown Funk' and more.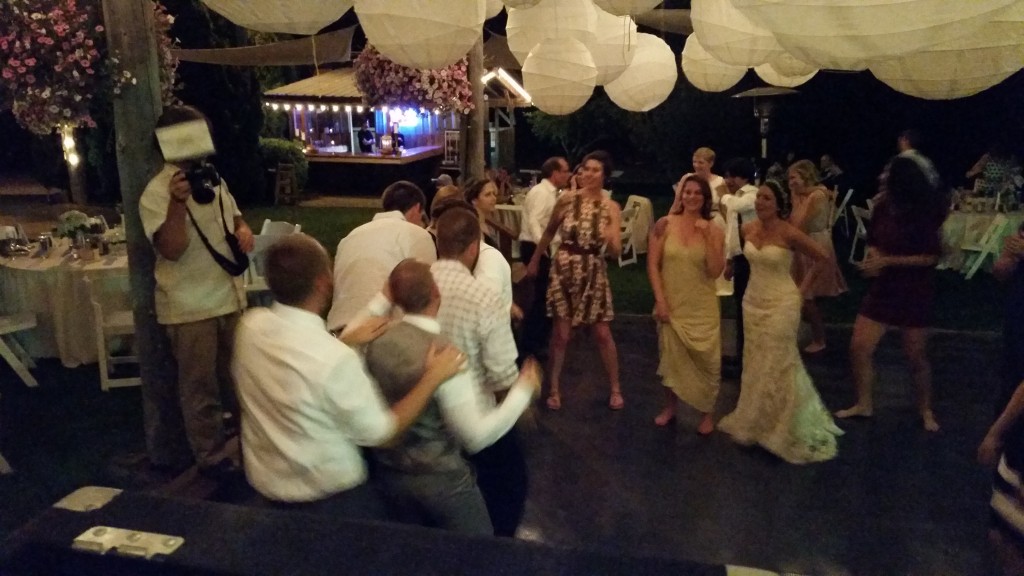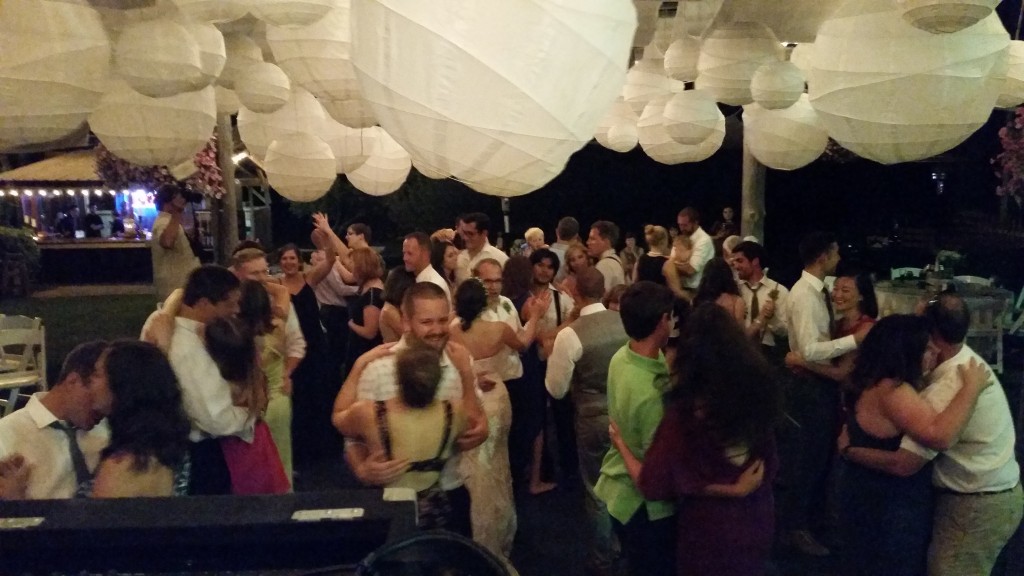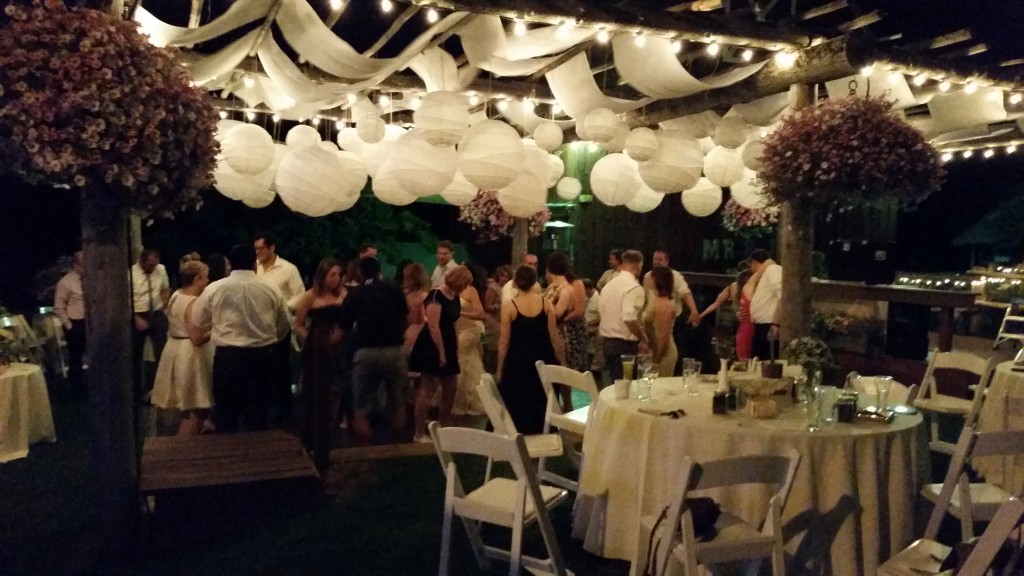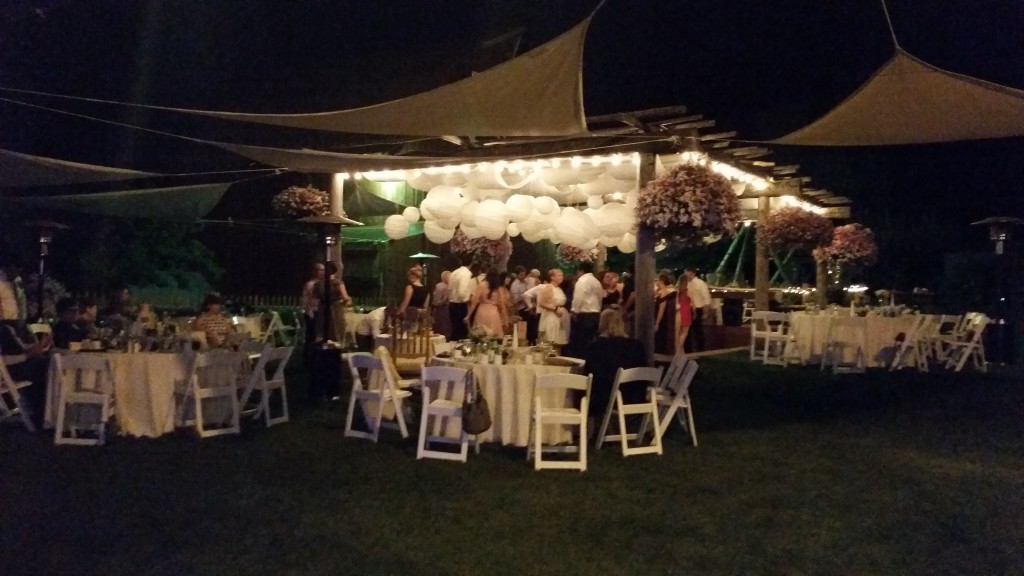 Everyone circled up for a great finish to 'Ho Hey' before gathering outside with sparklers for the big sendoff. Congratulations Cassie and Wes!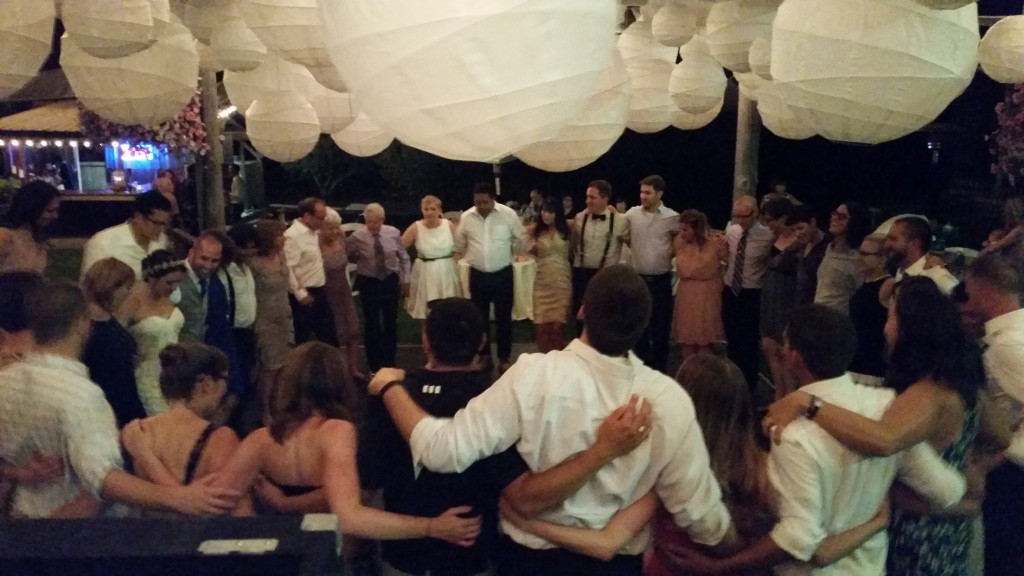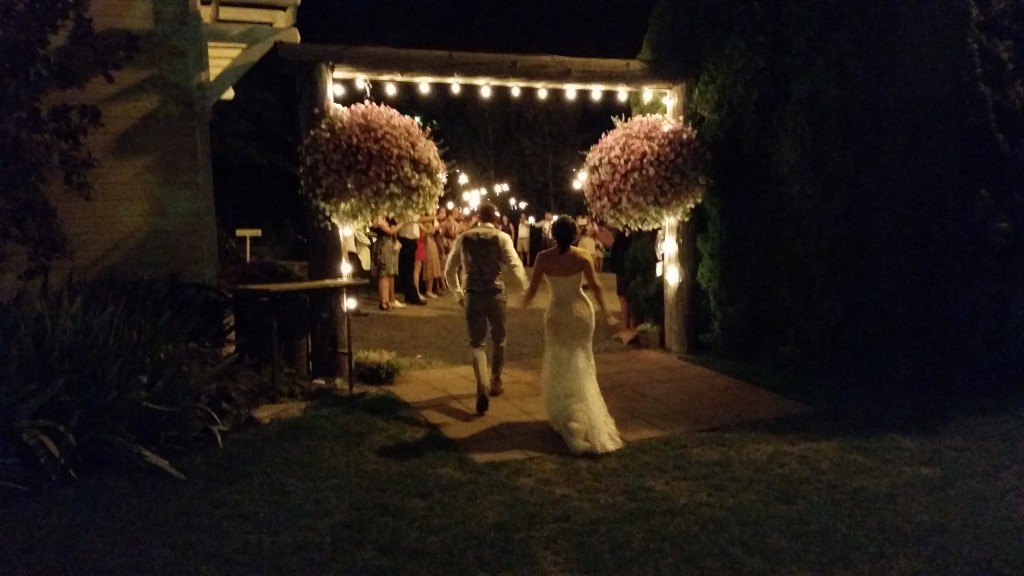 Post Event Satisfaction Survey:

"Rich was absolutely fantastic at our wedding at Mt. Hood Bed and Breakfast! Music selections for guest arrival, cocktail hour, and reception were great. Dance floor was packed for the whole night! Communication with him prior to the wedding was extremely easy and friendly. We would recommend Rich to anyone planning a wedding!!!" -Cassie Graziano & Wes Boisvert
Event Date: Saturday, August 1, 2015
Event Type: Wedding & Reception
Event Location: Mt. Hood Bed and Breakfast
Event Staff: Rich Ellis
Quality of Customer Service via Telephone: Excellent
Quality of Customer Service via Internet: Excellent
Quality of Customer Service at Event: Excellent
Friendliness of your Entertainer: Excellent
Promptness of your Entertainer: Excellent
Professionalism of your Entertainer: Excellent
Entertainer's Performance: Excellent
Entertainer's Appearance: Excellent
System Appearance: Excellent
Sound Quality: Excellent
Overall Volume Levels: Excellent
Music Selection: Excellent
Incorporation of Your Requests: Excellent
Lighting Effects: Excellent
Equipment Appearance: Excellent
Overall Customer Service: Excellent
Planning Assistance: Excellent
Entertainer's Cooperation with Other Vendors: Excellent
Overall Performance Rating: Excellent
Would you recommend this service to others? Yes
Related Posts