Steve Marker

With frosted trees, blue accent lighting and all tables and chairs dressed in white linen, it was an indoor Winter Wonderland at this year's corporate holiday party for a Vancouver-based Garden Supply company on Saturday, December 15, 2012.

Their preferred venue is the Jantzen Beach Red Lion in the Riverview Ballroom and their preferred DJ service is PRO DJs, as this was our seventh straight year performing at this event.

Once again, gambling, major prizes and dancing made up the intinerary. The gaming tables are open from the start until 8:30pm. The music mix for cocktails and dinner featured holiday favorites.

When the tables closed, the employees settled in to see who would come away with a long list of prizes and presents given away over about a 90 minute period. As expected, this portion of the evening was very popular. Prizes include tools, electronics, gift cards, cash and a big screen TV.

This company has really grown over the years and now includes many younger employees, so we went with mostly current music for dancing. After the prizefest, everyone was pretty fired up and the dance floor was very energetic until midnight.

Thank you Sue for again choosing PRO DJs for your annual corporate holiday party. Happy Holidays. -Steve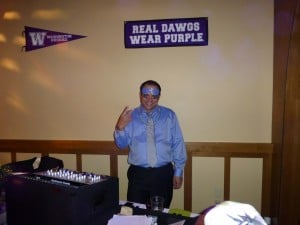 I had the pleasure of being the DJ at Alex's Bar Mitzvah on Saturday, September 1, 2012 at Royal Oaks Country Club in Vancouver, Washington from 7-11pm. It was a beautiful evening and the party started outside the main ballroom on the back deck that was set-up like a tailgate party (Alex is a big football fan) with inflatables and appetizers.

Around 7:45, we moved inside and Alex did a great job introducing and bringing family and friends up during the candle lighting ceremony. Next was a Challah Blessing and then me spinning 'The Hora' for the chair raising. The kids buffet and adult dinner followed and during this time, I passed out glow necklaces, bracelets and glasses, along with Washington Huskies stickers that went under your eyes, since Alex is big with that team.

After dinner, I led some games with the kids (Coke and Pepsi, Scavenger Hunt, Swing Dance) and gave out some great prizes before launching the music. The floor packed quickly and family and friends danced and enjoyed themselves. Mazel Tov Alex and thank you Carrie for choosing PRO DJs.

Post Event Satisfaction Survey:

"Steve was amazing! He was easy to work with and fun. The kids had a blast and were out on the dance floor the whole night! Everyone had a great time!"  -Carrie Schnell
Event Date: Saturday, September 1, 2012
Event Type: Bar Mitzvah
Event Location: Royal Oaks Country Club, Vancouver, WA
Event Staff: Steve Marker
Quality of Customer Service via Telephone: Excellent
Quality of Customer Service via Internet: Fair
Quality of Customer Service at Event: Excellent
Friendliness of your Entertainer: Excellent
Promptness of your Entertainer: Excellent
Professionalism of your Entertainer: Excellent
Entertainer's Performance: Excellent
Entertainer's Appearance: Excellent
System Appearance: Excellent
Sound Quality: Excellent
Overall Volume Levels: Excellent
Music Selection: Excellent
Incorporation of Your Requests: Excellent
Lighting Effects: Excellent
Equipment Appearance: Excellent
Overall Customer Service: Excellent
Planning Assistance: Excellent
Entertainer's Cooperation with Other Vendors: Excellent
Overall Performance Rating: Excellent
Would you recommend this service to others? Yes

Welcome back party people! Another big time Bat Mitzvah celebration went down on May 26, 2012 from 7-11pm at Urban Studio in Northwest Portland, Oregon for a wonderful girl name Sophie. I had a chance to perform at her sister Sydney's Bat Mitzvah five years ago and I am honored the family chose to have me back as their DJ.

When the doors opened, guests poured in… the adults grabbed a drink and appetizers, while the kids mingled and requested songs. After dinner and a slide show, a candy bar opened and it wasn't long before the (now loaded up on sugar) kids went crazy! Next was a candle lighting and family and friends who have been a great influence in Sophie's life were introduced to songs chosen special for each person

When the dancing started, the kids went to town and the swing dance was a big hit… the kids judged and I passed out prizes. Of course, I could not forget about 'The Hora'. Sophie and her sister Sydney both went up high for a chair lift.

A packed dance floor kept the party alive before the last game of the night… a limbo contest. Just like last week, the girls won again! We ended the night with Donna Summer's 'Last Dance'. It was a good finish… people were tired, but satisfied. With that, I smiled and thought another great party done 🙂

Mazel Tov Sophie and thank you Darcy and David for choosing PRO DJs.

The classic Benson Hotel in downtown Portland, Oregon was the scene for Lana's Bat Mitzvah celebration on Saturday, May 12, 2012. While the guest of honor was with the photographer for pictures outside, family and friends mingled in the lobby and Crystal Ballroom. Dinner started at 7:15. The kids were with me, while the adults ate in the room next door.

When the kids finished eating, I started playing the cuts (all the latest hit songs) and we did a swing dance contest. There were lots of prizes to hand out, including Starbucks, Cold Stone, and iTunes gift cards… it was amazing! Another cool thing was a guest rapper, who sang a song for Lana about her special day.

Lana's mom Lauren said a few words about family being there and friends coming from long distances to attend. And then… something hot went down. You know flash mobs, right? Well it happened here. I played Maroon 5's 'Moves Like Jagger' and Boom! Flash mob! Lana was genuinely surprised… her eyes popped out of her head… she could not believe what she was seeing… the entire place was dancing for her to that song. It was Awesome!

As the party kicked into high gear, I brought out some Motown for the adults and the floor was packed. Later, we did the snowball and limbo for the kids. I thought the guys had it because they were wearing pants and the girls were wearing dresses, but the girls stole it from the guys 🙂 The party ended with Donna summer 'Last Dance' and a balloon drop.

Thank you Vivian Johnson Photography for sharing photos from this event.

It was good to see the Didner's again! I performed at Aaron's Bar Mitzvah in November, 2010. Tonight though it was brother Joey's time. His Bar Mitzvah was held Saturday, March 31, 2012 at the Marriott Hotel Downtown Waterfront in Portland. The celebration was in the Mt. Hood Room… same as Aaron's two years ago, so some good history there.

As guests arrived, I played a little soft jazz background music. Kids and parents enjoyed the food and drinks and were laughing and having a good time. Everyone then sat down for dinner and watched a video of Joey… we saw many cute pictures of him, along with family members and friends.

At the conclusion of the video, we went right to dancing and I got them going with a swing dance contest. The funny thing about this was normally the kids win, but this time the adults got the win and the kids were judging! lol. Next I played 'The Hora' and everybody was on the floor… it was amazing.

Slow dances were popular at Joey's party and the guys were not shy about asking the girls to dance. For the limbo, it was guys vs. girls and it came down to one girl and one boy in the finals. Who won? Would you believe the crazy guys took it away from the girls. The fellas won this time 🙂

I also played music for the adults and brought it back for them, reminding them when they were young dancing. A slow dance closed the night out and family and friends crowded the floor, giving Joey huge hugs as the party ended. I have known this family for a long time and I am going to miss them very much. They have been so good to me and it was my pleasure to be here to have fun with Joey and his family. I love you guys! -Steve