Zoe's Rocking Bat Mitzvah Party At Beth Israel

Zoe's rocking Bat Mitzvah party took place at Congregation Beth Israel in Northwest Portland, Oregon on Saturday, May 28, 2016.

Zoe was loaded with energy and had no fear of public speaking as she asked for my microphone to announce dinner. She also worked the room by making the rounds to reveal the table raffle winners of some her favorite books. If she ever decides to be a DJ, I told her "she's hired" 🙂

Following dinner, the guest of honor's parents toasted their daughter. I then led the kids in a rousing two rounds of the scavenger hunt before opening the dance floor to everyone with 'The Hora' and chair-raising.




After spinning a few older songs for the adults, the dance floor became jam packed for 'Uptown Funk,' 'Party Rock Anthem' and more.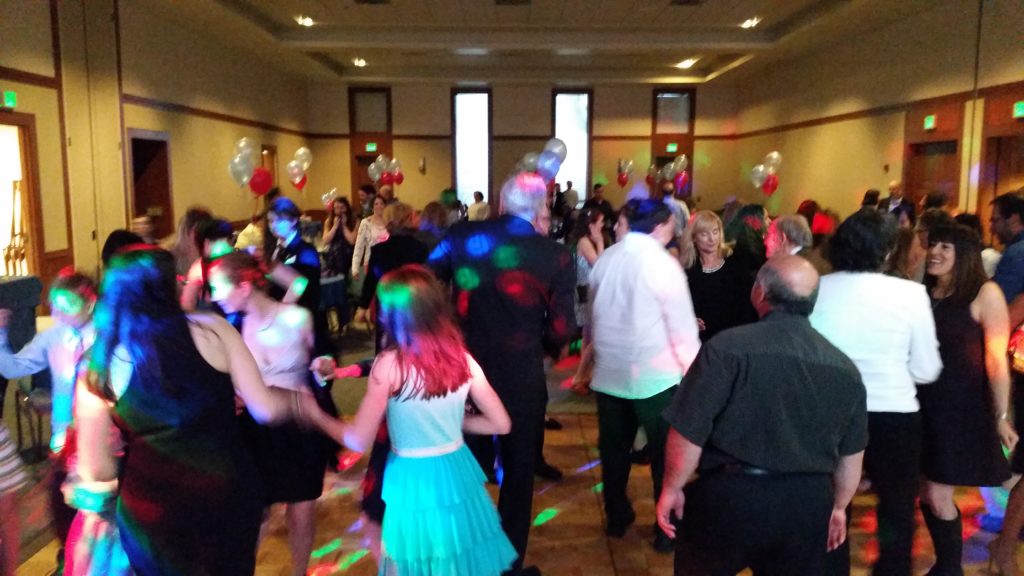 Zoe and her friends really love pop rock songs from the last decade such as tracks from Fall Out Boy, Green Day and Panic at the Disco. I was playing the music loud for the dance floor, but the kids were singing so loud, it wasn't loud enough. They sounded great and had a lot of fun belting out their favorites.

As we neared the end, they brought nearly every balloon bouquet in the room to the dance floor that made this wild night look even more festive.




Mazel Tov Zoe and thank you mom Jaime for choosing PRO DJs.

Post Event Satisfaction Survey:

"Rich did a wonderful job–so pleasant, easy to work with, nice. He was very accommodating letting my daughter have the microphone! The kids loved the scavenger hunt game. Kids were on the dance floor until the event ended. Great music choices." -Jaime Kean (Zoe's Bat Mitzvah)
Event Date: Saturday, May 28, 2016
Event Type: Bat Mitzvah
Event Location: Congregation Beth Israel
Event Staff: Rich Ellis
Quality of Customer Service via Telephone: Excellent
Quality of Customer Service via Internet: Excellent
Quality of Customer Service at Event: Excellent
Friendliness of your Entertainer: Excellent
Promptness of your Entertainer: Excellent
Professionalism of your Entertainer: Excellent
Entertainer's Performance: Excellent
Entertainer's Appearance: Excellent
System Appearance: Excellent
Sound Quality: Excellent
Overall Volume Levels: Excellent
Music Selection: Excellent
Incorporation of Your Requests: Excellent
Lighting Effects: N/A
Equipment Appearance: Excellent
Overall Customer Service: Excellent
Planning Assistance: Excellent
Entertainer's Cooperation with Other Vendors: Excellent
Overall Performance Rating: Excellent
Would you recommend this service to others? Yes
Related Posts