Worldwide Karaoke Comes To Portland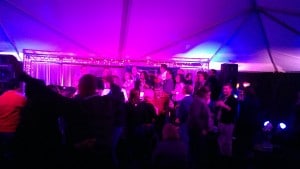 Over 350 employees from around the world attended a diversity conference for auto giant Daimler the second weekend in October in Portland, Oregon, ending on Tuesday, Oct. 16 with a big party that included karaoke with PRO DJs Rich Ellis.

With big trucks on display and other products, DJ Rhett was also on hand to provide music and announcements inside the big warehouse. Many employees had never ridden in a semi-truck before and they got that chance here.

A separate tent decked out in modern furniture and cool accent lighting to give it a hip lounge feel was set-up just outside for the afterparty. Several guests were not shy about their intention to sing their favorite songs and after dinner, they got right to it.

This group was a lot of fun and they chose a variety of great songs from R&B, Country and Classic Rock, including 'Midnight Train to Georgia', 'I Love Rock N Roll', 'Ice Ice Baby', 'Friends in Low Places', 'Sweet Home Alabama' and an amazing finish with the entire tent singing 'I've Had The Time of My Life'.

I truly had a blast and everyone was a real pleasure to hang with all evening.
Related Posts