Wedding Reception At Meriwether's Restaurant

With their ceremony taking place a day earlier, Kim and Russ were just looking to have a great time with their friends and family at their informal wedding reception at Meriwether's Restaurant in Northwest Portland on Saturday, August 9, 2014.

The newlyweds greeted their guests as they arrived while I played a mix of background music that included artists such as Lifehouse, David Gray, Coldplay and others… they had asked for a set of adult alternative or KINK 101.9 type music during cocktails and dinner.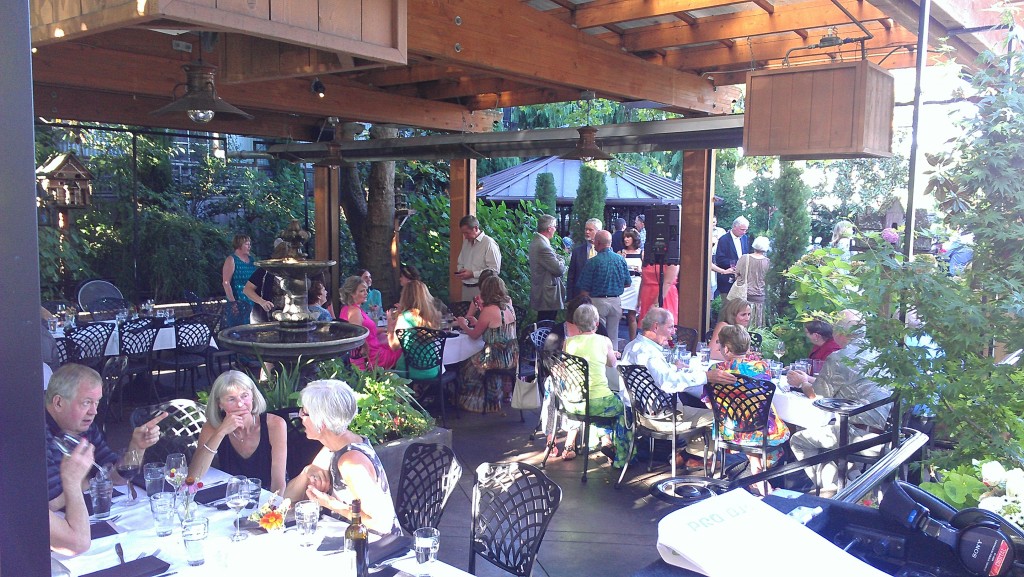 Kim noted in our planning meeting that 'this was a second wedding for both of us so you won't see a lot of the traditional first wedding events (cake cutting, garter throw, etc.)'. She was very involved in the music selection, even sending me a list of songs she had put on a CD she had made for Russ when they first met… one for each year of their first 4 years of being together. The songs were either out that year or meant something at that time and designed to remind the groom of that year… 'I know, corny' she wrote 🙂

Kim and Russ had expected about 130 guests, but may have exceeded that a little and the venue, that was also opened to the public for dinner, may have maxed out as dinner was delayed, but we took it all in stride and took advantage of the brief time available for dancing.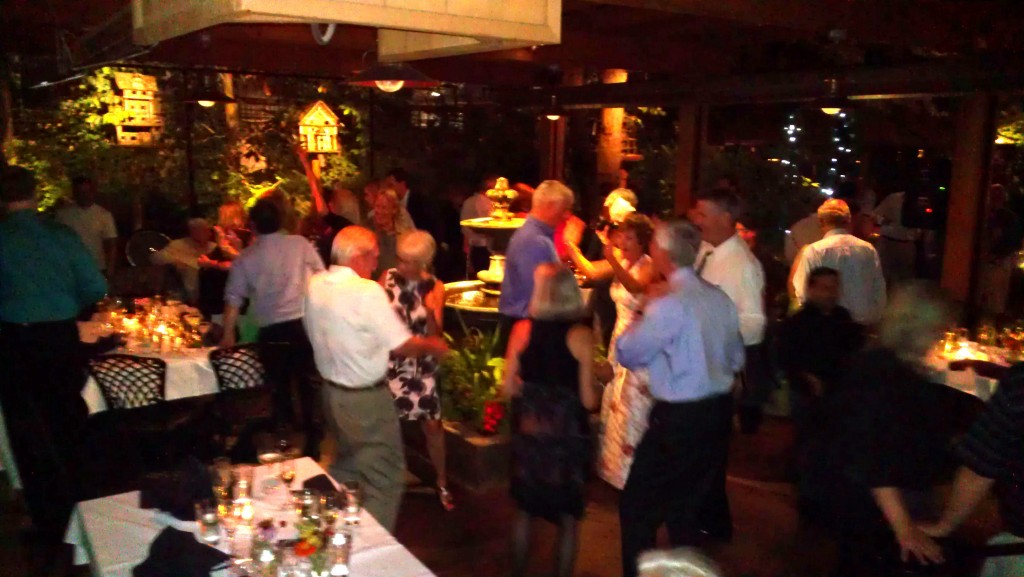 The dance floor was mostly filled with guest tables when the dancing started, but that was no deterrent for this group and they got right to it, even with the Meriwether's staff moving chairs out of the area as fast as they could.

Guests really enjoyed the oldies set at the beginning that included Kim's favorites: 'We Are Family,' 'Love Shack' and 'Mony Mony.' I was told Russ didn't dance much, but even he couldn't resist the fun energy. The bride also wanted some recent hit songs and 'Happy' and 'Blurred Lines' were well received.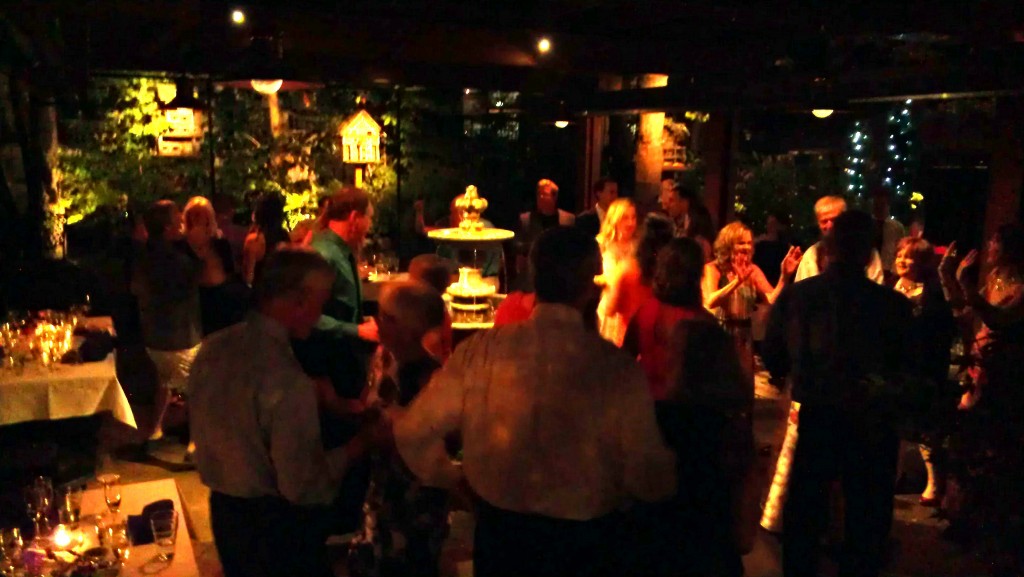 A noise ordinance in the area requires the music must end at 10pm. However, since dinner was late, Meriwether's allowed some extra time.

Best wishes Kim and Russ and thank you for choosing PRO DJs.

Post Event Satisfaction Survey:

"I wish we could have danced longer!!!! Rich got everyone up and dancing!!! You even got Russ up and dancing which he never does!!! That is a feat unto itself!!!! Thank you for making our reception a success! I would recommend PRO DJ's anytime. If you want to add me to your reference list, I would be happy to do so!" -Kim Miller
Event Date: Saturday, August 9, 2014
Event Type: Wedding Reception
Event Location: Meriwether's Restaurant
Event Staff: Rich Ellis
Quality of Customer Service via Telephone: Excellent
Quality of Customer Service via Internet: Excellent
Quality of Customer Service at Event: Excellent
Friendliness of your Entertainer: Excellent
Promptness of your Entertainer: Excellent
Professionalism of your Entertainer: Excellent
Entertainer's Performance: Excellent
Entertainer's Appearance: Excellent
System Appearance: Excellent
Sound Quality: Excellent
Overall Volume Levels: Excellent
Music Selection: Excellent
Incorporation of Your Requests: Excellent
Lighting Effects: N/A
Equipment Appearance: Excellent
Overall Customer Service: Excellent
Planning Assistance: Excellent
Entertainer's Cooperation with Other Vendors: Excellent
Overall Performance Rating: Excellent
Would you recommend this service to others? Yes
Related Posts