Sunday Afternoon Camas Wedding Fun

I had the opportunity to be the DJ at a wedding for a longtime family friend on August 11, 2019. Kacey and Trevor's Sunday afternoon Camas wedding was held at the Camas Community Center.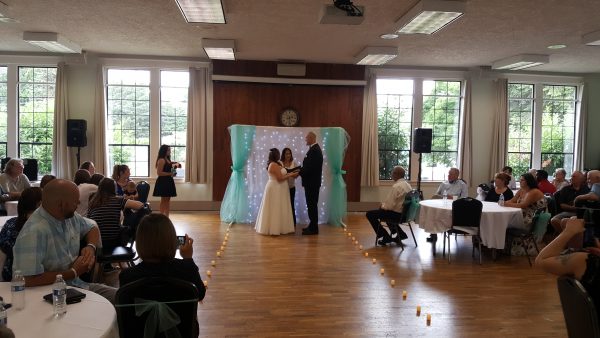 Sunday Afternoon Camas Wedding Ceremony Highlights:
Groom Entrance: Ennio Morricone – Ecstasy of Gold
Bride Entrance: Christina Perri – Arms
Bride/Groom Exit: Kool & The Gang – Celebration
The reception began immediately following the wedding. Guests enjoyed beverages and conversation as I played a background set featuring a variety of artists, such as The Beatles, Adele, George Strait and more.

Sunday Afternoon Camas Wedding Reception Highlights:
Grand Entrance: Bebe Rexha f/Florida Georgia Line – Meant To Be
First Dance: Ed Sheeran – Perfect
Bouquet Toss: Beyonce – Single Ladies (Put A Ring On It)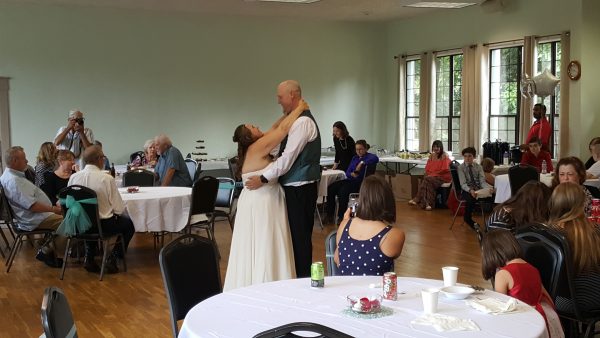 With just under 70 guests in attendance, it was a gradual start to the dance floor. Although I noticed quite a few moving and grooving in their seats at some tables 🙂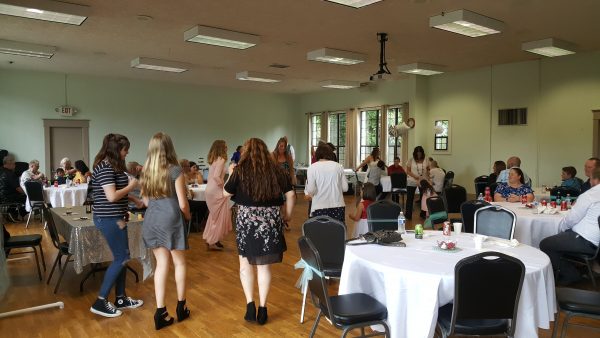 The dance floor was rockin' though to all the big hits, including "Stayin' Alive," "Cha Cha Slide," and current smash "Old Town Road," and Sunday afternoon felt like a Saturday night.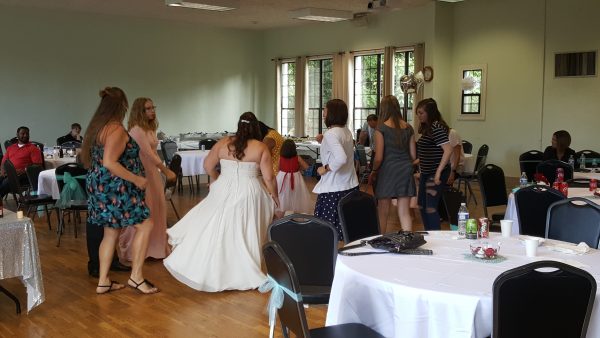 Congratulations Kacey and Trevor!

Post Event Satisfaction Survey:

"Rich was Amazing! He had people dancing that don't dance."  -Kacey Souki
Event Date: Sunday, August 11, 2019
Event Type: Wedding & Reception
Event Location: Camas Community Center
Event Staff: Rich Ellis
Quality of Customer Service via Telephone: Excellent
Quality of Customer Service via Internet: Excellent
Quality of Customer Service at Event: Excellent
Friendliness of your Entertainer: Excellent
Promptness of your Entertainer: Excellent
Professionalism of your Entertainer: Excellent
Entertainer's Performance: Excellent
Entertainer's Appearance: Excellent
System Appearance: Excellent
Sound Quality: Excellent
Overall Volume Levels: Excellent
Music Selection: Excellent
Incorporation of Your Requests: Excellent
Lighting Effects: Excellent
Equipment Appearance: Excellent
Overall Customer Service: Excellent
Planning Assistance: Excellent
Entertainer's Cooperation with Other Vendors: Excellent
Overall Performance Rating: Excellent
Would you recommend this service to others? Yes
Related Posts