Late Night Bat Mitzvah Party At MJCC Portland

Hannah's late night Bat Mitzvah Party ended at midnight on Saturday, August 31, 2019 at Mittleman Jewish Community Center in Portland. We also DJ'd brother Daniel's Bar Mitzvah in 2017 also held at MJCC.

The ceremony took place in the same room as the celebration and guests gathered in the lobby afterwards while the room was turned. It was a short window, but I had my sound and lights setup quickly and about 25 minutes later, the kids came inside for games with me that featured "Name That Tune," two rounds of a rockus scavenger hunt and Coke and Pepsi.

Next, Hannah introduced and talked about her family and friends during the candle lighting ceremony and then 'The Hora' got everyone out of their chairs immediately to begin a fun night on the dance floor.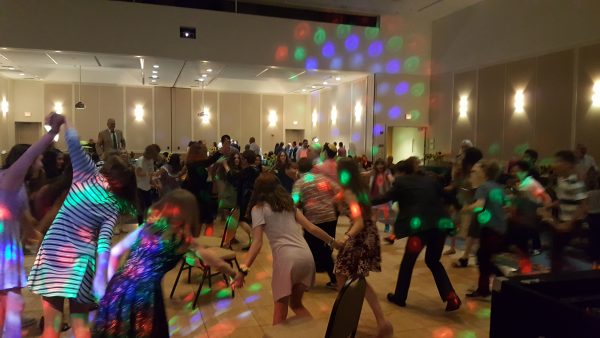 Mazel Tov Hannah and thank you parents Robin and Eric for again choosing PRO DJs.

Post Event Satisfaction Survey:

"Everything was awesome!" -Robin Kornblit (Hannah's Bat Mitzvah)
Event Date: Saturday, August 31, 2019
Event Type: Bat Mitzvah
Event Location: Mittleman Jewish Community Center
Event Staff: Rich Ellis
Quality of Customer Service via Telephone: Excellent
Quality of Customer Service via Internet: Excellent
Quality of Customer Service at Event: Excellent
Friendliness of your Entertainer: Excellent
Promptness of your Entertainer: Excellent
Professionalism of your Entertainer: Excellent
Entertainer's Performance: Excellent
Entertainer's Appearance: Excellent
System Appearance: Excellent
Sound Quality: Excellent
Overall Volume Levels: Excellent
Music Selection: Excellent
Incorporation of Your Requests: Excellent
Lighting Effects: N/A
Equipment Appearance: Excellent
Overall Customer Service: Excellent
Planning Assistance: Excellent
Entertainer's Cooperation with Other Vendors: Excellent
Overall Performance Rating: Excellent
Would you recommend this service to others? Yes
Related Posts