January Sentinel Hotel Portland Wedding

Sabrina and Sam's January Sentinel Hotel Portland wedding was held in the opulent Renaissance Ballroom on Friday, January 17, 2020. The first wedding of the new year performed by PRO DJs, this was an intimate gathering of about 50 guests.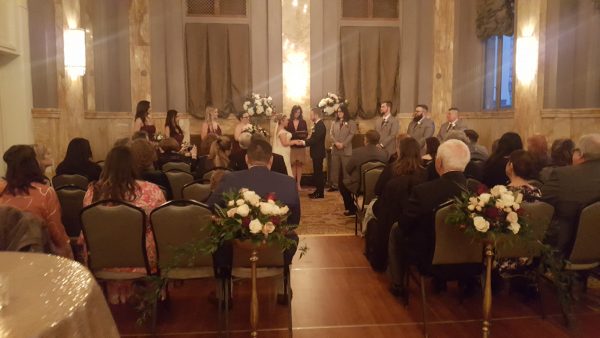 Sentinel Hotel Portland Wedding Ceremony Highlights:
Wedding Processional: The Piano Guys – A Sky Full of Stars
Bride Entrance: Speechless Dan+Shay, Wedding Duo Violin & Piano Cover
Bride/Groom Exit: Toploader – Dancing in the Moonlight
Following the wedding, everyone remained in the room for cocktails and conversation. During this time, I played a mix of selections for background music that included artists: Stevie Wonder, Jack Johnson, Adele, Lauryn Hill and more.

Sentinel Hotel Portland Wedding Reception Highlights:
Grand Entrance: Montell Jordan – This Is How We Do It
Cake Cutting: Maroon 5 – Sugar
First Dance: Etta James – At Last
Bride and Grandfather Dance: Heartland – I Loved Her First
Bride and Father Dance: Martina McBride – In My Daughter's Eyes
Bride and Step-Father Dance: Trace Adkins – Just Fishin'
Groom and Mother Dance: Elton John – Can You Feel the Love Tonight
Bouquet Toss: Beyonce – Single Ladies (Put A Ring On It)
Music for dancing featured a wide variety of genres, including 60s Oldies, 70s and 80s Classics, recent Top 40, and Country.




One of the nicest couples I have had the pleasure of working for, best wishes Sabrina and Sam!

Thank you for choosing PRO DJs.

Related Posts