Horning's Hideout Wedding North Plains Oregon

Lanie and Tyler held their Horning's Hideout wedding in North Plains, Oregon on Saturday, August 5, 2017. I had the opportunity to perform at Lanie's brother Steven's wedding at this same location in 2015.

The only difference was the location of this event on the property as this took place in the more secluded Creekside Area. As the temperature rose to a warm 90+ degrees, all the extra trees provided some welcome shade for most of the guests.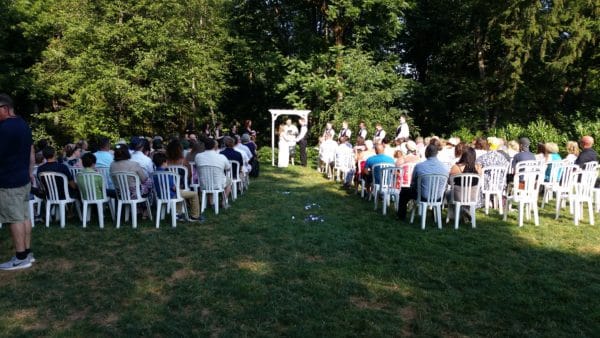 Horning's Hideout Wedding Ceremony Highlights:
Wedding Party Entrance: Bruno Mars – Just the Way You Are
Bride Entrance: Piano Guys – Can't Help Falling in Love (Elvis)
Bride/Groom Exit: Ray LaMontagne – You Are The Best Thing
The reception followed with tables arranged for dinner in the grass where the ceremony had just taken place.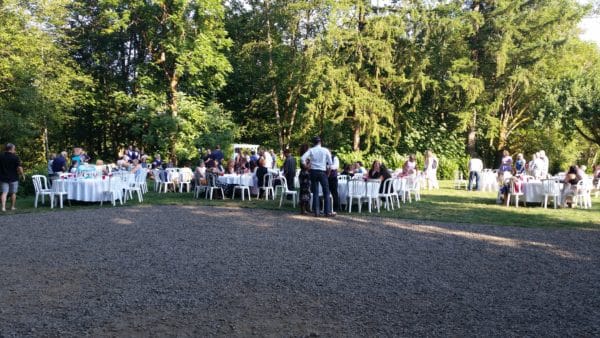 The newlyweds were not really interested in the traditional wedding reception events, so following the toast, the dance floor was open to everyone. It was early and there was still a lot of daylight, but undercover where I was setup, my lighting added a little extra party to the very large dance floor and we had many takers from the opening song.




Then as twilight set in, the dance floor really picked up into a full rager as I played a mix of everything from Michael Jackson and Outkast to requests for Whitney Houston, The Weeknd, Nicki Minaj and more.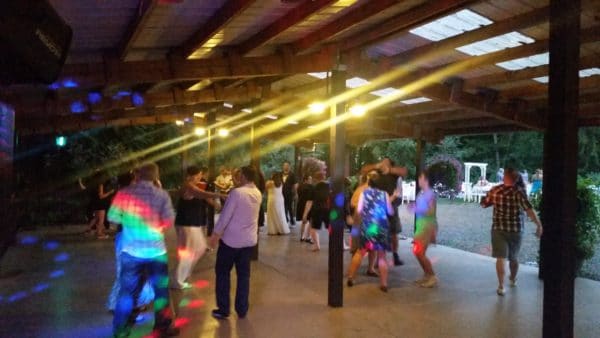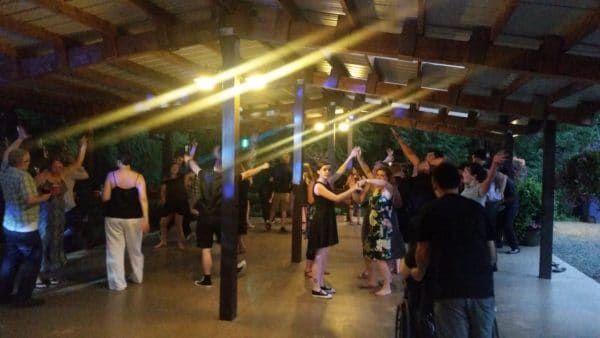 Congratulations Lanie and Tyler and thank you to the Father of the Bride, Darren for having me back to DJ his daughter's wedding.

Post Event Satisfaction Survey:

"I hired Rich for both of my kids' weddings. The ultimate professional. He plays everything you want and nothing that you don't. I would highly recommend." -Darren Martin (Lanie Martin &
Tyler Conlee Wedding)
Event Date: Saturday, August 5, 2017
Event Type: Wedding & Reception
Event Location: Horning's Hideout
Event Staff: Rich Ellis
Quality of Customer Service via Telephone: Excellent
Quality of Customer Service via Internet: Excellent
Quality of Customer Service at Event: Excellent
Friendliness of your Entertainer: Excellent
Promptness of your Entertainer: Excellent
Professionalism of your Entertainer: Excellent
Entertainer's Performance: Excellent
Entertainer's Appearance: Excellent
System Appearance: Excellent
Sound Quality: Excellent
Overall Volume Levels: Excellent
Music Selection: Excellent
Incorporation of Your Requests: Excellent
Lighting Effects: N/A
Equipment Appearance: Excellent
Overall Customer Service: Excellent
Planning Assistance: Excellent
Entertainer's Cooperation with Other Vendors: Excellent
Overall Performance Rating: Excellent
Would you recommend this service to others? Yes
Related Posts