Gorge Fire Backdrops Troutdale House Wedding

Suzy and Zak's Troutdale House wedding took place on Labor Day, September 4, 2017 in Troutdale, Oregon.

A wildfire that had started in the Columbia River Gorge over 50 miles away two days earlier had suddenly shifted west and was now only about 15 miles away when they exchanged vows outside in the garden area.

The air was smoky, like being inside a barbecue. However, there would be no denying the moments of this special day that included the bride surprising the groom with her father not just walking her down the aisle, but also serving as the wedding officiant.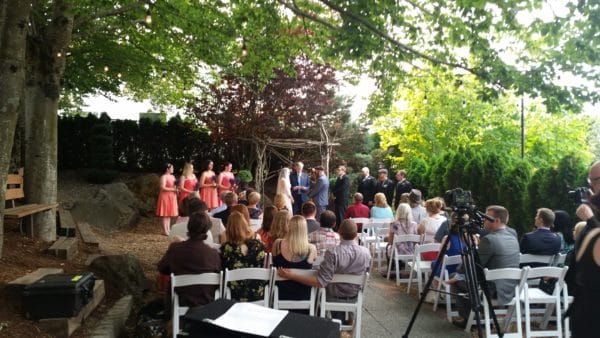 Troutdale House Wedding Ceremony Highlights:
Bridal Party Entrance: Eric Satie – Gymnopedie #1
Bride Entrance: Fleetwood Mac – Songbird
Bride/Groom Exit: Stevie Wonder – Signed Sealed Delivered…
The reception followed inside The Troutdale House and with the air conditioning on high, felt like a different world from what was happening outside, but it set guests at ease and they enjoyed conversation and background music that featured a variety of 70's classics as requested by the newlyweds.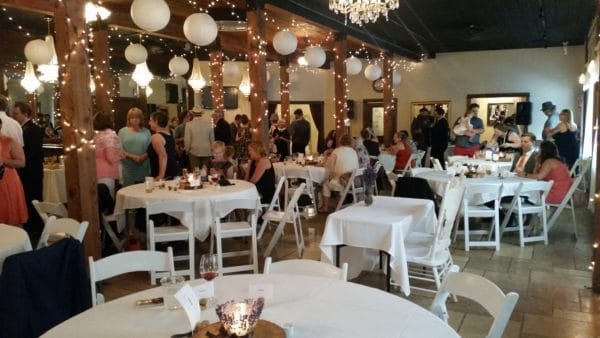 Troutdale House Wedding Reception Highlights:
Grand Entrance: Talking Heads – This Must Be The Place
Cake Cutting: Sam Cooke – Nothing Can Change This Love
First Dance: Stevie Wonder – My Cherie Amour
Bride and Father Dance: Johnny Cash – You Are My Sunshine
The dance floor at this venue is a long, narrow aisleway in front of the bar. Guests filled this area from the opening slow dance to a number of fast songs that followed, including hits from Michael Jackson and The Beatles.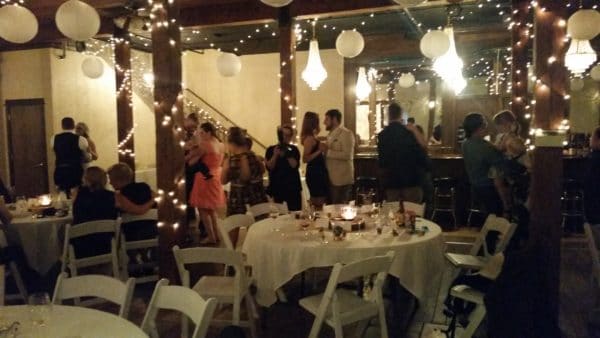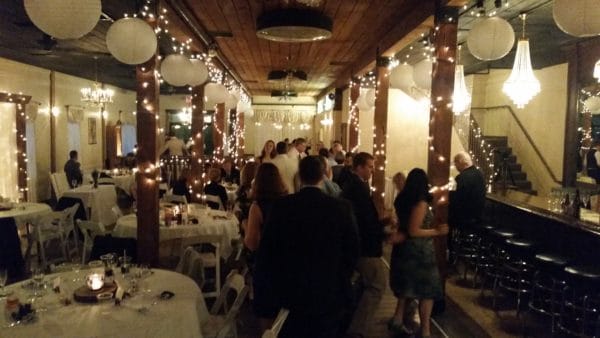 Suzy and Zak also requested songs from their favorite artists David Bowie and the Talking Heads, plus the bride's favorites, 'Time Warp' from the Rocky Horror Picture Show and 'I Believe in a Thing Called Love' by The Darkness.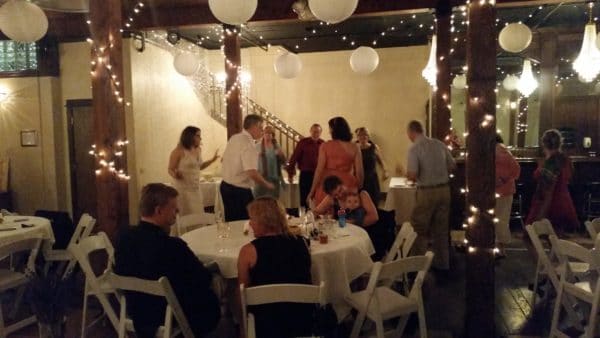 Congratulations Suzy and Zak! Thank you for choosing PRO DJs.

Post Event Satisfaction Survey:

"Just amazing! I've been recommending Rich since the event just a week ago! The most professional and helpful of all vendors I worked with – simply excellent and thought of many details that I hadn't considered, even those not directly related to the music. I know the group didn't dance much (it was the group, not the music), but we had an absolute blast! Thank you!"
-Suzy & Zak
Event Date: Monday, September 4, 2017
Event Type: Wedding & Reception
Event Location: Troutdale House
Event Staff: Rich Ellis
Quality of Customer Service via Telephone: Excellent
Quality of Customer Service via Internet: Excellent
Quality of Customer Service at Event: Excellent
Friendliness of your Entertainer: Excellent
Promptness of your Entertainer: Excellent
Professionalism of your Entertainer: Excellent
Entertainer's Performance: Excellent
Entertainer's Appearance: Excellent
System Appearance: Excellent
Sound Quality: Excellent
Overall Volume Levels: Excellent
Music Selection: Excellent
Incorporation of Your Requests: Excellent
Lighting Effects: N/A
Equipment Appearance: Excellent
Overall Customer Service: Excellent
Planning Assistance: Excellent
Entertainer's Cooperation with Other Vendors: Excellent
Overall Performance Rating: Excellent
Would you recommend this service to others? Yes
Related Posts