Big Fun At January Corporate Holiday Parties

More and more corporate holiday parties are taking place in January instead of December and this year has been no exception. In fact, PRO DJs has performed at nearly as many company parties in January 2016 as we did in December 2015. With available meeting space and DJ availability at a premium before the holidays, this makes sense and we appreciate the opportunity to extend the season.

On Friday night, January 22, 2016, I was at the Marriott Hotel on the waterfront in Downtown Portland for a Vancouver, WA based construction company party. Over 200 guests attended and while they gathered for cocktails and dinner in Salon Ballrooms G, H and I, I set-up my sound and lighting equipment in Salon E and F for the afterparty scheduled to begin around 7:30pm.

The party room had the feel of a posh nightclub with accent lighting that included black lights. Pub games were setup in various places, including pool tables, foosball tables, air hockey, and dartboards. There was also a photo booth with props and of course, several bars and food stations.

With all the other activies, I surveyed the crowd to gauge when they may be ready to dance. After about 20 minutes, we had a few on the dance floor as they responded to Stevie Wonder's 'Superstition' and 'Billie Jean' from Michael Jackson. Beyonce and Adele were also a big hit. A little later, a group of guests responded to a rock set that included AC/DC and Billy Idol before the dancing really took off with a mix of classics and current hits that included Earth, Wind & Fire, Justin Timberlake and Flo Rida.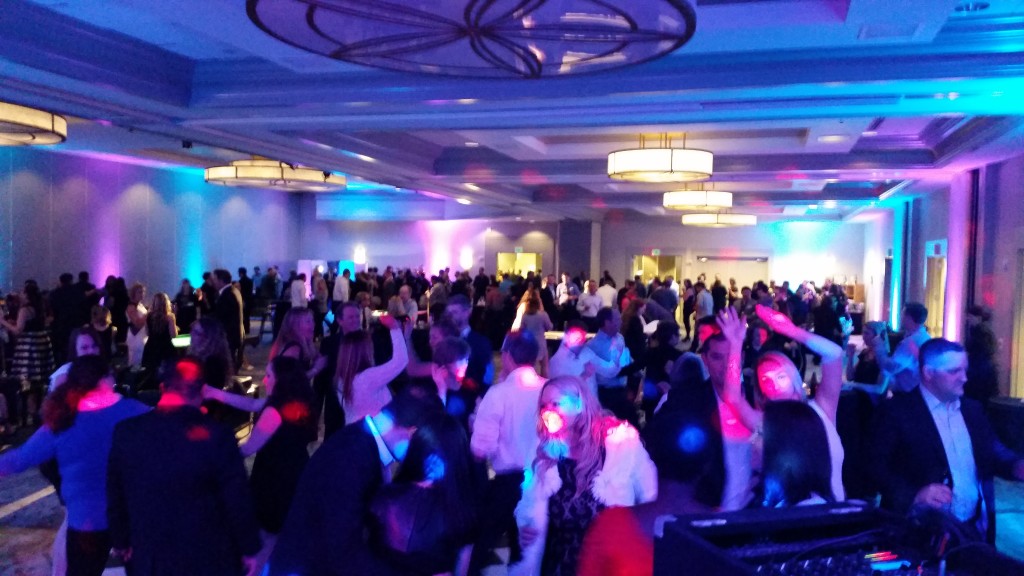 The dance floor was packed when we stopped around 10:30 for the raffle drawing that included several $500 prize giveaways, so the guests didn't seem to mind. Not everyone came away a winner, but they appeared to be in a great mood anyway and it wasn't long before the dance floor filled again and stayed that way until we ended at Midnight.

Post Event Client Feedback:

"We had great feedback and I will definitely be in touch to secure the date next year."
-Corey Anderson, Kiewit Infrastructure West Company

Related Posts