Bridal Veil Lakes Wedding In The Clear

Despite wildfires raging nearby in the Columbia River Gorge, it was a non-smoky celebration at Katie and Devin's Bridal Veil Lakes Wedding on Sunday, September 3, 2017.

The night before, a fire started in the Gorge at the Eagle Creek Trail about 23 miles to the east. This was in addition to the Indian Creek fire that had started previously near the same area. The air was filled with smoke as I left the Portland area and I was concerned there would be a heavy haze at Bridal Veil Lakes, but somehow, the air was clear and it was a fabulous day to celebrate.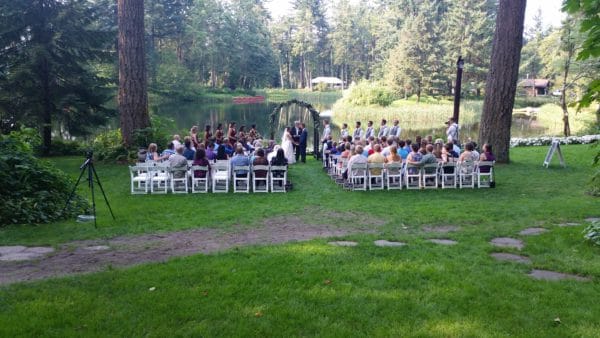 Bridal Veil Lakes Wedding Ceremony Highlights:
Wedding Party Entrance: Ryan Darling – I Choose You
Bride Entrance: Ellie Goulding – How Long Will I Love You
Bride/Groom Exit: Israel "IZ" Kamakawiwo?ole – Somewhere Over the Rainbow
I setup two sound systems for this event with my main system in the reception area and a second for the wedding on the other side of the lake. Following the ceremony, guests walked the nature trail to the main reception area. I played a mix of background music that featured favorites of the bride and groom. Artists included: Ed Sheeran, Sara Bareilles, Louis Armstrong, Zac Brown Band and others.

Included with this package was a video projector and screen as requested by Devin's family to play a video of the best man's toast. In addition, the groom's father also performed a surprise lip sync for his son to settle a bet. This required a lot of planning and a song edit in my sound studio, but it went off perfectly and was well-received by everyone in attendance.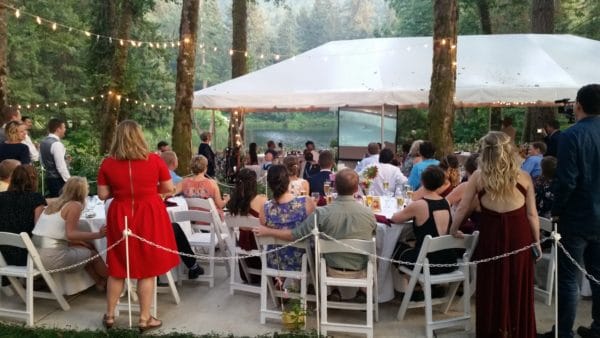 Bridal Veil Lakes Wedding Reception Highlights:
Grand Entrance: Stevie Wonder – Signed Sealed Delivered…
Cake Cutting: Archies – Sugar Sugar
First Dance: JJ Heller – When I'm With You (The Boat Song)
Groom and Mother Dance: Tim McGraw – Humble and Kind
Bride and Mother Dance: Jackson 5 – Ill Be There/Justin Timberlake – Can't Stop The Feeling
Bouquet Toss: Weather Girls – It's Raining Men
Garter Toss: Kenny Loggins – Danger Zone
After the first dance and the groom's dance with his mom, Katie also danced with her mom. This began with about a one minute of 'I'll Be There' by The Jackson 5, before skipping to 'Justin Timberlake's recent hit 'Can't Stop The Feeling' that included a flash dance from members of the wedding party.




The flash dance created a burst of energy and the dance floor was on. The rest of the night everyone enjoyed getting down to 'Uptown Funk,' 'Hey Ya,' and newlywed requests for the 'Cupid Shuffle', 'Footloose' and 'Cotton-Eye Joe'.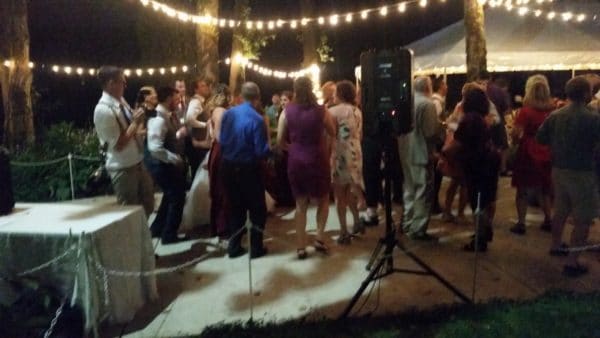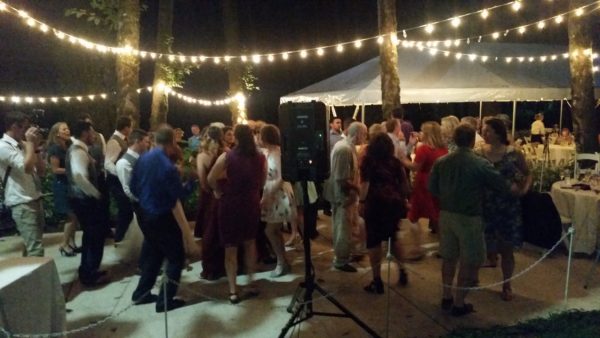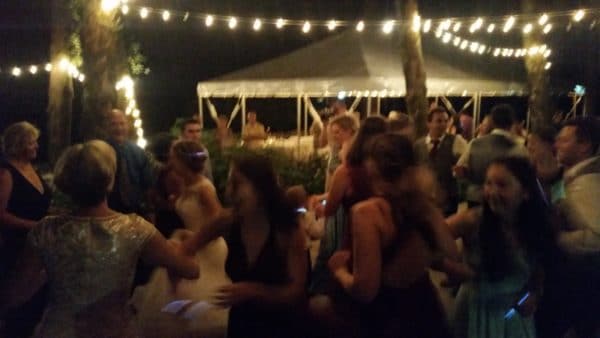 Best wishes Katie and Devin!

Post Event Satisfaction Survey:

"Mr. Ellis was simply amazing. He worked well with the other members of the organizational team (Caterer, Coordinator, Photographer). He worked well when we had to change things up at the last second and he was always very professional." -Katie Marie Ralston & Devin Bowyer
Event Date: Sunday, September 3, 2017
Event Type: Wedding & Reception
Event Location: Bridal Veil Lakes
Event Staff: Rich Ellis
Quality of Customer Service via Telephone: Excellent
Quality of Customer Service via Internet: Excellent
Quality of Customer Service at Event: Excellent
Friendliness of your Entertainer: Excellent
Promptness of your Entertainer: Excellent
Professionalism of your Entertainer: Excellent
Entertainer's Performance: Excellent
Entertainer's Appearance: Excellent
System Appearance: Excellent
Sound Quality: Excellent
Overall Volume Levels: Excellent
Music Selection: Excellent
Incorporation of Your Requests: Excellent
Lighting Effects: N/A
Equipment Appearance: Excellent
Overall Customer Service: Excellent
Planning Assistance: Excellent
Entertainer's Cooperation with Other Vendors: Excellent
Overall Performance Rating: Excellent
Would you recommend this service to others? Yes
Related Posts