B'not Mitzvah Celebration At MJCC Portland

DJ Rich Ellis had the opportunity to not only be the DJ, but also provide sound for the service at Liana and Sylvie's B'not Mitzvah Celebration on Sunday, May 5, 2019 at Mittleman Jewish Community Center in Portland, Oregon.

Multiple microphones were needed for the two hour service, including a clip-on lapel microphone for the officiant and two boom microphones for the Torah readings.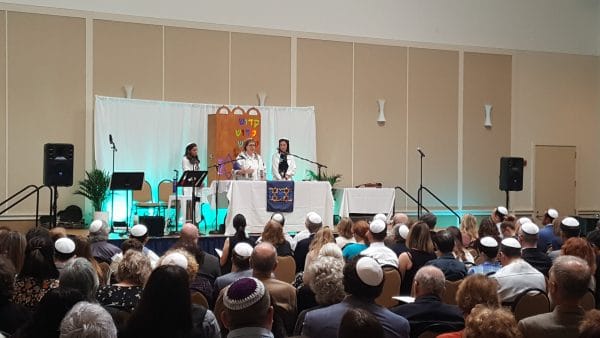 Following the service, all guests were directed to the lobby for refreshments while the main ballroom was turned over for the reception. This allowed me time to beef up my sound system with a sub-woofer and set-up lighting for the dance floor.

After everyone returned, they formed two lines to welcome the girls to their party. I introduced them and per their request, played ABBA's "Dancing Queen" for their entrance music.

After dancing a few songs, lunch was ready so I transitioned to some background music that included selections from Stevie Wonder, OneRepublic, Adele and more.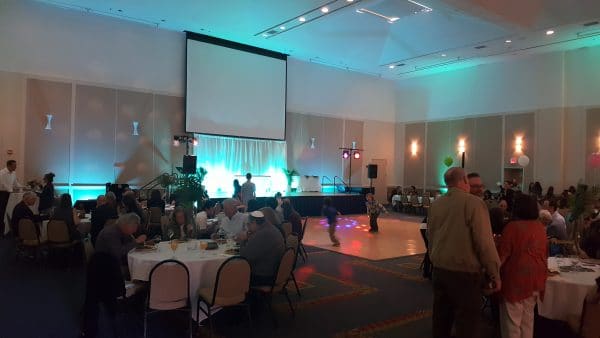 With the kids done eating quickly and time at a premium, I gathered the kids for some games that featured a fun version of "Who Knows Liana and Sylvie Best?" followed by a scavenger hunt.

After a toast and slideshow, I invited everyone out to dance to 'The Hora' and celebrate the twins on their b'not mitzvah with the traditional chair raising.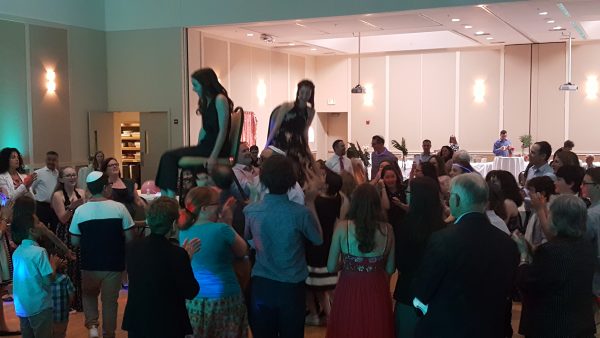 The floor was packed for nearly every song from then on and Sunday afternoon felt like a Saturday night.

Mazel Tov Liana and Sylvie and thank you Lisa and Noah for choosing PRO DJs.

Post Event Satisfaction Survey:

"Rich was excellent from start to finish…a great communicator and willing to take on some extra sound duties for our service, which was a huge help. He helped us troubleshoot our microphone/sound needs to ensure we had great coverage throughout the service. Because the service ran a lot longer than we had hoped, the party got cut short so we didn't get to do as much dancing as we would've liked. We were in good hands with Rich and are so glad we went with PRO DJS!" –Lisa Katon (Liana & Sylvie's B'not Mitzvah) – Portland, OR
Event Date: Sunday, May 5, 2019
Event Type: B'not Mitzvah
Event Location: Mittleman Jewish Community Center
Event Staff: Rich Ellis
Quality of Customer Service via Telephone: Excellent
Quality of Customer Service via Internet: Excellent
Quality of Customer Service at Event: Excellent
Friendliness of your Entertainer: Excellent
Promptness of your Entertainer: Excellent
Professionalism of your Entertainer: Excellent
Entertainer's Performance: Excellent
Entertainer's Appearance: Excellent
System Appearance: Excellent
Sound Quality: Excellent
Overall Volume Levels: Excellent
Music Selection: Excellent
Incorporation of Your Requests: Excellent
Lighting Effects: Excellent
Equipment Appearance: Excellent
Overall Customer Service: Excellent
Planning Assistance: Excellent
Entertainer's Cooperation with Other Vendors: Excellent
Overall Performance Rating: Excellent
Would you recommend this service to others? Yes
Related Posts