Weddings

Christina and Bryson's karaoke wedding reception was held Saturday, March 2, 2019 at McMenamins Edgefield in Troutdale, Oregon. They were actually married one week earlier in Sedona, Arizona, so this was a reception only for friends and family in the Portland area.

After most guests had gathered in Blackberry Hall, the newlyweds arrived around 6:30pm. I announced their grand entrance and they walked in to Led Zeppelin's "Whole Lotta Love." Dinner was ready about 20 minutes later and during this time, I played a mix of classic jazz selections as requested by the bride and groom.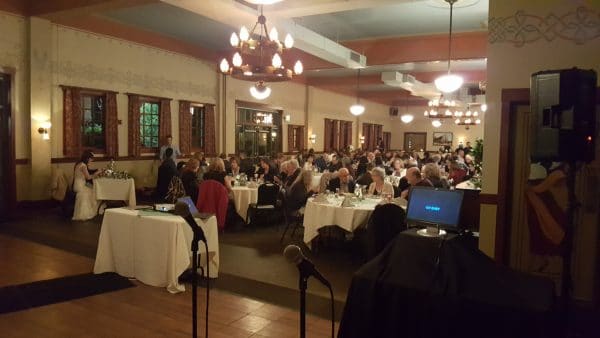 When inquiring with PRO DJs, Christina noted they were looking for a DJ who can also allow for our guests to sing karaoke after dinner. Following a short video of highlights from their Arizona wedding, Bryson was the first to go, singing The Cars "Just What I Needed." From there, I encouraged others to sign-up to sing their favorites, but also opened the dance floor.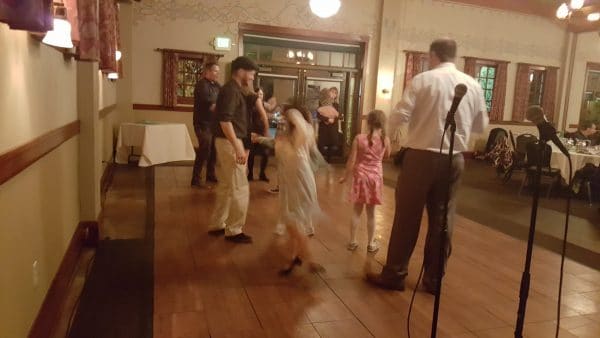 After a few more karaoke performances that included Queen's "Crazy Little Thing Called Love," it was mostly dancing for the next hour. The energy really picked up for "Uptown Funk," "Shut Up and Dance" and "Can't Stop the Feeling," but it was LMFAO's "Party Rock Anthem" that really moved the groom and fired up the crowd.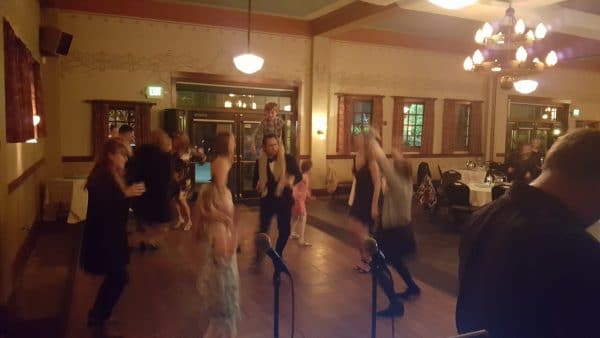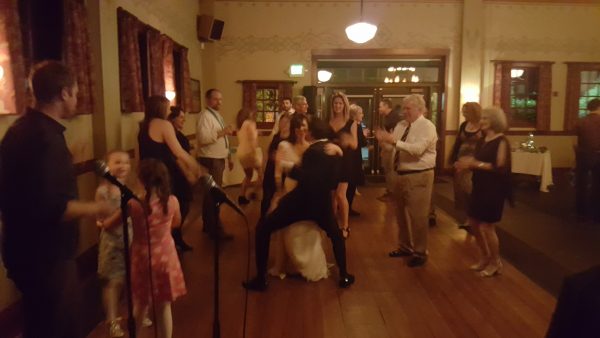 Karaoke returned for the last few songs including Bryson and his friends performing Weezer's "Say It Ain't So."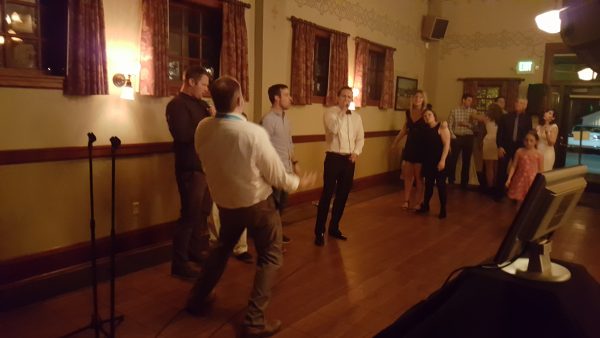 Congratulations Christina and Bryson and thank you for choosing PRO DJs.


Reflecting on 2018, PRO DJs has put together video slideshows of the many weddings and events we have performed over the past year.

WEDDINGS:

CLIENT FEEDBACK:

Rich was amazing from start to finish. He helped plan, answered our questions whenever we had them and coordinated with other vendors the day of the wedding. The music was great and exactly what we asked for. I will be recommending Pro DJs to everyone I know who needs a great DJ. Very professional and organized. Made our wedding day that much better! -Michelle Love (Michelle & Heather's Wedding) – Salem, OR (4-14-18)

Rich made everything so much easier! Being new to this idea of putting on a BIG wedding, it was marvelous to have a professional DJ who knew just what to do and kept everything on track. Thank you so much! Our daughter and son-in-laws special day could not have gone more smoothly! -Ronda Wallace (Laura Wallace & Nick Reyes Wedding) – Hood River, OR (6-2-18)

Thank you so much for the wonderful job you did with the music. Everyone had a wonderful time and we will be happy to refer others to you. Rich Ellis provided a marvelous service. We had a slide show of our lives together and Rich coordinated song selections that were beautifully suited to the mood of the slides. I was so delighted! -Mary & Dave Krug (50th Wedding Anniversary) – Portland, OR (8-19-18)

Thank you (Rich) for helping to make our wedding the special day that it was. -Aimee Boyd & Zachary Zandt Wedding – Washougal, WA (9-2-18)



BAR MITZVAHS & BAT MITZVAHS:

CLIENT FEEDBACK:

Thanks, Rich for making Yael's Bat Mitzvah a real blast. -Daniel Raider (Yael's Bat Mitzvah) – Portland, OR (3-3-18)

We would use Rich again! -Heidi Wolfson (Rebekah's Bat Mitzvah) – Beaverton, OR (3-24-18)

Steve was awesome. Really great. We were very happy with his professionalism and charm. -Julia Pickar (Max's Bar Mitzvah) – Portland, OR (5-5-18)

Steve made the party amazing! -Sharon Friedman (Mara's Bat Mitzvah) – Portland, OR (6-9-18)

We had another wonderful event with Rich! The music was great. Kids and adults all had a great evening. -Jaime Kean (Lucy's Bat Mitzvah) – Portland, OR (6-16-18)

Rich was a super resource and made our event! HUGE THANKS! -Leticia Kleinberg (Maia's Bat Mitzvah) – Portland, OR (6-30-18)

We've been to many Pro DJ events and many with Rich. We couldn't wait to have him at our event. He's so easy to work with and such a gentle soul. He know kids, knows how to read a room and knows how to make a party rock!!! Thank you for a most fabulous evening!! -Jennifer and Ken Zeidman (Ruthie's Bat Mitzvah) – Portland, OR (7-14-18)

Rich did a great job at my son's Bar Mitzvah. He kept the energy at the right level throughout the evening. He kept the kids entertained during cocktail hour with games, which allowed the adults to mingle without a lot of distraction. Then, when it was time to focus on dancing, he played a great mix of music that had young and old alike dancing. We requested a couple slow dances and those were added in at just the right time. Great, memorable evening. -Anna Winthrop (Jordan's Bar Mitzvah) – Portland, OR (8-25-18)

I just wish I had another kid so I could look forward to having Steve be our DJ again! Will have to work on that!!! -Debbie Plawner (Miriam's Bat Mitzvah) – Portland, OR (10-13-18)

He (Steve) was and is always a spectacular partner in the event. There is a reason so many people choose you all. He is amazing. All the kids know him. He can read a room well and know just what to do! -Marisa Brown (Eleanor's Bat Mitzvah) – Lake Oswego, OR (10-20-18)



CORPORATE & KARAOKE:

CLIENT FEEDBACK:

Rich did great. We will definitely book him for future events. -Ashton, Graffeo Chiropractic Clinic – Portland, OR (1-6-18)

Rich was the Best! It was a pleasure working with you and thank you for making our company picnic a success! I know we will be working with you again in the future. -Kathy Korb, DSV Road Transport Company Picnic – Portland, OR (8-12-18)

Everything was wonderful, there is nothing I can think of that could have been done better. Rich was a great DJ/KJ, and I would highly recommend Pro DJs for any event. -Shelly Garteiz, BillerudKorsnäs Company Karaoke Party – Portland, OR (12-4-18)

We would like to go ahead and reserve for (December 2019) at Embassy Suites again. -Contract Furnishings Mart Company Holiday Party – Tigard, OR (12-8-18)

Rich did an Excellent job! Everyone had a great time! -Carly Gray, The Home Depot Holiday Party – Portland, OR (12-9-18)

Rocked the event!!!!! Dj was perfect!!!!! I'm going to hire again! -Tracy Burback–Munoz, Private Karaoke Christmas Party – Battle Ground, WA (12-15-18)



Click Here for more photos, feedback and event recaps.


Jenn and Zach's karaoke wedding was held Saturday, November 17, 2018 at McMenamins Edgefield in Troutdale, Oregon. Both ceremony and reception were in Blackberry Hall.

When I arrived for setup, the normal spot for the DJ near the dance floor had two skirted tables that appeared to be dinner seating for guests. Fortunately, one was my table, but the other was for the photographer. With a full karaoke setup, I was concerned about having enough space for everything, but the venue staff was able to move the photographer table, and even though placement of the speakers was still a challenge, I think I made it work.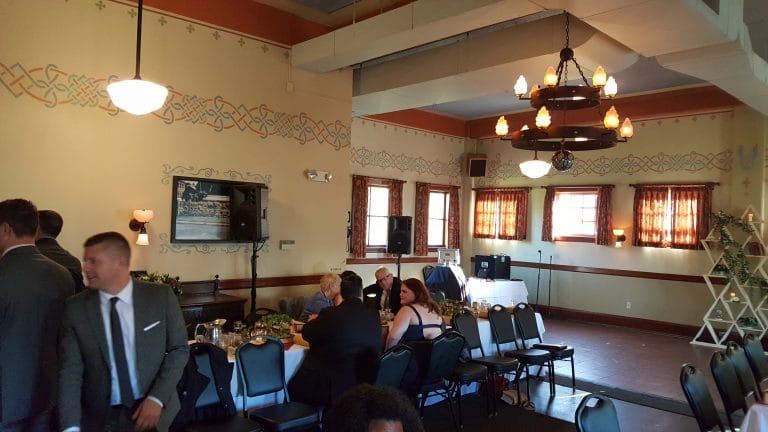 Jenn and Zach noted this would be a brunch wedding so they would have guests begin arriving at 11:30am with the ceremony scheduled to begin at 12:30pm. Background music during this time was a mix of requests the newlyweds solicited from everyone ahead of time, and as expected, featured a wide variety of artists from Frank Sinatra and Beyonce to Brad Paisley and Night Ranger. The father of the groom was the officiant.

Karaoke Wedding Ceremony Highlights:
Wedding Party Entrance: Ramin Djawadi – Fake Plastic Trees (Westworld)
Bride Entrance: Canon In D
Bride & Groom Exit: Radiohead – Fake Plastic Trees


After the ceremony, there was no room turnover so guests could remain at their tables or walk around. Zach and Jenn posed for additional photos outside before returning for their grand entrance, first dance, and dances with their parents before the buffet was opened for brunch.

Karaoke Wedding Reception Highlights:
Grand Entrance: Sugar Ray – Fly
First Dance: Chris Stapleton – Tennessee Whiskey
Bride and Father Dance: The Hound + The Fox – Baby Mine
Groom and Mother Dance: Lee Ann Womack – I Hope You Dance
Cake Cutting: Billy Joel – The Longest Time
Jenn and Zach are very artistic and that was evident in the wedding favors they had made for every guest and vendor… a wooden book with each name engaved and filled with items such as a personal dinner name plate, colored pencils with a custom Jenn and Zach coloring book and a red stocking cap that everyone wore for the group photo taken near the end of brunch.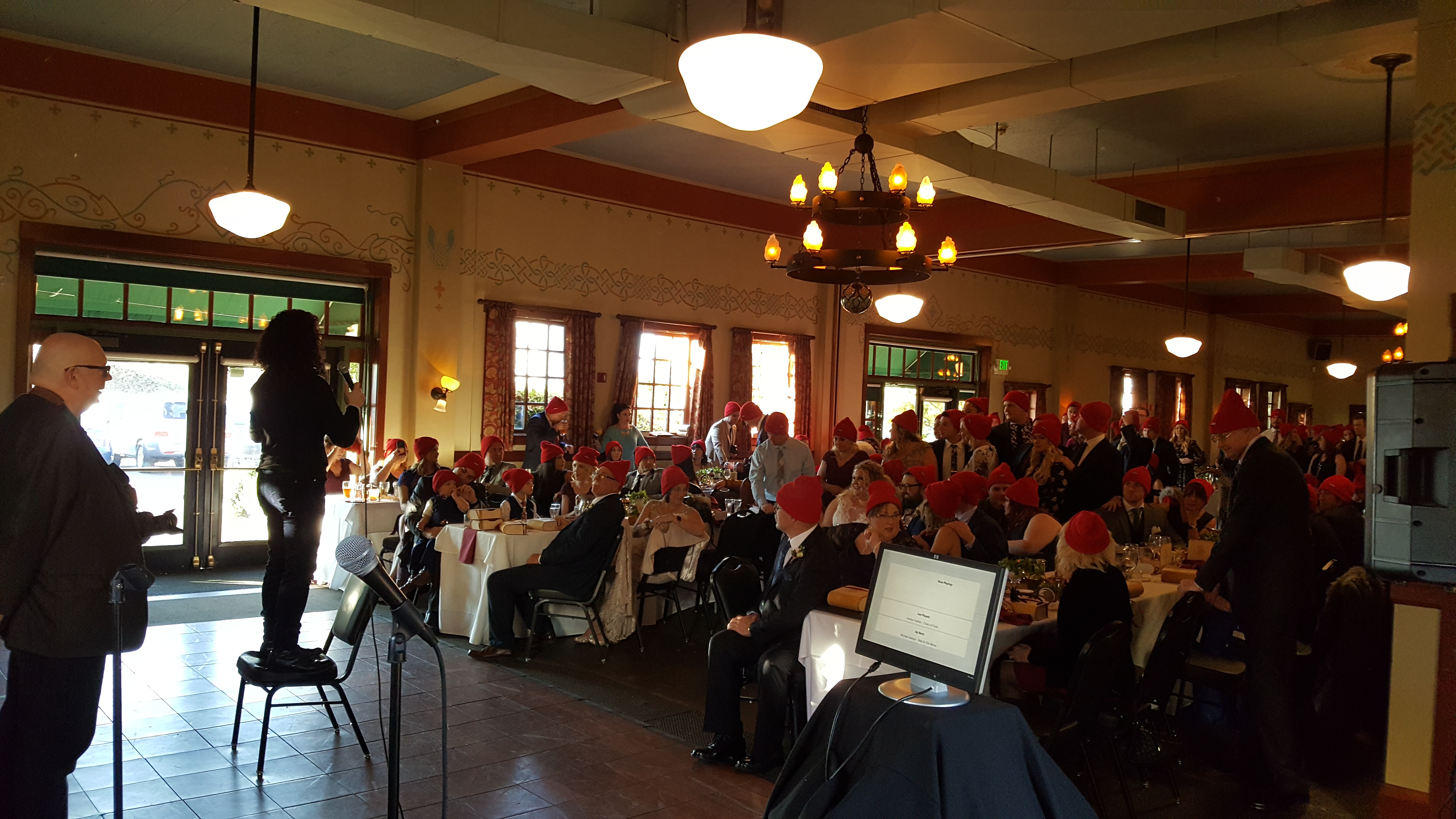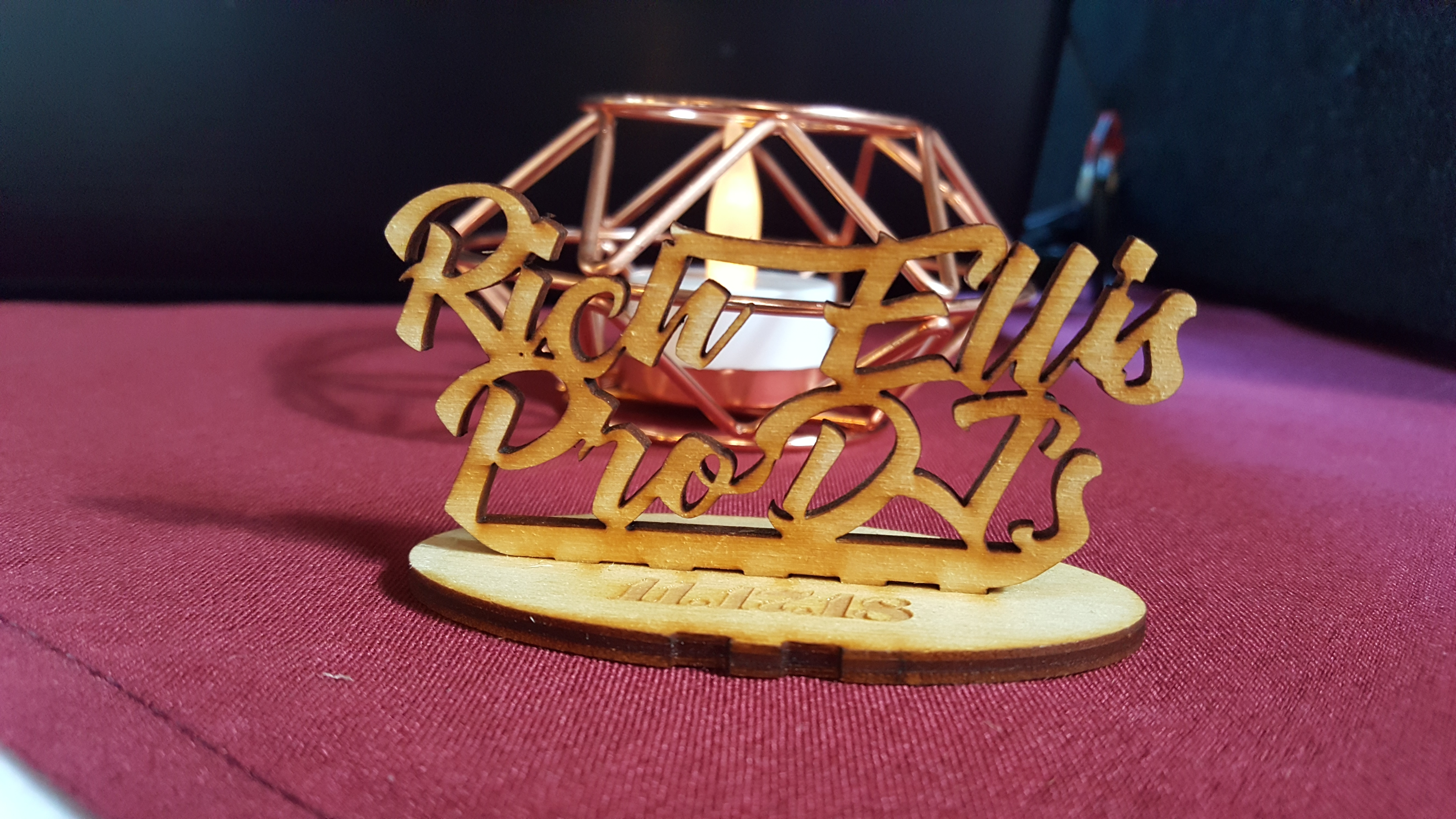 The karaoke was a big hit, so much so, there was not really any time for dancing. Guests signed up to sing everything from "Man In The Mirror" and "Fat Bottomed Girls" to "Wannabe" and "Uptown Funk". We finished the afternoon with the newlyweds and wedding party leading everyone in Journey's "Don't Stop Believin'."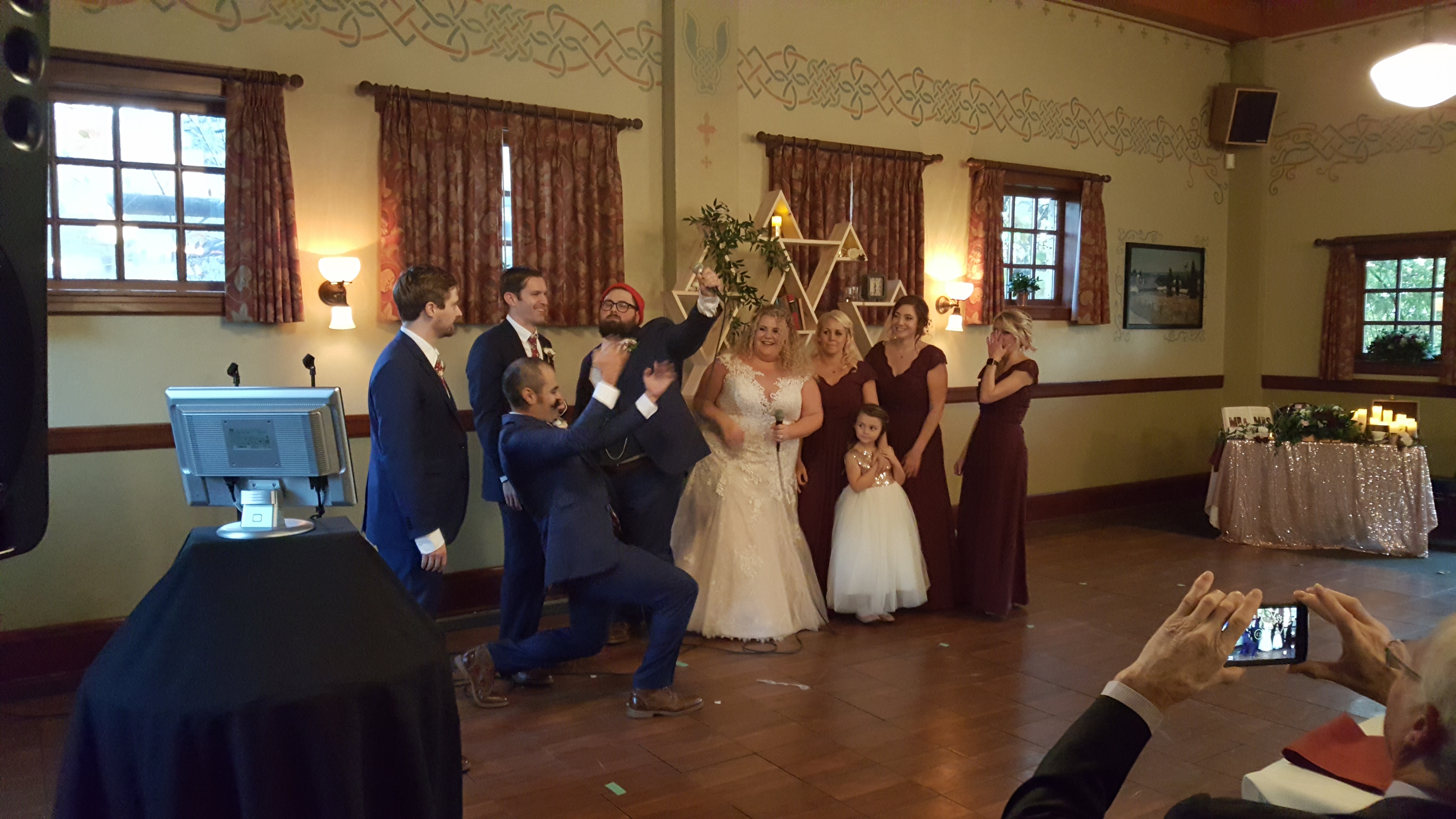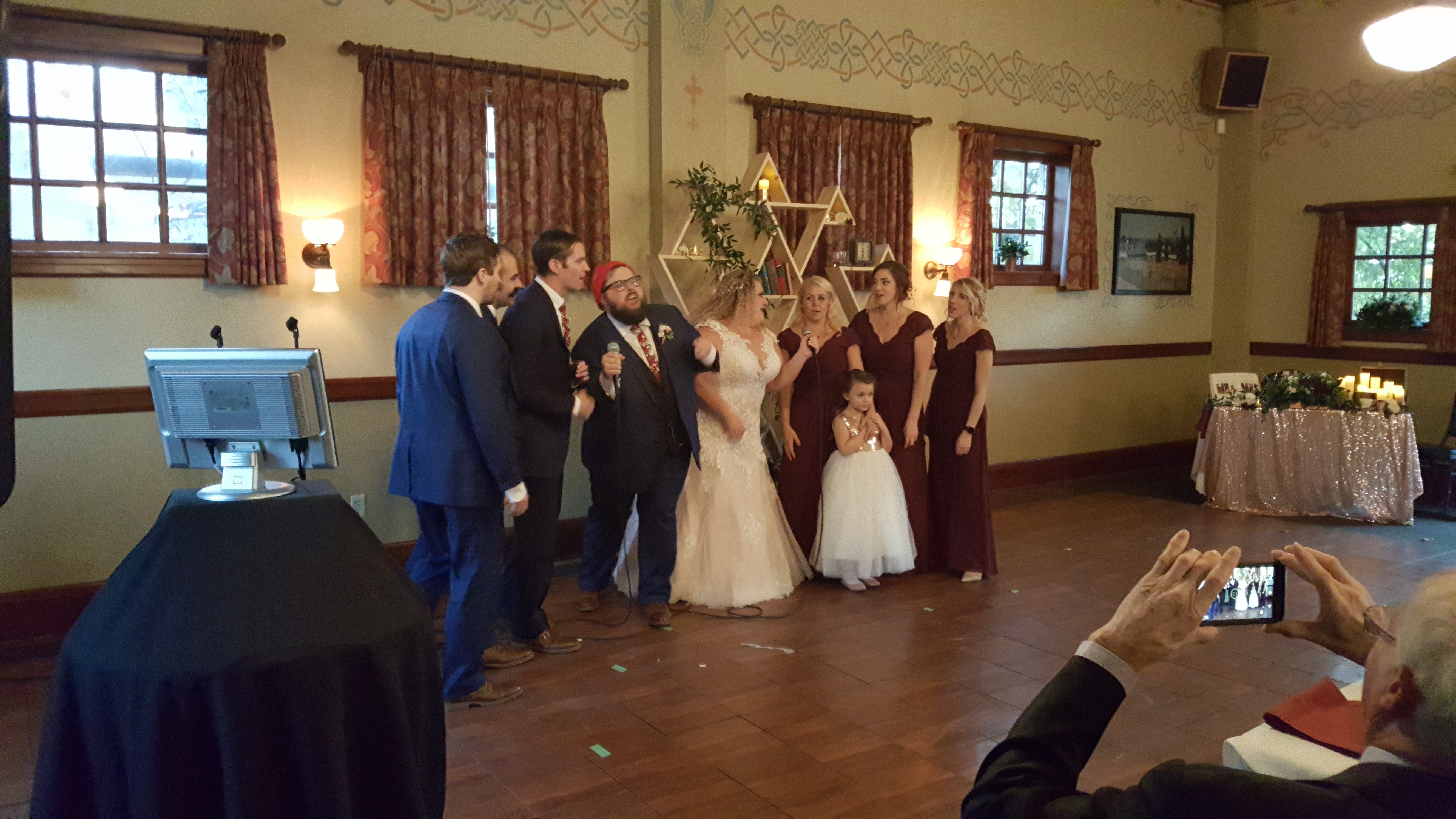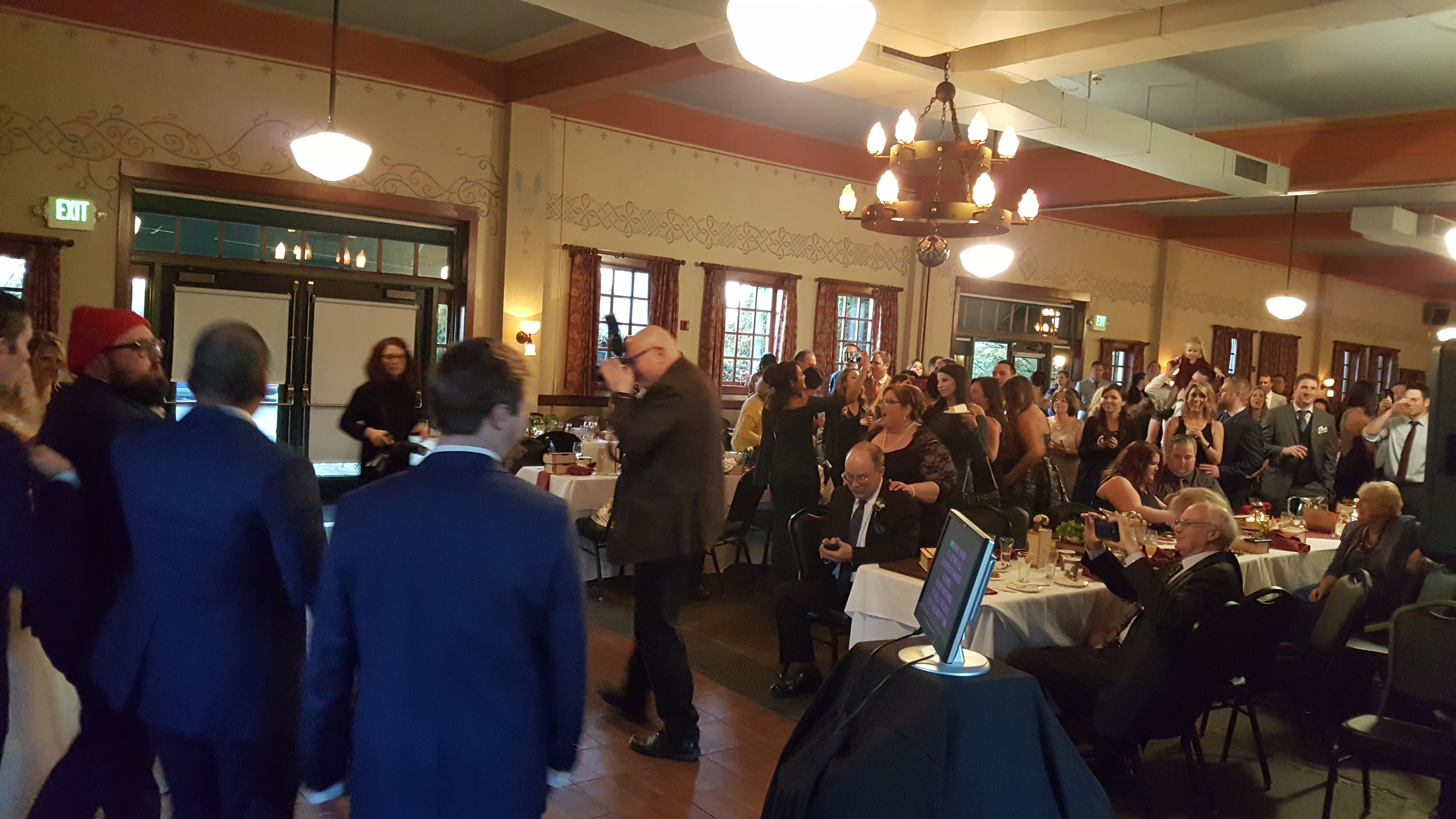 Congratulations Jenn and Zach and thank you for choosing PRO DJs.


Nearly 80 guests attended Elyse and Kelby's wedding Camas Meadows Golf Club on Saturday, October 13, 2018.

The weather was absolutely perfect for this time of year… sunshine and around 70 degrees for the ceremony that began at 3pm in the gazebo on the golf course. With my main sound system set-up for the reception, I used a second mixer and cordless lapel microphone to provide music and sound for the wedding.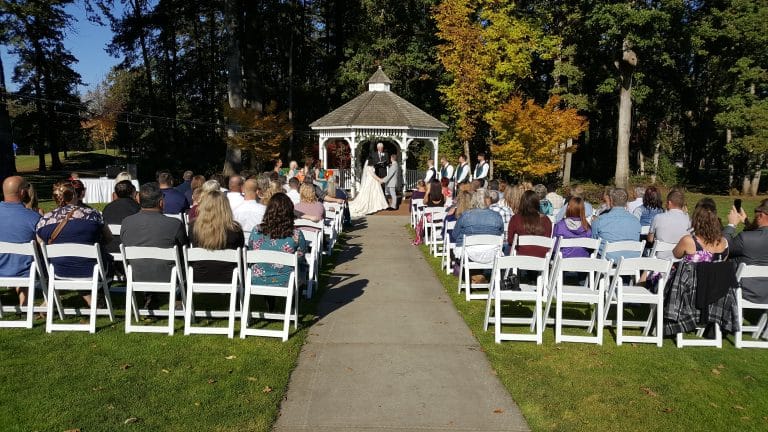 Wedding Camas Meadows Golf Club Ceremony Highlights:
Wedding Party Entrance: Kenny Chesney – Me & You
Bride Entrance: Christina Perri – A Thousand Years
Sand Ceremony: George Strait – Cross My Heart
Bride/Groom Exit: Hunter Hayes – Wanted
Following the ceremony, guests walked up the hill to the tent near the parking lot for the reception. For background music, I played a variety of songs, that featured mostly country artists, such as Tim McGraw, Lady Antebelum and Zac Brown Band, as requested by the newlyweds. Immediate family, the wedding party and bride and groom stayed in the gazebo area for photos.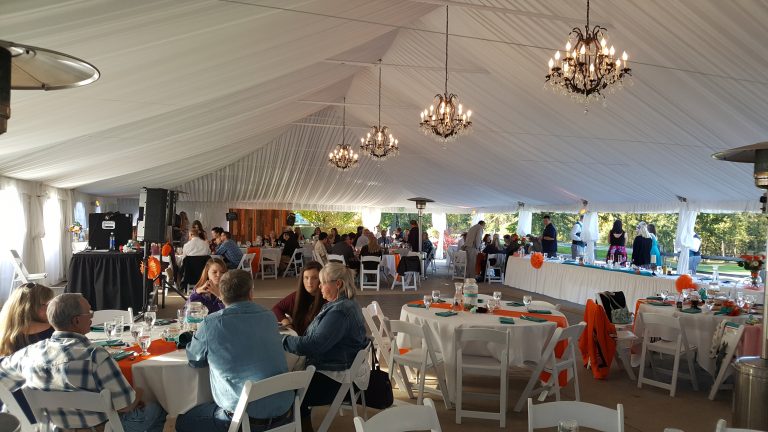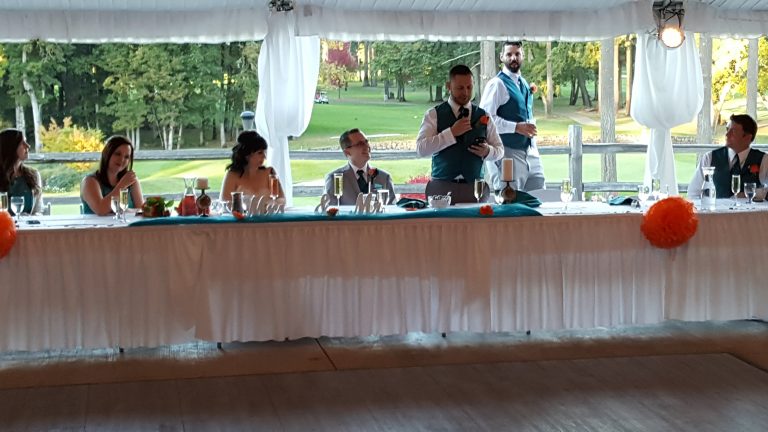 Wedding Camas Meadows Golf Club Reception Highlights:
Grand Entrance: Stevie Wonder – Signed Sealed Delivered…
Cake Cutting: Lonestar – Amazed
First Dance: Temptations – My Girl
Bride and Father Dance: Tim McGraw – My Little Girl
Groom and Mother Dance: The Band Perry – Mother Like Mine
Wedding Anniversary Dance: Alan Jackson – Remember When
Bouquet Toss: Big & Rich – Save A Horse (Ride A Cowboy)
Garter Toss: Maroon 5 – Sugar
Last Dance: Blake Shelton – God Gave Me You
Between the cake cutting and first dance, Elyse and Kelby played the shoe game. The wedding anniversary dance opened the dance floor to everyone and featured multiple couples married over 40 years. It was still early when the dancing began, so there was some ebb and flow the first 30 minutes or so, but then the bride and groom joined in and the party was under way.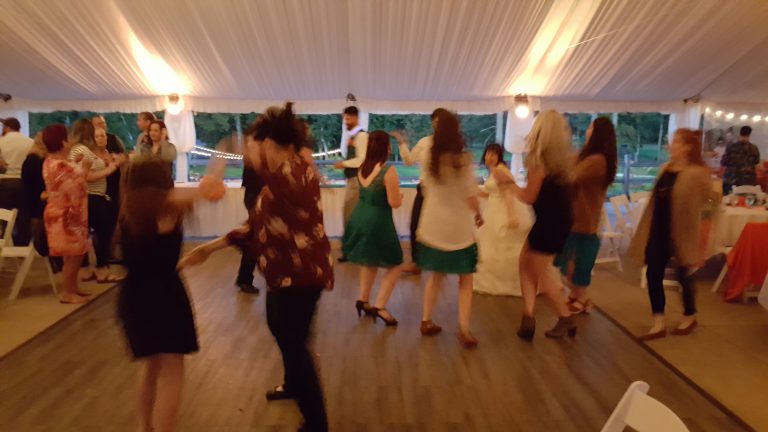 A good mix of favorites from the past like "Brown Eyed Girl" and "In The Mood" along with recent hit songs "Uptown Funk" and "Happy," plus a request for "Cupid Shuffle" kept things moving.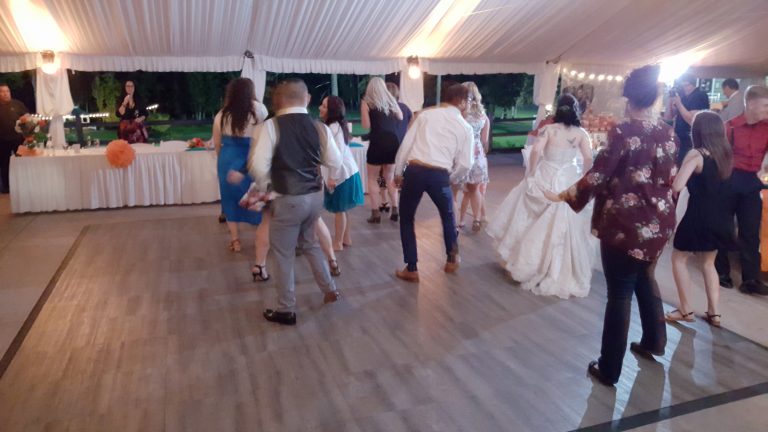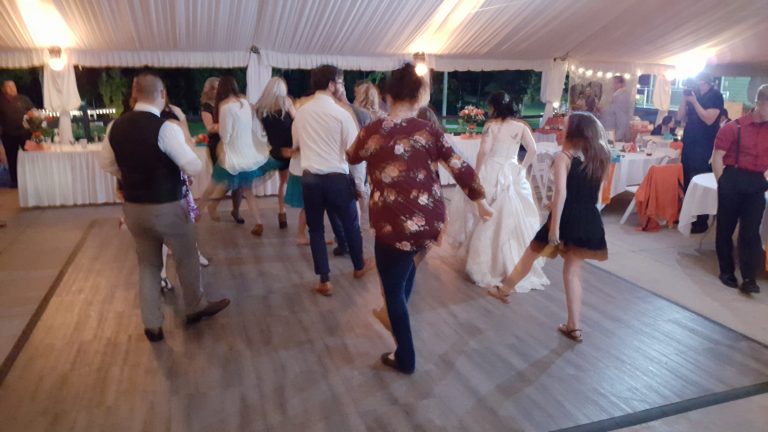 Congratulations Elyse and Kelby, who were referred to us by Jamie at Camas Meadows. Best wishes and thank you for choosing PRO DJs.


It was a perfect early fall day for Kristin and Michael's Waverley Country Club Milwaukie wedding on Monday, September 24, 2018. Under sunny skies and a comfortable high of 75 degrees, the ceremony was held outside on the lawn overlooking the Willamette River.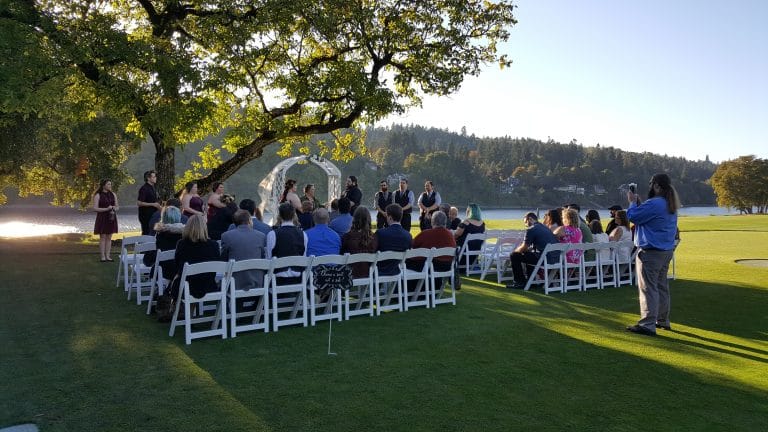 Waverley Country Club Milwaukie Wedding Ceremony Highlights:
Wedding Party and Bride Entrance: Train – Marry Me
Bride/Groom Exit: Marvin Gaye & Tammi Terrell – Ain't No Mountain High Enough
Following the ceremony, most guests gathered on a nearby patio outside, but some made their way to the dining area where I had a second sound system setup for the reception. Background music was a variety of soft rock hits from artists such as Stevie Wonder, Coldplay, and bride and groom favorites, Supertramp, The Lumineers, Frank Sinatra and more.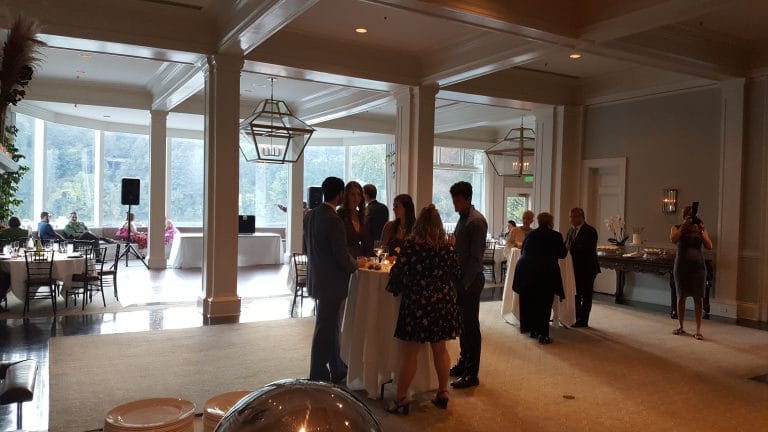 Waverley Country Club Milwaukie Wedding Reception Highlights:
Grand Entrance: Bruno Mars – Marry You
Cake Cutting: Maroon 5 – Sugar
First Dance: Elvis Presley – Can't Help Falling In Love
Bride and Father Dance: Van Morrison – Tupelo Honey
Bouquet Toss: Michael Buble – Haven't Met You Yet
Garter Toss: Michael Jackson – P.Y.T.
Last Dance: Semisonic – Closing Time
It may have been a Monday night, but judging by the dance floor, it certainly didn't feel like it. Guests were in the mood for dancing and the floor filled quickly for the opening slow dance and the fun fast songs that followed, including requests for The Contours "Do You Love Me" and "Boogie Wonderland" from Earth, Wind & Fire.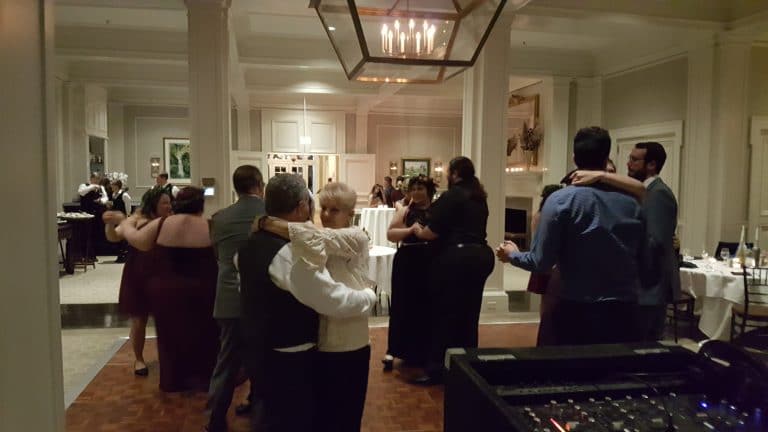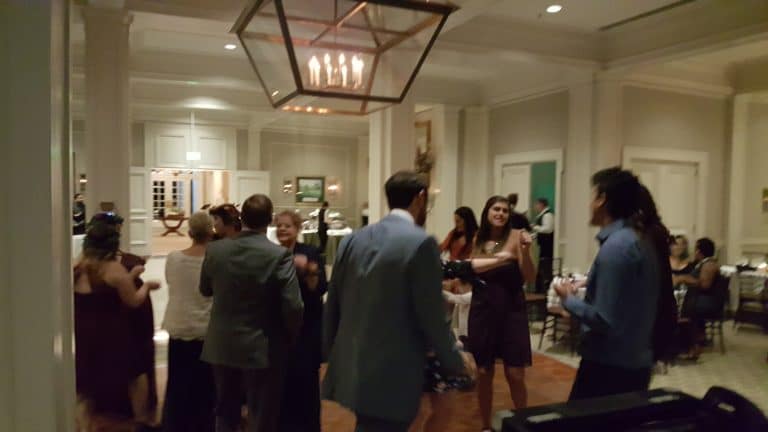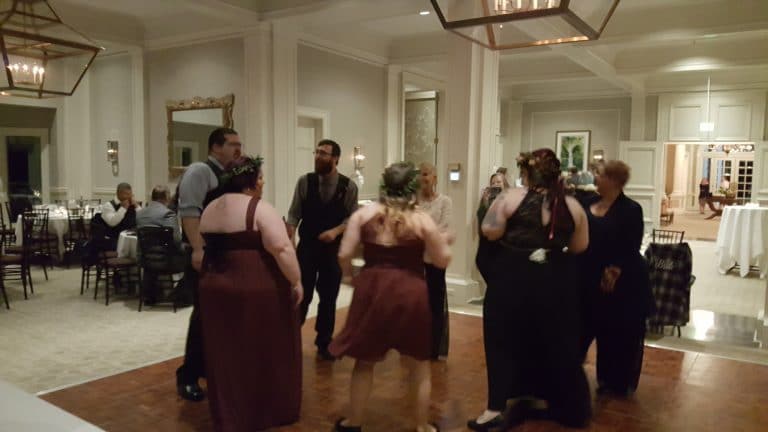 This was a fun group who appeared to have a great time enjoying the hits from Justin Timberlake, Bruno Mars and the Cupid Shuffle to Hall & Oates, Rick Astley and more.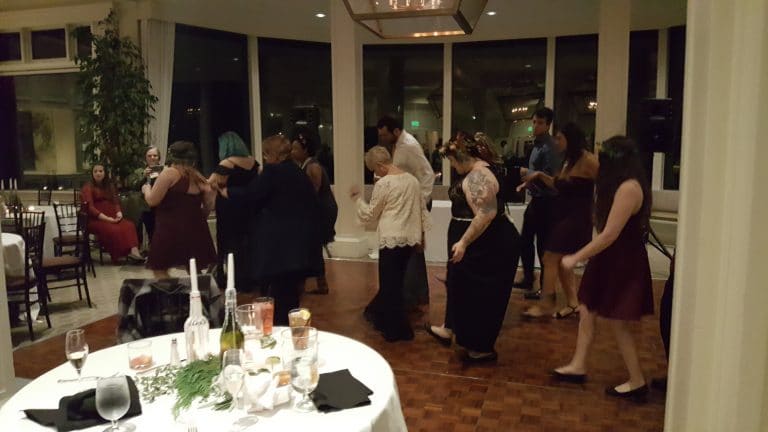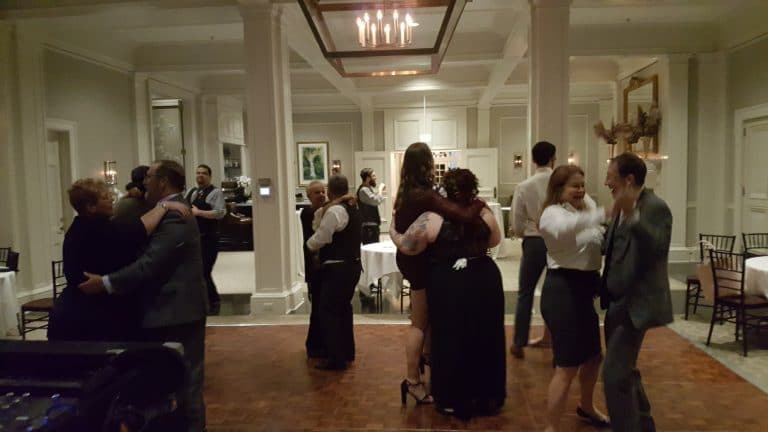 Congratulations Kristin and Michael!