Weddings

Meghan and Andrew's St. Helens Oregon wedding ceremony was held at a private residence near the top of Columbia Heights on Saturday, June 22, 2019.

The gentleman who owns the property said you can normally see Mt. Hood, Mt. St. Helens and Mt. Adams on a clear day. There was cloud cover for this one (photographers love that), but the temperature was perfect in the upper 60's and no rain.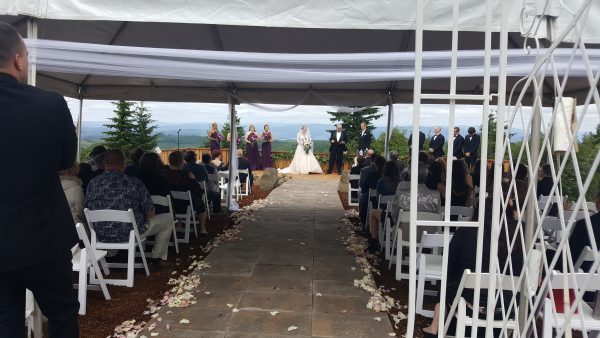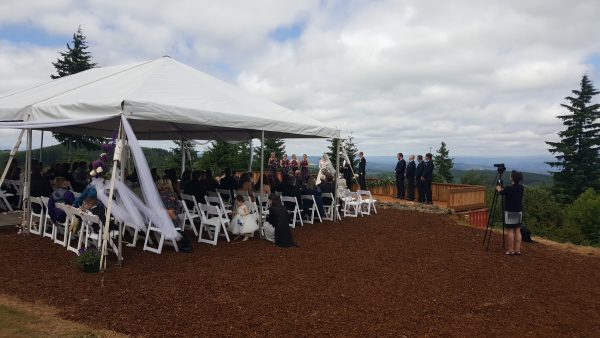 St. Helens Oregon Wedding Ceremony Highlights:
Wedding Party Entrance: Matt Stell – Prayed For You
Bride Entrance: Traditional Bridal Chorus (Classical)
Unity Sand: Leona Lewis – Footsteps in the Sand
Bride/Groom Exit: John Legend – Stay With You
Following the wedding ceremony, family photos were taken while guests relaxed with a cocktail on the lawn or on the deck. I played a mix of background music that included a variety of medium tempo hits, along with some Country favorites as requested by the bride.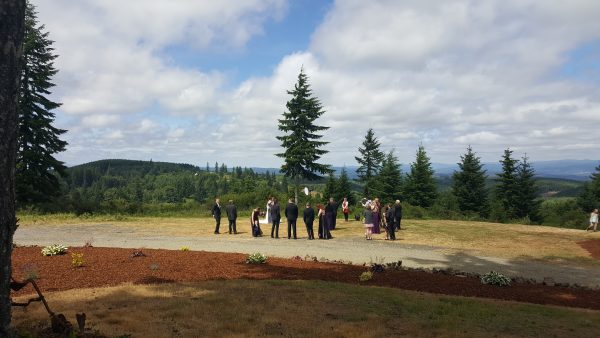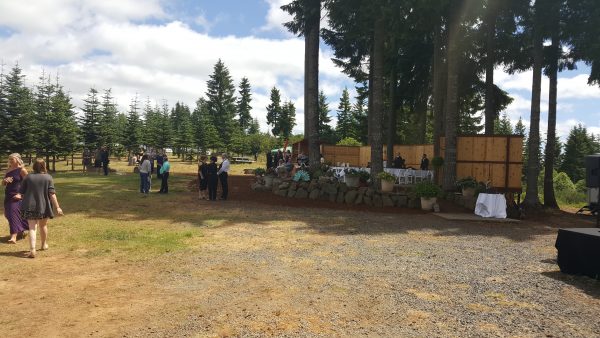 Around 3:45, I faded the music and took down my sound system to get a head start on the guests for the reception scheduled to begin before 5pm at the Elks Lodge in St. Helens (about a 30 minute drive).

As guests arrived for the reception, similar background music from the cocktail hour continued before I softened up the selections for dinner after the newlyweds arrived. There was no grand entrance at this time. This was scheduled for later in the reception when the curtain was opened and the 75 guests were joined by everyone else in attendance at the lodge that night 🙂

St. Helens Oregon Wedding Reception Highlights:
Grand March: LMFAO – Party Rock Anthem
Cake Cutting: James Taylor – How Sweet It Is (To Be Loved By You)
First Dance: Russel Dickerson – Yours
Bride and Father Dance: Brad Paisley – He Didn't Have To Be
Money Dance: Lil Nas X – Old Town Road, Garth Brooks – Friends and Low Places
Bouquet Toss: Beyonce – Single Ladies (Put A Ring On It)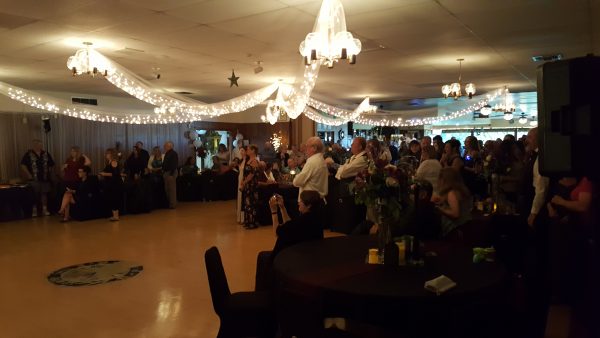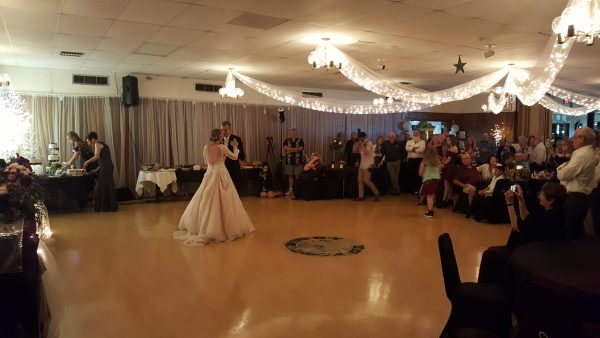 The opening slow dance from the Righteous Brothers got things going for everyone and with many older guests in attendance, selections from the Beatles, Van Morrison and a swing dance from Glenn Miller were well-received.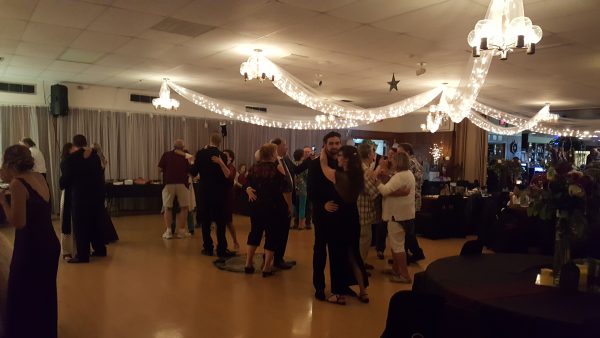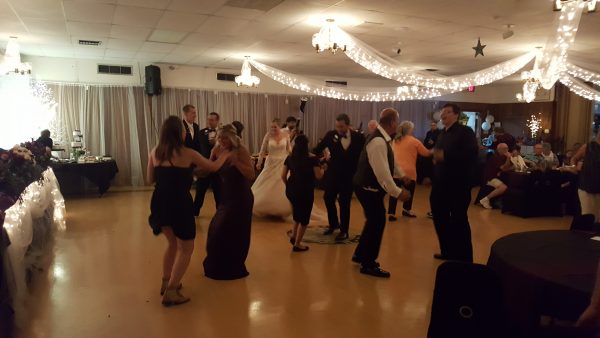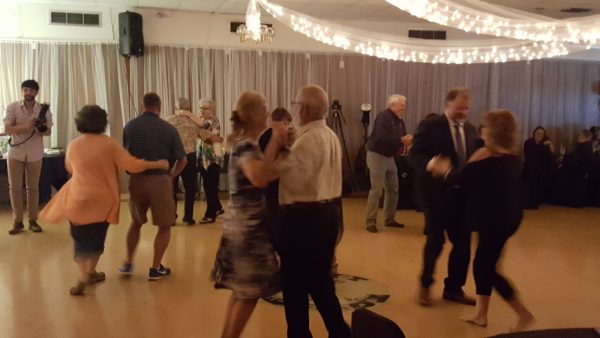 The rest of the night everyone enjoyed getting down to a variety of classics and recent hits, including 'Uptown Funk,' 'Shout,' 'Cupid Shuffle,' 'Footloose' and more.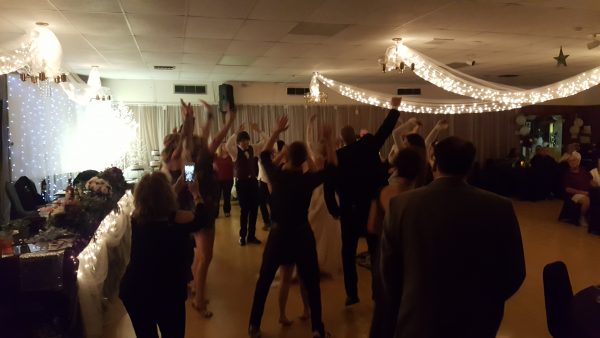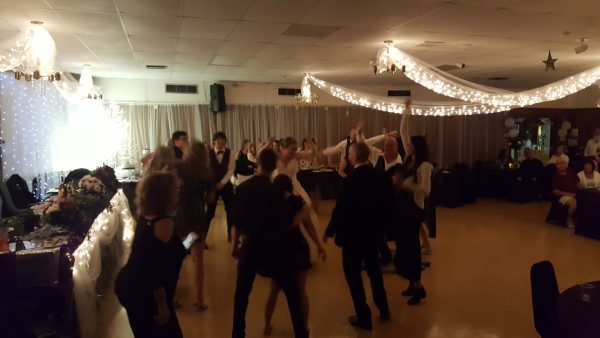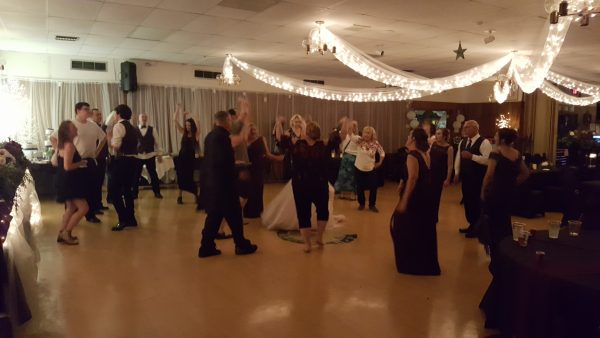 By the time I spun the final slow song, the dance floor had been rockin' a solid three hours.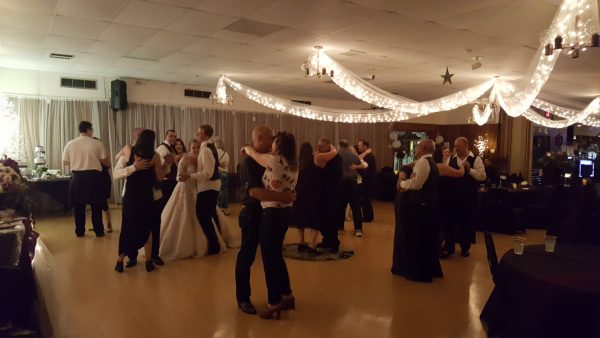 Best wishes Meghan and Andrew!


Lisa and Jason's Memorial Day McMenamins Edgefield wedding took place on Monday, May 27, 2019 in Troutdale, Oregon.

The ceremony and reception were held inside Blackberry Hall. Following the ceremony, guests had a chance to walk around the Edgefield property as the room was turned for the reception. This also allowed me time to set-up my sound system before returning with background music during dinner.

The newlyweds chose "Cross My Mind" by Arizona for their first dance. There were no other formal dances planned after, so I invited everyone out to the dance floor.

This was a great crowd and they were real excited to get going, turning out in large numbers for the opening slow dance, a request from the bride and groom for James Arthur's "Say You Won't Let Go." and then packing the floor the rest of the night… moving and grooving to everything from The Beatles and Four Seasons to Justin Timberlake, Beyonce and more.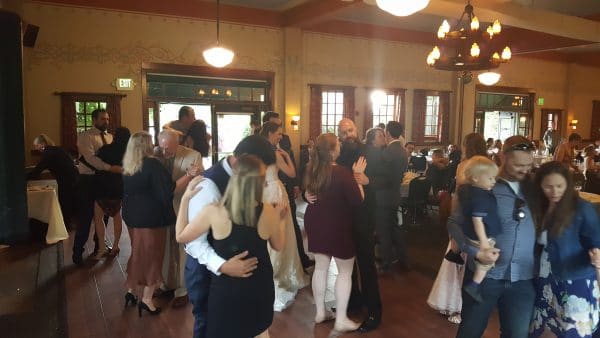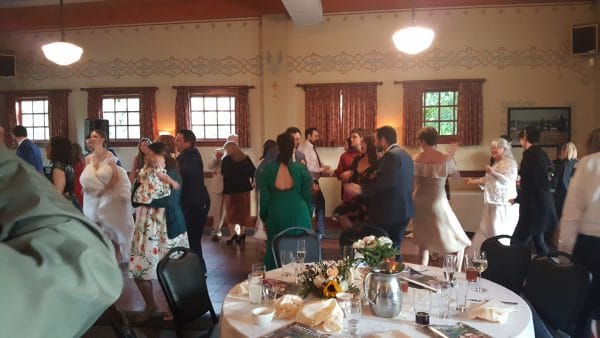 Lisa and Jason submitted a large number of out-of-the-mainstream song requests for their wedding reception… Most were selections from their Spotify playlists they enjoyed when travelling on road trips. Early on, Jason came up to me and said don't worry about that list, just play what moves their guests 🙂 However, that list proved to work well with this group over the final hour or so. Songs such as "Summerthing" by Afrojack, "Inner Ninja" by Classified and "Fireproof" by Coleman Hell were well received by their friends.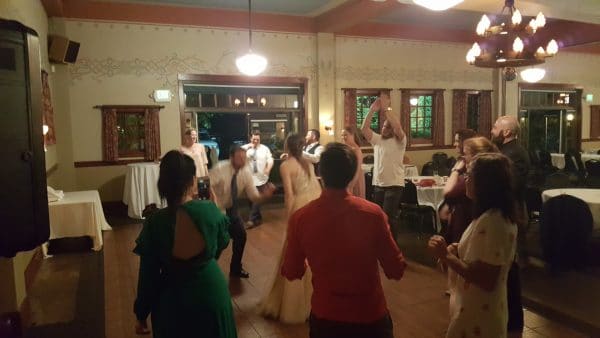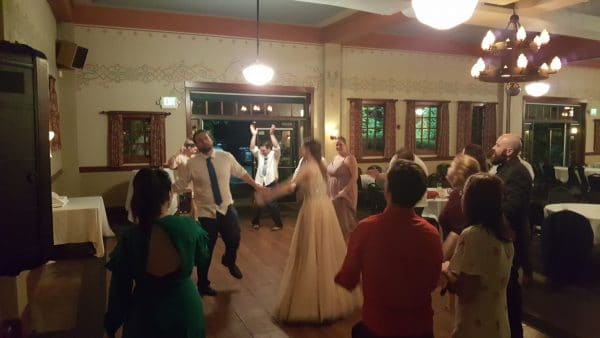 Congratulations Lisa and Jason and thank you for choosing PRO DJs.


Alyssa and Nick's The Aerie at Eagle Landing Wedding was held on Saturday, May 18, 2019 in Happy Valley, Oregon.

It was a cloudy day with rain in the forecast, but dry when I setup my second sound system for the ceremony outside. Of course, as soon as I was done, it began pouring down rain. Fortunately the corner cover was just enough to not impact my sound equipment.

As I took the following photo of the ceremony, thunder and lightning were raging behind me, but we made it to the conclusion in time.

The Aerie at Eagle Landing Wedding Ceremony Highlights:
Processional Entrance: Daniel Jang – Thinking Out Loud (Violin Cover)
Bride Entrance: Daniel Jang – Can't Help Falling in Love (Violin Cover)
Bride/Groom Exit: Bruno Mars – Marry You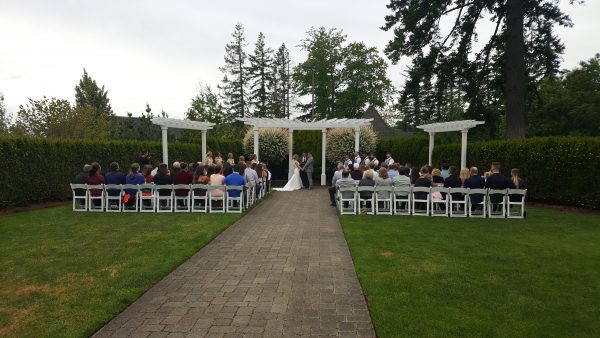 Everyone moved inside for the reception or hung out by the bar under the adjacent tent. I continued providing background music in both areas of the venue.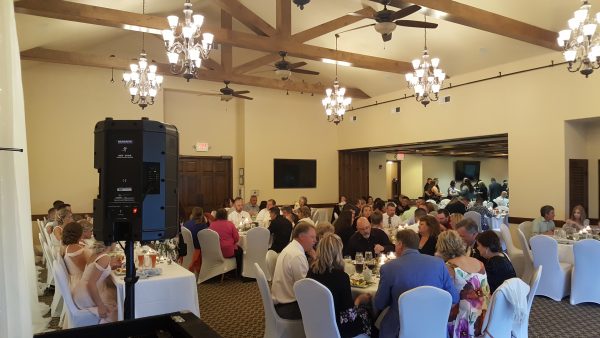 The Aerie at Eagle Landing Wedding Reception Highlights:
Grand Entrance: Gashi – My Year
Cake Cutting: Flo Rida & 99 Percent – Cake
First Dance: Dan + Shay – From the Ground Up
Bride and Father Dance: Gary Allan – Tough Little Boys
Groom and Mother Dance: Fleetwood Mac – Landslide
Money Dance: Lil Nas X – Old Town Road, Ludacris – Money Maker
Bouquet Toss: Beyonce – Single Ladies (Put A Ring On It)
Garter Toss: Ginuwine – Pony
Last Dance: N Sync – Bye Bye Bye
When the dance floor opened around 8pm, there was still plenty of daylight and room lights were turned up, but that didn't stop this group from getting right to it… filling the dance floor for the next two hours.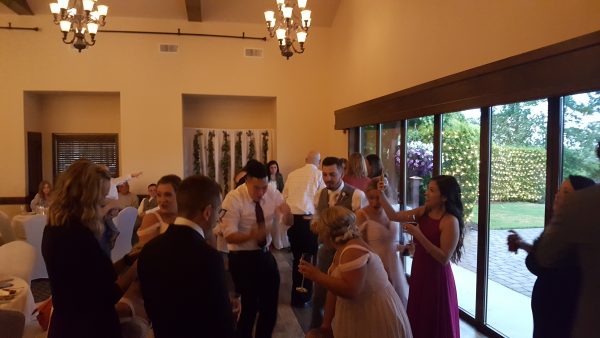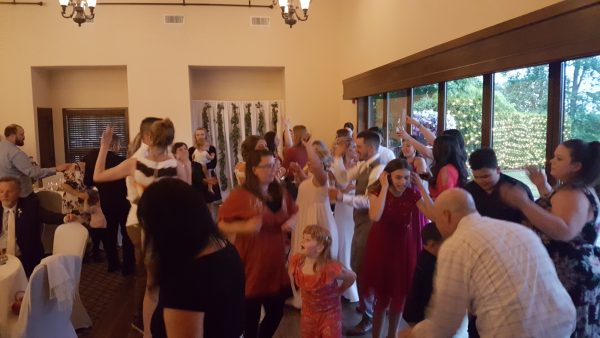 It was a dry evening and after awhile, the big glass doors were opened and guests danced inside and out… enjoying a few classics from the Bee Gees, Beatles and Earth, Wind & Fire, along with a heavy dose of recent hits from Justin Timberlake, Bruno Mars, Rihanna and more.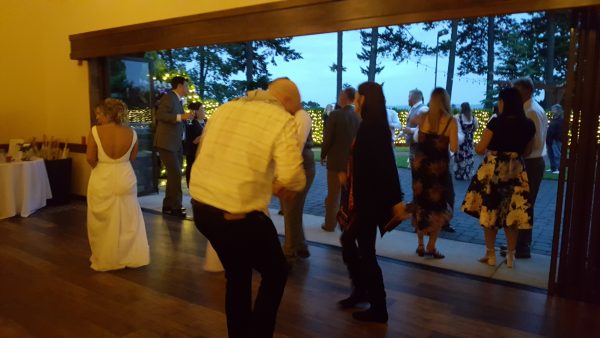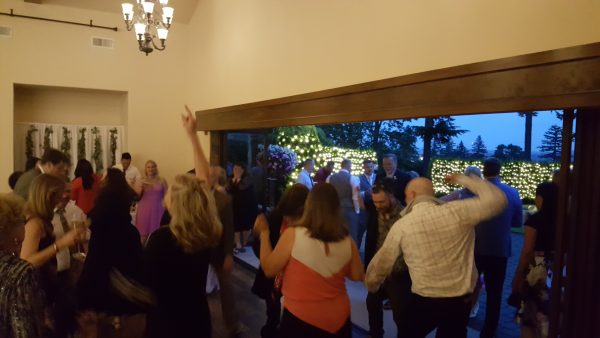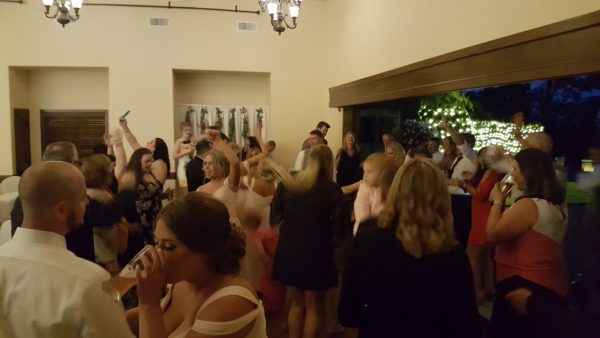 Congratulations Alyssa and Nick and thank you for choosing PRO DJs.

Post Event Satisfaction Survey:

Submitted by Alyssa Fivecoats (Alyssa and Nick's Wedding)
Event Date: Saturday, May 18, 2019
Event Type: Wedding & Reception
Event Location: The Aerie at Eagle Landing
Event Staff: Rich Ellis
Quality of Customer Service via Telephone: Excellent
Quality of Customer Service via Internet: Excellent
Quality of Customer Service at Event: Excellent
Friendliness of your Entertainer: Excellent
Promptness of your Entertainer: Excellent
Professionalism of your Entertainer: Excellent
Entertainer's Performance: Excellent
Entertainer's Appearance: Excellent
System Appearance: Excellent
Sound Quality: Excellent
Overall Volume Levels: Excellent
Music Selection: Excellent
Incorporation of Your Requests: Excellent
Lighting Effects: N/A
Equipment Appearance: Excellent
Overall Customer Service: Excellent
Planning Assistance: Excellent
Entertainer's Cooperation with Other Vendors: Excellent
Overall Performance Rating: Excellent
Would you recommend this service to others? Yes

Christina and Bryson's karaoke wedding reception was held Saturday, March 2, 2019 at McMenamins Edgefield in Troutdale, Oregon. They were actually married one week earlier in Sedona, Arizona, so this was a reception only for friends and family in the Portland area.

After most guests had gathered in Blackberry Hall, the newlyweds arrived around 6:30pm. I announced their grand entrance and they walked in to Led Zeppelin's "Whole Lotta Love." Dinner was ready about 20 minutes later and during this time, I played a mix of classic jazz selections as requested by the bride and groom.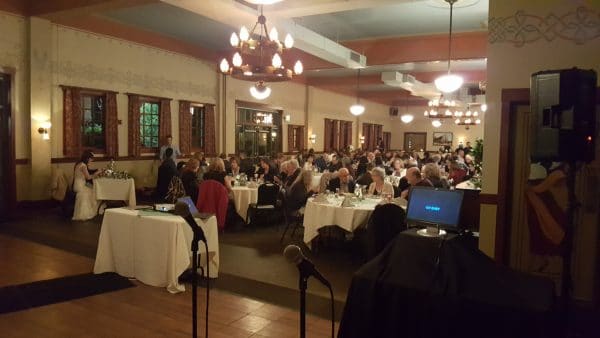 When inquiring with PRO DJs, Christina noted they were looking for a DJ who can also allow for our guests to sing karaoke after dinner. Following a short video of highlights from their Arizona wedding, Bryson was the first to go, singing The Cars "Just What I Needed." From there, I encouraged others to sign-up to sing their favorites, but also opened the dance floor.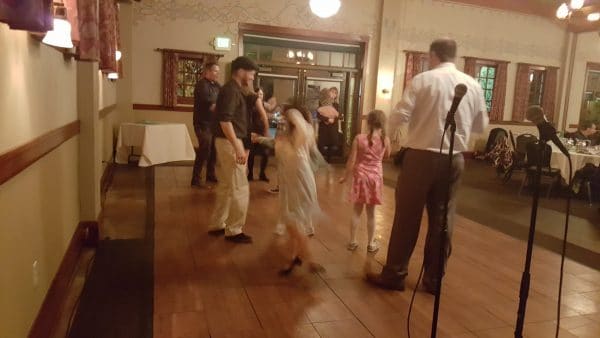 After a few more karaoke performances that included Queen's "Crazy Little Thing Called Love," it was mostly dancing for the next hour. The energy really picked up for "Uptown Funk," "Shut Up and Dance" and "Can't Stop the Feeling," but it was LMFAO's "Party Rock Anthem" that really moved the groom and fired up the crowd.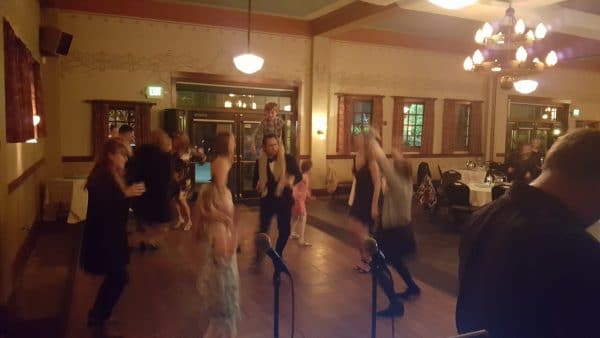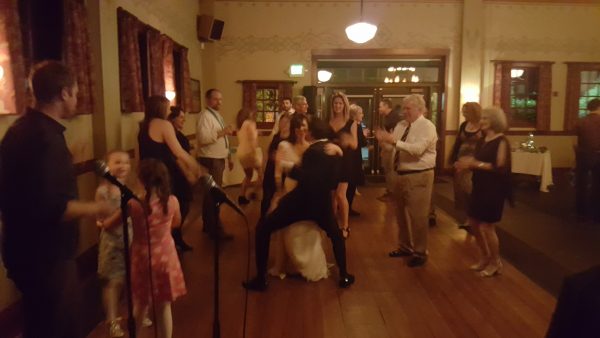 Karaoke returned for the last few songs including Bryson and his friends performing Weezer's "Say It Ain't So."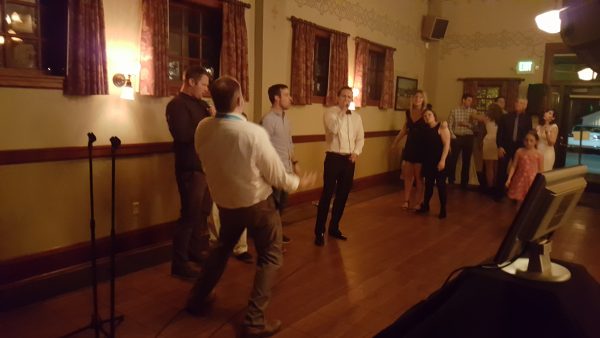 Congratulations Christina and Bryson and thank you for choosing PRO DJs.


Reflecting on 2018, PRO DJs has put together video slideshows of the many weddings and events we have performed over the past year.

WEDDINGS:

CLIENT FEEDBACK:

Rich was amazing from start to finish. He helped plan, answered our questions whenever we had them and coordinated with other vendors the day of the wedding. The music was great and exactly what we asked for. I will be recommending Pro DJs to everyone I know who needs a great DJ. Very professional and organized. Made our wedding day that much better! -Michelle Love (Michelle & Heather's Wedding) – Salem, OR (4-14-18)

Rich made everything so much easier! Being new to this idea of putting on a BIG wedding, it was marvelous to have a professional DJ who knew just what to do and kept everything on track. Thank you so much! Our daughter and son-in-laws special day could not have gone more smoothly! -Ronda Wallace (Laura Wallace & Nick Reyes Wedding) – Hood River, OR (6-2-18)

Thank you so much for the wonderful job you did with the music. Everyone had a wonderful time and we will be happy to refer others to you. Rich Ellis provided a marvelous service. We had a slide show of our lives together and Rich coordinated song selections that were beautifully suited to the mood of the slides. I was so delighted! -Mary & Dave Krug (50th Wedding Anniversary) – Portland, OR (8-19-18)

Thank you (Rich) for helping to make our wedding the special day that it was. -Aimee Boyd & Zachary Zandt Wedding – Washougal, WA (9-2-18)



BAR MITZVAHS & BAT MITZVAHS:

CLIENT FEEDBACK:

Thanks, Rich for making Yael's Bat Mitzvah a real blast. -Daniel Raider (Yael's Bat Mitzvah) – Portland, OR (3-3-18)

We would use Rich again! -Heidi Wolfson (Rebekah's Bat Mitzvah) – Beaverton, OR (3-24-18)

Steve was awesome. Really great. We were very happy with his professionalism and charm. -Julia Pickar (Max's Bar Mitzvah) – Portland, OR (5-5-18)

Steve made the party amazing! -Sharon Friedman (Mara's Bat Mitzvah) – Portland, OR (6-9-18)

We had another wonderful event with Rich! The music was great. Kids and adults all had a great evening. -Jaime Kean (Lucy's Bat Mitzvah) – Portland, OR (6-16-18)

Rich was a super resource and made our event! HUGE THANKS! -Leticia Kleinberg (Maia's Bat Mitzvah) – Portland, OR (6-30-18)

We've been to many Pro DJ events and many with Rich. We couldn't wait to have him at our event. He's so easy to work with and such a gentle soul. He know kids, knows how to read a room and knows how to make a party rock!!! Thank you for a most fabulous evening!! -Jennifer and Ken Zeidman (Ruthie's Bat Mitzvah) – Portland, OR (7-14-18)

Rich did a great job at my son's Bar Mitzvah. He kept the energy at the right level throughout the evening. He kept the kids entertained during cocktail hour with games, which allowed the adults to mingle without a lot of distraction. Then, when it was time to focus on dancing, he played a great mix of music that had young and old alike dancing. We requested a couple slow dances and those were added in at just the right time. Great, memorable evening. -Anna Winthrop (Jordan's Bar Mitzvah) – Portland, OR (8-25-18)

I just wish I had another kid so I could look forward to having Steve be our DJ again! Will have to work on that!!! -Debbie Plawner (Miriam's Bat Mitzvah) – Portland, OR (10-13-18)

He (Steve) was and is always a spectacular partner in the event. There is a reason so many people choose you all. He is amazing. All the kids know him. He can read a room well and know just what to do! -Marisa Brown (Eleanor's Bat Mitzvah) – Lake Oswego, OR (10-20-18)



CORPORATE & KARAOKE:

CLIENT FEEDBACK:

Rich did great. We will definitely book him for future events. -Ashton, Graffeo Chiropractic Clinic – Portland, OR (1-6-18)

Rich was the Best! It was a pleasure working with you and thank you for making our company picnic a success! I know we will be working with you again in the future. -Kathy Korb, DSV Road Transport Company Picnic – Portland, OR (8-12-18)

Everything was wonderful, there is nothing I can think of that could have been done better. Rich was a great DJ/KJ, and I would highly recommend Pro DJs for any event. -Shelly Garteiz, BillerudKorsnäs Company Karaoke Party – Portland, OR (12-4-18)

We would like to go ahead and reserve for (December 2019) at Embassy Suites again. -Contract Furnishings Mart Company Holiday Party – Tigard, OR (12-8-18)

Rich did an Excellent job! Everyone had a great time! -Carly Gray, The Home Depot Holiday Party – Portland, OR (12-9-18)

Rocked the event!!!!! Dj was perfect!!!!! I'm going to hire again! -Tracy Burback–Munoz, Private Karaoke Christmas Party – Battle Ground, WA (12-15-18)



Click Here for more photos, feedback and event recaps.