Private Parties

The only marine division never to serve on U.S. soil gathered for a reunion on Friday, September 21, 2012 in the Grand Ballroom II at the Hilton Hotel located in downtown Portland, Oregon.

The Sixth Marine Division was formed during World War II in the South Pacific and also disbanded there after taking Okinawa, Japan.

The majority of veterans and their spouses are 92 years young, so I played an appropriate mix of music from the 30's, 40's and 50's during cocktails and dinner, including selections from the Andrews Sisters, Benny Goodman and Glenn Miller.

After dinner, several guest speakers and a group photo, I opened the dance floor with Glenn Miller's 'Moonlight Serenade'. Other popular songs during the war followed and many couples danced and enjoyed the memorable music.

Post Event Satisfaction Survey:

"Excellent service, quality, friendliness etc. All the veterans, wives, families were all extremely happy with the music!"  -Sharon Woodhouse
Event Date: Friday, September 21, 2012
Event Type: Reunion
Event Location: Portland Hilton
Event Staff: Rich Ellis
Quality of Customer Service via Telephone: Excellent
Quality of Customer Service via Internet: Excellent
Quality of Customer Service at Event: Excellent
Friendliness of your Entertainer: Excellent
Promptness of your Entertainer: Excellent
Professionalism of your Entertainer: Excellent
Entertainer's Performance: Excellent
Entertainer's Appearance: Excellent
System Appearance: Excellent
Sound Quality: Excellent
Overall Volume Levels: Excellent
Music Selection: Excellent
Incorporation of Your Requests: Excellent
Lighting Effects: N/A
Equipment Appearance: Excellent
Overall Customer Service: Excellent
Planning Assistance: Excellent
Entertainer's Cooperation with Other Vendors: N/A
Overall Performance Rating: Excellent
Would you recommend this service to others? Yes

It was an eventful weekend for Kyle, Leah and their young girls Alisandra and Anesthesia, as family and friends sent them off with a fun going away party on Saturday, June 2, 2012 at the McMenamins Old Church and Pub in Wilsonville, Oregon.

They are moving to Austin, Texas soon and did I mention, Leah and Kyle also got married the day before? So this was a celebration for two reasons, but more a chance to spend quality time with people who were a part of their lives while living in the Northwest.

It was a casual atmosphere for dinner. I was set-up inside, but most guests chose to be outside on such a nice day. Of course, they didn't want to miss the fun and eventually made their way inside for dancing.

The kids got us started and brought lots of energy as I spun some of the latest hit music. That energy was contagious and the adults couldn't resist for very long. We had a good run of fun on the dance floor to a variety of music that included 80's classics such as 'Girls Just Wanna Have Fun' and 'Thriller' along with current Top 40.

The night ended with Kyle and Leah's favorite 'American Pie' from Don McClean and a fitting 'God Blessed Texas' from Little Texas. Best wishes on your new life in the 'Lone Star' state.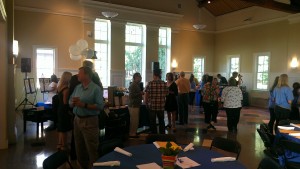 The Spanish Immersion program at West Sylvan Middle School received a big funding boost on Saturday, May 12, 2012 inside the Bauccio Commons on the campus of the University of Portland.
Over 250 people participated in the silent and oral auction where they could bid on such items as travel packages, gift baskets that included plenty of wine and student artwork.
The silent auction began at 5:30pm and as guests arrived, I played a mix of uptempo music featuring all Latin guitars. This particular sound provided a lot of energy without being too busy so people could engage in conversation comfortably and a warm, sunny day outside, lent a 'South of the Border' feel.
Following the oral auction, guests were welcome to stay for dancing. It didn't hurt that I was set-up right next to the bar 🙂 However, the bright lights in the large commons had to remain on, so it appeared to be a bit of a challenge.
After a few 'think about it' songs, the numbers picked up and we had a good 90 minute run with a packed dance floor getting their groove on to the latest hit music (Maroon 5, Flo Rida, Rihanna) with a few oldies sprinkled in (Rick James, Sugarhill Gang).  It was a fun way to wrap a successful evening.
Thank you Auction Chair, Dickey for choosing PRO DJs.
Post Event Satisfaction Survey:
"You were fantastic Rich..Sorry I was checking out when you left and did not get a chance to thank you!!"
-Dickey McMath
Event Date: Saturday, May 12, 2012
Event Type: Auction/Party
Event Location: University of Portland (Bauccio Commons)/Portland, Oregon
Event Staff: Rich Ellis
Quality of Customer Service via Telephone: Excellent
Quality of Customer Service via Internet: Excellent
Quality of Customer Service at Event: Excellent
Friendliness of your Entertainer: Excellent
Promptness of your Entertainer: Excellent
Professionalism of your Entertainer: Excellent
Entertainer's Performance: Excellent
Entertainer's Appearance: Excellent
System Appearance: N/A
Sound Quality: Excellent
Overall Volume Levels: Excellent
Music Selection: Excellent
Incorporation of Your Requests: Excellent
Lighting Effects: N/A
Equipment Appearance: Excellent
Overall Customer Service: Excellent
Planning Assistance: Excellent
Entertainer's Cooperation with Other Vendors: Excellent
Overall Performance Rating: Excellent
Would you recommend this service to others? Yes

The Leftbank Annex near the Broadway Bridge in Portland, Oregon holds up to 1,500 people on the main level and it was packed with people ready to bid on items to support Oregon Episcopal School on Saturday, March 10, 2012. Meanwhile, preparations were under way in the basement for auction staff and those who bid on a chance to attend the afterparty to let loose with a glass of wine and rockin' dance tunes.

That's where I came in and this group came ready to play. The dance floor was in tune from the opening number and was packed from the window to the wall most of the night. The Auction Theme was 'Rock Music' and some came dressed as their favorite rock star or wearing a concert t-shirt. After an AC/DC sighting, I rolled 'You Shook Me All Night Long' as part of a dose of heavy 80's, but some current music went over just as well. Crowd favorites also included 'Come On Eileen' from Dexy's Midnight Runners and Madonna's 'Vogue'.

Big thanks to Julie and Rebecca for the opportunity… it was a great time. -Rich

Post Event Satisfaction Survey:

"I was present for the actual function but a committee member did all coordination with Rich. All correspondence was prompt and we booked several months out which was nice to have off the list!"  -Rebecca Roberts (OES Auction Chair)
Event Date: Saturday, March 10, 2012
Event Type: Private Party
Event Location: Leftbank Annex/Portland, Oregon
Event Staff: Rich Ellis
Quality of Customer Service via Telephone: Excellent
Quality of Customer Service via Internet: Excellent
Quality of Customer Service at Event: Excellent
Friendliness of your Entertainer: Excellent
Promptness of your Entertainer: Excellent
Professionalism of your Entertainer: Excellent
Entertainer's Performance: Excellent
Entertainer's Appearance: Excellent
System Appearance: Excellent
Sound Quality: Excellent
Overall Volume Levels: Excellent
Music Selection: Excellent
Incorporation of Your Requests: Excellent
Lighting Effects: Excellent
Equipment Appearance: Excellent
Overall Customer Service: Excellent
Planning Assistance: Excellent
Entertainer's Cooperation with Other Vendors: Excellent
Overall Performance Rating: Excellent
Would you recommend this service to others? Yes

They had a great time and word got out after last year's event… so much so, that attendance increased 50 percent at this year's annual Clark County Newcomers Club Holiday Party held at Club Green Meadows in Vancouver, Washington. It was nice to hear they enjoyed themselves last December and chose to have me back.

Members of this club see each other often, so they are comfortable together and that made for a hoppin' dance floor. Most guests are age 60 and older and they really loved music from the 50's and 60's, including Elvis, The Beatles and Motown hits.

Thanks to the committee for again choosing PRO DJs. Happy Holidays. -Rich

Post Event Satisfaction Survey:

"Everything was GREAT!" -Eileen Granat, Clark County Newcomers Club
Event Date: Friday, December 9, 2011
Event Type: Holiday Party
Event Location: Club Green Meadows, Vancouver, WA
Event Staff: Rich Ellis
Quality of Customer Service via Telephone: Excellent
Quality of Customer Service via Internet: Excellent
Quality of Customer Service at Event: Excellent
Friendliness of your Entertainer: Excellent
Promptness of your Entertainer: Excellent
Professionalism of your Entertainer: Excellent
Entertainer's Performance: Excellent
Entertainer's Appearance: Excellent
System Appearance: Excellent
Sound Quality: Excellent
Overall Volume Levels: Excellent
Music Selection: Excellent
Incorporation of Your Requests: Excellent
Lighting Effects: Excellent
Equipment Appearance: Excellent
Overall Customer Service: Excellent
Planning Assistance: Excellent
Entertainer's Cooperation with Other Vendors: Excellent
Overall Performance Rating: Excellent
Would you recommend this service to others? Yes