Karaoke Party

Andrea and Marshall's karaoke wedding was held Friday, August 24, 2018 at McMenamins Kennedy School in Portland, Oregon.

The reception was in the Gym with the ceremony outside in the adjacent courtyard. I setup my sound system in the corner so I could provide music and sound for both, including a microphone on a stand for two readings and a lapel microphone for the officiant.

Karaoke Wedding Ceremony Highlights:
Wedding Party and Bride/Groom Entrance: The Pretenders – Message of Love
Bride & Groom Exit: Gin Wigmore – I Do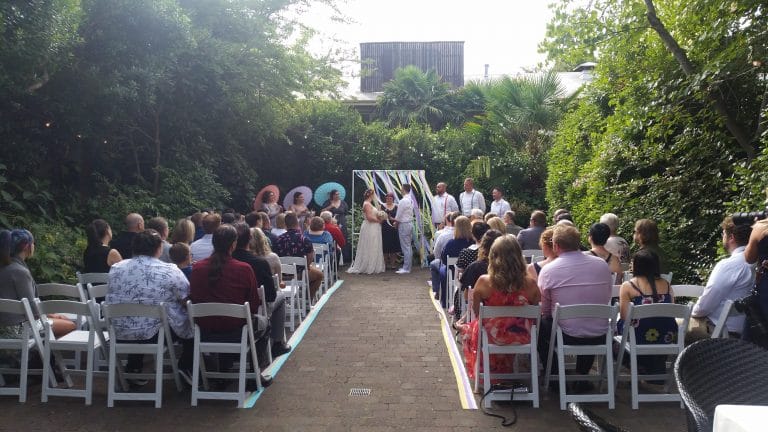 Following the ceremony, everyone made their way inside for drinks and refreshments as the newlyweds posed for additional photos. Background music was a mix of Rock and R&B selections as requested by the bride and groom, including artists such as Stevie Wonder, Beach Boys, Childish Gambino, Alabama Shakes and more.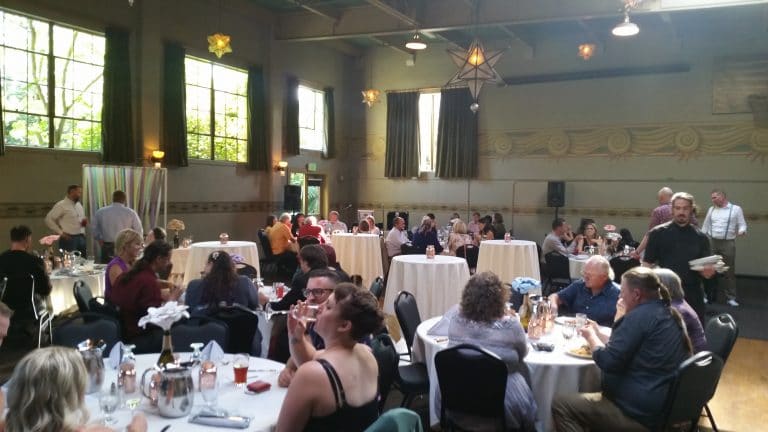 Karaoke Wedding Reception Highlights:
Grand Entrance: Abba – I Do, I Do, I Do, I Do, I Do
First Dance: Alabama Shakes – I Found You
Cake Cutting: Folk Uke – In Case We Die
Last Dance: Beatles – When I'm 64

After the cake cutting, Andrea opened the karaoke by singing "I'll Stand By You" (Pretenders). She was then joined by her father to perform "Proud Mary" (CCR). As expected, and maybe because it was still early (7pm), we didn't have many ready to keep the karaoke going, but that would certainly change later on. I opened the dance floor with a slow song and then played a variety of hits, including "Hey Ya", "Ain't Too Proud To Beg", "Jailhouse Rock" and more.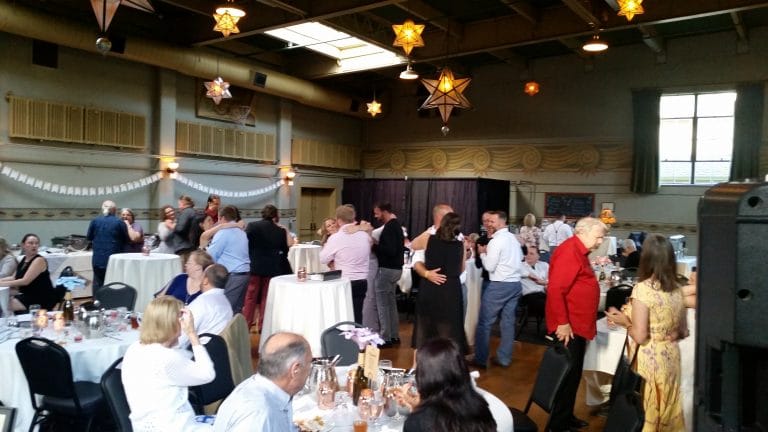 The karaoke picked up about an hour later as guests signed up to sing everything from "Keeping The Faith" and "Careless Whisper" to "Super Bass" and "I Want It That Way". Then came a heavy set of 90's hip hop for the dance floor pulled from the newlywed's request list… "California Love", "Hypnotize", "No Diggity", "Humpty Dance" and more. We finished the night with more karaoke performances, including Andrea singing the finale, "Dream A Little Dream of Me" (Mama Cass).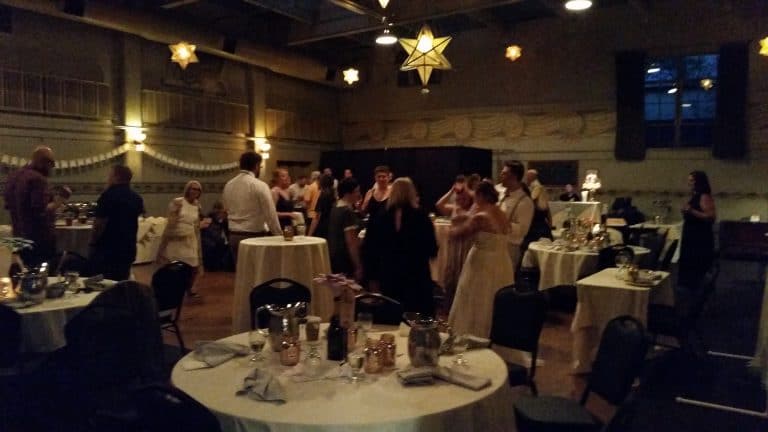 Congratulations Andrea and Marshall and thank you for choosing PRO DJs.


PRO DJs had the opportunity to perform at the La Crosse Footwear corporate karaoke party held at Grand Central Bowling Lounge in Portland, Oregon on Friday, November 4, 2016.

With bowling, games, photo booth and raffle, their was a lot of competition for attention, but following dinner, many guests found me setup in a side room adjacent to the bar and couldn't wait to belt out their favorites.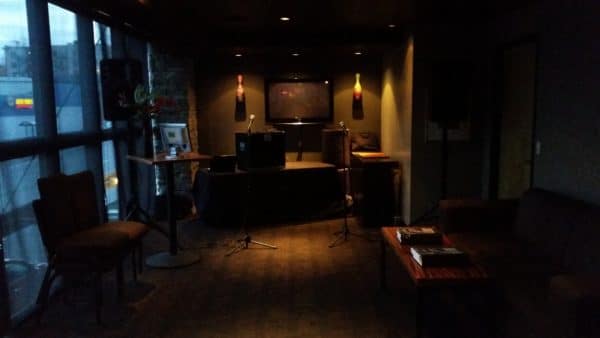 After Chris got us started with Queen's 'Bohemian Rhapsody' and Chelsea performed Maroon 5's 'Sunday Morning', we were off to strong start. Before the big raffle, Dave sang Ray Charles 'Georgia On My Mind' and John Mellencamp's 'Hurt So Good'. Ryan did Prince 'I Would Die 4 U' and Eric really fired up the group with Bon Jovi's 'Livin' On A Prayer'.

Following the raffle, we had about 30 minutes of time left, and I was able to pack in performances from Joe doing Tom Petty's 'American Girl', Lauren singing the Backstreet Boys 'Everybody (Backstreets's Back), Deanna and Molly performing 'Lady Marmalade' as done by Christina Aguilera w/Lil' Kim, Mya & Pink, and Chris wrapped up a wild night with Salt N' Pepa's 'Push it.'


Rick's Custom Fencing brought in PRO DJs for their corporate holiday karaoke party that followed dinner amd awards at Skamania Lodge in Stevenson, Washington on Saturday, December 6, 2014.

Right before the awards presentation began, I was able to discreetly setup on the other side of the room with anyone barely noticing and I was ready to go as soon as they turned the party over to me.

For karaoke, I normally play a few regular songs so guests have a chance to let me know what they would like to sing. However, when I asked if anyone was ready to go right at the beginning, David came running up and got us started with Corey Hart's 'Sunglasses at Night."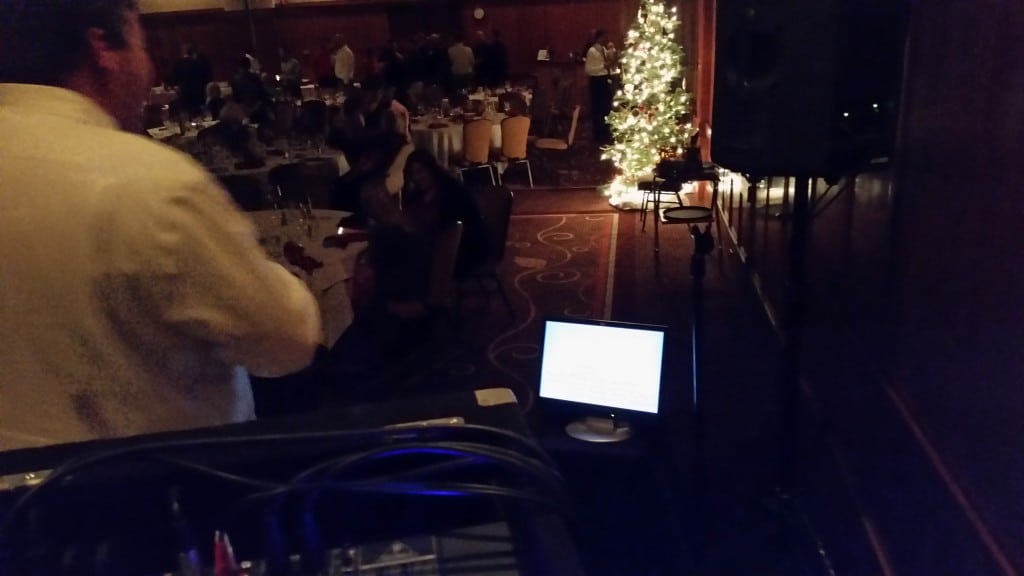 David sang a few other songs and so did Taylor, including Sheryl Crow's 'Sweet Child O'Mine' that was accompanied by a friend breakdancing on the opposite stage. The crowd was entertained and had a good time watching their co-workers and friends perform.


The final PRO DJs Portland wedding of 2012 took place on what was suppose to be the last day of civilization. We have been hearing about it for years, the Mayan calendar predicted the world would end on December 21, 2012. For Deanna and Cory, this seemed like the perfect day to tie the knot and to take it one step further, why not get married halfway up the Oregon mountain most likely to erupt 🙂

For this Mt Hood wedding, they chose to rent out four cabins at the Cooper Spur Mountain Resort and the ceremony took place outside just after twilight with a light snow falling. With about 40 guests in attendance, friends and family formed a circle around the bride and groom and an Indian medicine woman who performed the ceremony, as the music of the Native Flute Ensemble 'Deer Spirits Welcome the Dawn' played in the background.

After they were official, Cory had requested Billy Idol's 'White Wedding' followed by 'It's the End of the World As We Know It' from R.E.M. and the Dave Matthews Band's 'End of the World' and the celebration was officially under way.

Next, everyone took a short walk to the main lodge for a champagne toast before returning to the cabins for the reception. Each cabin hosted a different part of the reception, with cocktails and hors d'oeuvres in one cabin, dinner in another, dessert in a third cabin and finally karaoke and dancing with me in the main cabin. This worked out perfectly and everyone had a great time going door-to-door for each event.

The karaoke portion of the evening got off to a rockin' start with Deanna and several friends singing Pat Benatar's 'Hit Me With Your Best Shot' followed by Cory with Matchbox 20's '3 AM'. After that, the list of singers was long and diverse, they covered everthing from C.C.R. to Taylor Swift and about 15 women singing and dancing to Flo Rida's 'Low' really brought the house down in Cabin #4.

After several hours of rockin' the mic, the outdoor hot tubs beckoned and on a beautiful night, this Mt Hood wedding came to a perfect end. Best wishes Deanna and Cory. Your guests won't soon forget this one.


Last year was so much fun for a group of employees from Intel, they decided to do it again… karaoke and dancing for their holiday party on Saturday, December 15, 2012. The venue this time was ALL of Turbine Hall inside the Oregon Museum of Science and Industry (OMSI) in SE Portland.

Employees and guests were seated for dinner around the exhibits and many I could not see from my central location, but the unusual arrangements were a pleasant change. For background music, they requested a variety of hits, with some holiday tunes blended in to mark the season.

Of course, the main reason they were here was karaoke and after a short speech by the boss and raffling off some prizes, they were ready to go. We experienced a little deja vu as the first singer this year was the same person who started us off last year. T.J. came up to me as soon as she arrived to check my new karaoke songs. She also informed me she had married the boyfriend she came to the party with last year 🙂

Next was Brad singing the Foo Fighter's 'Everlong', followed by Jimmy doing KISS' 'I Was Made For Lovin' You' and Amy singing 'Total Eclipse of the Heart' made famous by Bonnie Tyler. Much of the entire group got together for Journey's 'Don't Stop Believin' to close another fun night away from the office.

Thank you Jocelyn for allowing this Portland Karaoke DJ the opportunity to perform again at your event. Happy Holidays. -Rich