Company Parties

PRO DJs had the opportunity to perform at the FAST Enterprises corporate karaoke party held at Salishan Resort in Gleneden Beach, Oregon on Saturday, February 2, 2019.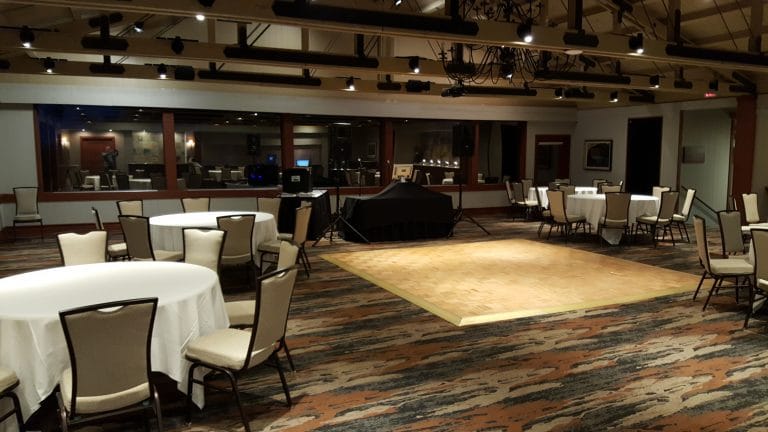 A long day of activities that included a late dinner at the Newport Aquarium didn't slow down this group who danced and sung well past Midnight.




After David got us started with the Barenaked Ladie's 'Be My Yoko Ono,' another David performed The Notorious B.I.G.'s 'Hypnotize.' I spun dance music selections in between from Justin Timberlake, TLC, Beyonce and requests for Britney Spears.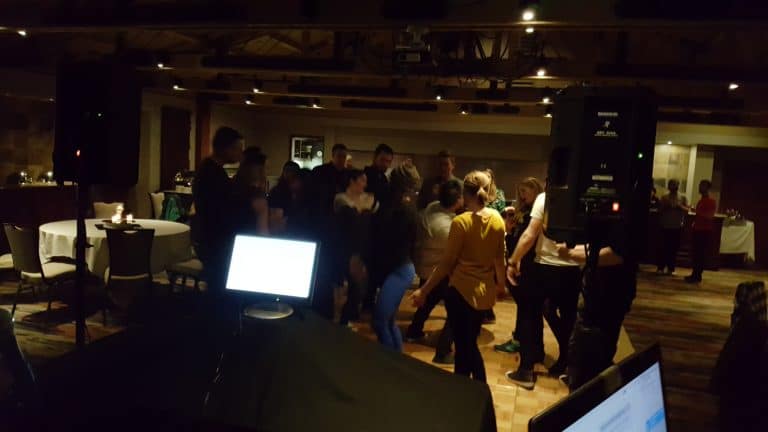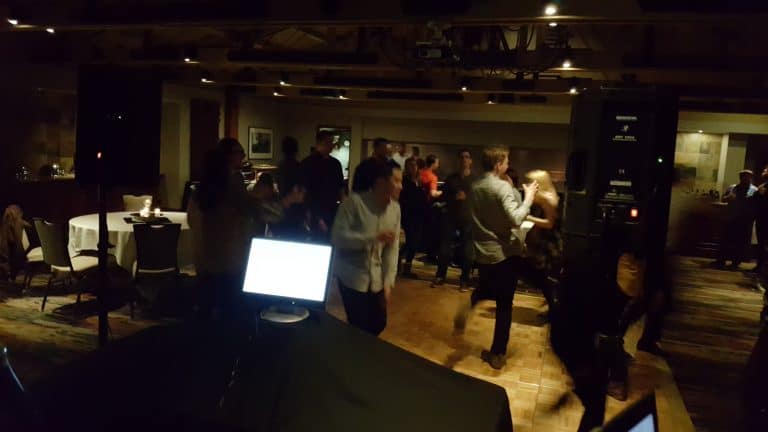 Other popular karaoke titles were "Uptown Funk," "Footloose," "Sweet Caroline," "Complicated" and more.

Post Event Satisfaction Survey:

"Rich came early and got everything set up. When we walked in he had good tunes going. We did Karaoke but when people didn't want to sing he had people out on the dance floor. I appreciated that he talked when he needed to but didn't by any means try to be the center of attention and he wasn't overbearing." -Kimberly R., FAST Enterprises – Salem, OR
Event Date: Saturday, February 2, 2019
Event Type: Company Party (Karaoke)
Event Location: Salishan Resort
Event Staff: Rich Ellis
Quality of Customer Service via Telephone: Excellent
Quality of Customer Service via Internet: Excellent
Quality of Customer Service at Event: Excellent
Friendliness of your Entertainer: Excellent
Promptness of your Entertainer: Excellent
Professionalism of your Entertainer: Excellent
Entertainer's Performance: Excellent
Entertainer's Appearance: Excellent
System Appearance: Excellent
Sound Quality: Excellent
Overall Volume Levels: Excellent
Music Selection: Excellent
Incorporation of Your Requests: Excellent
Lighting Effects: N/A
Equipment Appearance: Excellent
Overall Customer Service: Excellent
Planning Assistance: Excellent
Entertainer's Cooperation with Other Vendors: Excellent
Overall Performance Rating: Excellent
Would you recommend this service to others? Yes

Reflecting on 2018, PRO DJs has put together video slideshows of the many weddings and events we have performed over the past year.

WEDDINGS:

CLIENT FEEDBACK:

Rich was amazing from start to finish. He helped plan, answered our questions whenever we had them and coordinated with other vendors the day of the wedding. The music was great and exactly what we asked for. I will be recommending Pro DJs to everyone I know who needs a great DJ. Very professional and organized. Made our wedding day that much better! -Michelle Love (Michelle & Heather's Wedding) – Salem, OR (4-14-18)

Rich made everything so much easier! Being new to this idea of putting on a BIG wedding, it was marvelous to have a professional DJ who knew just what to do and kept everything on track. Thank you so much! Our daughter and son-in-laws special day could not have gone more smoothly! -Ronda Wallace (Laura Wallace & Nick Reyes Wedding) – Hood River, OR (6-2-18)

Thank you so much for the wonderful job you did with the music. Everyone had a wonderful time and we will be happy to refer others to you. Rich Ellis provided a marvelous service. We had a slide show of our lives together and Rich coordinated song selections that were beautifully suited to the mood of the slides. I was so delighted! -Mary & Dave Krug (50th Wedding Anniversary) – Portland, OR (8-19-18)

Thank you (Rich) for helping to make our wedding the special day that it was. -Aimee Boyd & Zachary Zandt Wedding – Washougal, WA (9-2-18)



BAR MITZVAHS & BAT MITZVAHS:

CLIENT FEEDBACK:

Thanks, Rich for making Yael's Bat Mitzvah a real blast. -Daniel Raider (Yael's Bat Mitzvah) – Portland, OR (3-3-18)

We would use Rich again! -Heidi Wolfson (Rebekah's Bat Mitzvah) – Beaverton, OR (3-24-18)

Steve was awesome. Really great. We were very happy with his professionalism and charm. -Julia Pickar (Max's Bar Mitzvah) – Portland, OR (5-5-18)

Steve made the party amazing! -Sharon Friedman (Mara's Bat Mitzvah) – Portland, OR (6-9-18)

We had another wonderful event with Rich! The music was great. Kids and adults all had a great evening. -Jaime Kean (Lucy's Bat Mitzvah) – Portland, OR (6-16-18)

Rich was a super resource and made our event! HUGE THANKS! -Leticia Kleinberg (Maia's Bat Mitzvah) – Portland, OR (6-30-18)

We've been to many Pro DJ events and many with Rich. We couldn't wait to have him at our event. He's so easy to work with and such a gentle soul. He know kids, knows how to read a room and knows how to make a party rock!!! Thank you for a most fabulous evening!! -Jennifer and Ken Zeidman (Ruthie's Bat Mitzvah) – Portland, OR (7-14-18)

Rich did a great job at my son's Bar Mitzvah. He kept the energy at the right level throughout the evening. He kept the kids entertained during cocktail hour with games, which allowed the adults to mingle without a lot of distraction. Then, when it was time to focus on dancing, he played a great mix of music that had young and old alike dancing. We requested a couple slow dances and those were added in at just the right time. Great, memorable evening. -Anna Winthrop (Jordan's Bar Mitzvah) – Portland, OR (8-25-18)

I just wish I had another kid so I could look forward to having Steve be our DJ again! Will have to work on that!!! -Debbie Plawner (Miriam's Bat Mitzvah) – Portland, OR (10-13-18)

He (Steve) was and is always a spectacular partner in the event. There is a reason so many people choose you all. He is amazing. All the kids know him. He can read a room well and know just what to do! -Marisa Brown (Eleanor's Bat Mitzvah) – Lake Oswego, OR (10-20-18)



CORPORATE & KARAOKE:

CLIENT FEEDBACK:

Rich did great. We will definitely book him for future events. -Ashton, Graffeo Chiropractic Clinic – Portland, OR (1-6-18)

Rich was the Best! It was a pleasure working with you and thank you for making our company picnic a success! I know we will be working with you again in the future. -Kathy Korb, DSV Road Transport Company Picnic – Portland, OR (8-12-18)

Everything was wonderful, there is nothing I can think of that could have been done better. Rich was a great DJ/KJ, and I would highly recommend Pro DJs for any event. -Shelly Garteiz, BillerudKorsnäs Company Karaoke Party – Portland, OR (12-4-18)

We would like to go ahead and reserve for (December 2019) at Embassy Suites again. -Contract Furnishings Mart Company Holiday Party – Tigard, OR (12-8-18)

Rich did an Excellent job! Everyone had a great time! -Carly Gray, The Home Depot Holiday Party – Portland, OR (12-9-18)

Rocked the event!!!!! Dj was perfect!!!!! I'm going to hire again! -Tracy Burback–Munoz, Private Karaoke Christmas Party – Battle Ground, WA (12-15-18)



Click Here for more photos, feedback and event recaps.


Corporate holiday parties are in full swing and PRO DJs had the opportunity to perform for the first time for a floor covering provider out of Tigard Company party on Saturday, December 8, 2018 and it turns out we will get to do it again next year.

As guests gathered in the Columbia River Ballroom at Embassy Suites in Tigard, Oregon, I played a variety of background music selections that also included Christmas favorites, "Sleigh Ride," "Let It Snow," "Peanuts Theme" and more.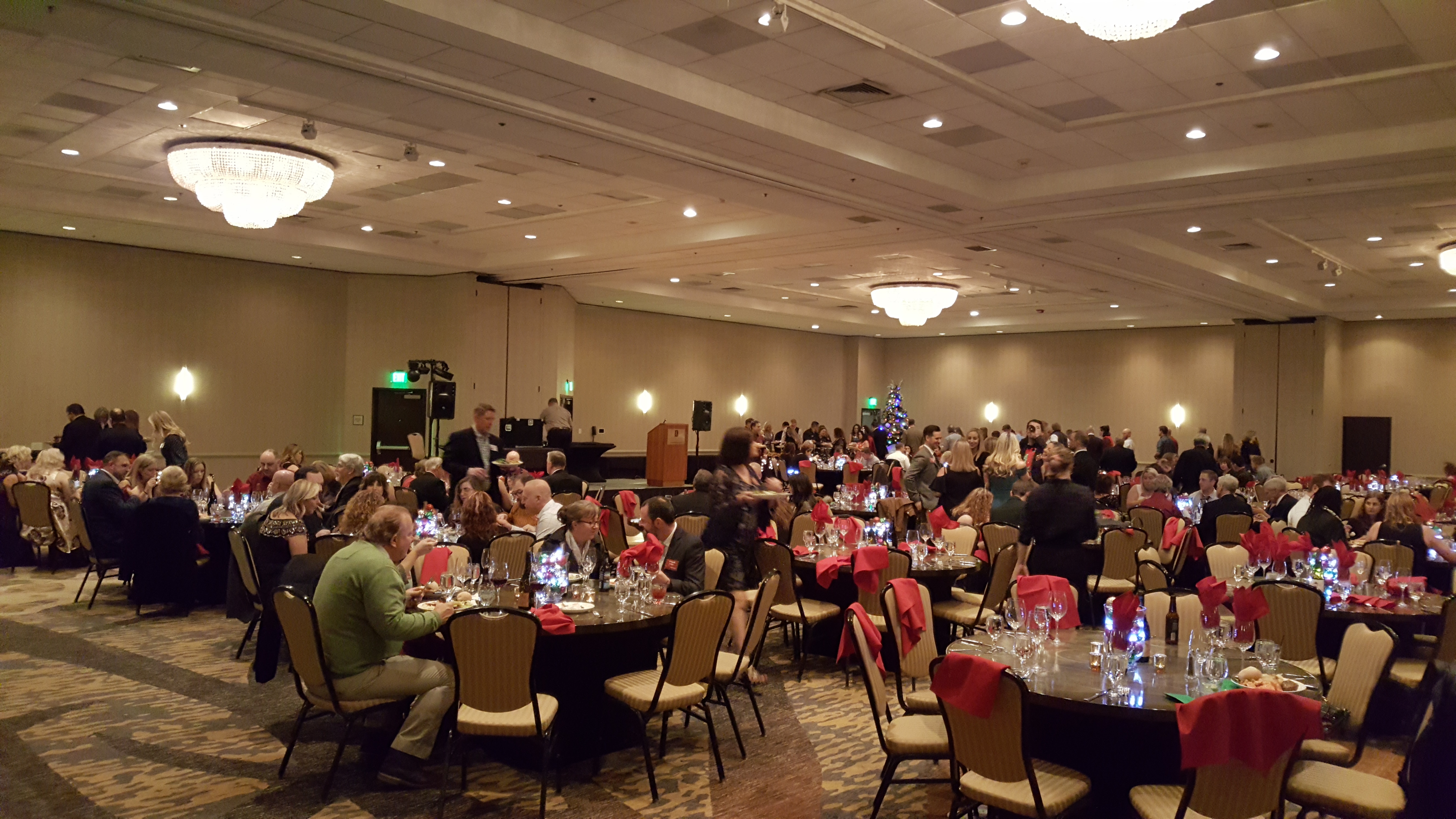 Following dinner was a presentation to recognize employees that ended with a big group photo.




Having everyone on the dance floor for the photo was great timing when the music started and we got off to a great start, even with most of the bright lights still on for the first few songs.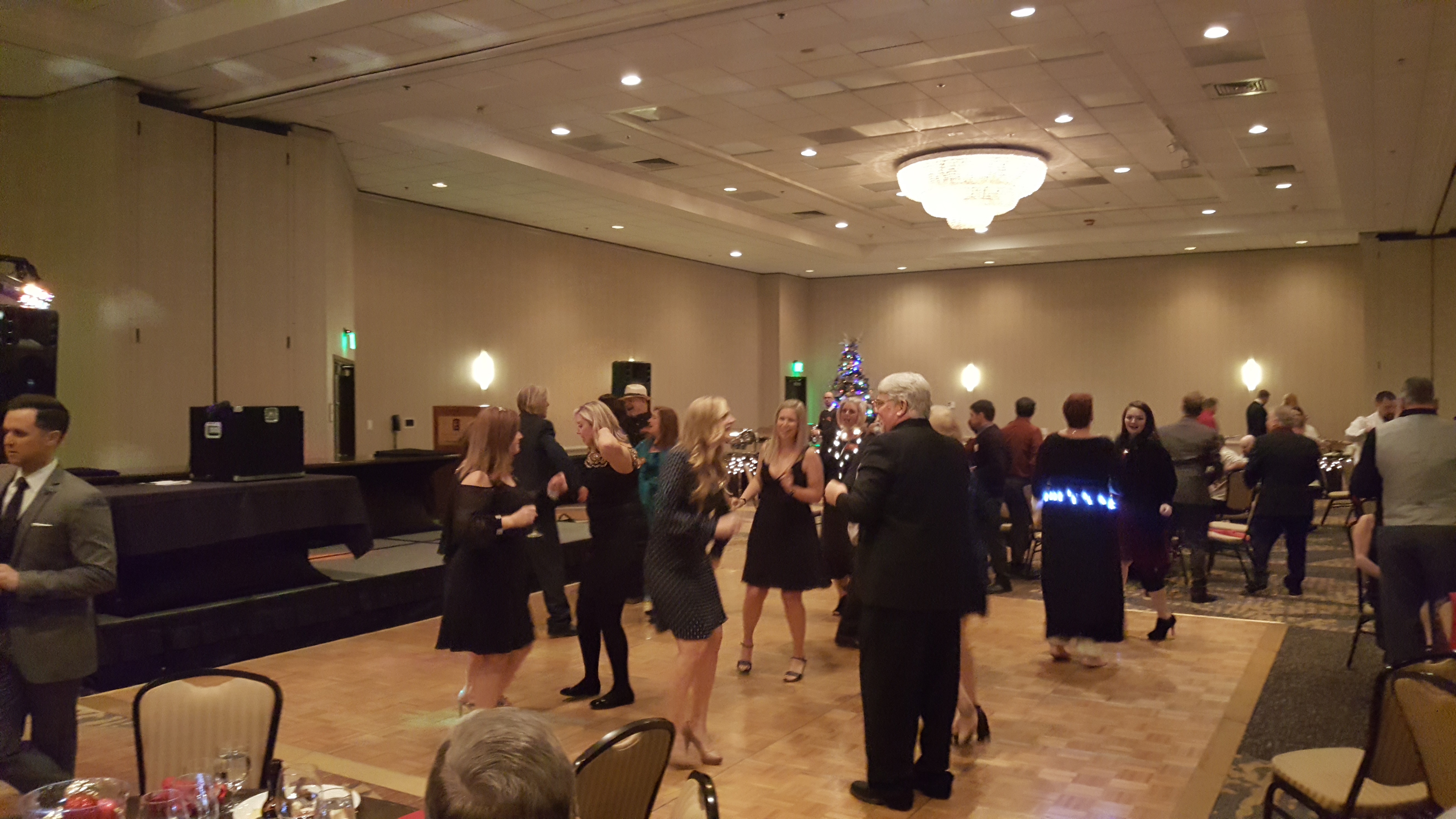 Eventually the house lights were dimmed and the packed dance floor stayed that way for most of the next nearly four hours. They danced to everything from "September" and "Stayin' Alive" to "Uptown Funk" and "Single Ladies."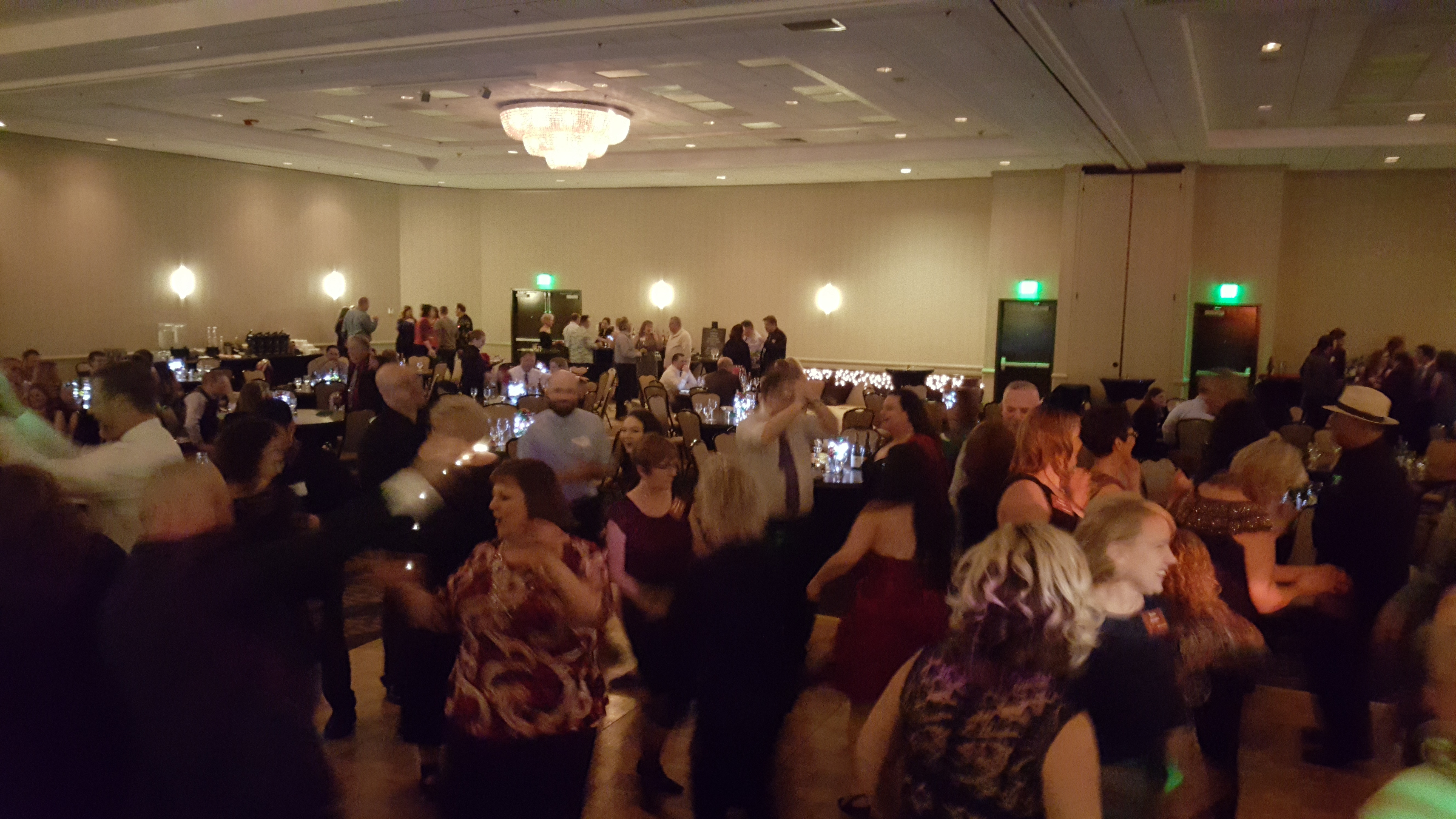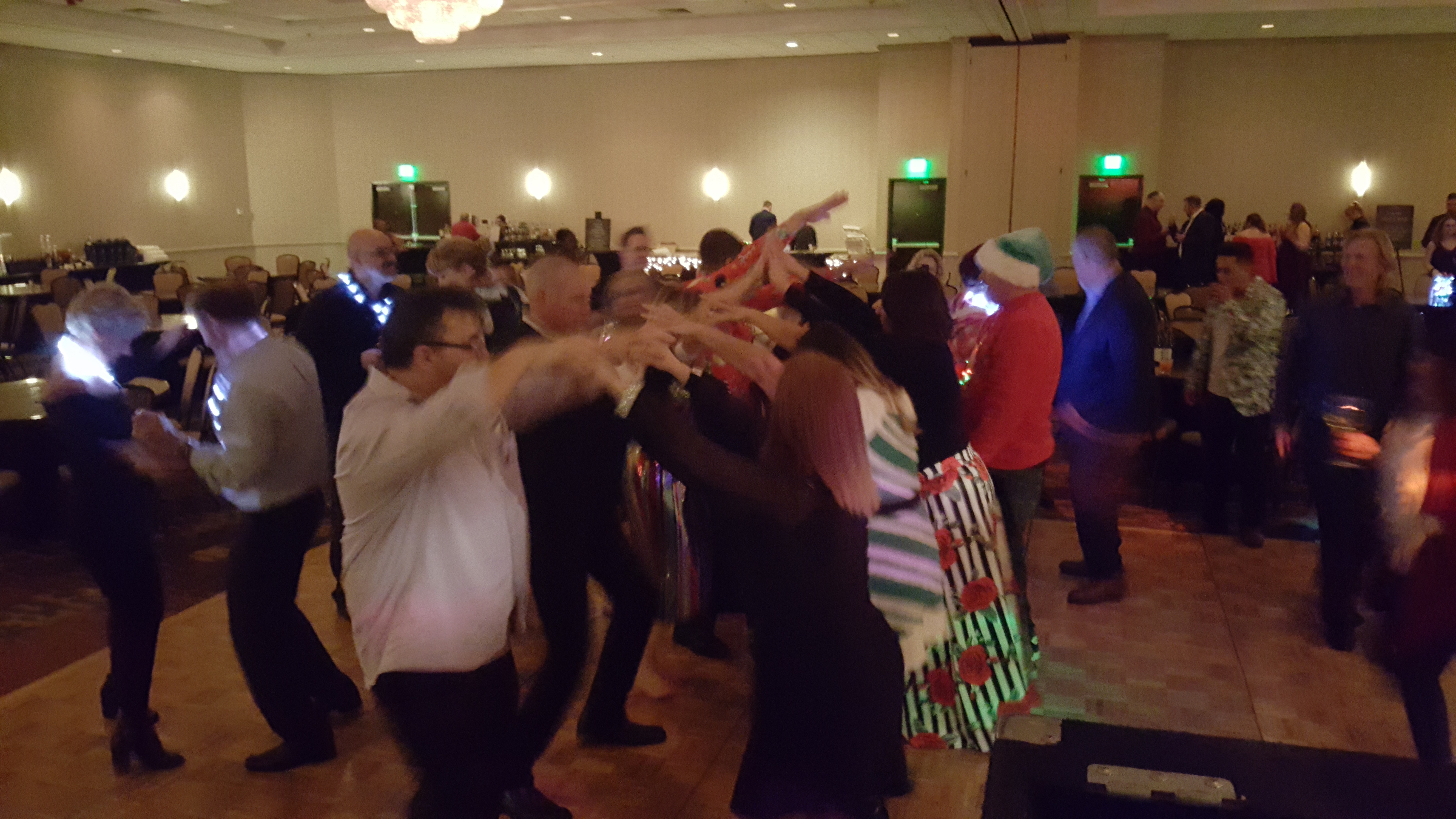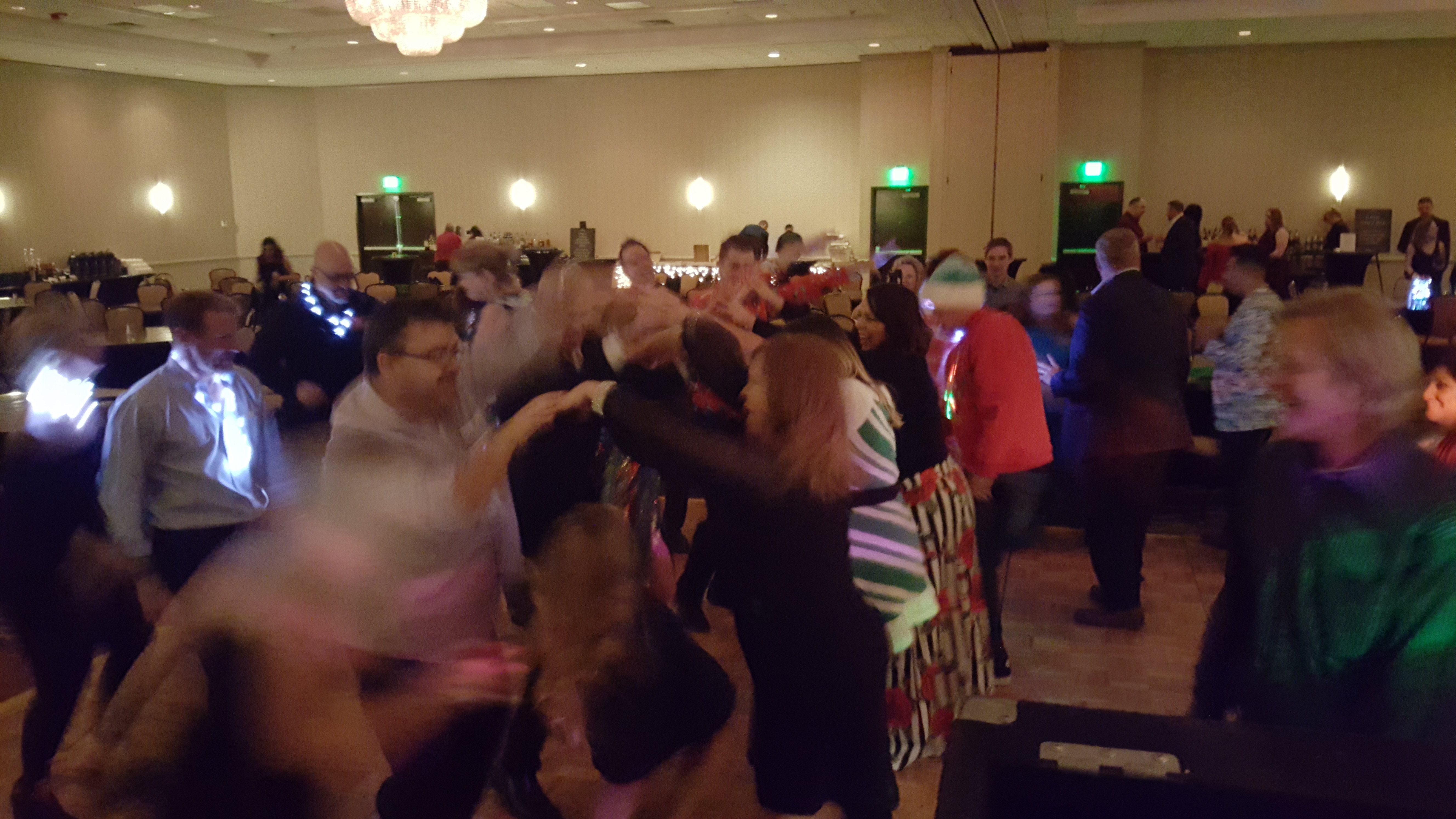 Thank you Karol for choosing PRO DJs. I just received an email from her today… she wrote "We would like to go ahead and reserve for (December 2019) at Embassy Suites again.

Post Event Satisfaction Survey:
Event Date: Saturday, December 8, 2018
Event Type: Holiday Party
Event Location: Embassy Suites Washington Square
Event Staff: Rich Ellis
Quality of Customer Service via Telephone: Excellent
Quality of Customer Service via Internet: Excellent
Quality of Customer Service at Event: Excellent
Friendliness of your Entertainer: Excellent
Promptness of your Entertainer: Excellent
Professionalism of your Entertainer: Excellent
Entertainer's Performance: Excellent
Entertainer's Appearance: Excellent
System Appearance: Excellent
Sound Quality: Excellent
Overall Volume Levels: Excellent
Music Selection: Excellent
Incorporation of Your Requests: Excellent
Lighting Effects: Excellent
Equipment Appearance: Excellent
Overall Customer Service: Excellent
Planning Assistance: Excellent
Entertainer's Cooperation with Other Vendors: Excellent
Overall Performance Rating: Excellent
Would you recommend this service to others? Yes

Happy Holidays from PRO DJs.

The first two weeks of December have featured a blitz of corporate holiday karaoke party events.

December 4, 2018
Renewable Packaging Material Company
EastBurn Public House – Portland, OR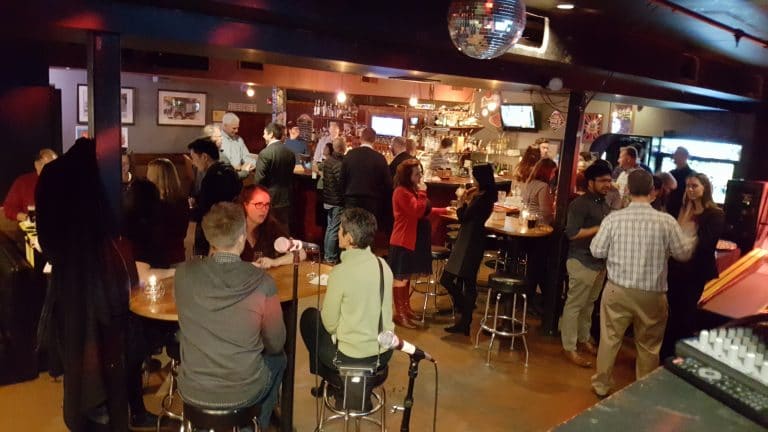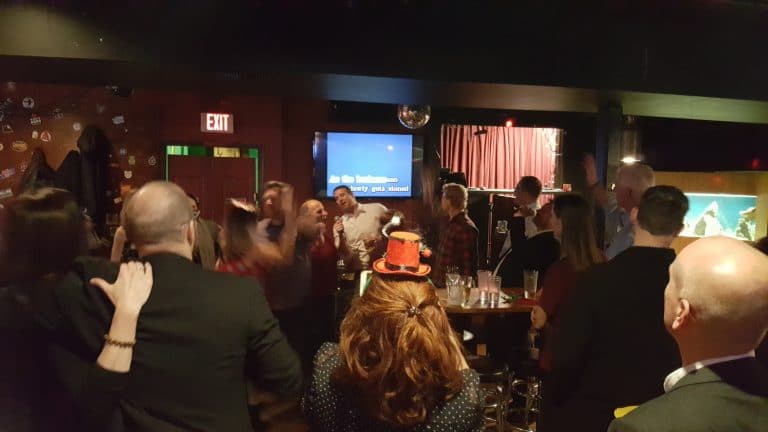 December 7, 2018
Electronics Manufacturing Company – Gresham, OR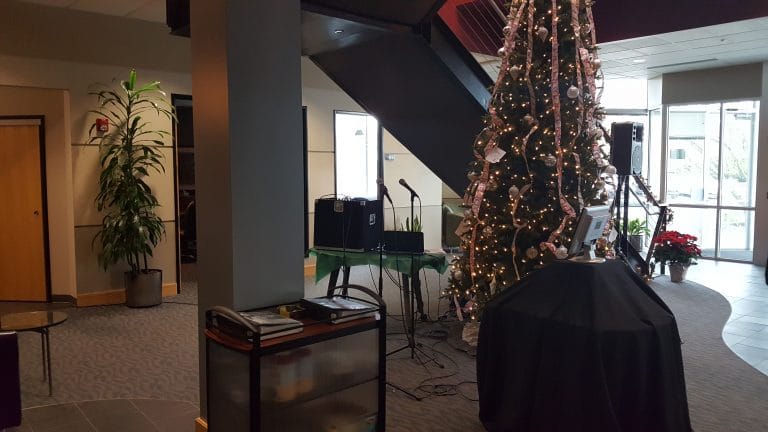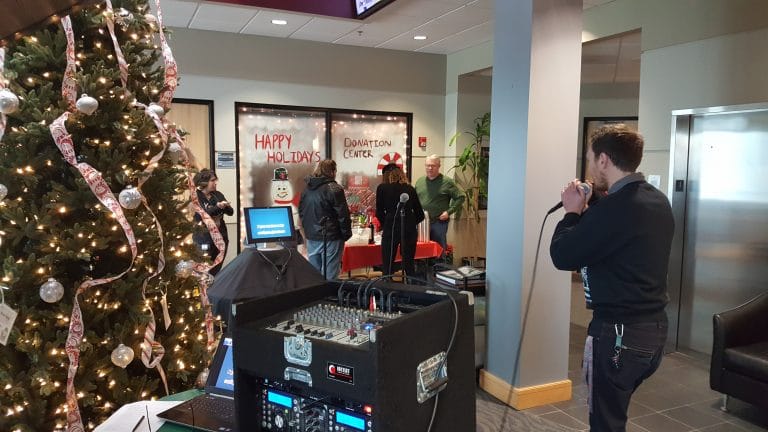 December 9, 2018
Home Depot (SE Portland)
El Palmar Mexican Restaurant – Portland, OR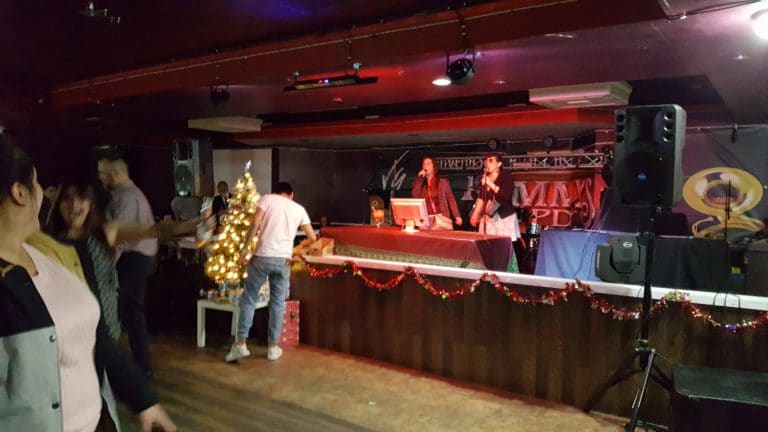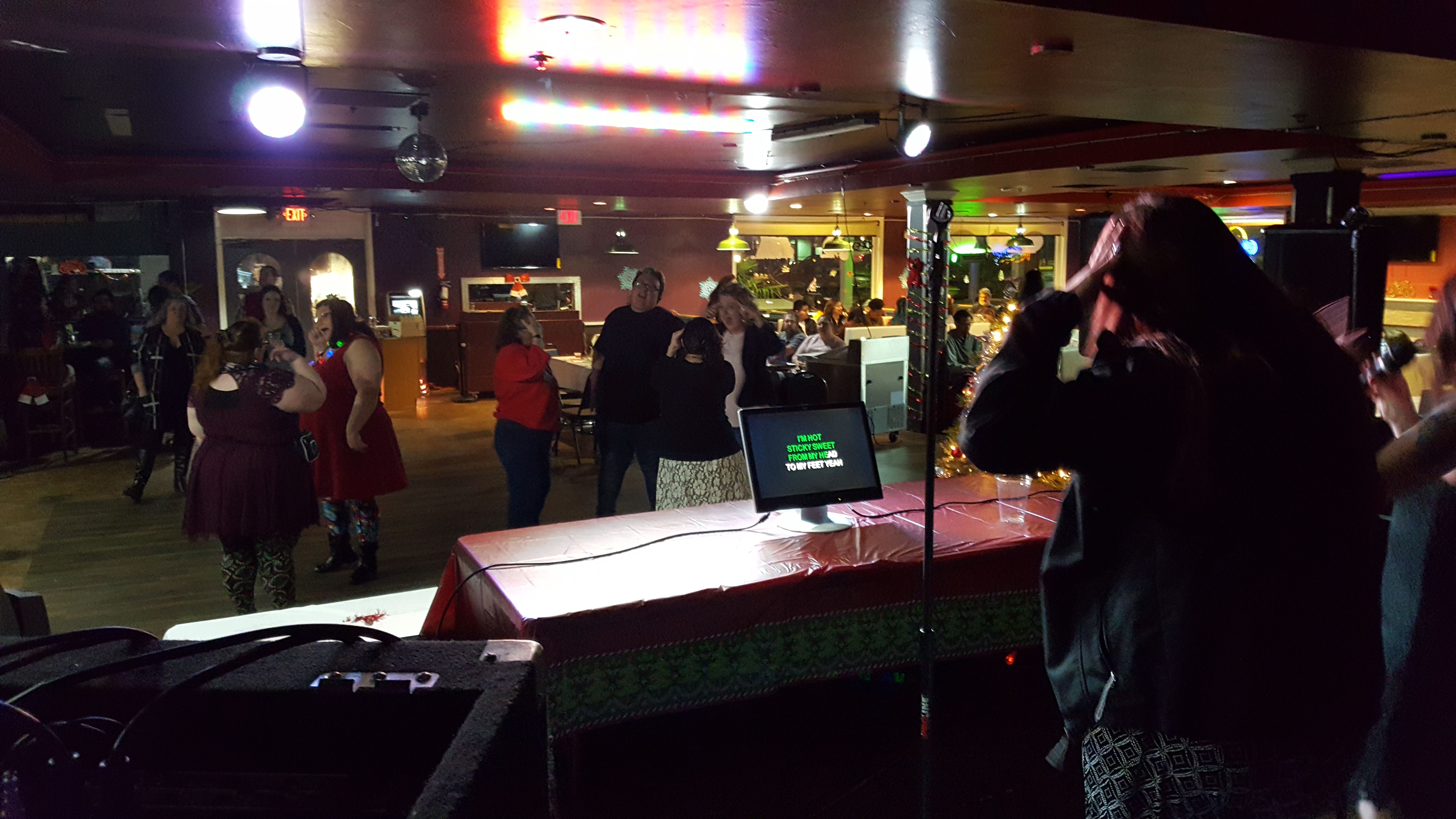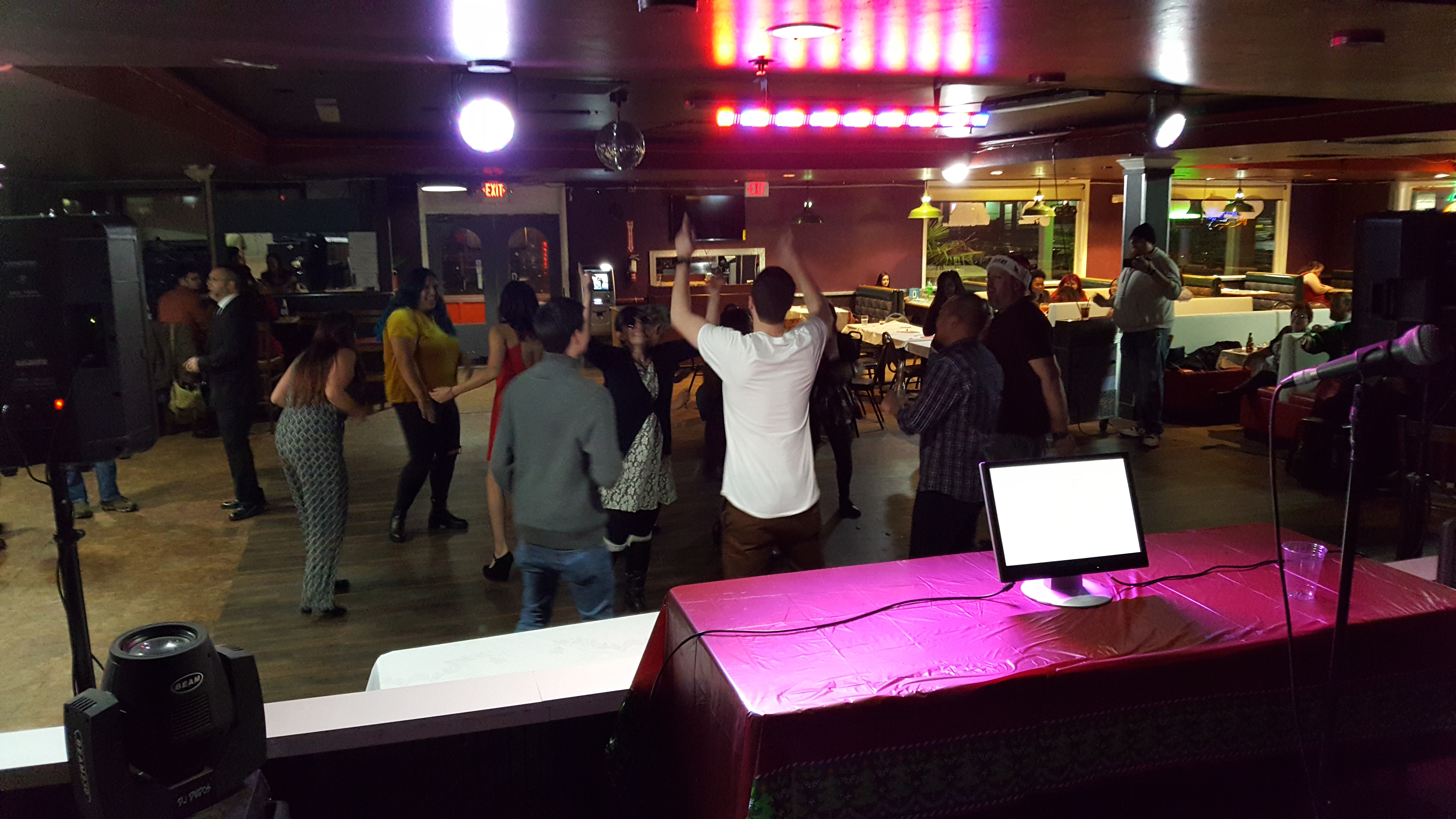 Karaoke is very popular, especially for corporate holiday karaoke party events and PRO DJs can set you up with all you need to get your guests behind a microphone.

Your group can laugh, have fun, and display their singing talents! Our Karaoke package includes over 6,000 karaoke titles, microphones, lyrics monitor, and song books.

Sing your heart out and take comfort in knowing that real judges from your favorite TV shows won't be there to give you a hard time 🙂

Post Event Satisfaction Survey:

"Everything was wonderful, there is nothing I can think of that could have been done better. Rich was a great DJ/KJ, and I would highly recommend Pro DJs for any event."

-Shelly Garteiz, BillerudKorsnäs – Portland, OR
Event Date: Tuesday, December 4, 2018
Event Type: Company Party (Karaoke)
Event Location: EastBurn Public House
Event Staff: Rich Ellis
Quality of Customer Service via Telephone: Excellent
Quality of Customer Service via Internet: Excellent
Quality of Customer Service at Event: Excellent
Friendliness of your Entertainer: Excellent
Promptness of your Entertainer: Excellent
Professionalism of your Entertainer: Excellent
Entertainer's Performance: Excellent
Entertainer's Appearance: Excellent
System Appearance: Excellent
Sound Quality: N/A
Overall Volume Levels: Excellent
Music Selection: Excellent
Incorporation of Your Requests: Excellent
Lighting Effects: N/A
Equipment Appearance: Excellent
Overall Customer Service: Excellent
Planning Assistance: Excellent
Entertainer's Cooperation with Other Vendors: Excellent
Overall Performance Rating: Excellent
Would you recommend this service to others? Yes
Post Event Satisfaction Survey:
Event Date: Friday, December 7, 2018
Event Type: Company Party (Karaoke)
Event Location: Gresham, OR
Event Staff: Rich Ellis
Quality of Customer Service via Telephone: Excellent
Quality of Customer Service via Internet: Excellent
Quality of Customer Service at Event: Excellent
Friendliness of your Entertainer: Excellent
Promptness of your Entertainer: Excellent
Professionalism of your Entertainer: Excellent
Entertainer's Performance: Excellent
Entertainer's Appearance: Excellent
System Appearance: Excellent
Sound Quality: Excellent
Music Selection: Excellent
Incorporation of Your Requests: Excellent
Lighting Effects: N/A
Equipment Appearance: Excellent
Overall Customer Service: Excellent
Planning Assistance: Excellent
Entertainer's Cooperation with Other Vendors: Excellent
Overall Performance Rating: Excellent
Would you recommend this service to others? Yes
Post Event Satisfaction Survey:

"Rich did an Excellent job! Everyone had a great time!"

-Carly Gray, The Home Depot – Portland, OR
Event Date: Sunday, December 9, 2018
Event Type: Holiday Party (Karaoke)
Event Location: El Palmar Mexican Restaurant
Event Staff: Rich Ellis
Quality of Customer Service via Telephone: Excellent
Quality of Customer Service via Internet: Excellent
Quality of Customer Service at Event: Excellent
Friendliness of your Entertainer: Excellent
Promptness of your Entertainer: Excellent
Professionalism of your Entertainer: Excellent
Entertainer's Performance: Excellent
Entertainer's Appearance: Excellent
System Appearance: Excellent
Overall Volume Levels: Excellent
Music Selection: Excellent
Incorporation of Your Requests: Excellent
Lighting Effects: Excellent
Equipment Appearance: Excellent
Overall Customer Service: Excellent
Planning Assistance: Excellent
Entertainer's Cooperation with Other Vendors: Excellent
Overall Performance Rating: Excellent
Would you recommend this service to others? Yes
Post Event Satisfaction Survey:

"Rich did a fantastic job at the event!"

-Kim Prosser, Precision Door Service – Portland, OR
Event Date: Tuesday, December 11, 2018
Event Type: Holiday Party (Karaoke)
Event Location: Stockpot
Event Staff: Rich Ellis
Quality of Customer Service via Telephone: Excellent
Quality of Customer Service via Internet: Good
Quality of Customer Service at Event: Excellent
Friendliness of your Entertainer: Excellent
Promptness of your Entertainer: Excellent
Professionalism of your Entertainer: Excellent
Entertainer's Performance: Excellent
Entertainer's Appearance: Excellent
System Appearance: Excellent
Overall Volume Levels: Excellent
Music Selection: Excellent
Incorporation of Your Requests: Excellent
Lighting Effects: Excellent
Equipment Appearance: Excellent
Overall Customer Service: Excellent
Planning Assistance: Excellent
Entertainer's Cooperation with Other Vendors: Excellent
Overall Performance Rating: Excellent
Would you recommend this service to others? Yes
Post Event Satisfaction Survey:

"Rocked the event!!!!! Dj was perfect!!!!! I'm going to hire again!"

-Tracy Burback – Munoz, Private Karaoke Christmas Party – Battle Ground, WA
Event Date: Saturday, December 15, 2018
Event Type: Christmas Party (Karaoke)
Event Location: Battle Ground Community Center
Event Staff: Rich Ellis
Quality of Customer Service via Telephone: Excellent
Quality of Customer Service via Internet: Excellent
Quality of Customer Service at Event: Excellent
Friendliness of your Entertainer: Excellent
Promptness of your Entertainer: Excellent
Professionalism of your Entertainer: Excellent
Entertainer's Performance: Excellent
Entertainer's Appearance: Excellent
System Appearance: Excellent
Overall Volume Levels: Excellent
Music Selection: Excellent
Incorporation of Your Requests: Excellent
Lighting Effects: Excellent
Equipment Appearance: Excellent
Overall Customer Service: Excellent
Planning Assistance: Excellent
Entertainer's Cooperation with Other Vendors: Excellent
Overall Performance Rating: Excellent
Would you recommend this service to others? Yes

Post Event Feedback:

"Rich was the Best! It was a pleasure working with you and thank you for making our company picnic a success! I know we will be working with you again in the future."
-Kathy Korb, DSV Road Transport – Portland, OR
Event Date: Sunday, August 12, 2018
Event Type: Company Picnic
Event Location: Blue Lake Park, Fairview, Oregon
Event Staff: Rich Ellis
Quality of Customer Service via Telephone: Excellent
Quality of Customer Service via Internet: Excellent
Quality of Customer Service at Event: Excellent
Friendliness of your Entertainer: Excellent
Promptness of your Entertainer: Excellent
Professionalism of your Entertainer: Excellent
Entertainer's Performance: Excellent
Entertainer's Appearance: Excellent
System Appearance: Excellent
Sound Quality: Excellent
Overall Volume Levels: Excellent
Music Selection: Excellent
Incorporation of Your Requests: Excellent
Lighting Effects: N/A
Equipment Appearance: Excellent
Overall Customer Service: Excellent
Planning Assistance: Excellent
Entertainer's Cooperation with Other Vendors: Excellent
Overall Performance Rating: Excellent
Would you recommend this service to others? Yes

Post Event Feedback:

-Virginia Tromblee, EVRAZ – Portland, OR
Event Date: Saturday, August 18, 2018
Event Type: Company Picnic
Event Location: Oaks Park, Portland, Oregon
Event Staff: Rich Ellis
Quality of Customer Service via Telephone: Excellent
Quality of Customer Service via Internet: Excellent
Quality of Customer Service at Event: Excellent
Friendliness of your Entertainer: Excellent
Promptness of your Entertainer: Excellent
Professionalism of your Entertainer: Excellent
Entertainer's Performance: Excellent
Entertainer's Appearance: Excellent
System Appearance: Excellent
Sound Quality: Excellent
Overall Volume Levels: Excellent
Music Selection: Excellent
Incorporation of Your Requests: Excellent
Lighting Effects: N/A
Equipment Appearance: Excellent
Overall Customer Service: Excellent
Planning Assistance: Excellent
Entertainer's Cooperation with Other Vendors: Excellent
Overall Performance Rating: Excellent
Would you recommend this service to others? Yes