Birthday Parties

On a warm Summer night, good friends and family gathered at a residence in Southwest Portland on Saturday, August 23, 2014 for Dee's 50th birthday party celebration.

For this milestone, Dee wanted a fun dance party that included plenty of her favorite aritists, including the Bee Gees, Madonna and Ace of Base.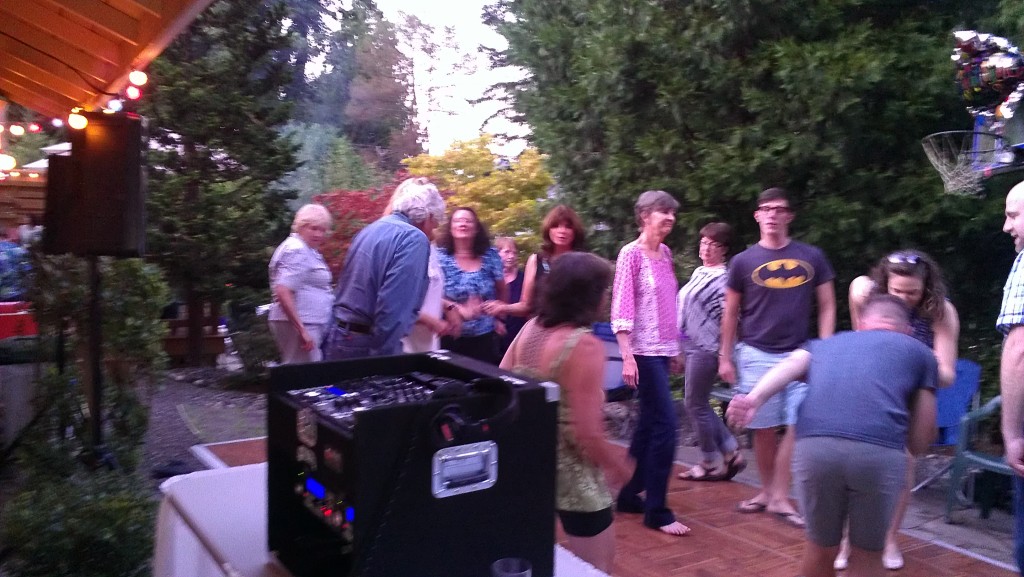 In preparing for the party, she had noted it "was fun picking the songs! What memories!"

Guests danced to a little bit of everything from oldies (Elvis, James Brown) and disco (ABBA, Kool & the Gang) to 80's hits (Michael Jackson, Salt N Pepa).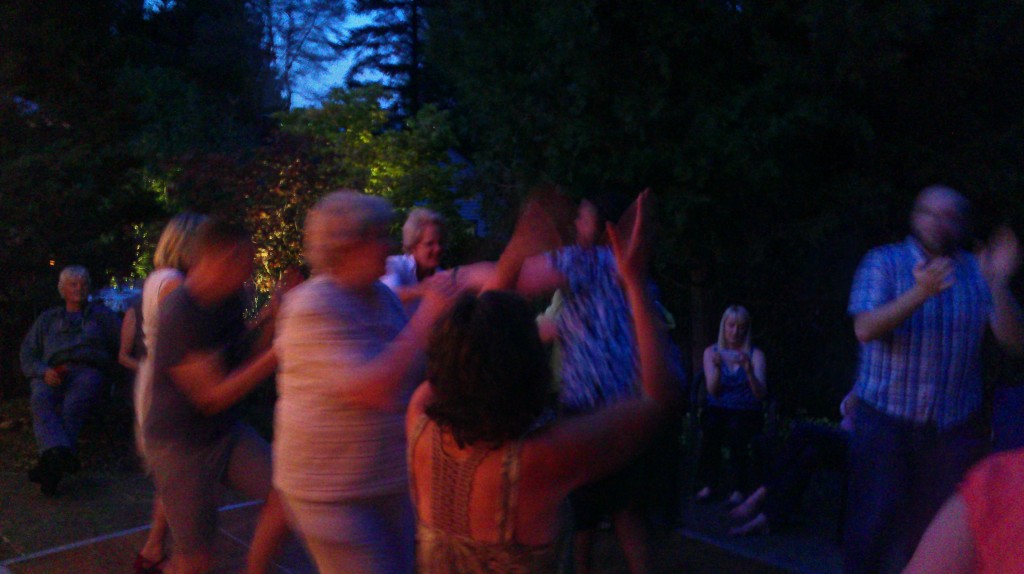 Post Event Satisfaction Survey:

"Thank you Rich for the great customer service and quick response to e-mails and phone messages. The evening was really the absolute best, more than I had hoped. Everyone loved the music and one guest said it was the best party she had ever been to. The next day the neighbors from all sides were coming over to say how much they enjoyed the music as well. Thanks Rich with all my heart for making this once in a life time celebration special and unforgettable."
-Dee Wetzel
Event Date: Saturday, August 23, 2014
Event Type: Birthday Party
Event Location: Private Residence
Event Staff: Rich Ellis
Quality of Customer Service via Telephone: Excellent
Quality of Customer Service via Internet: Excellent
Quality of Customer Service at Event: Excellent
Friendliness of your Entertainer: Excellent
Promptness of your Entertainer: Excellent
Professionalism of your Entertainer: Excellent
Entertainer's Performance: Excellent
Entertainer's Appearance: Excellent
System Appearance: Excellent
Sound Quality: Excellent
Overall Volume Levels: Excellent
Music Selection: Excellent
Incorporation of Your Requests: Excellent
Lighting Effects: N/A
Equipment Appearance: N/A
Overall Customer Service: Excellent
Planning Assistance: Excellent
Entertainer's Cooperation with Other Vendors: N/A
Overall Performance Rating: Excellent
Would you recommend this service to others? Yes

Good friends and family gathered at the Village Ballroom in Northeast Portland along with a birthday party DJ spinning the tunes on Saturday, November 10, 2012 to celebrate Jeff's 60th.

For this milestone, he wanted a simple party with good food and music and that included plenty of his favorites from the Beatles, Rolling Stones and Led Zeppelin.

Guests danced to a little bit of everything from oldies (Elvis, Supremes) and disco (ABBA, Bee Gees) to 80's hits (Bruce Springsteen, Michael Jackson).

Post Event Satisfaction Survey:

"Rich could not have done a better job for our event. Truly outstanding in every way and we will highly recommend him to others without hesitation!"  -Jeffery Thomas
Event Date: Saturday, November 10, 2012
Event Type: Birthday Party
Event Location: Village Ballroom – Portland, Oregon
Event Staff: Rich Ellis
Quality of Customer Service via Telephone: Excellent
Quality of Customer Service via Internet: Excellent
Quality of Customer Service at Event: Excellent
Friendliness of your Entertainer: Excellent
Promptness of your Entertainer: Excellent
Professionalism of your Entertainer: Excellent
Entertainer's Performance: Excellent
Entertainer's Appearance: Excellent
System Appearance: Excellent
Sound Quality: Excellent
Overall Volume Levels: Excellent
Music Selection: Excellent
Incorporation of Your Requests: Excellent
Lighting Effects: N/A
Equipment Appearance: Excellent
Overall Customer Service: Excellent
Planning Assistance: Excellent
Entertainer's Cooperation with Other Vendors: Excellent
Overall Performance Rating: Excellent
Would you recommend this service to others? Yes

DJ Rhett performed at Donna's 50th Birthday Party on Friday, October 19, 2012 at the Caufield House in Oregon City. Her husband Mike planned everything and wanted the focus of the event to be dancing intermixed with people giving birthday wishes and blessings to Donna. He also surprised his wife by playing guitar and singing a song for her, 'Somewhere in Time'. Mike had noted they danced to that song on their honeymoon in Ashland in 1996.

Donna loved any dance song from the 70's and 80's, including Chicago, Journey and Pat Benatar, plus a special request for 'Easy Lover' by Phil Collins and Phillip Bailey. Mike also let us know she likes some of the new dance songs heard on the radio today.

Post Event Satisfaction Survey:

"It was awesome."-Mike Barrett
Event Date: Friday, October 19, 2012
Event Type: Birthday Party
Event Location: Caufield House/Oregon City, OR
Event Staff: Rhett
Quality of Customer Service via Telephone: Excellent
Quality of Customer Service via Internet: Excellent
Quality of Customer Service at Event: Excellent
Friendliness of your Entertainer: Excellent
Promptness of your Entertainer: Excellent
Professionalism of your Entertainer: Excellent
Entertainer's Performance: Excellent
Entertainer's Appearance: Excellent
System Appearance: Excellent
Sound Quality: Excellent
Overall Volume Levels: Excellent
Music Selection: Excellent
Incorporation of Your Requests: Excellent
Lighting Effects: Excellent
Equipment Appearance: Excellent
Overall Customer Service: Excellent
Planning Assistance: Excellent
Entertainer's Cooperation with Other Vendors: Excellent
Overall Performance Rating: Excellent
Would you recommend this service to others? Yes

An important part about being a good DJ is not necessarily playing what you want to hear, but about what the crowd wants to hear. At Kanth's 50th birthday party, I lucked out and we got both. As guests continued to arrive to Lola's Room at McMenamins Crystal Ballroom in Downtown Portland on November 21, 2011, we played some medium tempo music from from all eras and genres. It wasn't too long before I realized that I was DJing for a pretty hip, dance-loving crowd. I could see and feel the guests reacting positively to Motown, Retro and some of the current hits by today's hot music artists.

After a quick buffet dinner and brief toasts by family and friends, we sped the music up a bit. I continued to switch the music up now and then for the range of guests. Since Kanth and several of his family members have origins from India, we played some requested Bollywood music that got guests from all backgrounds on the dance floor as well. However, around halfway into the party, the group that controlled the dance floor wanted to hear music from artist like Black Eyed Peas, Foster the People, Rihanna, Flo Rida and other current, hot music. It was a great night. I almost forgot it was a Monday.

You couldn't tell Kanth turned 50 years of age. I guess music and fun really keeps you young. Happy Birthday Kanth!! -Rhett

Post Event Satisfaction Survey:
Event Date: Monday, November 21, 2011
Event Type: Birthday Party
Event Location: McMenamins Crystal Ballroom (Lola's Room)/Portland, OR
Event Staff: Rhett
Quality of Customer Service via Telephone: Excellent
Quality of Customer Service via Internet: Excellent
Quality of Customer Service at Event: Excellent
Friendliness of your Entertainer: Excellent
Promptness of your Entertainer: Excellent
Professionalism of your Entertainer: Excellent
Entertainer's Performance: Excellent
Entertainer's Appearance: Excellent
System Appearance: Excellent
Sound Quality: Excellent
Overall Volume Levels: Excellent
Music Selection: Excellent
Incorporation of Your Requests: Excellent
Lighting Effects: Excellent
Equipment Appearance: Excellent
Overall Customer Service: Excellent
Planning Assistance: Excellent
Entertainer's Cooperation with Other Vendors: Excellent
Overall Performance Rating: Excellent
Would you recommend this service to others? Yes

It was an fun setting for Debbie's Birthday Party held at Oregon Food Bank West in Beaverton Saturday night.

About 100 good friends and family showed up to celebrate this milestone with the birthday girl and her husband. With plenty of drinks and appetizers to start, guests engaged in conversation to a background music set that included Cher, Michael Jackson, Motown favorites and more.

Shortly before opening the dance floor, Debbie let me know she was really enjoying the music and said she wanted to do this every weekend 🙂 She enjoyed visiting with her friends and family, but was also excited to do a little dancing.

Debbie is a big fan of Cher and at her request, I got the party started with one of her favorite Cher songs, 'Believe'. Everyone danced the night away to a variety of hit songs that featured a mix of Oldies, Tina Turner, and of course, more Cher.

Happy Birthday Debbie and thank you for inviting me back to play for your friends and family. I had a blast! -Steve

"Steve was fabulous!!! He appealed to the adults as well as the teens. He is delightful to work with and he made the party a hit!! Thank you Steve!!!" -Debbie Davis

Post Event Satisfaction Survey:
Event Date: Saturday, May 7, 2011
Event Type: Birthday Party
Event Location: Oregon Food Bank West
Event Staff: Steve Marker
Quality of Customer Service via Telephone: Excellent
Quality of Customer Service via Internet: Excellent
Quality of Customer Service at Event: Excellent
Friendliness of your Entertainer: Excellent
Promptness of your Entertainer: Excellent
Professionalism of your Entertainer: Excellent
Entertainer's Performance: Excellent
Entertainer's Appearance: Excellent
System Appearance: Excellent
Sound Quality: Excellent
Overall Volume Levels: Excellent
Music Selection: Excellent
Incorporation of Your Requests: Excellent
Lighting Effects: Excellent
Equipment Appearance: Excellent
Overall Customer Service: Excellent
Planning Assistance: Excellent
Entertainer's Cooperation with Other Vendors: Excellent
Overall Performance Rating: Excellent
Would you recommend this service to others? Yes