Special Night At Portland Backyard Wedding

Each Summer I perform at many weddings held outside. The Northwest sunshine in the summertime provides multiple opportunities between July and September and there are many open air venues or places with outdoor space for private events to meet demand.

On Saturday, July 26, 2014, Gary and Michael held their wedding and reception in their own backyard in Southwest Portland and let me tell you, this place could rival any professional venue in the area.




Shortly after my arrival, I learned that the backyard looked nothing like it does now, so it was an amazing transformation in a short period of time, but they were motivated to have everything perfect for their big day.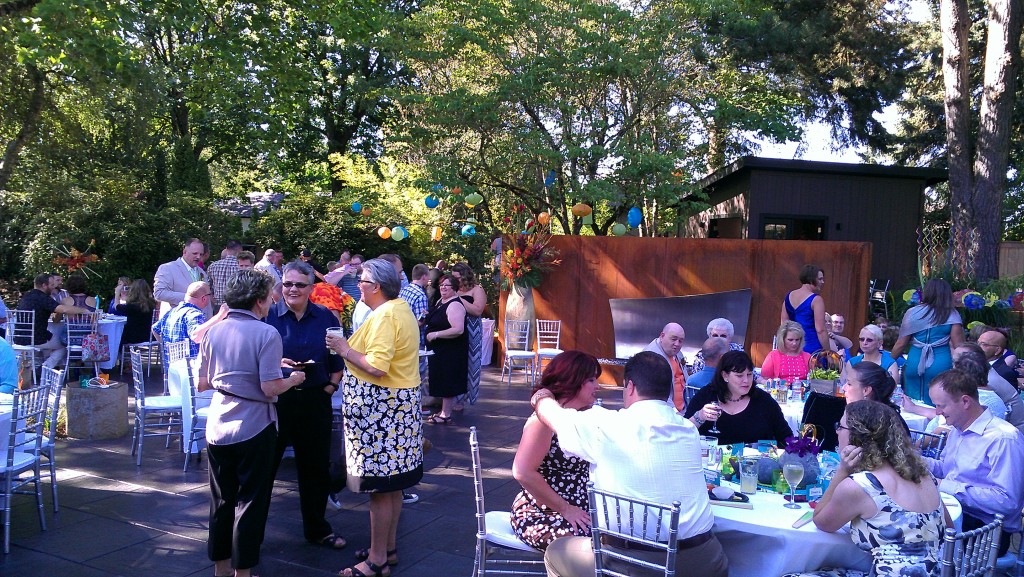 Gary and Michael also wanted this be a big party for their guests, so they scheduled the cocktail hour before the ceremony and asked me to play a selection of music from the Rat Pack era, noting "Lounge kind of stuff. We love standards and there will be a very mid-century modern vibe to our decor to go with our home." I played songs from Frank Sinatra, Ella Fitzgerald, Dean Martin and other artists popular in the 40's and 50's.

The ceremony began about an hour later and as they noted in their program, "odds are that you just sat through a very short ceremony. Rest assured, unless one of the grooms ran away sobbing, the ceremony went according to plan." 🙂

Portland Backyard Wedding Ceremony Highlights:
Wedding Processional: Michael Bublé – Everything
Wedding Recessional: American Authors – Best Day of My Life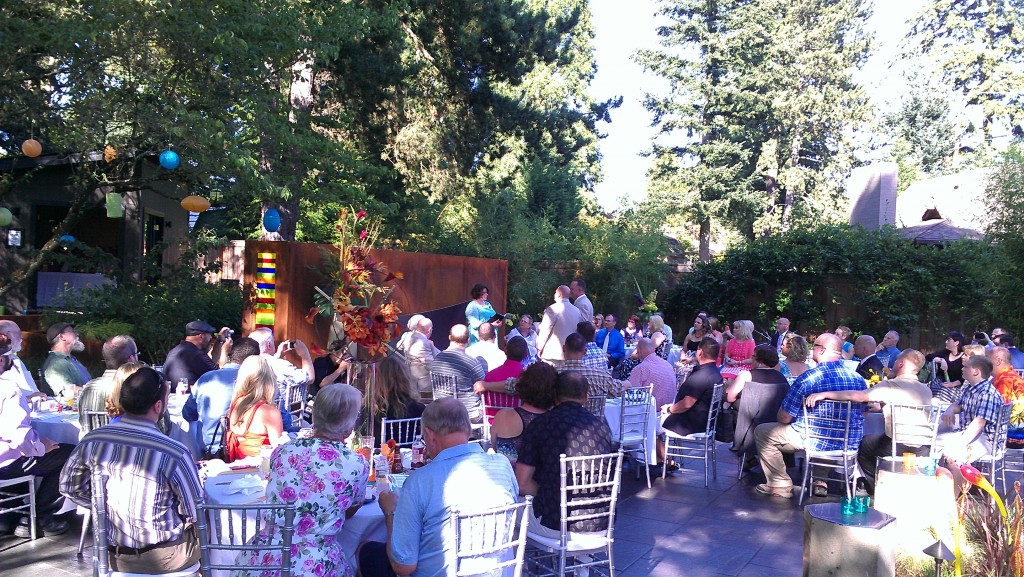 Following the ceremony, the newlyweds moved to the front yard with their families to take photos, returning about 30 minutes later for their grand entrance and dinner with their guests. During this time, I played a variety of contemporary soft rock favorites from artists such as, Jack Johnson, Norah Jones and Israel Kamakawiwo'ole.

Gary and Michael had asked everyone to not bring a gift, but after the toast, they were surprised with a slide show. I was asked to play two songs live during the five minute presentation… 'In My Life' from the Beatles and Garth Brooks' 'Friends In Low Places'. The show went a little longer though, so good thing I had a few extra songs ready to go… 'What A Wonderful World' from Louis Armstrong and 'Stand By Me' by Ben E. King.

Portland Backyard Wedding Reception Highlights:
Grand Entrance: American Authors – Best Day of My Life
Cake Cutting: James Taylor – How Sweet It Is
First Dance: Bette Midler – Do You Want To Dance
Groom and Mother Dance: Queen – You're My Best Friend
Parents Dance: Any Williams – Moon River
On a perfect Summer evening, the stage was set for a special night and Gary, Michael and their families and friends wasted no time getting this party started.

With many family members visiting from the Midwest, they had warned their guests that there will be a mandatory 'Chicken Dance.' I spun this one early and it was clear they took the mandatory part seriously.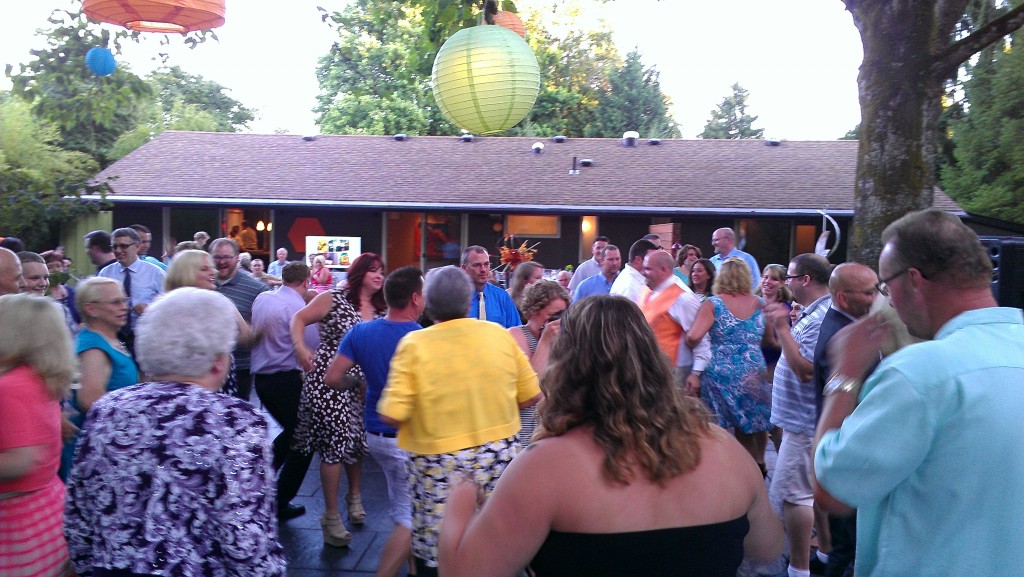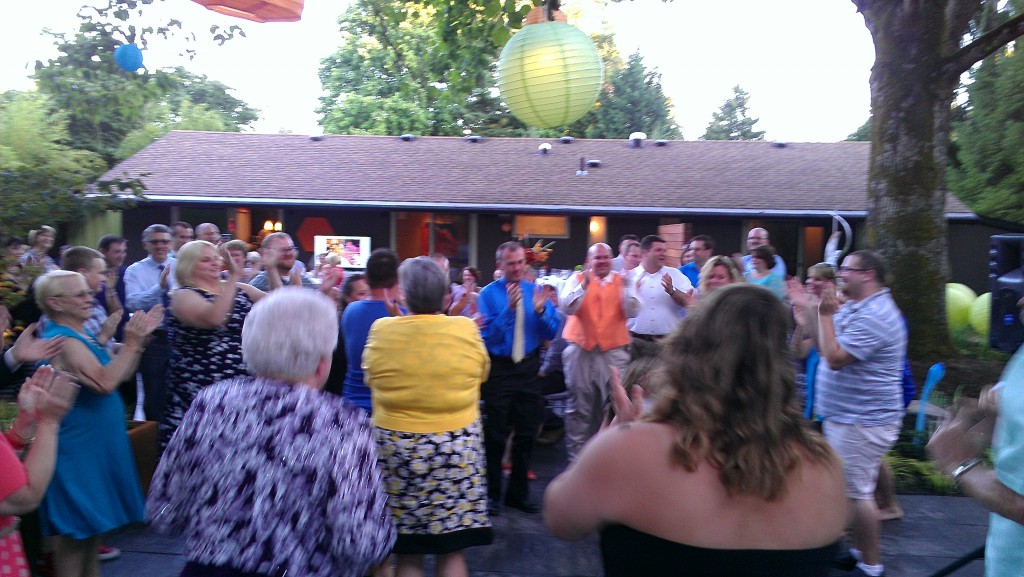 The newlyweds request list was heavy on disco and 80's hits, including 'YMCA,' 'Dancing Queen,' and Madonna's 'Vogue.'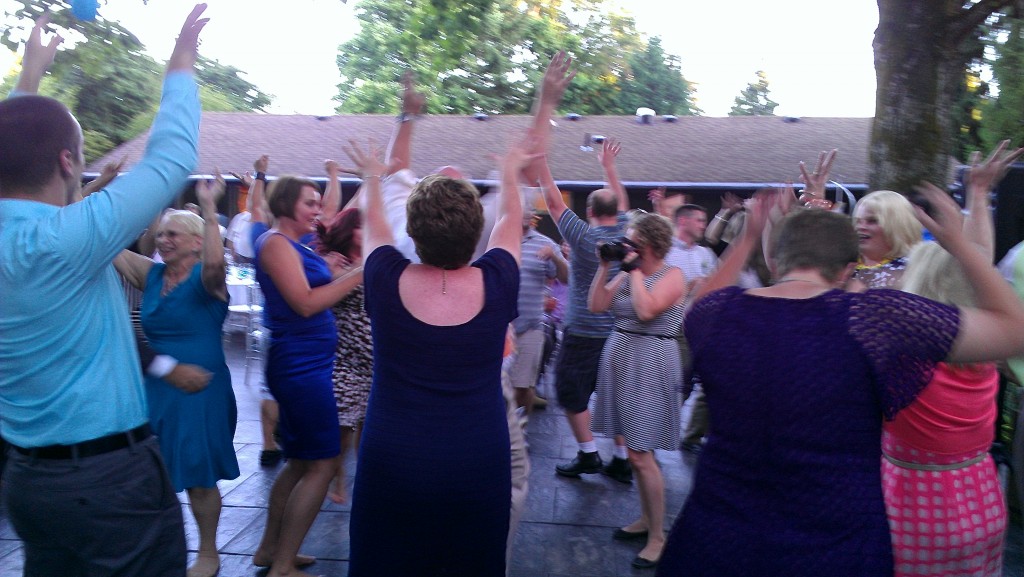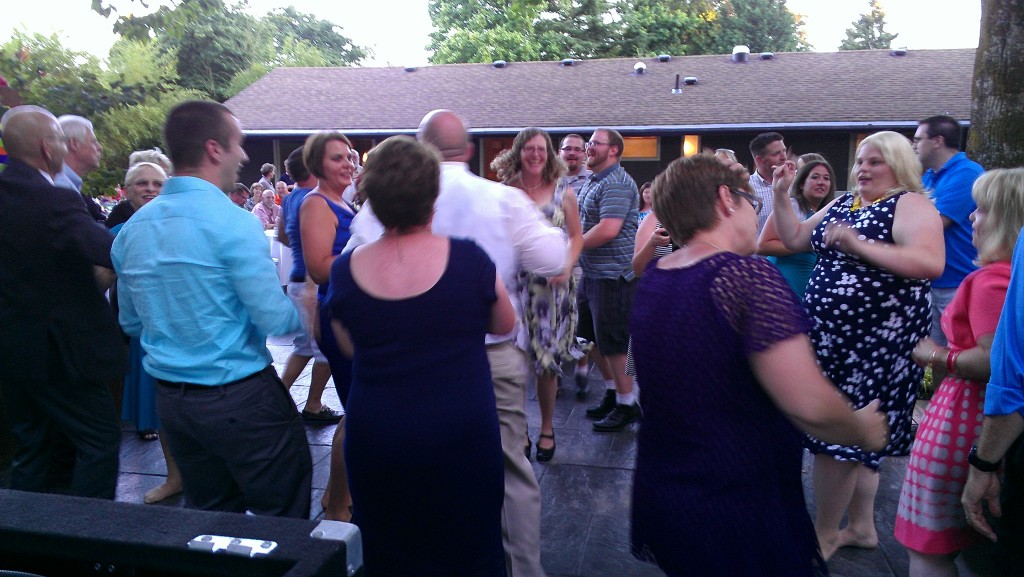 This party was non-stop until late Saturday night with big hits 'Gangham Style,' 'Baby Got Back,' 'Blurred Lines' and more.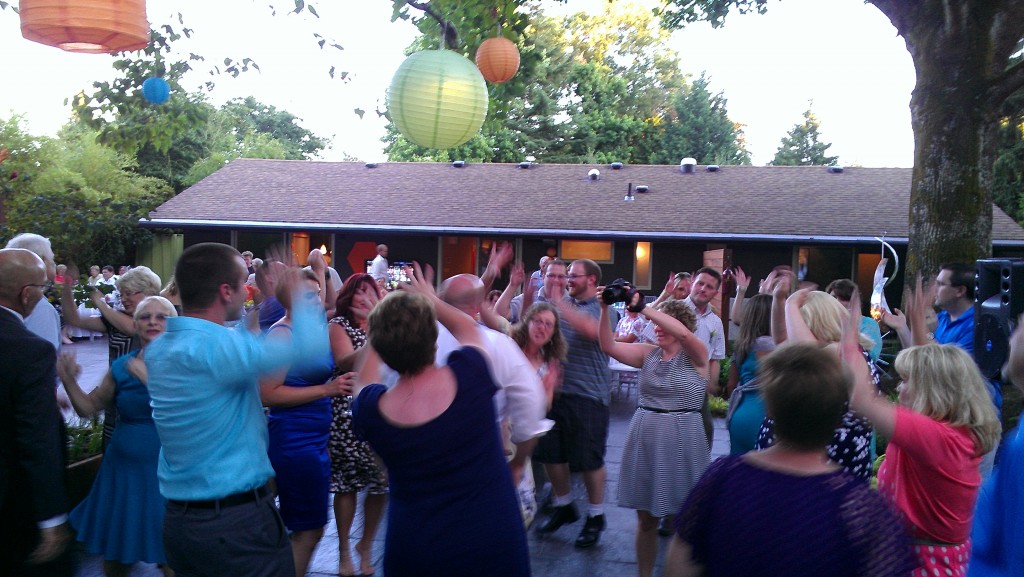 Congratulations Gary and Michael. It was a pleasure performing for you and your guests and thank you for choosing PRO DJs.

Post Event Satisfaction Survey:

"Our family, friends and loved ones could not stop raving about how well done everything was with the music. Rich helped make a magical night even better and I know people will be telling stories for years to come about events that took place on our dance floor!" -Gary Boyer
Event Date: Saturday, July 26, 2014
Event Type: Wedding & Reception
Event Location: Private Residence/Portland, OR
Event Staff: Rich Ellis
Quality of Customer Service via Telephone: Excellent
Quality of Customer Service via Internet: Excellent
Quality of Customer Service at Event: Excellent
Friendliness of your Entertainer: Excellent
Promptness of your Entertainer: Excellent
Professionalism of your Entertainer: Excellent
Entertainer's Performance: Excellent
Entertainer's Appearance: Excellent
System Appearance: Good
Sound Quality: Excellent
Overall Volume Levels: Excellent
Music Selection: Excellent
Incorporation of Your Requests: Excellent
Lighting Effects: Excellent
Equipment Appearance: Good
Overall Customer Service: Excellent
Planning Assistance: Excellent
Entertainer's Cooperation with Other Vendors: Excellent
Overall Performance Rating: Excellent
Would you recommend this service to others? Yes
Related Posts