Picturesque Summer Mt. Hood Oregon Wedding

Sonna and Ryan's Mt. Hood Oregon wedding took place at the residence of the bride's aunt on Friday, June 30, 2017. The bride also grew up in the Parkdale area and returned home from the muggy heat of Oklahoma to celebrate her big day in the comfort of a perfect Northwest summer day.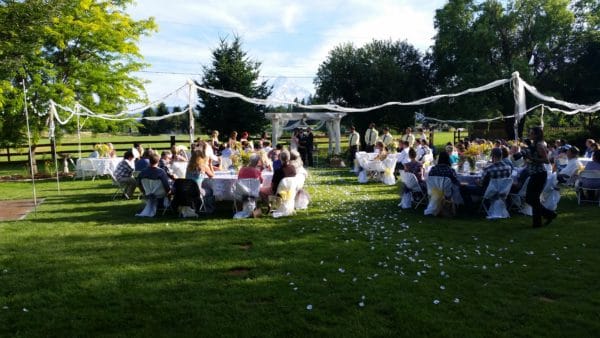 Mt. Hood Oregon Wedding Ceremony Highlights:
Wedding Party Entrance: Piano Guys – A Thousand Years
Bride Entrance: Christina Perri – A Thousand Years
Bride/Groom Exit: Heavy D & The Boyz – Now That We Found Love
Since the tables and chairs were already setup for the reception, guests spent the next couple hours relaxing and enjoying conversation with family and friends. The newlyweds took most of their photos before their wedding, but there were plenty more to take with extended family.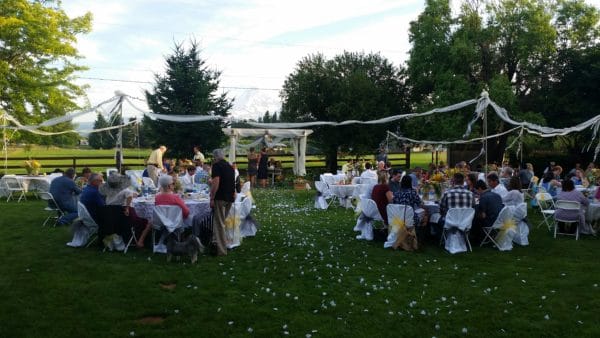 Mt. Hood Oregon Wedding Reception Highlights:
Grand Entrance: Stevie Wonder – Signed Sealed Delivered…
Cake Cutting: Four Tops – I Can't Help Myself
First Dance: George Strait – I Cross My Heart
Bride and Father Dance: Trace Adkins – Just Fishin'
Bride and Stepfather Dance: Rascal Flatts – My Wish
Groom and Mother Dance: Trace Adkins – Then They Do
Bouquet Toss: Beyonce – Single Ladies (Put A Ring On It)
Garter Toss: Weather Girls – It's Raining Men
Last Dance: Neil Diamond – Sweet Caroline
It was perfect timing as the dance floor opened to everyone at twilight. With around 80 guests in attendance, most passed on a slow dance to warmup, but were not shy about hitting the dance floor for the first fast dance song. The Beatles 'Twist & Shout' brought many out to the tiny dance floor, that quickly overflowed onto the grass for the tracks that followed, including: 'Happy', 'Cupid Shuffle', 'Brown Eyed Girl', 'Can't Stop the Feeling' and more.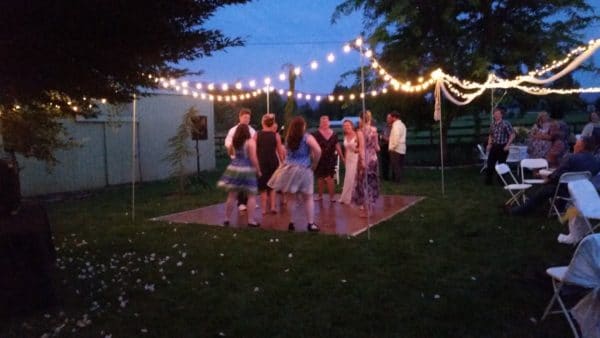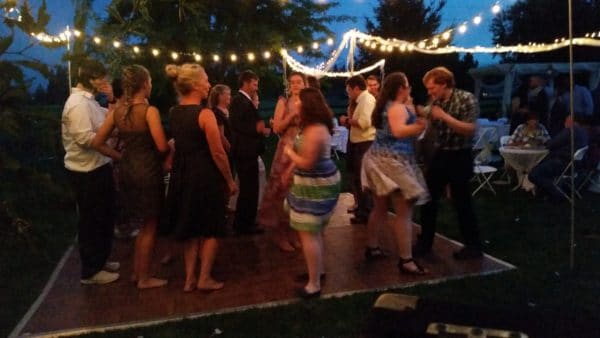 Congratulations Sonna and Ryan and thank you Maid of Honor, Mille for recommending me. I had the opportunity to perform at her wedding two years ago.

Post Event Satisfaction Survey:

"Rich did a fantastic job! He was prompt and helped walk us through each step of planning in regards to processional music to first dances. He brought all of his own equipment and set up/broke it down himself. We really appreciated all of his hard work and for guiding us on our special day! Highly recommend."  -Sonna Winkel & Ryan Scott Weddle
Event Date: Friday, June 30, 2017
Event Type: Wedding & Reception
Event Location: Parkdale, OR
Event Staff: Rich Ellis
Quality of Customer Service via Telephone: Excellent
Quality of Customer Service via Internet: Excellent
Quality of Customer Service at Event: Excellent
Friendliness of your Entertainer: Excellent
Promptness of your Entertainer: Excellent
Professionalism of your Entertainer: Excellent
Entertainer's Performance: Excellent
Entertainer's Appearance: Excellent
System Appearance: Excellent
Sound Quality: Excellent
Overall Volume Levels: Excellent
Music Selection: Excellent
Incorporation of Your Requests: Excellent
Lighting Effects: Excellent
Equipment Appearance: Excellent
Overall Customer Service: Excellent
Planning Assistance: Excellent
Entertainer's Cooperation with Other Vendors: Excellent
Overall Performance Rating: Excellent
Would you recommend this service to others? Yes
Related Posts