November Rain At Empress Estate Wedding

Katie and Chase were married at the historical Empress Estate in Woodland, Washington on Sunday, November 20, 2016. It was a wet late November day and with the ceremony and most of the reception held in a tent adjacent to the main entrance of the main building, we were reminded throughout as the rain fell (hard at times) off and on outside.

Ceremony Highlights:
Bridal Party Entrance: Amy Hite – Prelude from Cello Suite No. 1, BWV 1007
Bride Entrance: Vitamin String Quartet – Yellow
Bride/Groom Exit: Chad Brock – Yes!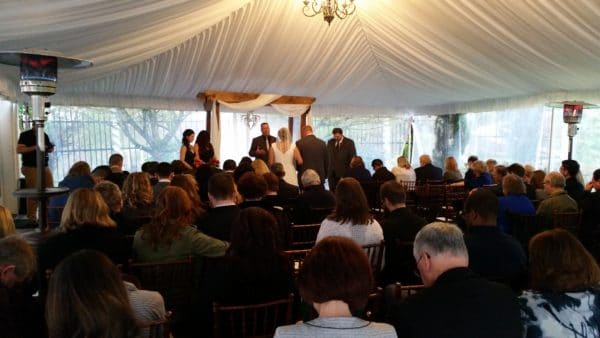 Following the wedding, all guests were directed inside for cocktails and appetizers as the tent area was turned for the reception, including dinner. The newlyweds requested all Country music for their big day. During dinner I played a mix of background music that featured artists such as Kenny Chesney, Lady Antebellum, Tim McGraw and more.

Reception Highlights:
Grand Entrance: Etta James – At Last
Cake Cutting: Billy Currington – Must Be Doin' Somethin' Right
Boquet Toss: Little Big Town – Little White Church
Garter Toss: Toby Keith – A Little Less Talk And A Lot More Action
The traditional reception events took place inside the main entrance of the estate. The bride and groom wanted their guests standing along the stairwell on each side of the cake table below… this made for a great photo. With no amplification inside, I projected my voice the best I could to coordinate the bouquet and garter toss and it seemed to go perfectly.

At the end of the evening, it was a sparkler sendoff as Katie and Chase made their exit out the front doors of the Empress Estate to their waiting guests. Congratulations to you both and thank you for choosing PRO DJs.




Post Event Satisfaction Survey:

"Rich did an excellent job and provided great recommendations."  -Katie Mason & Chase Hendrickson
Event Date: Sunday, November 20, 2016
Event Type: Wedding & Reception
Event Location: The Empress Estate – Woodland, Washington
Event Staff: Rich Ellis
Quality of Customer Service via Telephone: Excellent
Quality of Customer Service via Internet: Excellent
Quality of Customer Service at Event: Excellent
Friendliness of your Entertainer: Excellent
Promptness of your Entertainer: Excellent
Professionalism of your Entertainer: Excellent
Entertainer's Performance: Excellent
Entertainer's Appearance: Excellent
System Appearance: Excellent
Sound Quality: Excellent
Overall Volume Levels: Excellent
Music Selection: Excellent
Incorporation of Your Requests: Excellent
Lighting Effects: N/A
Equipment Appearance: Excellent
Overall Customer Service: Excellent
Planning Assistance: Excellent
Entertainer's Cooperation with Other Vendors: Excellent
Overall Performance Rating: Excellent
Would you recommend this service to others? Yes
Related Posts