McMenamins Edgefield Manor Wedding

Barb and John were married on Saturday, May 20, 2017 inside Blackberry Hall at McMenamins Edgefield in Troutdale, Oregon.

This classic venue remains ever popular with couples planning their weddings. Many choose to have their ceremony in the meadow behind Blackberry hall, then the reception inside. But on this warm and sunny day, Barb and John chose to hold both inside since our waterlogged winter and early spring made the grass extra soft.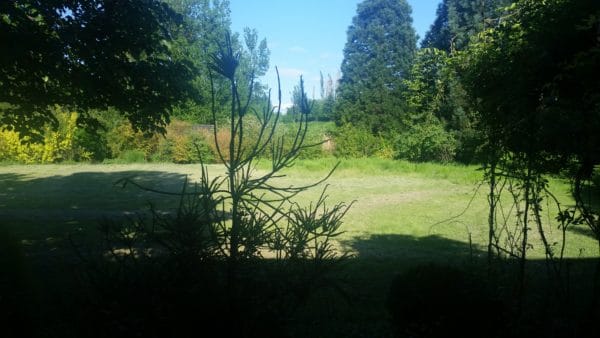 For the bride's entrance music, Barb asked me if I could edit the song 'Marry Me' by Train to remove the lyrics that reference 'getting the nerve to say hello in this cafe.' She loves the song and all of the lyrics applied to her experience, except that line. I was happy to oblige and the final edit sounded like it was supposed to be that way, so success 🙂

McMenamins Edgefield Manor Wedding Ceremony Highlights:
Weding Processional Entrance: Roy Todd – Radiant As A Bride
Bride Entrance: Train – Marry Me (Edit No Cafe)
Bride/Groom Exit: James Taylor – How Sweet It Is (To Be Loved By You)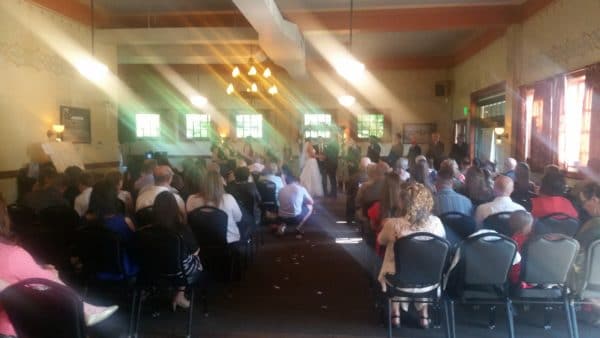 Following the ceremony, it was a perfect evening for a stroll on the Edgefield grounds as the hall was reset for the reception. When guests returned, I played a variety of background music selections that included artists Colbie Callait, Jason Mraz, OneRepublic and more.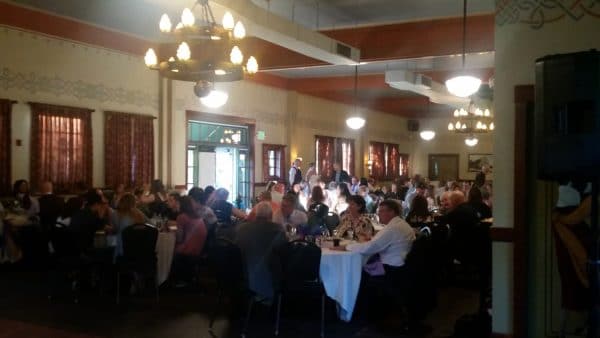 McMenamins Edgefield Manor Wedding Reception Highlights:
Grand Entrance: AC/DC – Thunderstruck
Cake Cutting: Maroon 5 – Sugar
First Dance: Trisha Yearwood – How Do I Live
Groom and Mother, Bride and Father-In-Law Dance: Rascal Flatts – My Wish
Bride and Mother Dance: Van Morrison – Brown-Eyed Girl (Call all brown eye girls to floor after about 30 seconds)
Money Dance: Barenaked Ladies – If I Had A Million Dollars
Anniversary Dance: Anne Murray – Can I Have This Dance
Last Dance: Brad Paisley – She's Everything
After the formal dances that concluded with the anniversary dance that revealed the bride's aunt and uncle were married the longest at 50 years, the dance floor opened to everyone around 9pm. The lights remained on for the first 20 minutes or so, but that didn't stop many in this group from movin' to the classics and recent hit songs, such as 'Billie Jean', 'Hey Ya' and 'Twist & Shout'.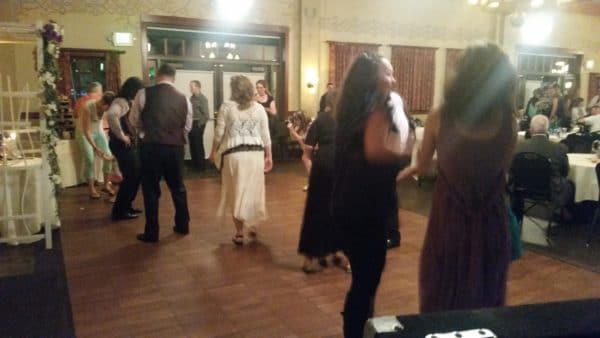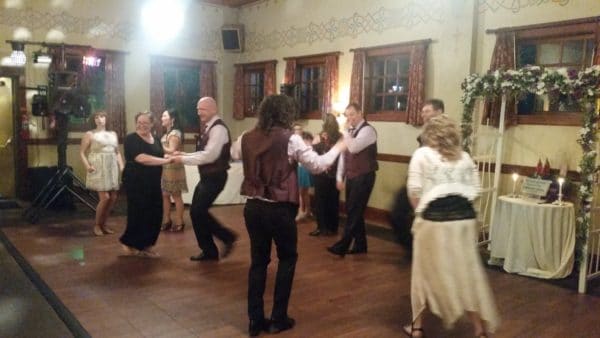 I played everything from 'Stayin' Alive' to 'Uptown Funk, 'Can't Stop the Feeling', 'Celebration' and more. Blackberry Hall was rockin' the final 90 minutes of the reception… even some passersby took a look inside to witness the action when the doors to the dance floor area opened later.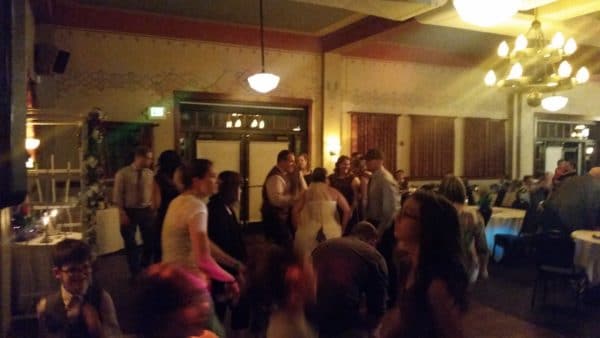 Congratulations Barb and John and thank you for choosing PRO DJs.

Post Event Satisfaction Survey:

"Rich was great! He spent an hour on the phone with us organizing our wedding details. He is very professional and kind. I am very satisfied with our experience with ProDJs and Rich."  
-Barb & John Pemberton
Event Date: Saturday, May 20, 2017
Event Type: Wedding & Reception
Event Location: Edgefield McMenamins
Event Staff: Rich Ellis
Quality of Customer Service via Telephone: Excellent
Quality of Customer Service via Internet: Excellent
Quality of Customer Service at Event: Excellent
Friendliness of your Entertainer: Excellent
Promptness of your Entertainer: Excellent
Professionalism of your Entertainer: Excellent
Entertainer's Performance: Excellent
Entertainer's Appearance: Excellent
System Appearance: Excellent
Sound Quality: Excellent
Overall Volume Levels: Excellent
Music Selection: Excellent
Incorporation of Your Requests: Excellent
Lighting Effects: Excellent
Equipment Appearance: Excellent
Overall Customer Service: Excellent
Planning Assistance: Excellent
Entertainer's Cooperation with Other Vendors: Excellent
Overall Performance Rating: Excellent
Would you recommend this service to others? Yes
Related Posts