Dance Floor Sizzles At Hot Mt. Hood Wedding

It's the hottest June on record in the Northwest and Millie and Tony's Mt. Hood Wedding was a scorcher as the temperature peaked at 103 about the time their ceremony began on the front lawn at Mt. Hood B & B in Parkdale, Oregon on Friday, June 26, 2015.

Fortunately guests were able to relax in the shade under the tent with plenty of ice water on hand before being seated. Classic umbrellas were also available during the ceremony, but didn't disturb the always amazing view of the mountain up close.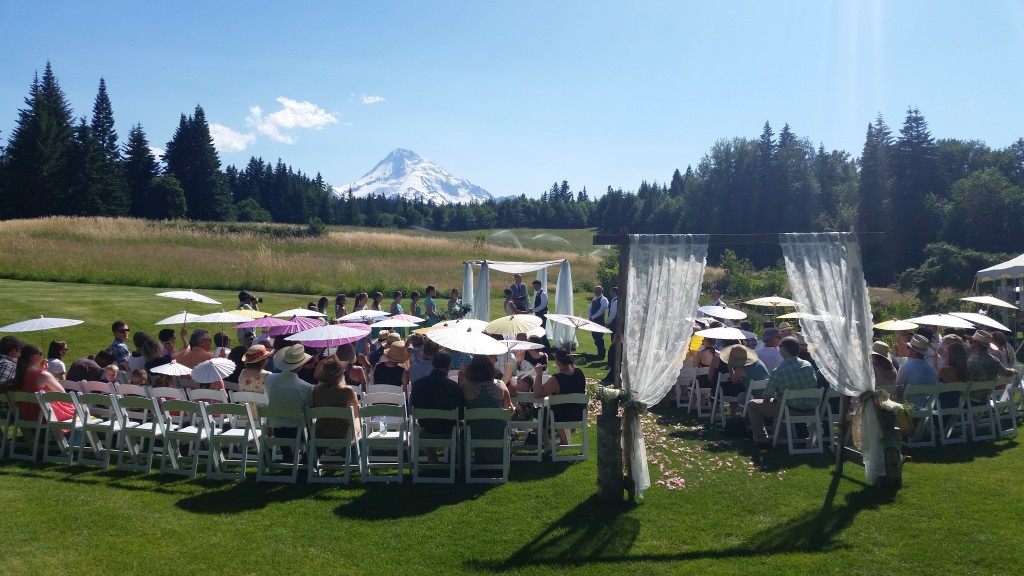 Mt. Hood Wedding Ceremony Highlights:
Wedding Party Entrance: Allison Krauss & Union Station – When You Say Nothing At All
Bride Entrance: Chris Ledoux – Look At You Girl
Bride/Groom Exit: Pharrell Williams – Happy
Following the wedding ceremony, most guests returned to the tent area, while others enjoyed a cocktail on the lawn. I played a mix of background music that included everything from Jack Johnson and Queen to Lady Antebellum and Kenny Chesney.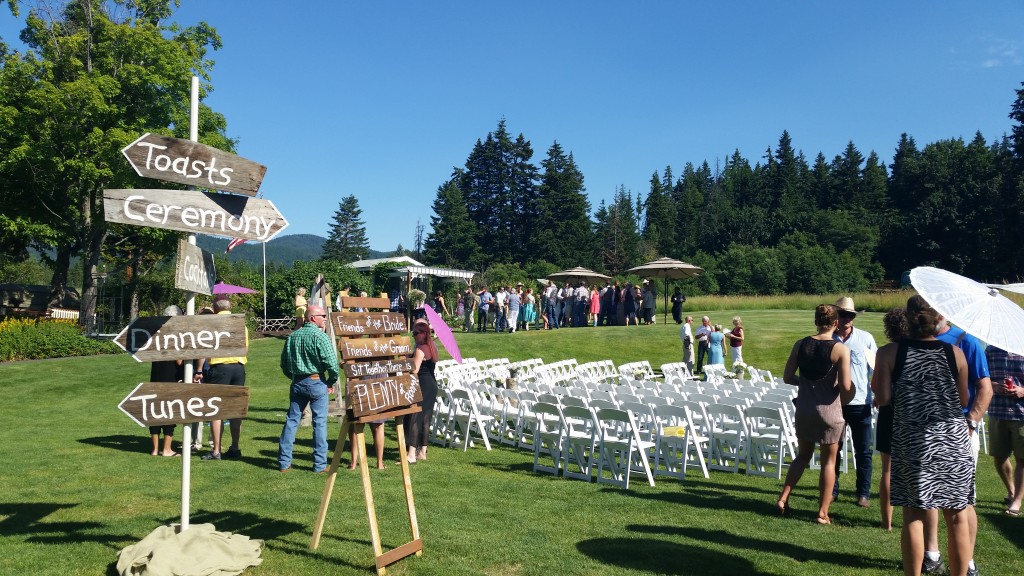 For the reception, my main sound system was set-up earlier in the dining area located behind the house. After everyone found their seats, I introduced Millie and Tony and then they danced their first dance. Background music during dinner was a softer variety of favorites that included Jason Mraz, Tim McGraw and Norah Jones.

Mt. Hood Wedding Reception Highlights:
Grand Entrance: Bruno Mars – Marry You
First Dance: Leighton Meester & Garrett Hedlund – Give In To Me
Cake Cutting: George Strait – Give It All We Got Tonight
Bride and Father Dance: Trace Adkins – Just Fishin'
Groom and Mother Dance: Patsy Cline – Crazy
Bouquet Toss: Shania Twain – Beyonce – Single Ladies (Put A Ring On It)
Garter Toss: Shania Twain – Marvin Gaye – Let's Get It On
Last Dance: Neil Diamond – Sweet Caroline

One nice thing about hot summer days is they turn into warm summer nights and even with plenty of daylight still when the dance floor opened around 7:15pm, many people were excited to join in for the first slow dance and then move and shake to the fast songs that followed.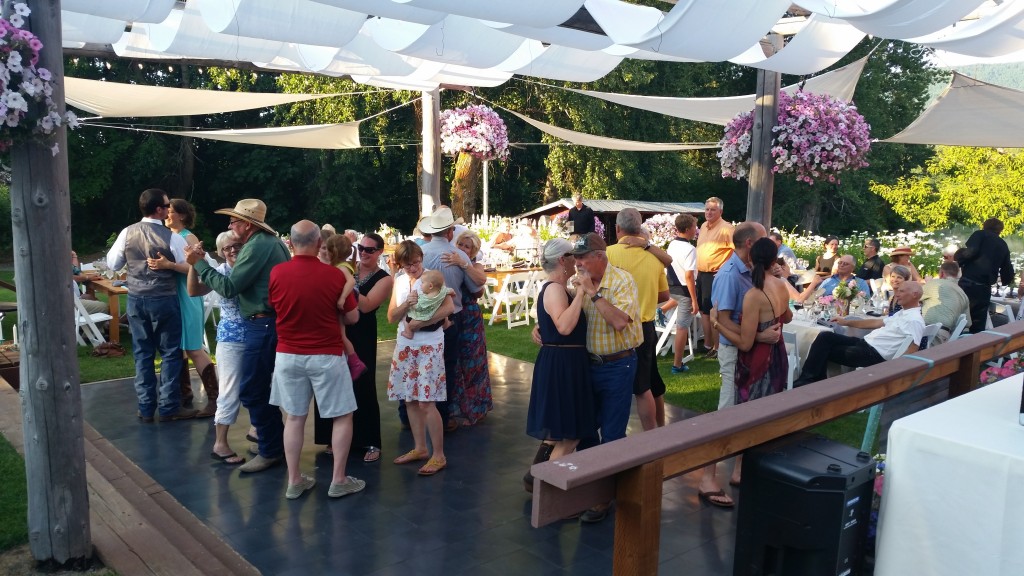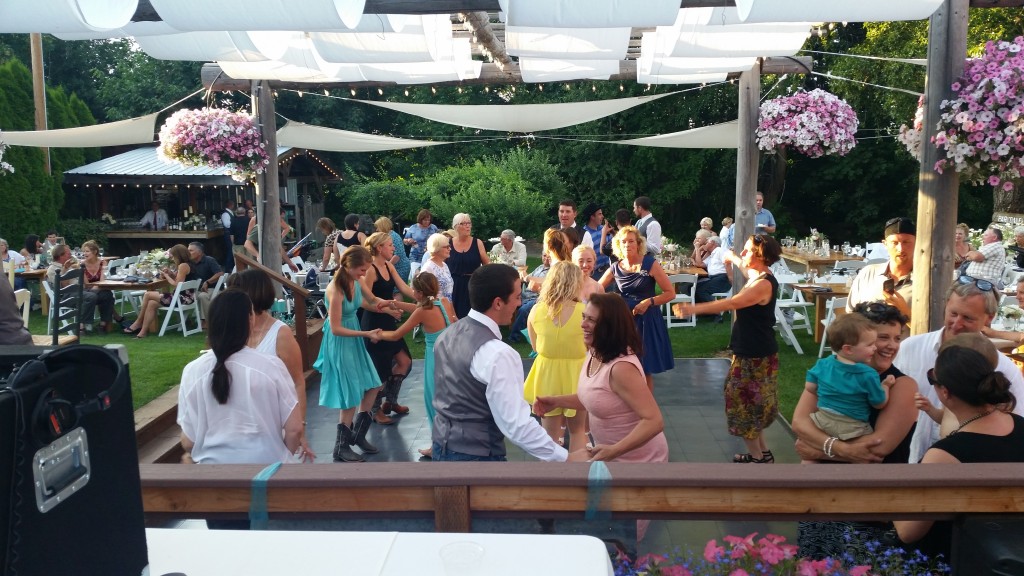 Guests enjoyed the classic hits… everything from 'Brown Eyed Girl' to 'Boot Scootin' Boogie' and a conga line broke out during 'Stayin' Alive.'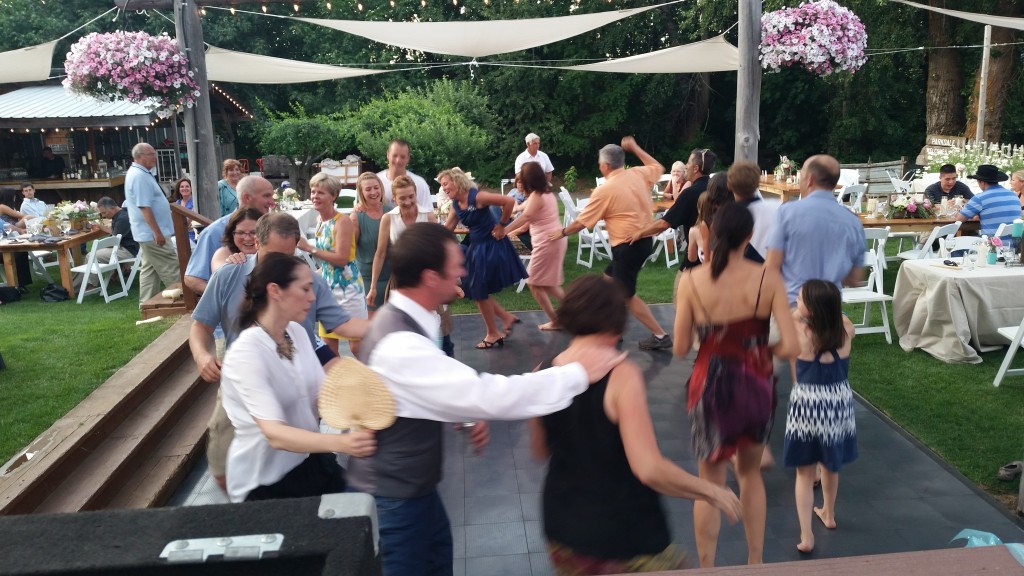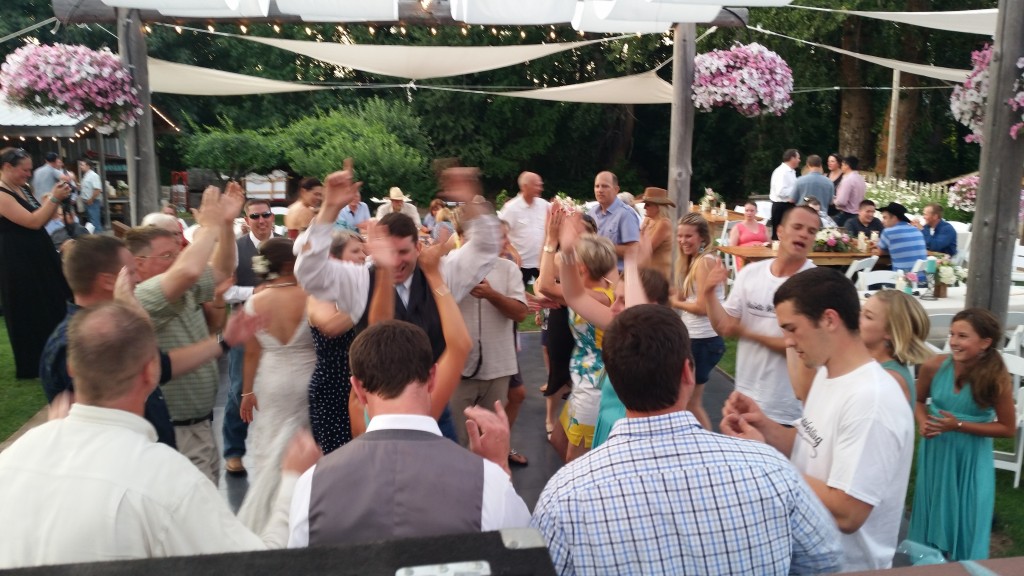 As twilight settled in, a slow dance kept the floor full before a solid of mix of today's music from Pitbull, Luke Bryan, the smash 'Uptown Funk' and more, kept the fire lit until the end.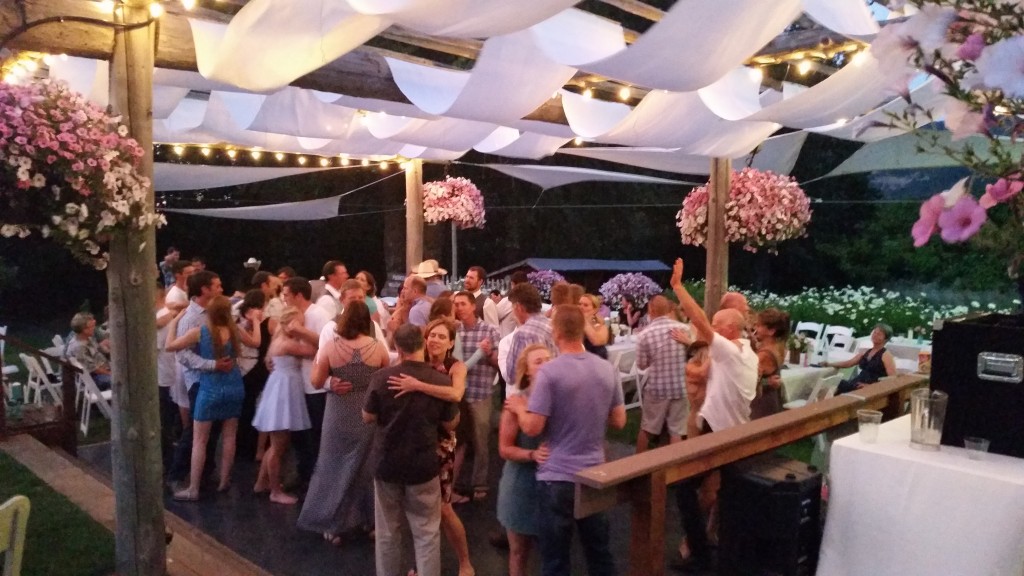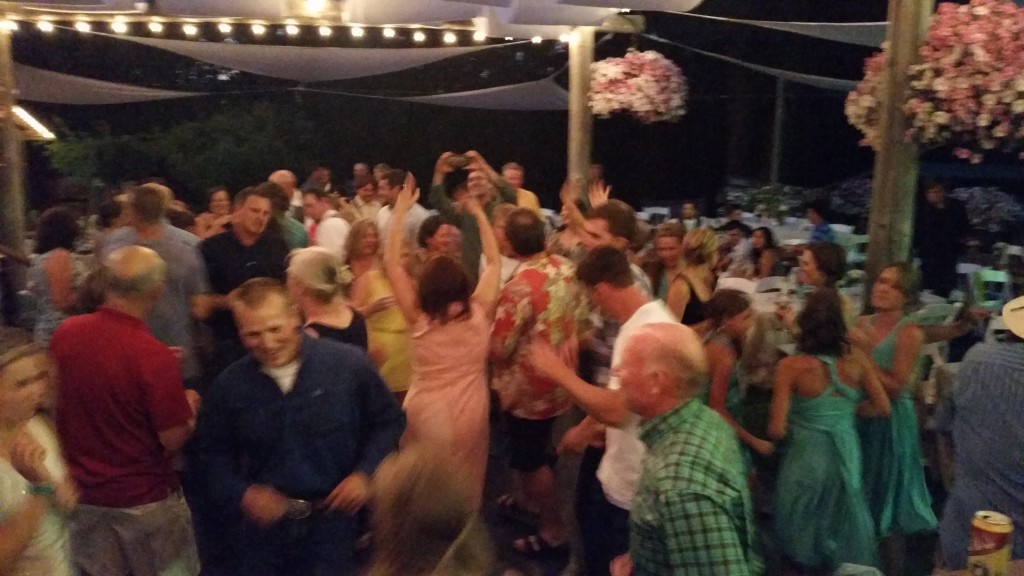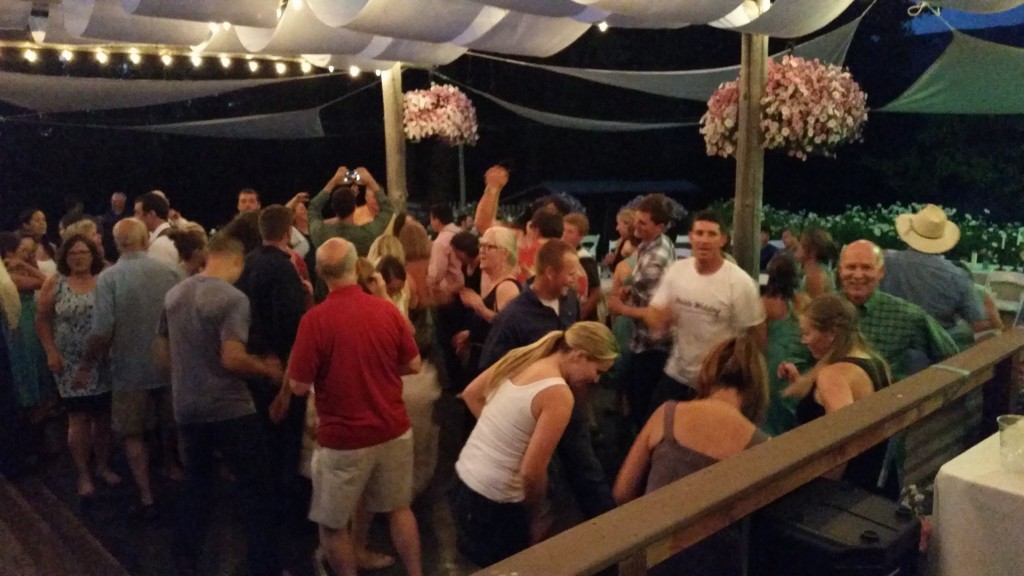 Best wishes Mille and Tony!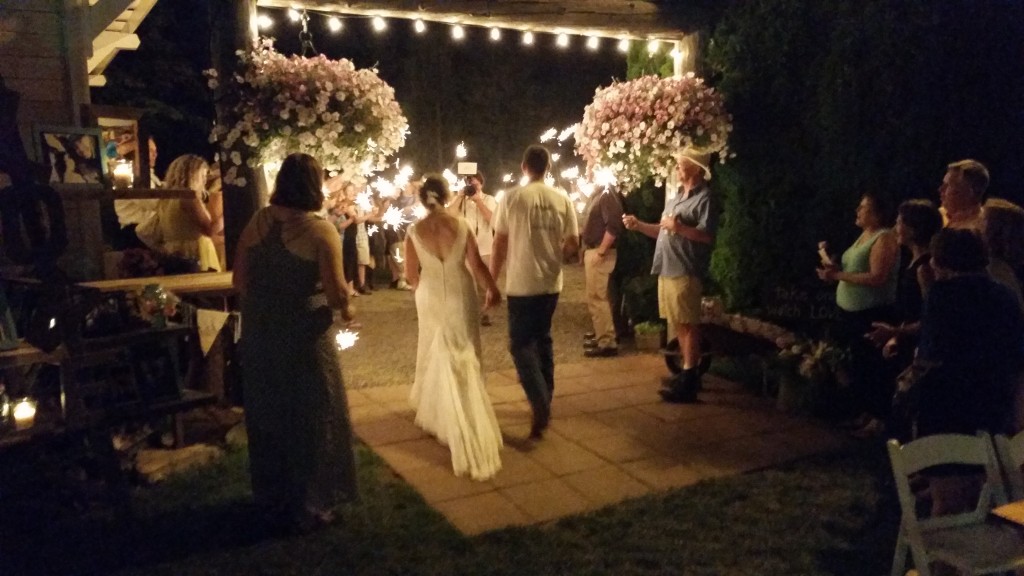 Post Event Satisfaction Survey:

"Great DJ. Very easy to work with and followed through with everything we had talked about!" -Ameliah Guisto
Event Date: Friday, June 26, 2015
Event Type: Wedding & Reception
Event Location: Mt. Hood Bed and Breakfast
Event Staff: Rich Ellis
Quality of Customer Service via Telephone: Excellent
Quality of Customer Service via Internet: Excellent
Quality of Customer Service at Event: Excellent
Friendliness of your Entertainer: Excellent
Promptness of your Entertainer: Excellent
Professionalism of your Entertainer: Excellent
Entertainer's Performance: Excellent
Entertainer's Appearance: Excellent
System Appearance: Excellent
Sound Quality: Excellent
Overall Volume Levels: Excellent
Music Selection: Excellent
Incorporation of Your Requests: Excellent
Lighting Effects: N/A
Equipment Appearance: Excellent
Overall Customer Service: Excellent
Planning Assistance: Excellent
Entertainer's Cooperation with Other Vendors: Excellent
Overall Performance Rating: Excellent
Would you recommend this service to others? Yes
Related Posts