Big Time Portland Bat Mitzvah Dance Party

DJ Rich Ellis had the opportunity to perform at Anita's Bat Mitzvah Dance Party on Saturday, July 1, 2017 at Congregation Beth Israel in Portland, Oregon.

Anita's dad Ben had the pleasure of selecting the artists for the background music. For cocktails, he wanted an R&B, World, Afro Cuban vibe that included artists: The Indestructible Beat of Soweto, Baba Maal, Sharon Jones and the Dap Kings, Amy Winehouse and more. For dinner, he suggested aoustic rock and mellow pop music, including artists: Nirvana unplugged, Crosby, Stills, Nash & Young, Natalie Merchant, Pink Martini and others.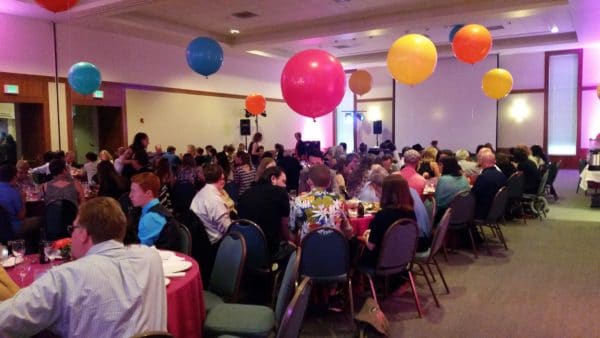 Before dinner, the plan was for the kids to play some games, but the photo booth and henna tattoos proved too much of a distraction. Following dinner was a slideshow and family toast.

Next, Anita introduced and talked about her family and friends during the candle lighting ceremony and then 'The Hora' got everyone out of their chairs immediately to begin what turned out to be a big time Saturday night Bat Mitzvah dance party.



The floor was packed for nearly every song from start to finish and the 200+ guests in attendance brought the energy for big hit songs, 'Happy,' 'Uptown Funk', 'Can't Stop the Feeling' and more and my scheduled peformance time was not enough, so an extra 30 minutes was added to keep the party going.

Mazel Tov Anita and thank you Lolly and Ben for again choosing PRO DJs. I had the opportunity to perform at sister Ava's Bat Mitvah in 2015.

Post Event Satisfaction Survey:

"Rich was wonderful to work with. He met our needs thoroughly and was incredibly flexible as the course of our event changed from what we originally thought. He helped us a great deal with
timing of certain things we wanted and also completely went with the flow when needed. He stayed on a bit longer as our guests were fully on the dance floor still at the end of our agreed time! Rich is incredibly professional, super friendly and is an excellent DJ. This is the 2nd time we have hired him to DJ an event and we were very pleased both times. I have since recommended Pro DJ's and will continue to!" -Lolly Jamerson and Ben Sandler (Anita's Bat Mitzvah)
Event Date: Saturday, July 1, 2017
Event Type: Bat Mitzvah
Event Location: Congregation Beth Israel
Event Staff: Rich Ellis
Quality of Customer Service via Telephone: Excellent
Quality of Customer Service via Internet: Excellent
Quality of Customer Service at Event: Excellent
Friendliness of your Entertainer: Excellent
Promptness of your Entertainer: Excellent
Professionalism of your Entertainer: Excellent
Entertainer's Performance: Excellent
Entertainer's Appearance: Excellent
System Appearance: Excellent
Sound Quality: Excellent
Overall Volume Levels: Excellent
Music Selection: Excellent
Incorporation of Your Requests: Excellent
Lighting Effects: Excellent
Equipment Appearance: Excellent
Overall Customer Service: Excellent
Planning Assistance: Excellent
Entertainer's Cooperation with Other Vendors: Excellent
Overall Performance Rating: Excellent
Would you recommend this service to others? Yes
Related Posts