General

With Megan and Mitchell's Wednesday wedding at Adrianna Hill Grand Ballroom in downtown Portland, Oregon, I have performed at a wedding everyday of the week this year, except Tuesday.

The ceremony began at 6pm in the main ballroom on Wednesday, September 17, 2014. Mitchell had been hoping to have Celtic music playing during the prelude, but Megan wanted something with a little more tempo, so they settled on techno violinist Lindsey Stirling and the groom made his entrance to Lindsey's 'My Immortal.'

Wednesday Wedding Ceremony Highlights:
Wedding Processional/Bride Entrance: London Symphony Orchestra – Beauty and the Beast
Bride/Groom Exit: Skies of Arcadia OST – Blue Rogues' Theme
To allow the room to be turned for dinner and the reception, guests made their way upstairs to the balcony after the ceremony for cocktails and hors d'oeuvres. The newlyweds went with a 'Masquerade Ball' theme for their big day and everyone was given a mask to wear before returning to the ballroom for dinner and dancing.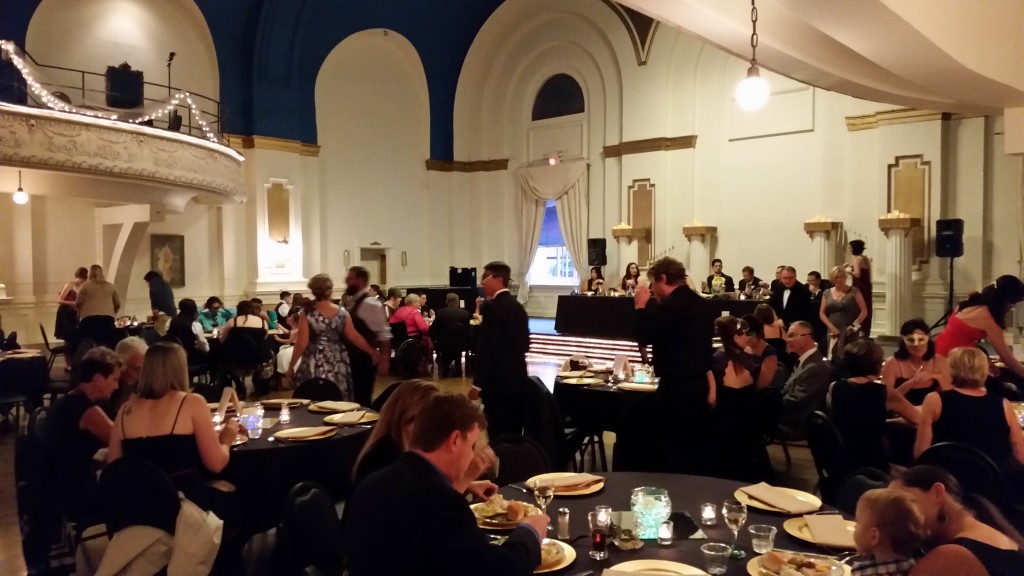 Wednesday Wedding Reception Highlights:
Grand Entrance: Blue Swede – Hooked On A Feeling
Cake Cutting: American Authors – Best Day Of My Life
First Dance: OneRepublic – If I Lose Myself (Acoustic)
Bouquet Toss: Carly Rae Jepsen – Call Me Maybe
Garter Toss: Nelly – Hot In Herre
Last Dance Song: Miley Cyrus – When I Look at You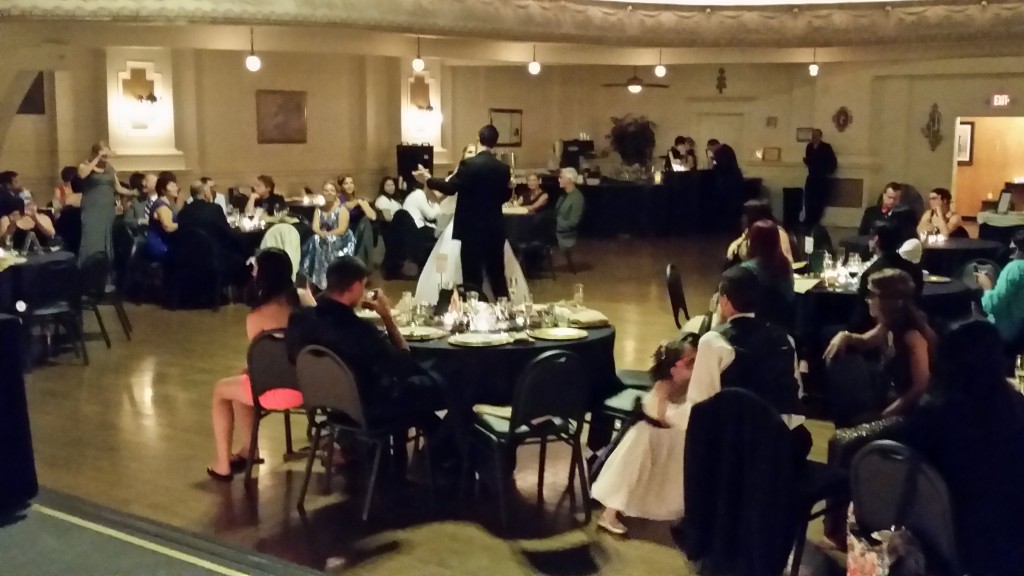 After their first dance, Megan and Mitchell wanted a group photo taken of everyone wearing their masks.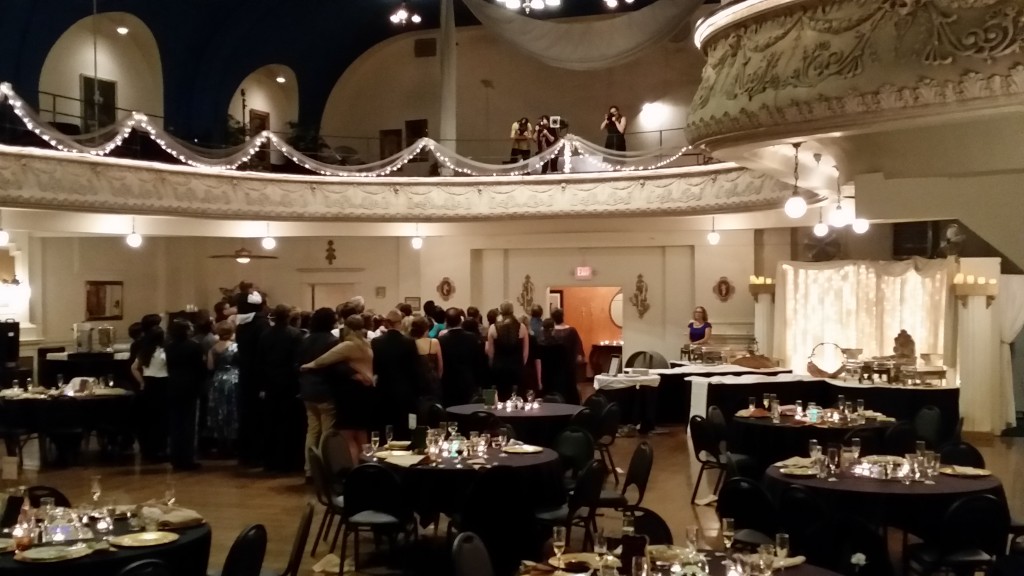 I then opened the dance floor with 'At Last' from Etta James, which had a nice feel for the theme and many couples slow danced to this classic.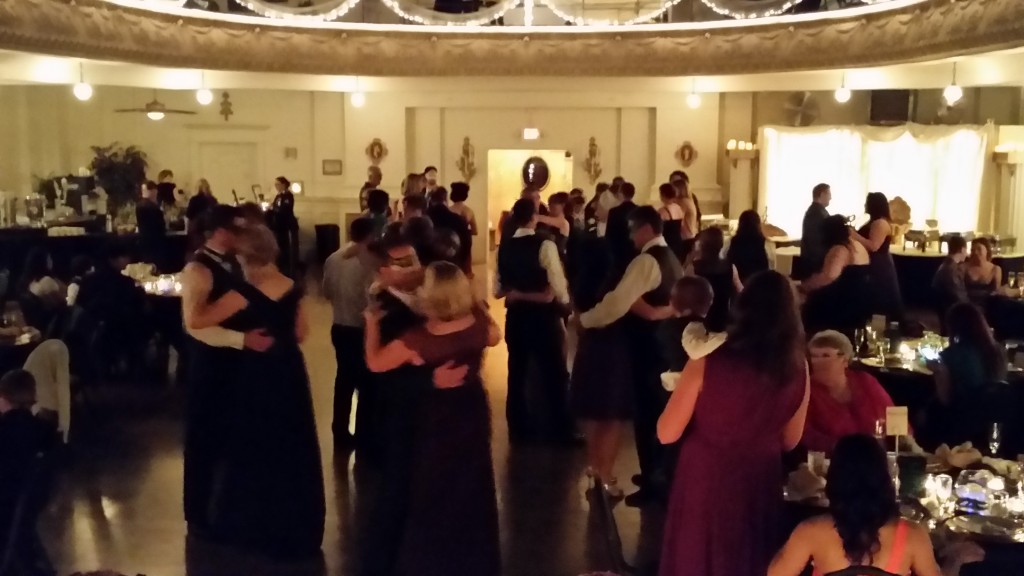 Judging by the energy and participation on the dance floor, you would never know it was a Wednesday night.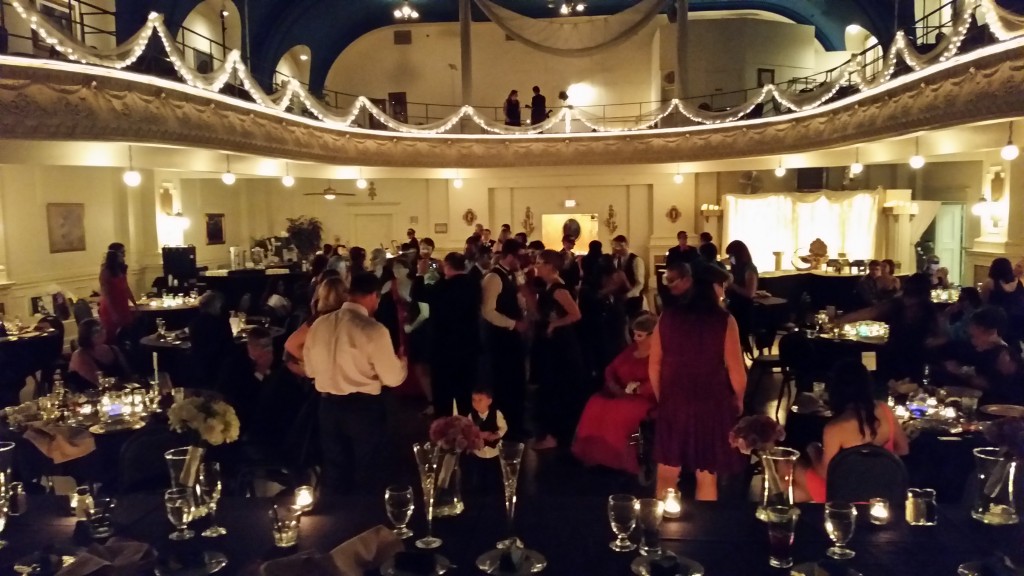 This was a big time celebration that felt like a Saturday night with the dance floor packed to classic hits 'In The Mood,' 'We Are Family,' 'Brown Eyed Girl' and more. Recent hits 'Party Rock Anthem,' 'Happy' and 'I Gotta Feeling' were also very popular.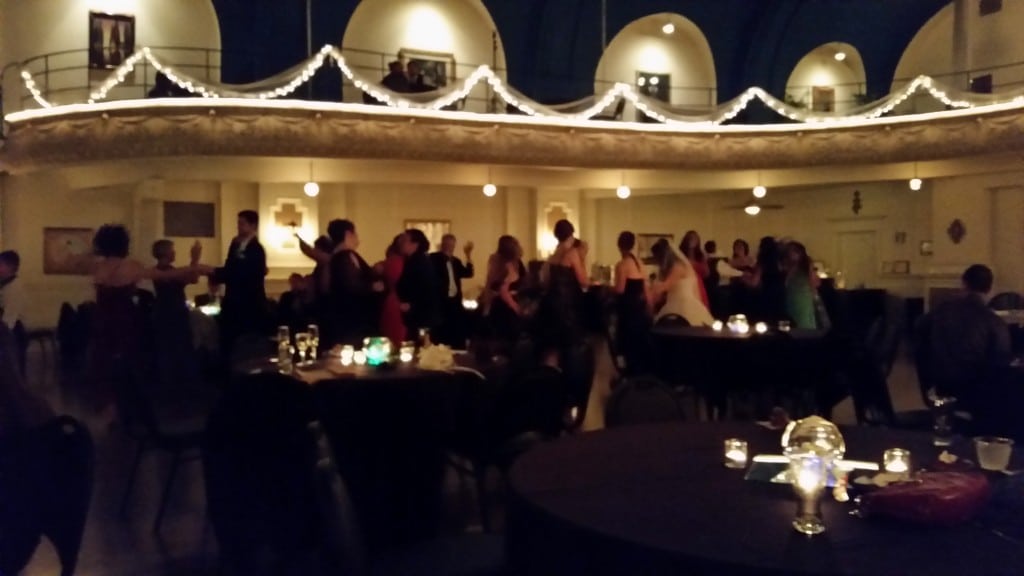 Best Wishes Megan and Mitchell and thank you Adrianna Hill Event Coordinator, Jessie Robinson for recommending PRO DJs.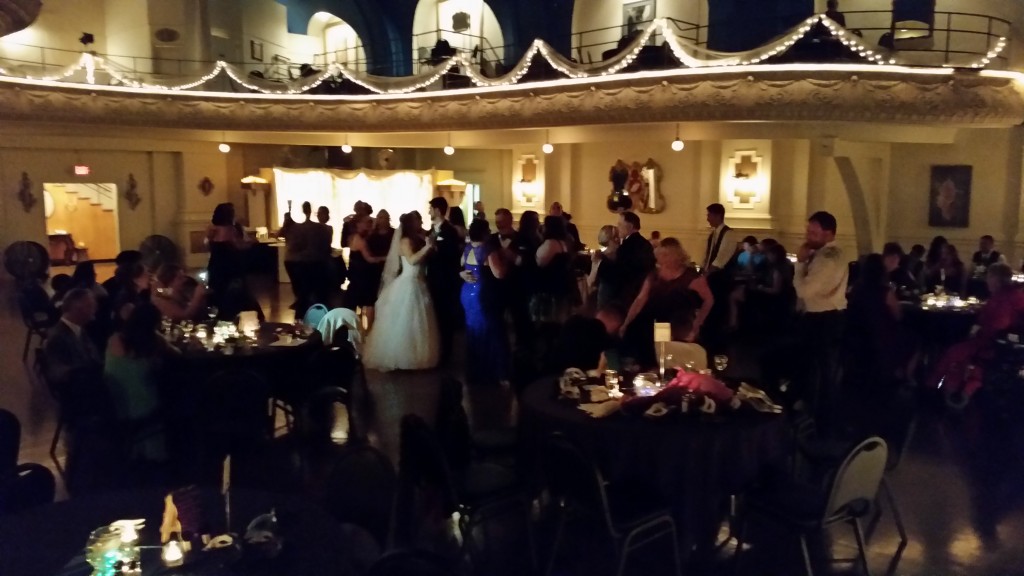 After a week of high humidity and more rain than needed in the summertime, it was nice to get back to warm, sunny weather for Ashley and Grant's wedding on Saturday, August 31, 2013.

A family friend hosted the ceremony and reception at their picturesque home on the Columbia River in Cathlamet, Washington. I have driven Highway 4 to Long Beach in the past, but hadn't stopped here. After driving through town, I crossed a bridge and the wedding was held on an island right in between Washington and Oregon.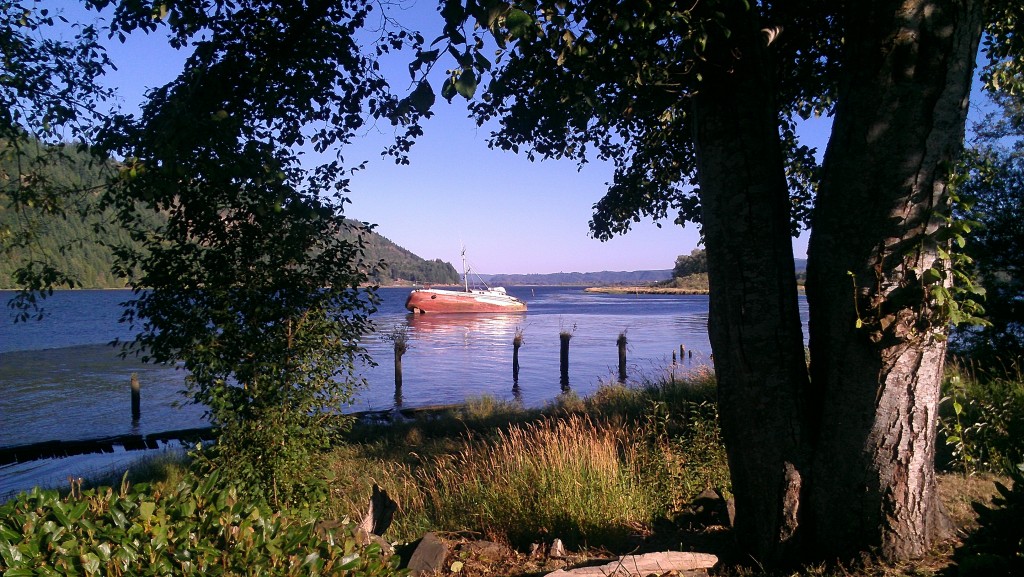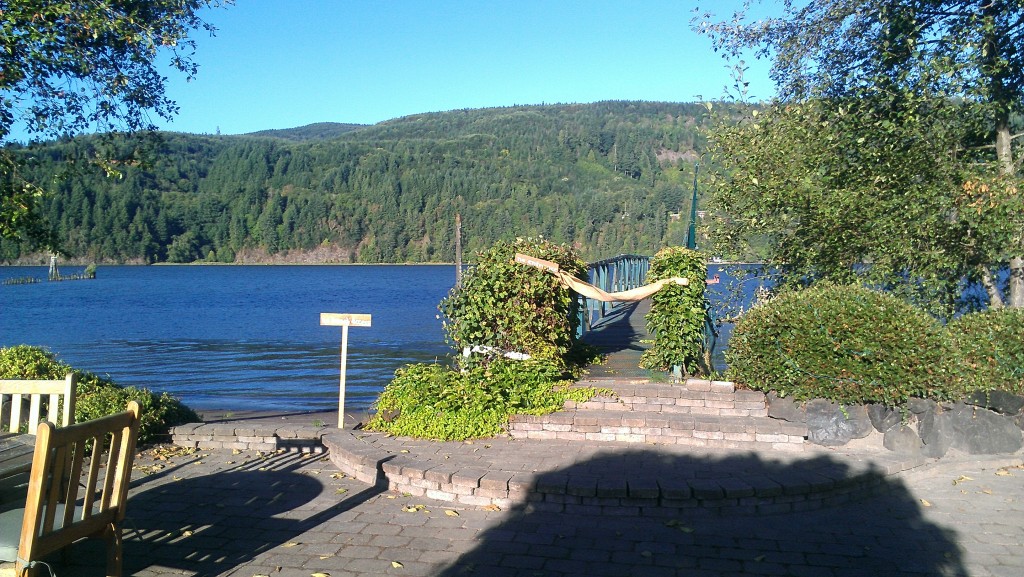 SW Washington Wedding DJ Ceremony Highlights:
Bridal Party Entrance: Christina Perri – A Thousand Years
Bride Entrance: The Band Perry – All Your Life
Bride/Groom Exit: Michael Franti & Spearhead – Say Hey (I Love You)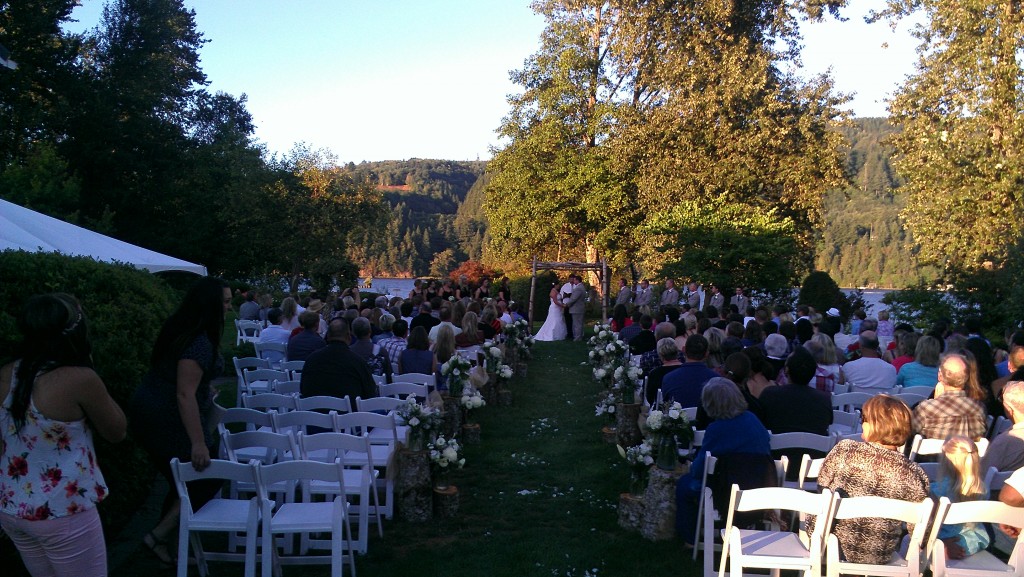 Guests gathered for the reception under the tent while I played a variety of music that included some Country favorites as requested by the newlyweds.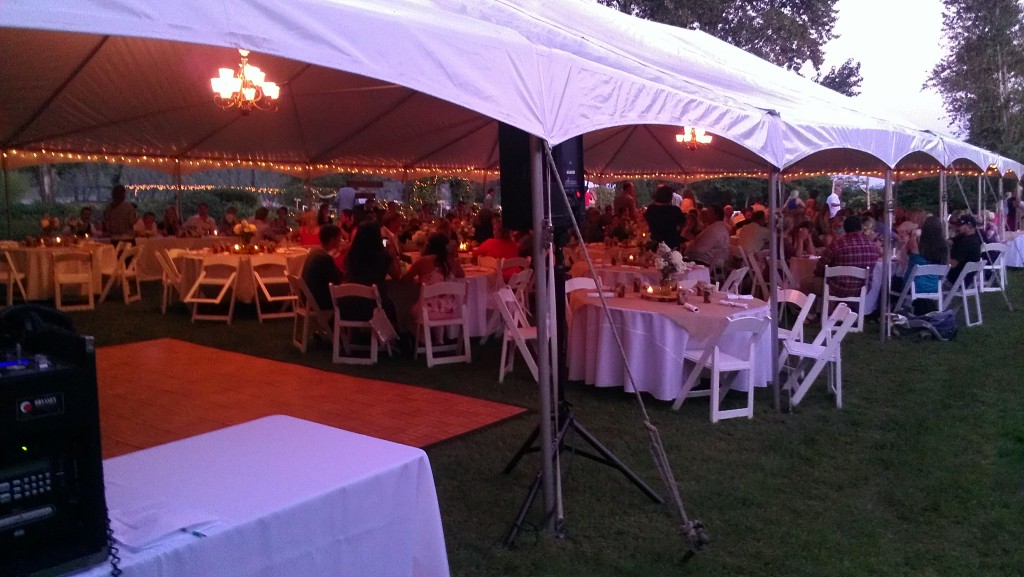 After dinner and before the toast, Ashley and Grant held a wish lantern ceremony where large lanterns with real candles inside, were released as guests offered them their best wishes.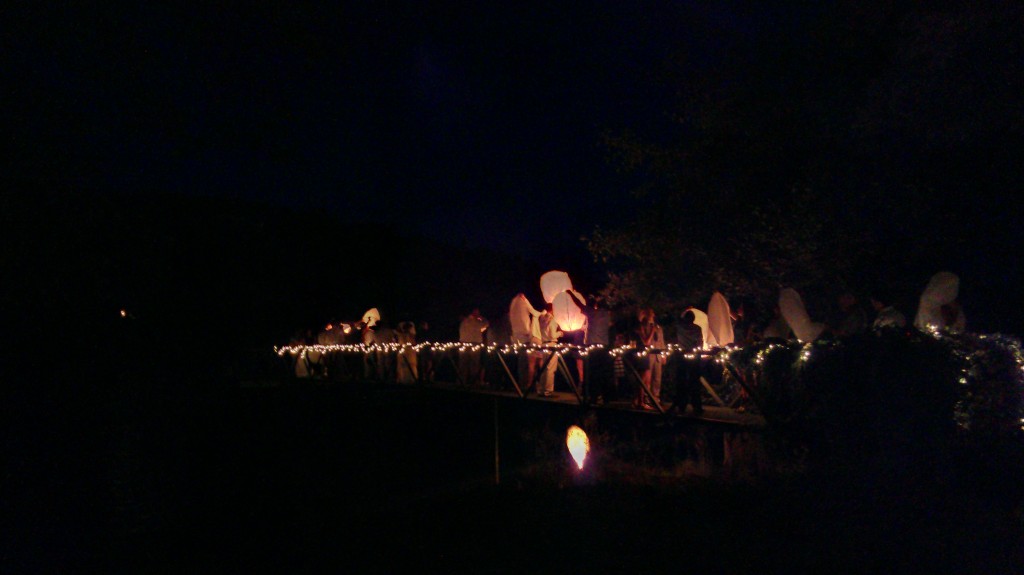 SW Washington Wedding DJ Reception Highlights:
Grand Entrance: Natalie Cole – This Will Be
Cake Cutting: Pat Benatar – Hit Me With Your Best Shot
First Dance: Shaniah Twain – When You Kiss Me (Sung Live by Ashley's Cousin, Charlene)
Bride and Father Dance: Chris Cagle – Dance Baby Dance
Groom and Mother Dance: Shinedown – Simple Man
Dollar Dance: Kalai – Divide Me
Bouquet Toss: Flo Rida f/David Guetta – Where Them Girls At
Garter Toss: Baauer – Harlem Shake
Last Dance: Thompson Square – If I Didn't Have You
It was a beautiful night to rock the dancefloor and everyone was excited to get going. From the opening slow dance to a mix of classics and currents, they brought a ton of energy that lit up the floor.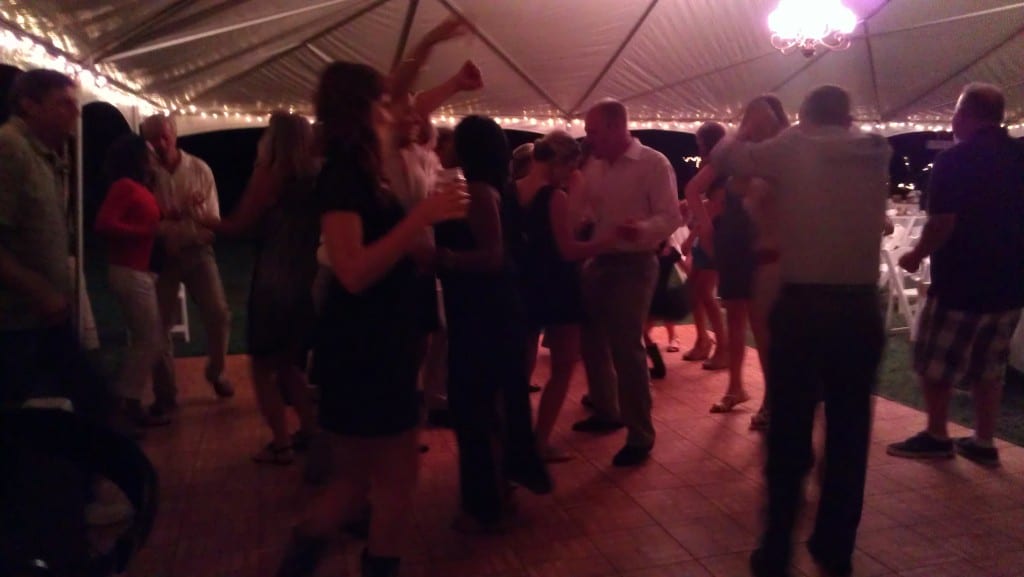 The groom's mom had an especially good time, dancing to nearly every song and adding a little spice by emptying three cans of dance floor powdered wax for extra slipping and sliding fun 🙂 Fortunately, no one took a tumble and guests had a little easier time shuffling during 'Party Rock Anthem'.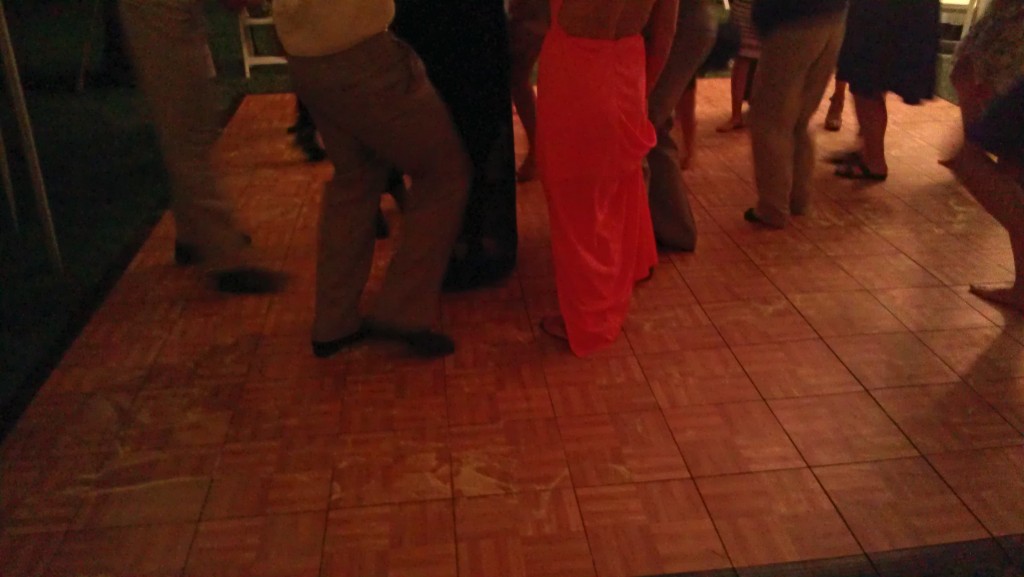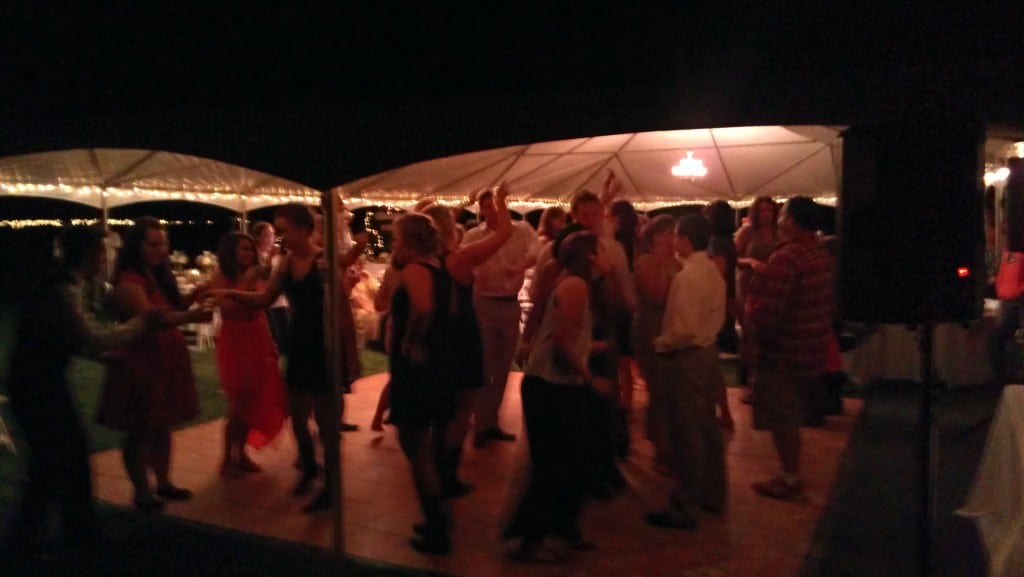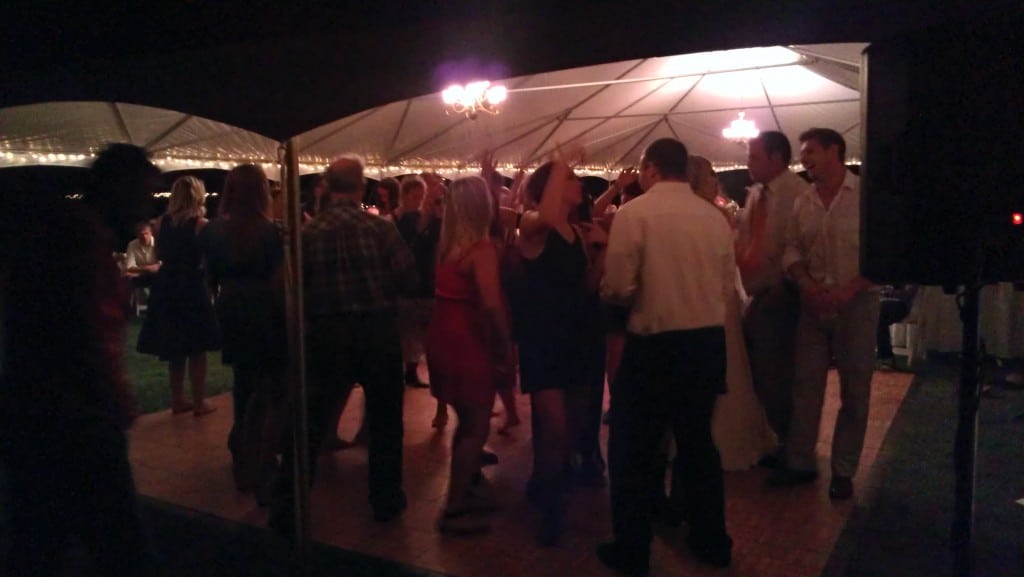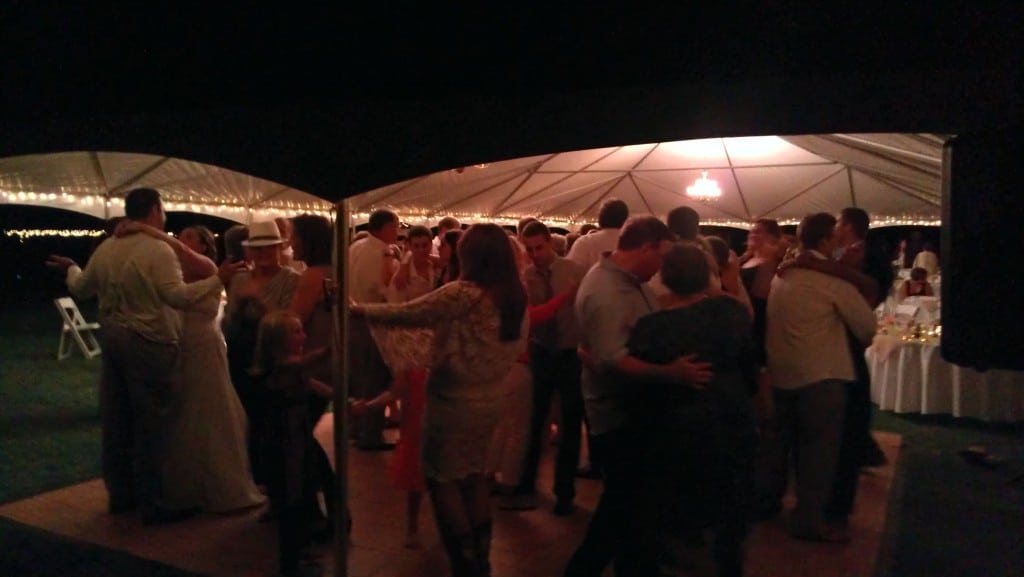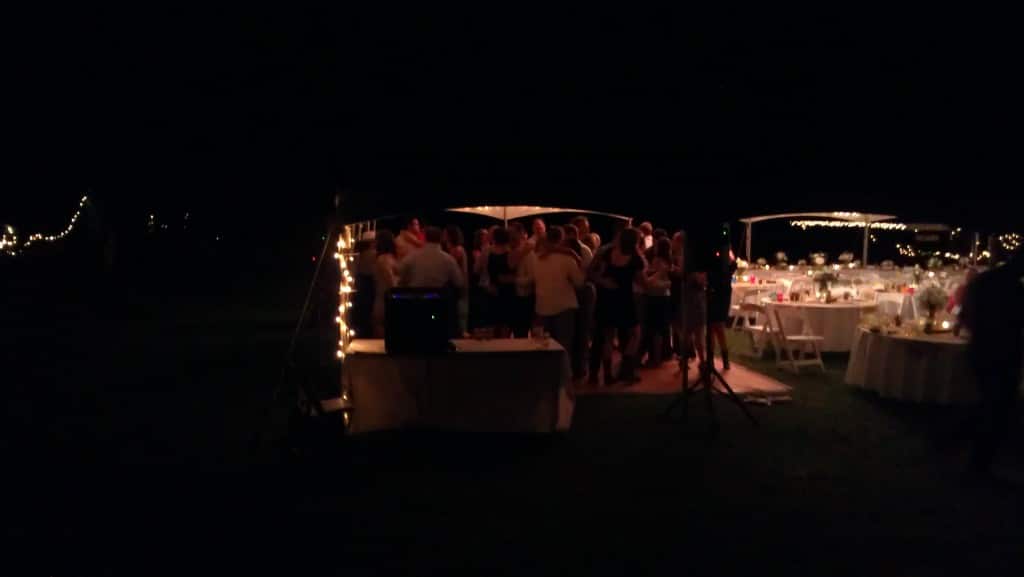 Post Event Satisfaction Survey:
Event Date: Saturday, August 31, 2013
Event Type: Wedding Reception
Event Location: Cathlamet WA
Event Staff: Rich Ellis
Quality of Customer Service via Telephone: Excellent
Quality of Customer Service via Internet: Excellent
Quality of Customer Service at Event: Excellent
Friendliness of your Entertainer: Excellent
Promptness of your Entertainer: Excellent
Professionalism of your Entertainer: Excellent
Entertainer's Performance: Excellent
Entertainer's Appearance: Excellent
System Appearance: Excellent
Sound Quality: Excellent
Overall Volume Levels: Excellent
Music Selection: Excellent
Incorporation of Your Requests: Excellent
Lighting Effects: N/A
Equipment Appearance: Excellent
Overall Customer Service: Excellent
Planning Assistance: Excellent
Entertainer's Cooperation with Other Vendors: Excellent
Overall Performance Rating: Excellent
Would you recommend this service to others? Yes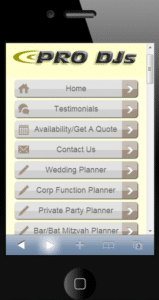 Serving Northwest Oregon and Southwest Washington, PRO DJs Portland now has a mobile website to help improve navigation of available information from our main website on iPhone and Android mobile devices, such as the online calendar to check availability and to officially book your event.

Our mobile site was implemented using mobile website builder 'DudaMobile,' a free service that allows businesses and individuals a quick and easy way to convert their desktop site to a mobile site in only minutes.

Now, when you visit www.prodjsportland.com on your mobile device, you will be automatically forwarded to the mobile site, that features the most popular functionality of the full desktop version, including testimonials, getting a quote and access to online planners and music request lists.

If you haven't done so, please check it out. Your feedback is appreciated. Happy Holidays!

Welcome to the blog for PRO DJs Portland. With all the amazing weddings and other events we have had the opportunity to perform at over the years, I wish we had done this sooner.

There have been many moments to share. We will do our best to update this blog on a regular basis with a recap of events and photos (if available).

If you are considering PRO DJs for your event, we appreciate your interest. Feel free to contact us anytime with questions or to get a quote at 1-800-9-PRO-DJS (1-800-977-6357). Thank you.