Weddings

Kelly and Keith's Fort Vancouver Artillery Barracks wedding reception was held on Saturday, September 16, 2017 in Vancouver, Washington.

They were married a month earlier on a cruise in Puerto Rico and the Carribbean, so this was a reception for their friends and family who were not able to attend.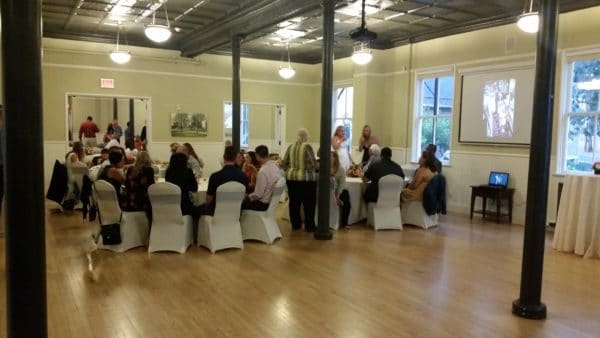 Fort Vancouver Artillery Barracks Wedding Reception Highlights:
Grand Entrance: Stevie Wonder – Signed Sealed Delivered…
Cake Cutting: Queen – You're My Best Friend
First Dance: Al Green – Let's Stay Together
Last Dance: Sister Sledge – We Are Family
Guests had a great time dancing to a wide variety of hits, including 'Uptown Funk', 'Cupid Shuffle', 'Celebration', 'Can't Stop the Feeling' and more.




Congratulations Kelly and Keith and thank you for choosing PRO DJs.


Erica and Sean's Leftbank Annex Wedding took place on Saturday, September 9, 2017 in Portland, Oregon.

And it was good to be inside on this day as we received the first rain since early June. With the Rose Quarter in the background, everyone was comfortable as they witnessed the exchange of vows in an intimate setting.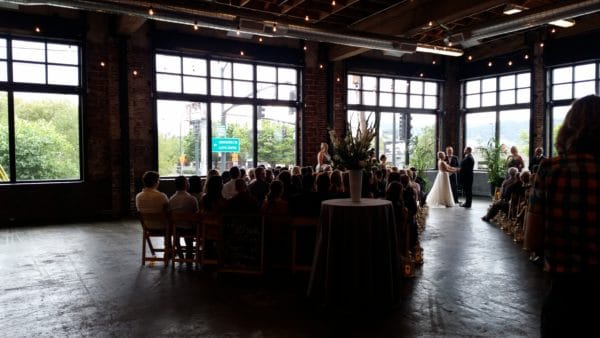 Leftbank Annex Wedding Ceremony Highlights:
Groomsmen Entrance: Neil Young – Heart of Gold
Bridesmaids & Bride Entrance: Lady Gaga – The Cure
Bride/Groom Exit: Dire Straits – Money for Nothing
The entire room was arranged for dinner after all guests made their way to the back of the room for cocktails. For background music, I played a mix of classic hits, including artists Marvin Gaye, Beatles, Bob Marley and the groom's requests for Neil Young and Built to Spill.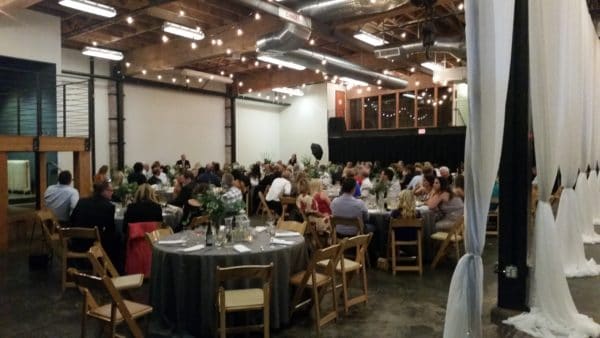 Leftbank Annex Reception Highlights:
Grand Entrance: Andrew Gold – Thank You For Being A Friend
Cake Cutting: Beatles – Twist & Shout
Bride and Father Dance: Eric Clapton – Wonderful Tonight
The dance floor covered a lot of ground, but guests weren't shy about getting out there and having a good time gettin' down to Prince, Michael Jackson, Justin Timberlake and more, including requests for 2Pac and Kendrick Lamar.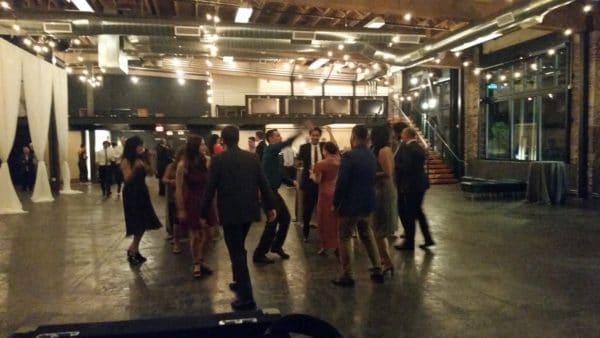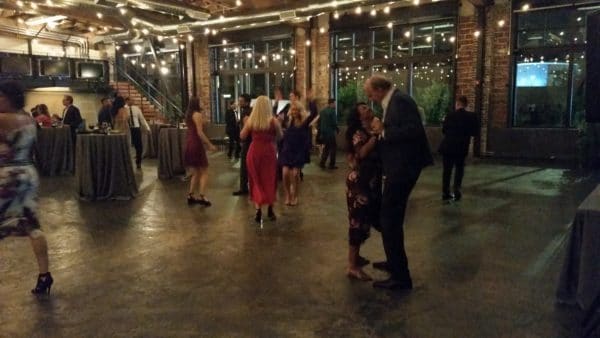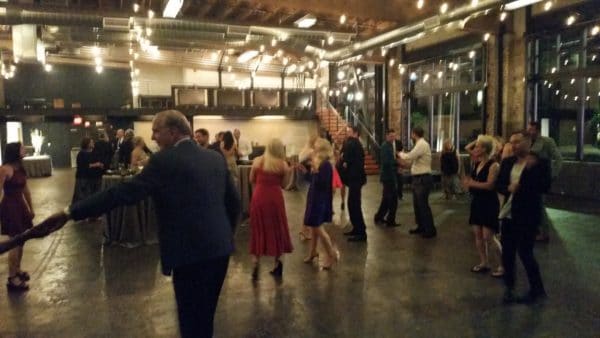 Congratulations Erica and Sean.


Suzy and Zak's Troutdale House wedding took place on Labor Day, September 4, 2017 in Troutdale, Oregon.

A wildfire that had started in the Columbia River Gorge over 50 miles away two days earlier had suddenly shifted west and was now only about 15 miles away when they exchanged vows outside in the garden area.

The air was smoky, like being inside a barbecue. However, there would be no denying the moments of this special day that included the bride surprising the groom with her father not just walking her down the aisle, but also serving as the wedding officiant.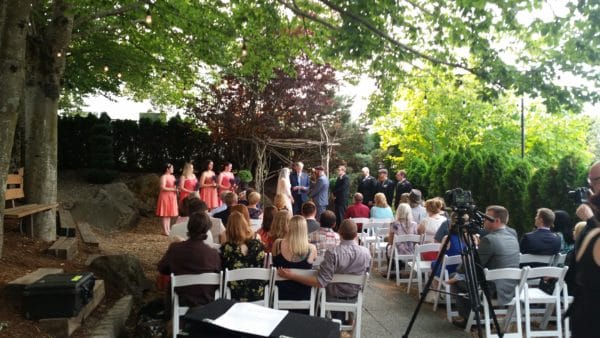 Troutdale House Wedding Ceremony Highlights:
Bridal Party Entrance: Eric Satie – Gymnopedie #1
Bride Entrance: Fleetwood Mac – Songbird
Bride/Groom Exit: Stevie Wonder – Signed Sealed Delivered…
The reception followed inside The Troutdale House and with the air conditioning on high, felt like a different world from what was happening outside, but it set guests at ease and they enjoyed conversation and background music that featured a variety of 70's classics as requested by the newlyweds.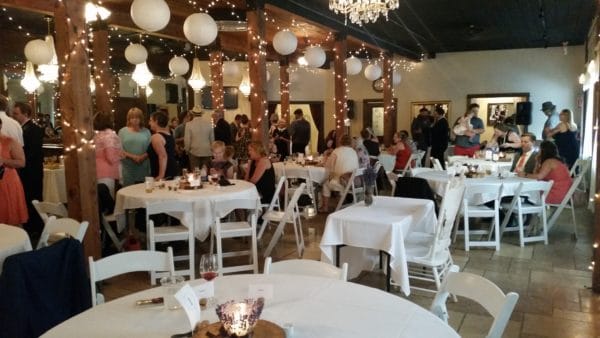 Troutdale House Wedding Reception Highlights:
Grand Entrance: Talking Heads – This Must Be The Place
Cake Cutting: Sam Cooke – Nothing Can Change This Love
First Dance: Stevie Wonder – My Cherie Amour
Bride and Father Dance: Johnny Cash – You Are My Sunshine
The dance floor at this venue is a long, narrow aisleway in front of the bar. Guests filled this area from the opening slow dance to a number of fast songs that followed, including hits from Michael Jackson and The Beatles.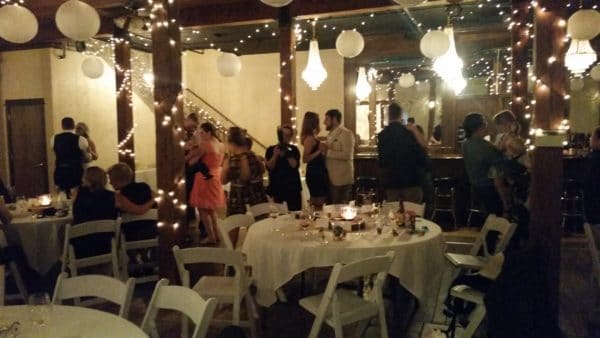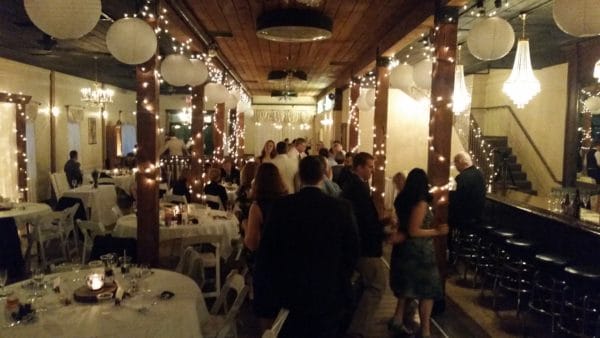 Suzy and Zak also requested songs from their favorite artists David Bowie and the Talking Heads, plus the bride's favorites, 'Time Warp' from the Rocky Horror Picture Show and 'I Believe in a Thing Called Love' by The Darkness.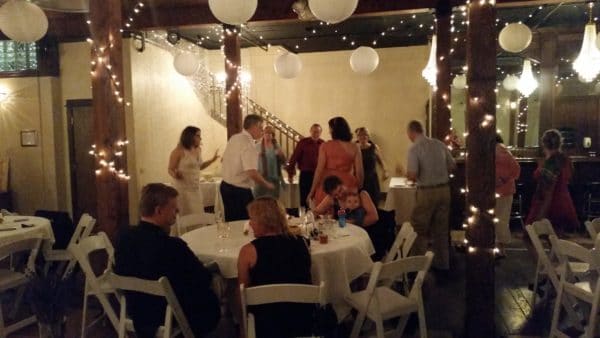 Congratulations Suzy and Zak! Thank you for choosing PRO DJs.


Despite wildfires raging nearby in the Columbia River Gorge, it was a non-smoky celebration at Katie and Devin's Bridal Veil Lakes Wedding on Sunday, September 3, 2017.

The night before, a fire started in the Gorge at the Eagle Creek Trail about 23 miles to the east. This was in addition to the Indian Creek fire that had started previously near the same area. The air was filled with smoke as I left the Portland area and I was concerned there would be a heavy haze at Bridal Veil Lakes, but somehow, the air was clear and it was a fabulous day to celebrate.




Bridal Veil Lakes Wedding Ceremony Highlights:
Wedding Party Entrance: Ryan Darling – I Choose You
Bride Entrance: Ellie Goulding – How Long Will I Love You
Bride/Groom Exit: Israel "IZ" Kamakawiwo?ole – Somewhere Over the Rainbow
I setup two sound systems for this event with my main system in the reception area and a second for the wedding on the other side of the lake. Following the ceremony, guests walked the nature trail to the main reception area. I played a mix of background music that featured favorites of the bride and groom. Artists included: Ed Sheeran, Sara Bareilles, Louis Armstrong, Zac Brown Band and others.

Included with this package was a video projector and screen as requested by Devin's family to play a video of the best man's toast. In addition, the groom's father also performed a surprise lip sync for his son to settle a bet. This required a lot of planning and a song edit in my sound studio, but it went off perfectly and was well-received by everyone in attendance.




Bridal Veil Lakes Wedding Reception Highlights:
Grand Entrance: Stevie Wonder – Signed Sealed Delivered…
Cake Cutting: Archies – Sugar Sugar
First Dance: JJ Heller – When I'm With You (The Boat Song)
Groom and Mother Dance: Tim McGraw – Humble and Kind
Bride and Mother Dance: Jackson 5 – Ill Be There/Justin Timberlake – Can't Stop The Feeling
Bouquet Toss: Weather Girls – It's Raining Men
Garter Toss: Kenny Loggins – Danger Zone
After the first dance and the groom's dance with his mom, Katie also danced with her mom. This began with about a one minute of 'I'll Be There' by The Jackson 5, before skipping to 'Justin Timberlake's recent hit 'Can't Stop The Feeling' that included a flash dance from members of the wedding party.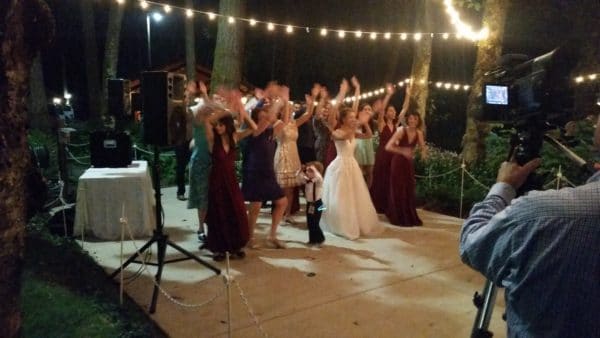 The flash dance created a burst of energy and the dance floor was on. The rest of the night everyone enjoyed getting down to 'Uptown Funk,' 'Hey Ya,' and newlywed requests for the 'Cupid Shuffle', 'Footloose' and 'Cotton-Eye Joe'.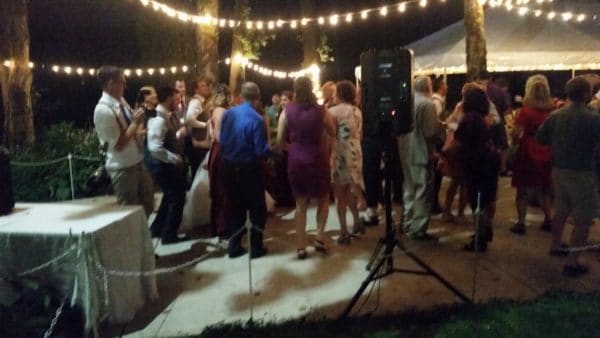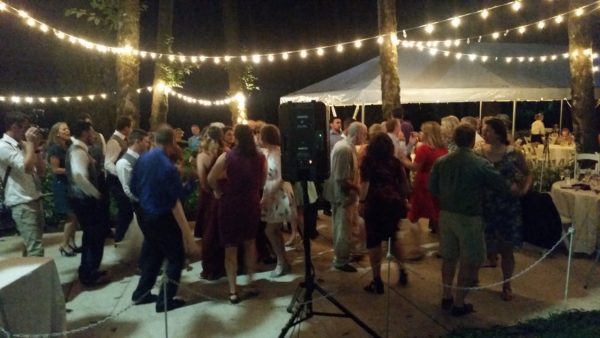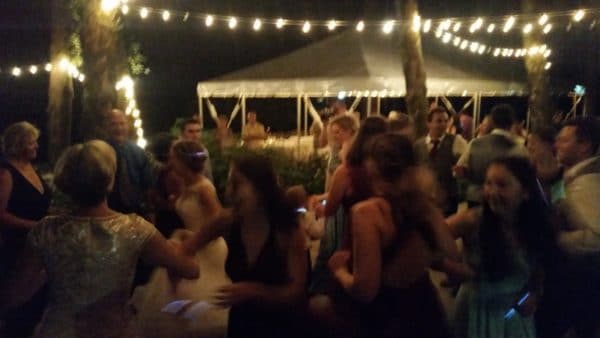 Best wishes Katie and Devin!



Milwaukie OR Wedding DJ Rich Ellis performed at Gabrielle (Gabe) and Kevin's wedding and reception on Saturday, September 2, 2017 at Gray Gables Estate in Milwaukie, Oregon.

The warmest and possibly driest summer on record in the Pacific Northwest heated up a little more on the first day of Labor Day weekend as the high temperature hit 97. However, nearly the entire venue was shaded by many trees surrounding the property to provide comfort for the 100 or so guests.

Milwaukie OR Wedding DJ Ceremony Highlights:
Weding Processional Entrance: John Legend & Lindsey Stirling – All of Me
Bride Entrance: The Piano Guys – A Thousand Years
Bride/Groom Exit: The Lumineers – Ho Hey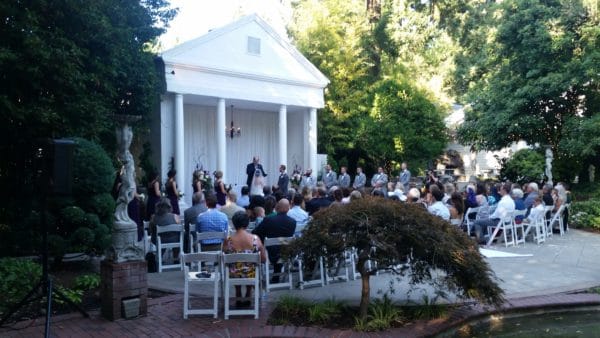 As The Garden area was turned for dinner and dancing, guests visited near the bar, the covered deck outside The Ballroom or inside the ballroom or Manor House Lawn. For cocktails and dinner, the newlyweds requested a variety of alternative songs that included The Lumineers, Ingrid Michaelson, The Head and the Heart and more.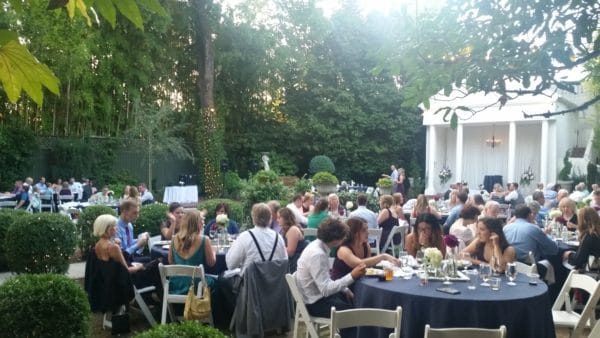 Milwaukie OR Wedding DJ Reception Highlights:
Grand Entrance: Beyonce – Crazy In Love
Cake Cutting: Cake – Love You Madly
First Dance: Elvis Presley – Can't Help Falling In Love
Bouquet Toss: David Guetta f/Flo Rida & Nicki Minaj – Where Them Girls At
Garter Toss: Kenny Loggins – Danger Zone
Last Dance: Edward Sharpe & The Magnetic Zeros – Home
Gabe and Kevin requested that all guests join them for their first dance about halfway through their song selection. It was a good turnout that lasted a few songs, but it was not only a hot day, but uncharacteristically humid for the Portland area. As a result, what seemed like most everyone headed inside The Ballroom to take advantage of the air conditioning.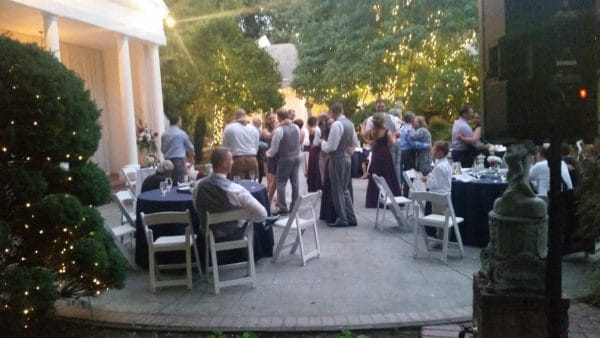 Eventually most cooled down enough to return for the party and as the sun set, the mostly younger crowd packed the floor and danced to more recent hits, including 'Can't Stop the Feeling', 'Uptown Funk', 'Despacito' and more.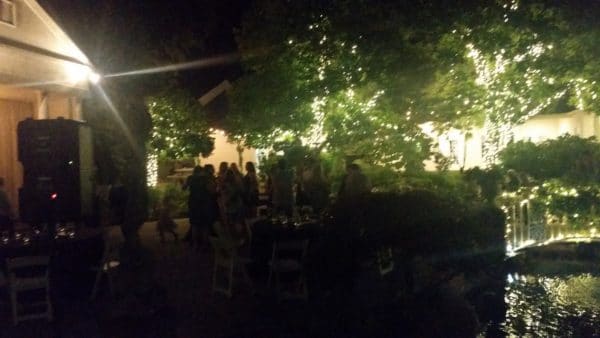 The groom requested that Billy Joel's "Piano Man" be played for him and his fraternity brothers and then everyone gathered around the newlyweds for the final song before heading off to the Red Star Tavern at the Hotel Monaco in Downtown Portland for the afterparty.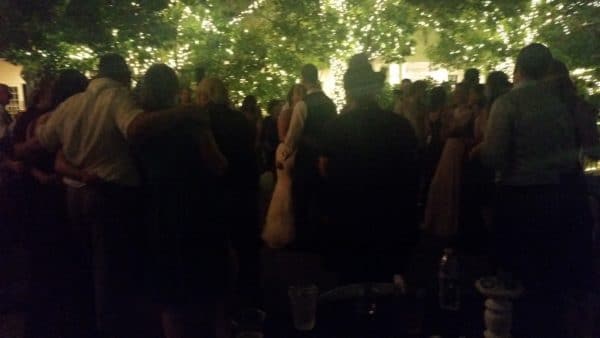 Congratulations Gabe and Kevin and thank you for choosing PRO DJs.

Post Event Satisfaction Survey:

"Everything was great! Exactly what we needed, and perfect music selection."
-Gabe Sasse & Kevin Stokes
Event Date: Saturday, September 2, 2017
Event Type: Wedding & Reception
Event Location: Gray Gables Estate
Event Staff: Rich Ellis
Quality of Customer Service via Telephone: Excellent
Quality of Customer Service via Internet: Excellent
Quality of Customer Service at Event: Excellent
Friendliness of your Entertainer: Excellent
Promptness of your Entertainer: Excellent
Professionalism of your Entertainer: Excellent
Entertainer's Performance: Excellent
Entertainer's Appearance: Excellent
System Appearance: Excellent
Sound Quality: Excellent
Overall Volume Levels: Excellent
Music Selection: Excellent
Incorporation of Your Requests: Excellent
Lighting Effects: N/A
Equipment Appearance: Excellent
Overall Customer Service: Excellent
Planning Assistance: Excellent
Entertainer's Cooperation with Other Vendors: Good
Overall Performance Rating: Excellent
Would you recommend this service to others? Yes