Company Parties

It was another big time holiday party for a Vancouver Garden Supply company on Saturday, December 10, 2016 and for the eleventh straight year, they chose PRO DJs for their annual event that included gambling, tons of prizes and of course, dancing.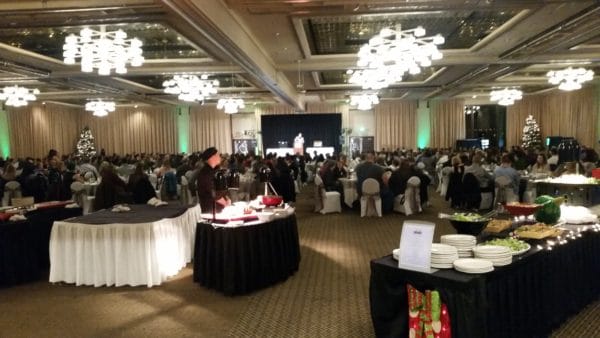 The Grand Ballroom at the Jantzen Beach Red Lion Hotel in Portland, Oregon features a large dining area with dance floor, plus a sizable foyer, that provided the perfect spot to place gaming tables that were open from the very beginning as guests arrived for the party around 6pm.

For cocktails and dinner, I played a mix of holiday favorites as requested by the client and the gaming tables remained open until 8:00pm. The employees of this company really look forward to what comes next each year… a large number of great prizes are given away, including tools, electronics, gift cards, cash, paid time off and big screen televisions.

It normally takes almost two hours to draw all the winners, but most people don't seem to mind and they are usually excited to start dancing when it's over. I enjoy spinning for this group and they have a lot of fun on the dance floor. I played everything from Michael Jackson and AC/DC to Bruno Mars and The Weeknd.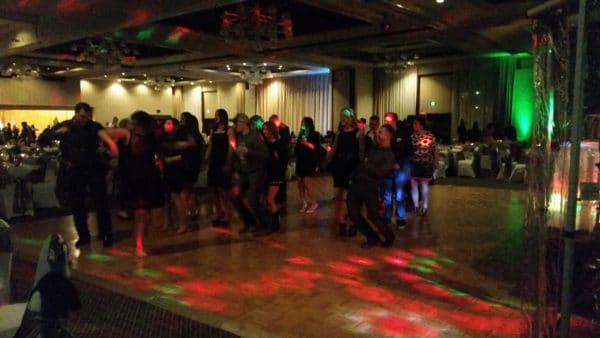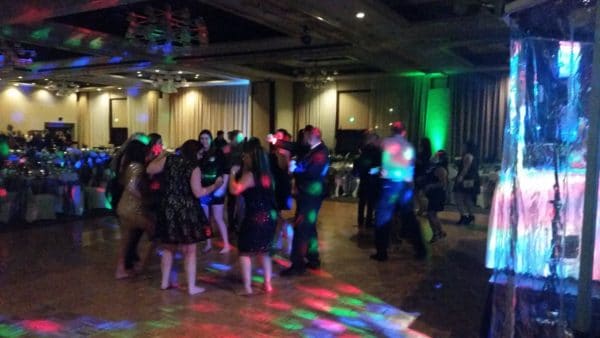 Thanks again Kristy for continuing to use PRO DJs at your annual event. Happy Holidays. -Rich

Post Event Satisfaction Survey:
Event Date: Saturday, December 10, 2016
Event Type: Company Party
Event Location: Red Lion on the River
Event Staff: Rich Ellis
Quality of Customer Service via Telephone: Excellent
Quality of Customer Service via Internet: Excellent
Quality of Customer Service at Event: Excellent
Friendliness of your Entertainer: Excellent
Promptness of your Entertainer: Excellent
Professionalism of your Entertainer: Excellent
Entertainer's Performance: Excellent
Entertainer's Appearance: Excellent
System Appearance: Excellent
Sound Quality: Excellent
Overall Volume Levels: Excellent
Music Selection: Excellent
Incorporation of Your Requests: Excellent
Lighting Effects: N/A
Equipment Appearance: Excellent
Overall Customer Service: Excellent
Planning Assistance: Excellent
Entertainer's Cooperation with Other Vendors: Excellent
Overall Performance Rating: Excellent
Would you recommend this service to others? Yes

PRO DJs had the opportunity to perform at the La Crosse Footwear corporate karaoke party held at Grand Central Bowling Lounge in Portland, Oregon on Friday, November 4, 2016.

With bowling, games, photo booth and raffle, their was a lot of competition for attention, but following dinner, many guests found me setup in a side room adjacent to the bar and couldn't wait to belt out their favorites.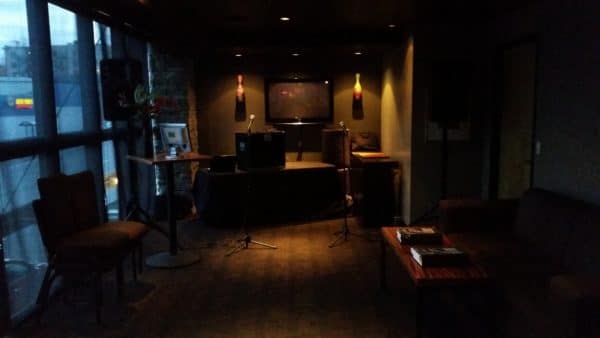 After Chris got us started with Queen's 'Bohemian Rhapsody' and Chelsea performed Maroon 5's 'Sunday Morning', we were off to strong start. Before the big raffle, Dave sang Ray Charles 'Georgia On My Mind' and John Mellencamp's 'Hurt So Good'. Ryan did Prince 'I Would Die 4 U' and Eric really fired up the group with Bon Jovi's 'Livin' On A Prayer'.

Following the raffle, we had about 30 minutes of time left, and I was able to pack in performances from Joe doing Tom Petty's 'American Girl', Lauren singing the Backstreet Boys 'Everybody (Backstreets's Back), Deanna and Molly performing 'Lady Marmalade' as done by Christina Aguilera w/Lil' Kim, Mya & Pink, and Chris wrapped up a wild night with Salt N' Pepa's 'Push it.'


More and more corporate holiday parties are taking place in January instead of December and this year has been no exception. In fact, PRO DJs has performed at nearly as many company parties in January 2016 as we did in December 2015. With available meeting space and DJ availability at a premium before the holidays, this makes sense and we appreciate the opportunity to extend the season.

On Friday night, January 22, 2016, I was at the Marriott Hotel on the waterfront in Downtown Portland for a Vancouver, WA based construction company party. Over 200 guests attended and while they gathered for cocktails and dinner in Salon Ballrooms G, H and I, I set-up my sound and lighting equipment in Salon E and F for the afterparty scheduled to begin around 7:30pm.

The party room had the feel of a posh nightclub with accent lighting that included black lights. Pub games were setup in various places, including pool tables, foosball tables, air hockey, and dartboards. There was also a photo booth with props and of course, several bars and food stations.

With all the other activies, I surveyed the crowd to gauge when they may be ready to dance. After about 20 minutes, we had a few on the dance floor as they responded to Stevie Wonder's 'Superstition' and 'Billie Jean' from Michael Jackson. Beyonce and Adele were also a big hit. A little later, a group of guests responded to a rock set that included AC/DC and Billy Idol before the dancing really took off with a mix of classics and current hits that included Earth, Wind & Fire, Justin Timberlake and Flo Rida.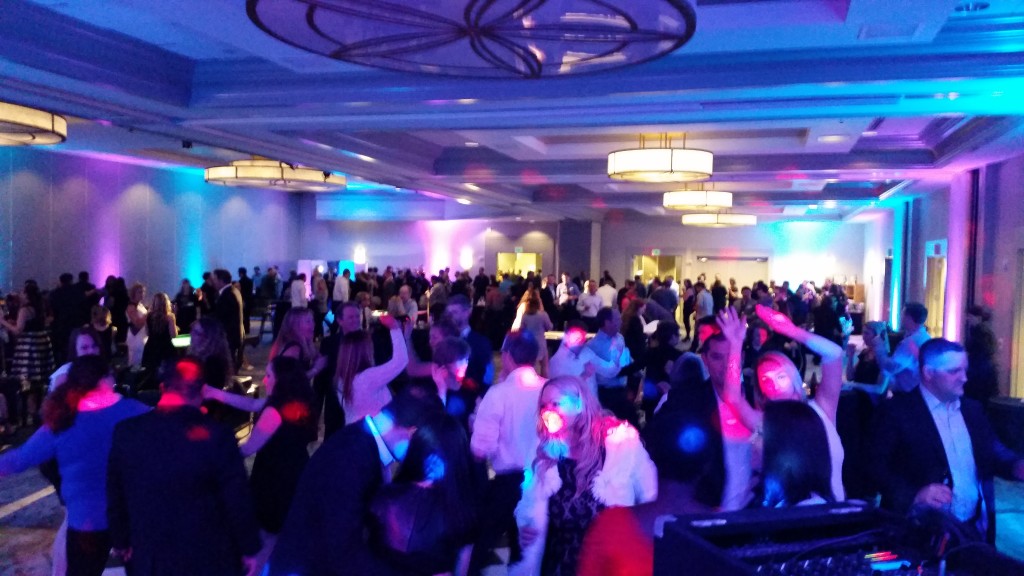 The dance floor was packed when we stopped around 10:30 for the raffle drawing that included several $500 prize giveaways, so the guests didn't seem to mind. Not everyone came away a winner, but they appeared to be in a great mood anyway and it wasn't long before the dance floor filled again and stayed that way until we ended at Midnight.

Post Event Client Feedback:

"We had great feedback and I will definitely be in touch to secure the date next year."
-Corey Anderson, Kiewit Infrastructure West Company


Saturday, December 13, 2014 marked 9 years since PRO DJs had the opportunity to perform at the first Vancouver company holiday party for a local garden supply business, and we have done every one since.

We appreciate the confidence they have in us and it was another big time party at the Jantzen Beach Red Lion Hotel in Portland, Oregon. Their annual event always includes gambling, generous amounts of prizes and of course, dancing.

The gaming tables are open from the beginning until just after dinner in the large foyer that is adjacent to the large Grand Ballroom. With around 300 guests, this is a nice fit with a large dance floor, plenty of display room for the prizes and a photo booth, complete with props.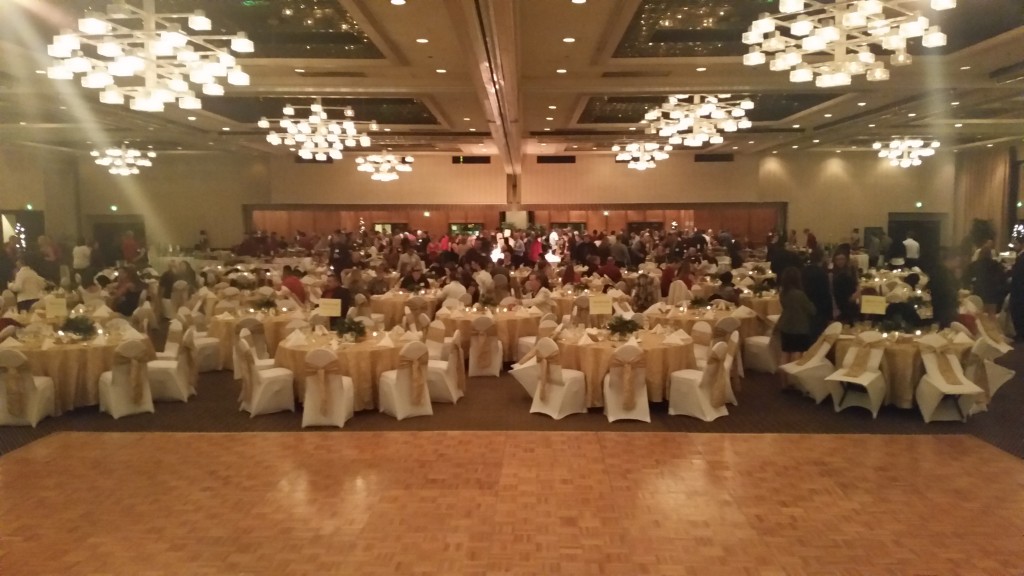 For cocktails and dinner, I played a mix of Christmas favorites as requested by our client, until the gaming tables closed about 8:30pm. The employees then got really excited for the giveaways. As usual, there were some fantastic prizes, including electronics, tools, gift cards, and a 65″ flat screen television. There was also a cash machine… always a big hit with anyone 🙂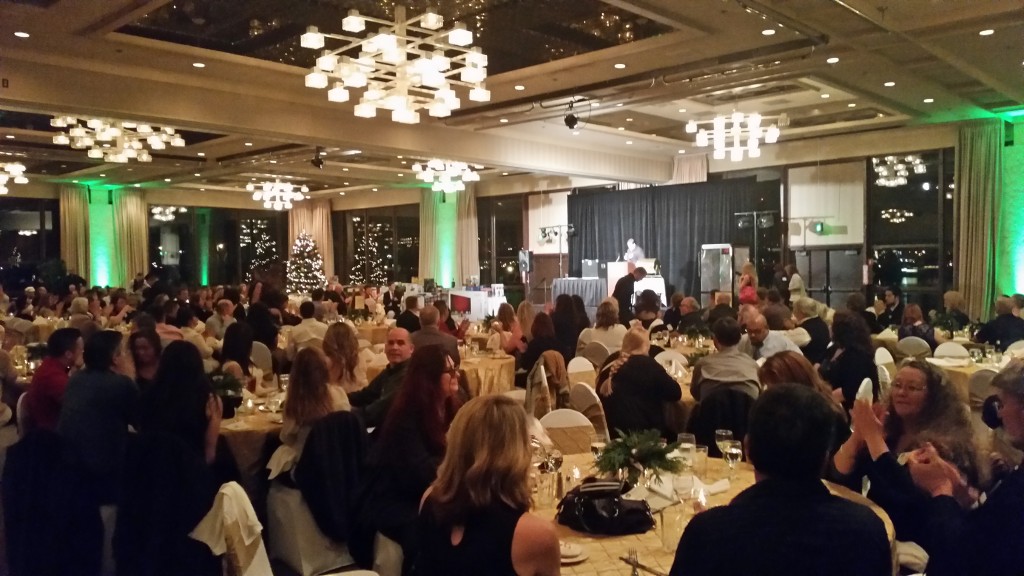 With so many prizes, it normally takes awhile (almost two hours) to draw all the winners, but this group never seems to mind. This certainly bodes well for the dance floor as everyone is in a great mood and ready to party a little more.

After a few classics, including Michael Jackson, the mostly younger crowd loved the recent hits and we rolled 'Fancy,' 'Can't Hold Us' the current smash 'Uptown Funk' and more.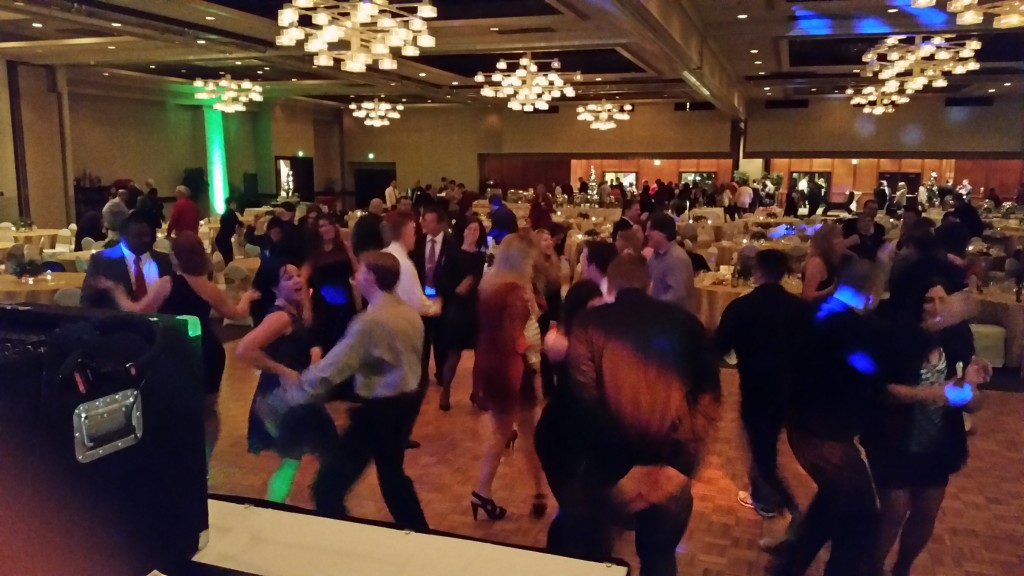 Thanks again Kristy for continuing to choose PRO DJs for your annual Christmas party. Happy Holidays. -Rich

Rick's Custom Fencing brought in PRO DJs for their corporate holiday karaoke party that followed dinner amd awards at Skamania Lodge in Stevenson, Washington on Saturday, December 6, 2014.

Right before the awards presentation began, I was able to discreetly setup on the other side of the room with anyone barely noticing and I was ready to go as soon as they turned the party over to me.

For karaoke, I normally play a few regular songs so guests have a chance to let me know what they would like to sing. However, when I asked if anyone was ready to go right at the beginning, David came running up and got us started with Corey Hart's 'Sunglasses at Night."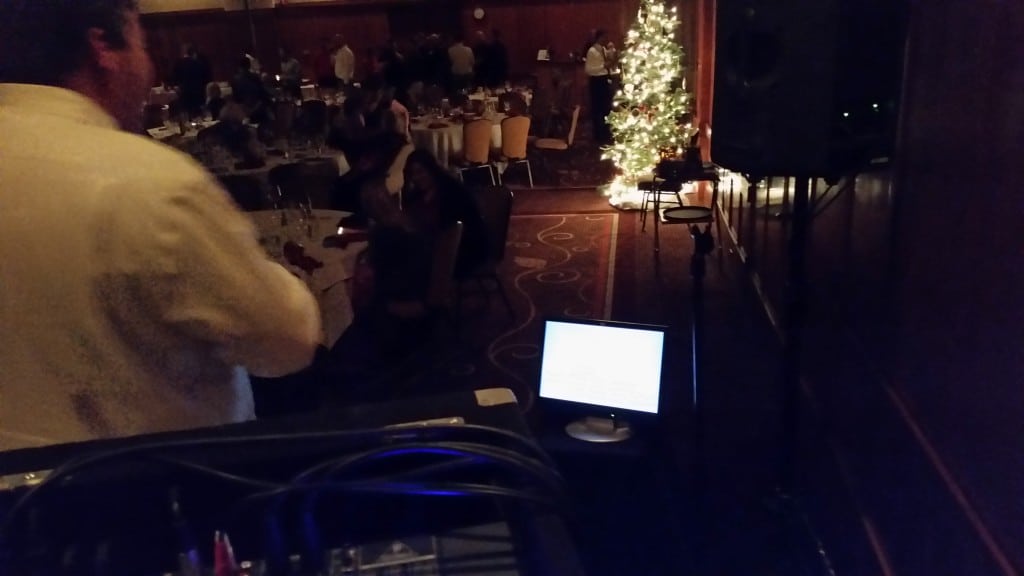 David sang a few other songs and so did Taylor, including Sheryl Crow's 'Sweet Child O'Mine' that was accompanied by a friend breakdancing on the opposite stage. The crowd was entertained and had a good time watching their co-workers and friends perform.