Events

After a scorcher just 24 hours earlier, a nice steady breeze made for a perfect day at Deborah and Zak's Mt. Hood wedding and reception on Sunday, July 23, 2017 at Mt. Hood B & B in Parkdale, Oregon.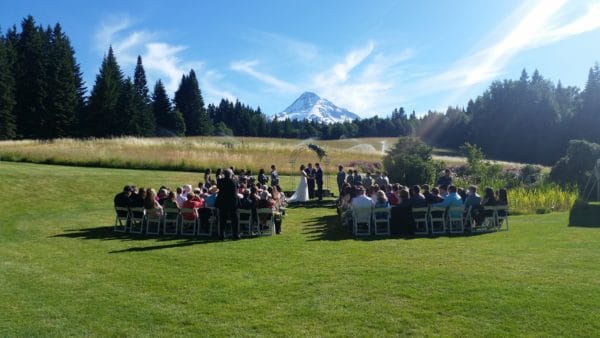 It was still warm though after sitting in the sun for about an hour to witness the ceremony, so it was no surprise that all guests gathered under the nearby tent for refreshments while family members met up for photos in front of the house.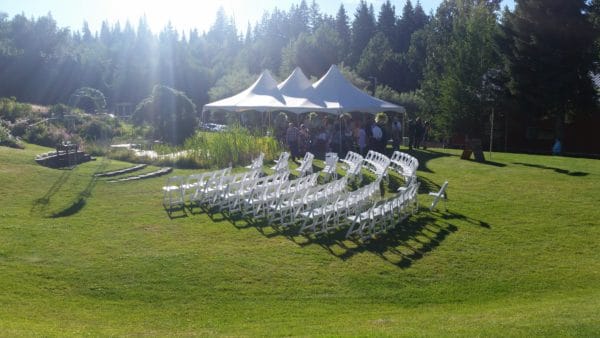 Mt. Hood Wedding Ceremony Highlights:
Wedding Party Entrance: Steve Petrunak – Forrest Gump (Instrumental Version)
Bride Entrance: Nick Worraf – It's Your Love (In the style of Tim McGraw)
Bride/Groom Exit: The Head and the Heart – Rhythm & Blues
For the reception, my main sound system was set-up earlier in the dining area located behind the house. After everyone found their seats, I introduced the entire wedding party (14 members) and then Deborah and Zak. Background music during dinner was a soft variety of favorites that included Jason Mraz, Tim McGraw and Ingrid Michaelson.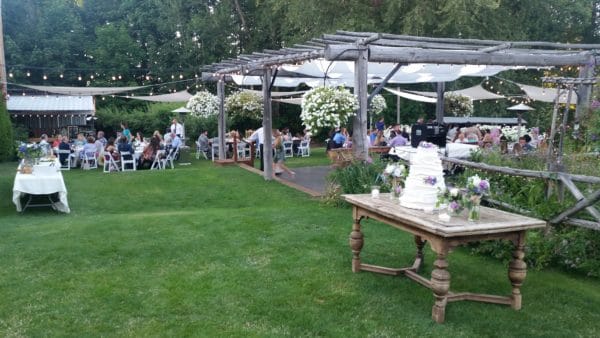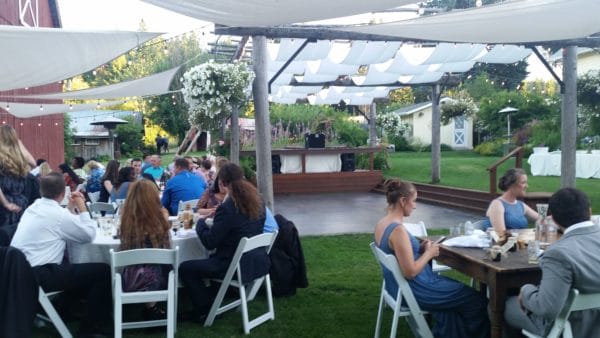 Mt. Hood Wedding Reception Highlights:
Grand Entrance: Brett Young – In Case You Didn't Know
First Dance: Needtobreathe – A Place Only You Can Go
Bride and Father Dance: Tim McGraw – My Little Girl
Groom and Mother Dance: Frankie Valli – My Mother's Eyes
Bouquet Toss: Meghan Trainor – Dear Future Husband
Garter Toss: U2's Clayton & Mullen – Mission: Impossible
Last Dance: Diego Luna & Gustavo Santaolalla – Te Amo y Mas
After the opening slow dance and a few classics, guests enjoyed dancing to recent hits from some of the newlyweds favorite artists, including Enrique Iglesias and Shakira, as well as the song of the summer for 2017 'Despacito' from Luis Fonsi featuring Daddy Yankee.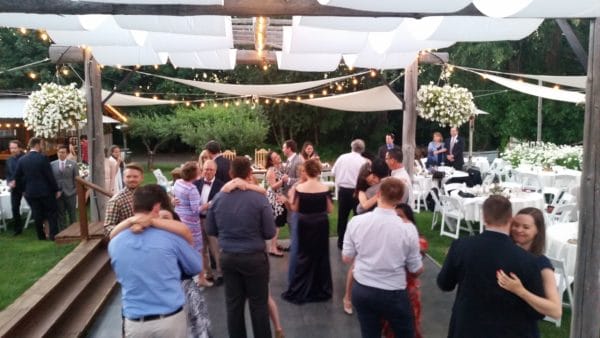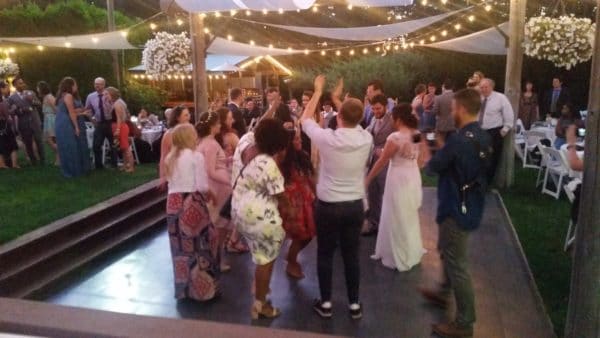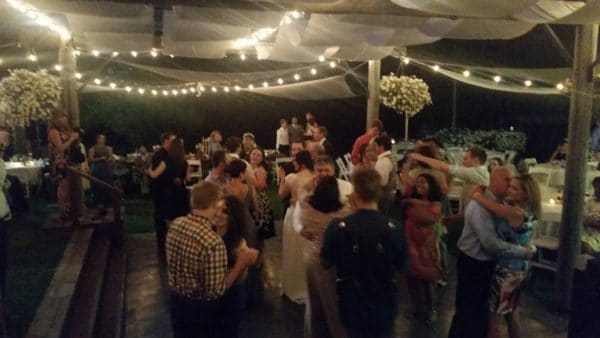 Best wishes Deborah and Zak!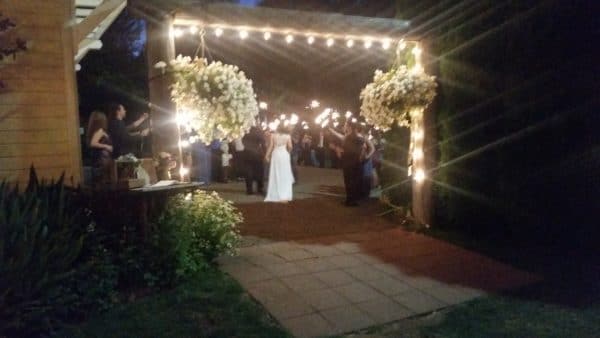 Alexandria and Matthew's Grand Ronde wedding and reception took place on Saturday, July 22, 2017 at the groom's family home in Grand Ronde, Oregon.

It was beautiful, warm sunny summer day, but this remote location off Highway 22 was surrounded by trees that offered lots of shade to make everyone feel comfortable.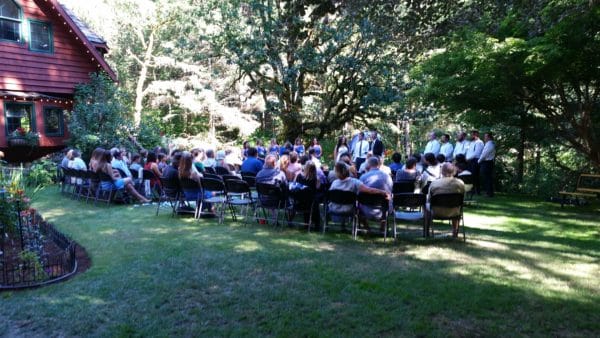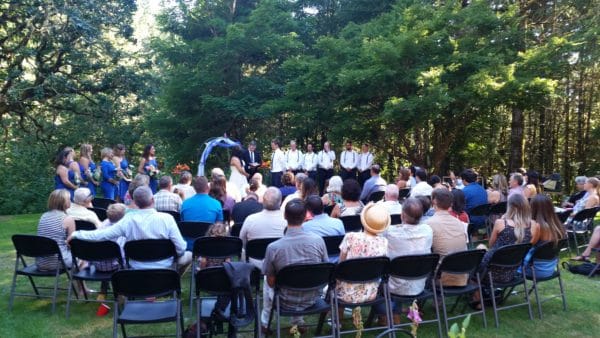 Grand Ronde Wedding Ceremony Highlights:
Wedding Party Entrance: Louis Armstrong – What a Wonderful World
Bride Entrance: Live Guitarist – Can't Help Falling In Love
Bride/Groom Exit: Rusted Root – Send Me On My Way
With a travel theme in mind, the newlyweds requested background music for the reception that had a Parisian feel, such as Pink Martini, as well as Spanish, plus the classic crooners, like Frank Sinatra. I played a mix of vocal and instrumental music from artists such as Miles Davis, Billie Holiday, Louis Armstrong and more.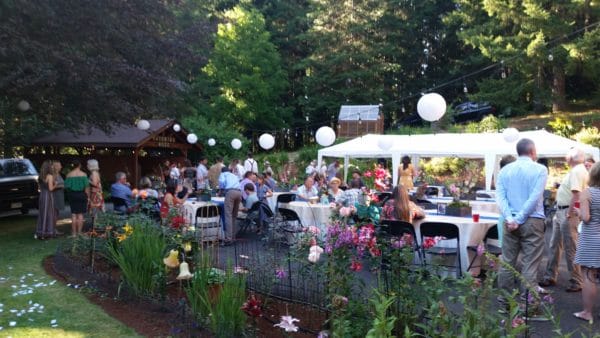 Grand Ronde Wedding Reception Highlights:
Grand Entrance: Bob Marley – Is This Love
First Dance: Griffin House – Better Than Love
Bride/Father Dance: Heartland – I Loved Her First
Groom and Mother Dance: Tom Petty – Wildflowers
Bouquet Toss: Beyonce – Single Ladies (Put A Ring On It)
Last Dance: Bon Jovi – Livin' On A Prayer
It was clear that many guests were ready to expend some energy and took off dancing right away when the dance floor opened to everyone following the mother/son dance.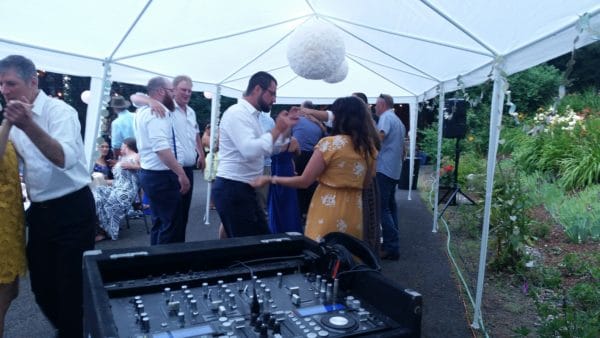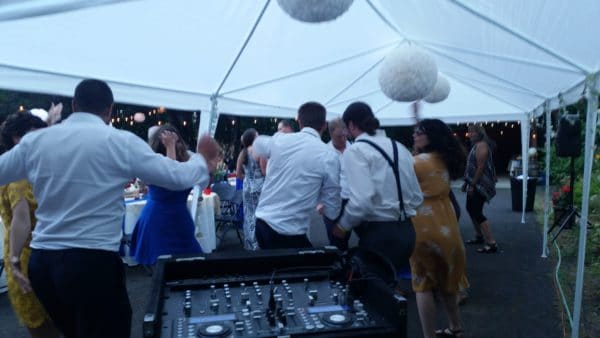 And this was with most of the family gathered on the opposite side of the yard for photos. No matter, a second dance floor opened in the grass while they waited their turn to be photographed 🙂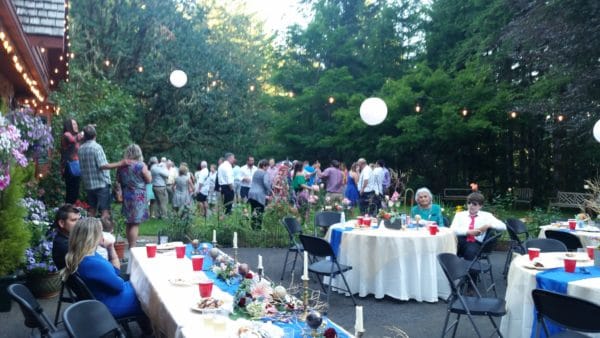 As the sun began to set, all guests (both young and older) had a wild time movin' and shakin' to a setlist that featured 80's classics 'Footloose' and 'Thriller', along with recent hits, 'Uptown Funk,' 'Can't Stop the Feeling', 'Shut Up and Dance' and more.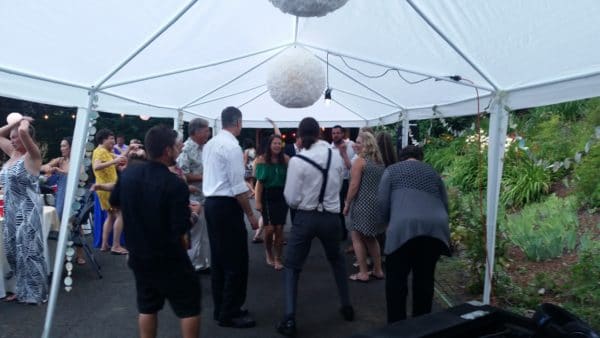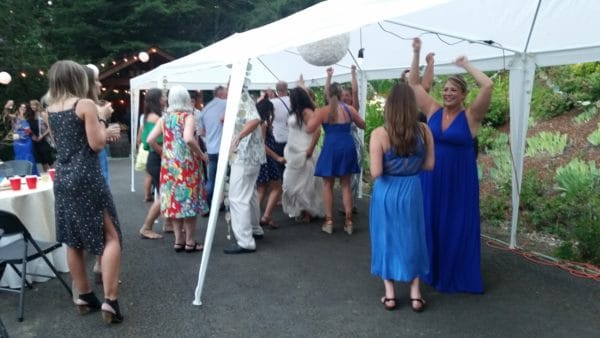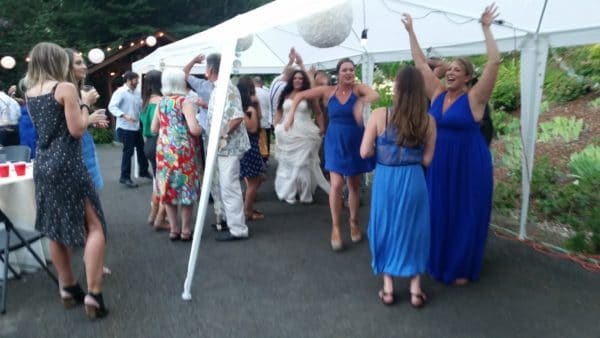 As I was getting ready to leave at the end of the night, I appreciated the immediate feedback from the bride and groom and members of their wedding party, who told me they had the best time.

Congratulations Alexandria and Matthew and thank you for choosing PRO DJs.


Megan and Patrick's mid summer Gearhart wedding was held Saturday, July 15, 2017 at McMenamins Sand Trap Bar & Grill in Gearhart on the Oregon Coast.

I arrived just as the ceremony was beginning on the beach nearby for setup in the downstairs private room located just off the golf course. When guests arrived for the reception, they could find a table inside or visit outside while playing lawn games. I had a speaker inside and out so background music was heard everywhere.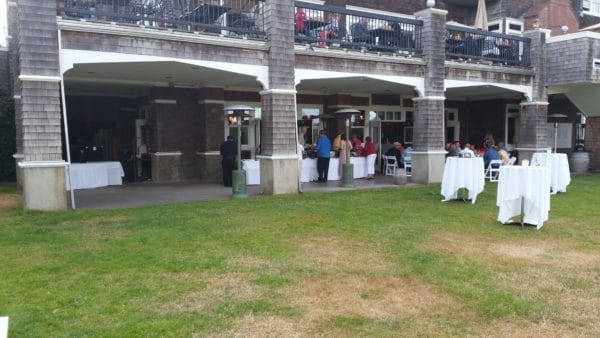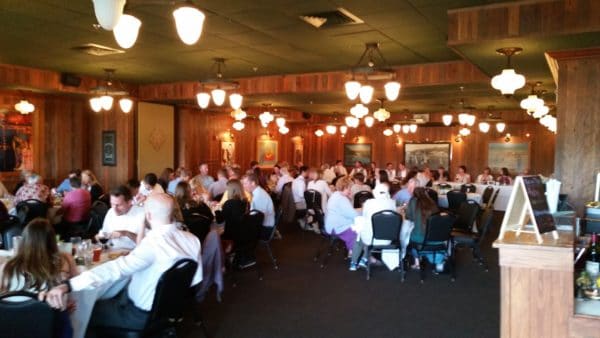 Gearhart Wedding Reception Highlights:
Grand Entrance: Earth Wind & Fire – September
Cake Cutting: James Taylor – How Sweet It Is (To Be Loved By You)
First Dance: Kip Moore – Hey Pretty Girl
Bride and Father Dance: Lee Ann Womack – I Hope You Dance
Groom and Mother Dance: Elvis Presley – The Wonder of You
Last Dance: Eric Church – Wrecking Ball
The dance floor opened to everyone around 8:20pm, but there was still a lot of daylight and other activities to distract the 100+ guests, but still we had several couples dance a few numbers in the early going.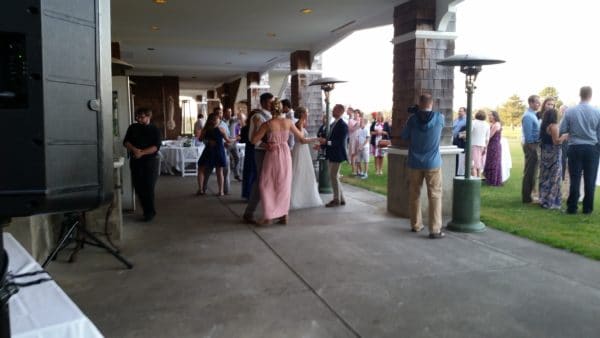 Over the final 30 minutes, darkness set in and the dance floor filled up for a set of 80's classics, as requested by the newlyweds, including 'Your Love' by the Outfield, 'Come On Eileen' from Dexy's Midnight Runners and 'Don't Stop Believin' by Journey. Foreigner's 'Juke Box Hero' also got this group going as many shared fond memories of that one while growing up in Madras, Oregon.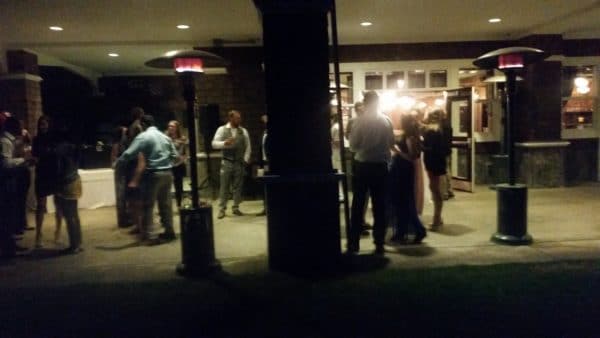 Congratulations Megan and Patrick and thank you for choosing PRO DJs.


Salem Bar Mitzvah DJ Rich Ellis performed at Nathan's Bar Mitzvah party on Saturday, July 8, 2017 in the Croisan Creek Room at the Salem Convention Center in Salem, Oregon. This event began at 7pm with dinner background music.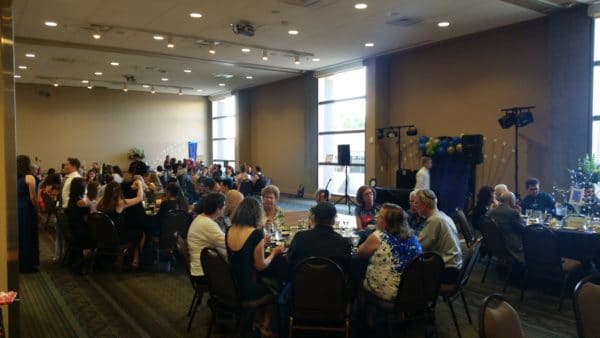 The room handled the 100+ guests comfortably for dinner and dancing, but there wasn't enough room for some of the games. I noticed another (empty) room adjacent to this one and checked to see if we could use it temporarily. And so all the kids joined me there for rousing versions of Coke & Pepsi and Running Tic Tac Toe.

We then returned to the main ballroom for one more game that the parents could watch and be involved with, a scavenger hunt, before opening the dance floor with 'The Hora' and chair raising.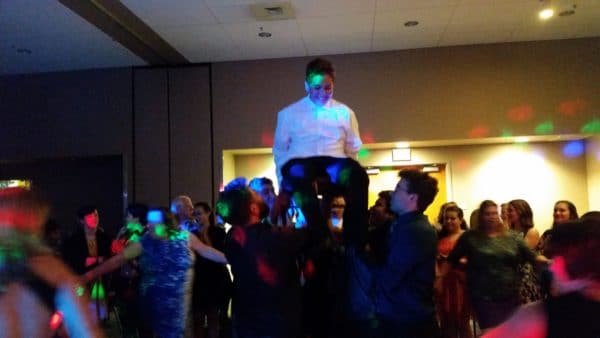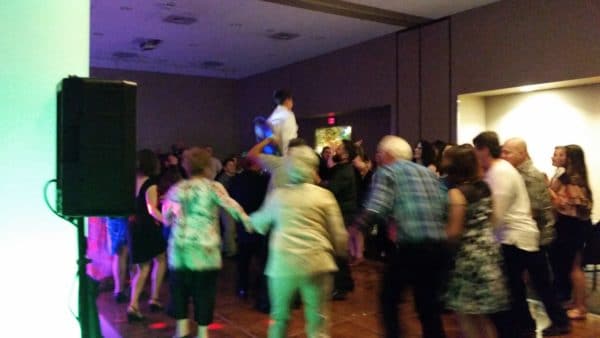 Nathan's family really wanted their guests to dance and posted signs around the room encourging everyone to participate.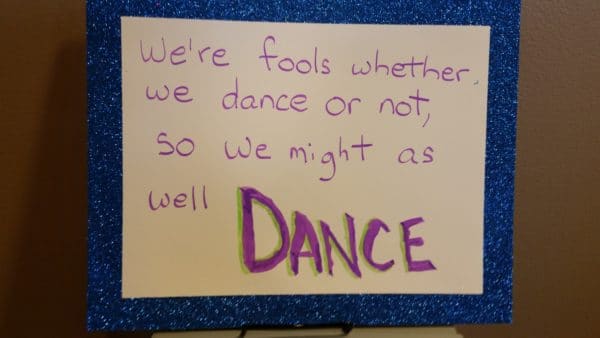 There was no need to worry though as most everyone joined in the fun and danced to a variety of fun hit music… everything from 'Happy' and 'Uptown Funk' to 'Play That Funky Music' and the 'Cha Cha Slide'. Nathan loves to rock though and his requests for Green Day and Fall Out Boy were well received, plus his metal-loving grandmother was super excited to dance to Judas Priest's 'Livin' After Midnight' 🙂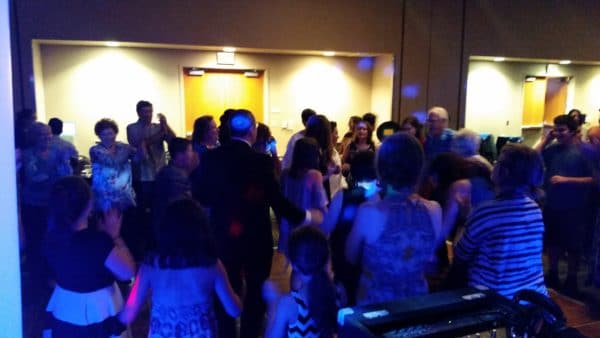 Mazel Tov Nathan and thank you parents Deb and Mike for choosing PRO DJs.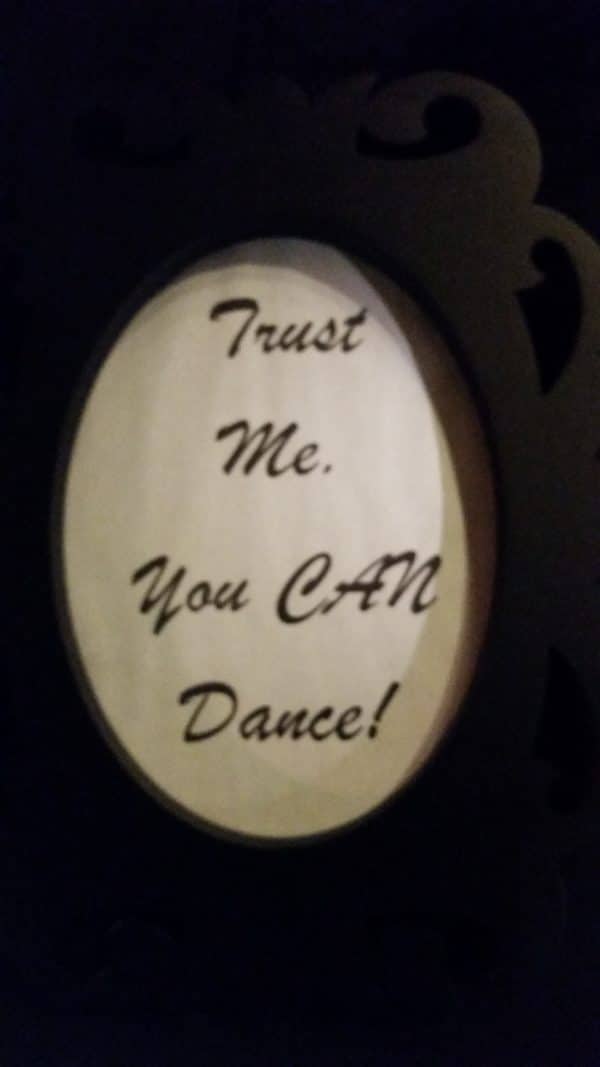 DJ Rich Ellis had the opportunity to perform at Anita's Bat Mitzvah Dance Party on Saturday, July 1, 2017 at Congregation Beth Israel in Portland, Oregon.

Anita's dad Ben had the pleasure of selecting the artists for the background music. For cocktails, he wanted an R&B, World, Afro Cuban vibe that included artists: The Indestructible Beat of Soweto, Baba Maal, Sharon Jones and the Dap Kings, Amy Winehouse and more. For dinner, he suggested aoustic rock and mellow pop music, including artists: Nirvana unplugged, Crosby, Stills, Nash & Young, Natalie Merchant, Pink Martini and others.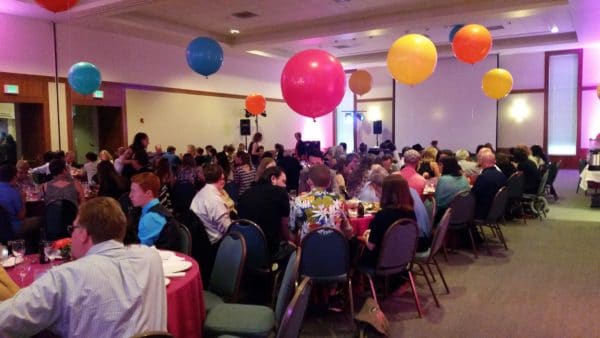 Before dinner, the plan was for the kids to play some games, but the photo booth and henna tattoos proved too much of a distraction. Following dinner was a slideshow and family toast.

Next, Anita introduced and talked about her family and friends during the candle lighting ceremony and then 'The Hora' got everyone out of their chairs immediately to begin what turned out to be a big time Saturday night Bat Mitzvah dance party.



The floor was packed for nearly every song from start to finish and the 200+ guests in attendance brought the energy for big hit songs, 'Happy,' 'Uptown Funk', 'Can't Stop the Feeling' and more and my scheduled peformance time was not enough, so an extra 30 minutes was added to keep the party going.

Mazel Tov Anita and thank you Lolly and Ben for again choosing PRO DJs. I had the opportunity to perform at sister Ava's Bat Mitvah in 2015.